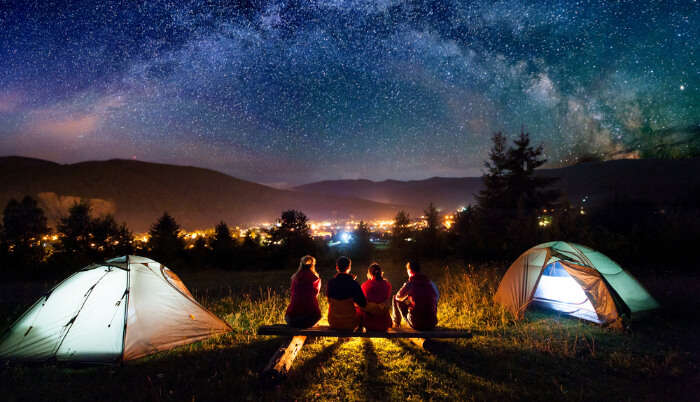 If you are someone who desires to escape the monotonous citylife and be filled with serenity, then France is the most ideal holiday destination for you to enjoy. It is a heavenly home to enormous lavish restaurant bars, world known gastronomy and happening vilages. The republic of France is sure a utopia of its own. Among countless reasons for one to fall in love with the country, camping experiences proves to be top in the list. In ordinance to have unique camping experiences and travel stories, here are the spectacular destinations one must cover for camping in France. Awaken your inner adventurer and wander all across the 'Abode of the Gods'.
Top 7 Places For Camping In France
While you are planning on a perfect getaway to Europe, look upon these incredible places to explore for camping in France like none before. Read along!
1. La Baie, Brittany

If you are seeking a beach paradise filled with sunshine rays, La Baie is the perfect place for you. It is a splendid sandy beach found on a beautiful peninsula in the middle of Quiberon Bay. Being close to the lively town of La Trinite sur Mer, it is sure a memserizing destination for locals and travellers to rejoice camping in France with kids. One could also indulge in enormous watersports at the lavish outdoor pool situated here. Not missing out on the renowned delicious cuisine and fine drinks served by luxury restaurant bars at the Parc's gates.
Must Read: Cruises In France: 9 Wonderful Water Tours To Experience The Beauty And Culture Of France
2. Les Granges, Dordogne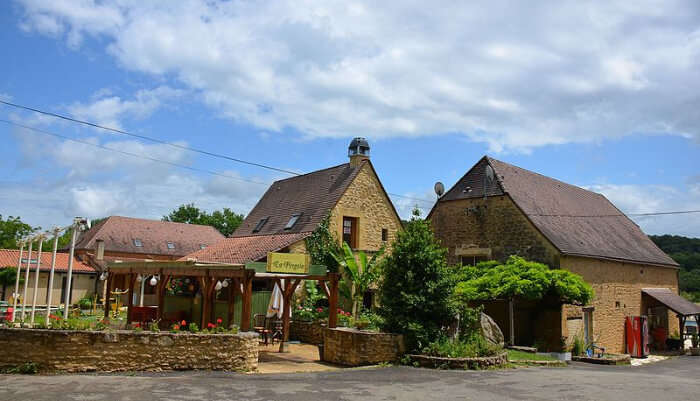 Image Source
Right into the heart of the countryside, Les Granges is an amusing camping site in France. It is a promised land of immense beauty letting the wanderers adorn the castles and caves. While camping in Dordogne, one could take their trip up to a notch by availing a plethora of services provided here. Indulge in hiking, cycling, horse riding, and canoeing on the camping base with your travel partners. If you are exploring the beautiful place in July and August, feel free to be entertained by daytime prtogrammes and entertainment shows. Moreover, it proves to be a full fledged package of camping in France.
Suggested Read: Visa For France From India: Requirements, Fees And More
3. Eurocamp Active, The Alps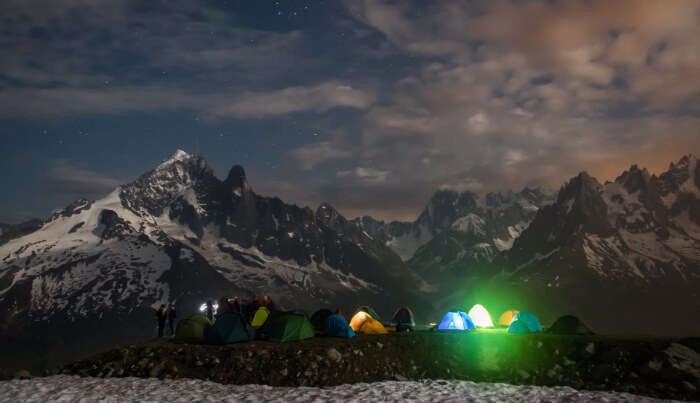 Image Source
Among all, the Eurocamp active in the French Alps are one of the most enthrailling campsites. The Alps are a perfect combination of spectacular white peaks, cascading waterfalls, and mesmerizing glaciers. Travellers from all over the world flock in large numbers to appreciate the natural beauty in its purest form. Hop onto the towering snow peaks of gigantic mountains, silently gazing at the picturesque panoramic views alongwith your life partner. As witnessed, the holiday campsite turns into a divine destination as soon as gleams of sunshine fall upon it. During the blissful season of spring, The French Alps are most ideal for all nature lovers and adventure enthusiasts.
Suggested Read: This Edible Chocolate Cottage In France is What 'Sweet Dreams' Are Made Of!
4. Lavender Farm, Provence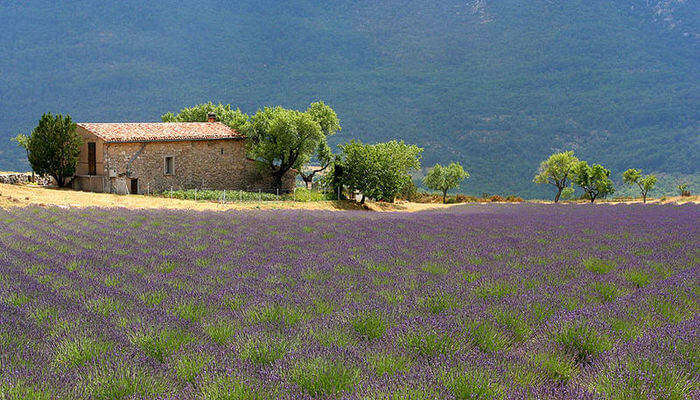 Image Source
As known, the Lavender farm in the Provence located in the southern region of France stands out to be a captivating place for cheap camping in France. It is widely renowned for the cliff top villages, rugged valleys, and Chateaux. The barren lands have been transformed into heavenly homes of indigenous plant species, including Orchids, Rose, Lavender, Geranium, Fumitory, Crotus, and much more. On an exciting tour to France, one should surely enjoy camping under the Medittarean sun alongside rich colors. Stroll across the pine woods and lavender routes along with your precious ones.
Suggested Read: Scuba Diving In France: Get Your Gear Out For A Transcendent Underwater Experience
5. Chateau De Marais, Loire Valley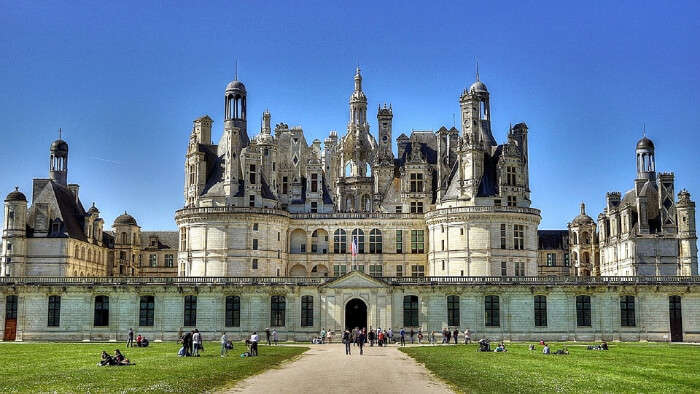 Image Source
Chateau Des Marais is another incredible camping holiday destination, located in Muides sur Loire at the center of the Brenne Nationbal Park in Loire Valley. Being popularly known as the 'Garden of France', the tropical area adobes lush green forests and thousands of ponds. One could explore all of the 'Valley of the Kings' found at the bank of river La Loire. The scenic landscapes and riverscapes offered on an escading bike ride are a sight for sore eyes. Thus, it is an astounding place for tent camping in France with your friends, family, or life partner.
Suggested Read: 10 Exotic Wildlife In France That You Can Spot On Your Vacation
6. La Caravanile, The Vendée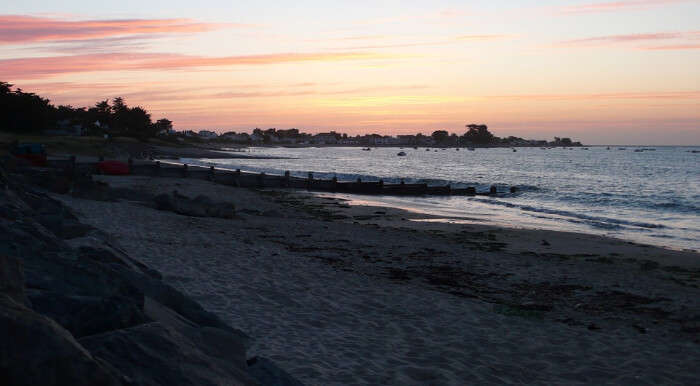 Image Source
Being located in La geuriniere in the Vendee, La Caravanile is a picturesque camping site for backpackers. Get headed to Pays de la Loire offering endless adventures among remarkable landscapes and seascapes. Adding up to that, the rich architectural heritage would surely captivate the trotters wandering out there. And if that is not enough, one could also indulge in enormous watersports and other fun activities such as basketball, volleyball, mini golf, mountain biking, and whatnot. Among all, the most fascinating fact about La Caravanille is its minimum distance from the alluring white sand beach of France.
Suggested Read: French Coastal Towns: A Breathtaking Journey Along France's Mesmerizing Coastline
7. Le Ranolien, Brittany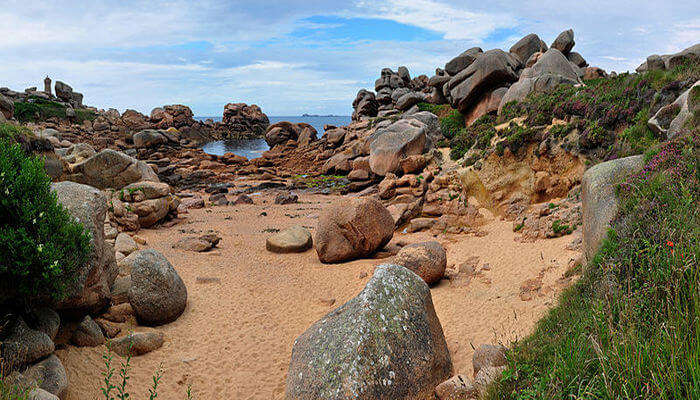 Image Source
If you are someone desiring camping in France with own caravan, get headed to Brittany in no time. Le Ranolien is a vivid and lively landscaped parc on the pretty precious pink coastlines of France. Although the paradise is renowned to be widely loved by peace seekers, adventure enthusiasts are also known to have a fun and frolic trip here. Enjoy your fullest by taking long dips into the deepest aqua water with your budies. As the sun sets into the sea, grab the golden oppotunity to dance your feets off at late night discobars and have delicious International cuisines well served at lavish restaurants here.
Tips For Camping In France
If you are planning to go for camping in France and looking for what all precautions and safety measures should you bear in mind then this is it! Here are some of the important tips and tricks that you must bear in mind when going camping in France.
It is very important to be aware of what all documents you would need if you plan on driving around on your own in France. A driver's licence, your passport, log book for vehicle insurance, warning triangle and headlamp converters are some of the things you will need when camping with tent in France, and planning on driving by your own.
If you are planning for

 

camping near lakes in France then here is what you need! Electric supplies. There are chances that the pitches might not be well lit and it can get scary. A 25 mm lead usually suffices.
 If you are planning to go camping in France near beach then this is something you can't skip. Wine. One of the most important tips for camping when in France is that you should buy wine from the place where it was invented and enjoy!
Make sure you don't miss out on adventures! Try other adventurous activities while camping in France. Hire a bike and explore the nearby towns and villages.
There are many campsite shops where you will find baguettes. They are practically one of the most delicious food items ever! You can have those.
Further Read: Celebrate Christmas In France For A Majestic, Magical, And Merry Holiday!
Do the black sky filled with millions of stars in between all of the wilderness excite you enough? If yes, then plan a trip to France and pack your bags to stroll across the celestial country. While you are there, do not forget to look upon these incredible places for camping in France and having unique experiences like never before.
People Also Read
Camping In New Zealand Camping in Hong Kong Mulshi Camping
---
Looking To Book An International Holiday?
---