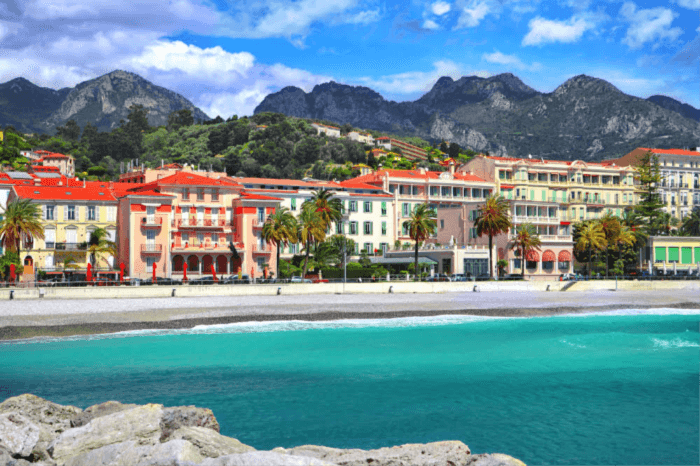 Every moment in our lives that had us brainstorming about the most romantic places to visit, France has always come up as a unanimous winner. Not only is this country a beautiful denotation of cultural and historical intellect, but nature has inscribed some of the most surreal beauty throughout each and every grain of France.
Now, France holds a spectacular engagement with its coastline of varied geographic definitions and these French coastal towns are no short of a glorious fable that sweeps right off our feet! In one word, France can be described as an unbelievable tryst between man and nature that has evolved through the ages of time and society. From man-made architectural wonders to what Earth stands for, its beauty lies in every corner of its stretch.
Top 15 French Coastal Towns
France's coastline consists of 2000 miles of geographic demarcation between the sea and land and makes holidaying even more meaningful. So let us categorize and sail through this journey of sun-kissed sand, laughter, endless hope and much more.
1. Sete

Sete is one of the most commercially active ports along the Mediterranean coastline that guards France along its southern fringes. The town is as quaint as a storybook Utopian town and distributes into a long 13 kilometers coastal boundary just at a stone's throw. Among the south of France coastal towns, Sete stands out because of its uniqueness in its quiet air. For someone who travels to find solace under a starry blue sky, this is the place to be. Sete is also famous for fresh seafood and also hold the proud legacy of water jousting.
Location: Southern France
What to do: Boat trips, beaches, watersports
Suggested Read: 21 Best Places To Visit In France In Winter
2. Saint Jean De Luz

With Atlantic Sea demarcating land from water and a history that can give Game of Thrones a run for its own money, Saint-Jean-de-Luz is a postcard picture definition of civilization. This town has three sea walls as a protégé to the fierce north winds of the sea and has an intriguing history about how the town came about in the map. From organic, fresh food to a reminiscing desire that makes you want to relocate, this town can undoubtedly be named one of the best coastal towns in France. Ample surfing options are also available around Biarritz to make the holiday even more fun.
Location: Southwestern France
What to do: Explore local markets, casino
3. Trouville Sur Mer

An underrated town of some amazing natural diversity, Trouville-sur-Mer with its vast stretches of beach, rolling hills and hillocks and old school port made it to this list of French coastal towns. It has a boardwalk, its most popular area from the 19th century that is dotted with shops and flea markets. Summers are the best time to visit as the hot sand against the cold sea water makes life so much better!
Location: North France
What to do: Beach, shopping at flea markets
Suggested Read: 10 Day Trips From Marseilles Offering The Best Of France City Tour!
4. Honfleur

In this journey along the French coast map, Honfleur is a reigning star. Find France in its day-to-day no-glam avatar in this stunning town. Honfleur is located at the tip of river Seine before it dissipates into the English Channel. The harbor in this town is from the 16th century which is probably one of the major attractions of this town. The lateral town looks like a gospel laden countryside that is stuck in time in its architectural embezzlement, its honest air, and unadulterated human interactions. The Saint Catherine's Church from the 15th Century is another chapter from the rich history that the town still carries forward. The majestic vibe at the beaches or the unexpected greenery of the coast Botanical Gardens, Honfleur is a surprise that never fails to awestruck the guest. No wonder Monet spent months and years in loving and giving life to the heartfelt emotions of Honfleur on canvas. Visit Honfleur not as a tourist, but as a local who is forever mesmerized by the haunting beauty this town has to offer.
Location: North France
What to do: Visit Satie House and Museum, visit a Calvados shop
5. Marseille

Call it metropolitan or just plain township, Marseille is another French coastal town option that needs a well-deserved applause. Not only is it a grand historical site of museums and forts, but it is almost as if nature painted the town with her own hands. Take a walk along the sultry familiarity of the beaches or go for an intense diving session, the experience is something that makes us want to become better people. The turquoise water of Les Calanques is another attraction and has some stunning locales for beach parties and picnics.
Location: Southern France
What to do: Old Port, Visit MuCEM
Suggested Read: Celebrate Christmas In France For A Majestic, Magical, And Merry Holiday
6. Etretat

If somebody asks for the best beaches in French coastal towns, Etretat will definitely be named as one of the most stunning and tourist-friendly towns in the area. The limestone cliffs, the identifying feature of Etretat is a surreal definition of nature's strange alterations. The erosion of the cliffs and the call of the distant sea, this town provides one of the best outdoor beach days in all of France.
Location: Northern France
What to do: Explore the caves, cliffs
7. Saint-Malo

Saint-Malo is the perfect amalgamation of cultural heritage and the breathtaking beauty of nature. The town goes back to the Celtic period during which it was actually built before being taken over by the wrath of the Romans. The history then turned pages, and a monastery was built by monks on the same soil. In fact, the protective headland that was built around the 12th century to protect the town from the Vikings still exists to this day.
Location: Northern France
What to do: Saint Malo Walls, check out Grand Aquarium Saint Malo
Suggested Read: France Nightlife: Learn The French Way To Get High On Life
8. Ault

Another hidden treasure as one of the most beautiful coastal towns in France, Ault lies very close to Dieppe. This little town does not boost superficial extravaganza in its decor; rather, the white cliffs, the beaches, and traditionalism make it even more intriguing. Get a small bicycle and roam the town with a fulfilling heart, life does not get any better than this. The beautiful streets, lanes, and by-lanes all have a story to tell and makes Ault brim with life and laughter.
Location: Northern France
What to do: Visit Liberty Park, Fall Festival and International Food Fest
Suggested Read: Monsoon In France: A Season To Cherish
9. Biarritz

The story of this pretty-lady town goes back to the times of 1854 and is laden with a rich history of rulers, kings, and queens spending time along the subtle honesty of Biarritz. It lies close to the border of Spain and hence, the sweet amalgamation of cultural appropriation between the Spanish and French life is vastly manifested in the town. There is an annual surfing festival every July which has been made popular over the years. A perfect gateway consisting of stress-free conversations, laughter over drinks, great food and self-pampering, Biarritz is highly recommended.
Location: South-Western France
What to do: Visit Port des Pecheurs, Biarritz Lighthouse and Aquarium de Biarritz
Suggested Read: Scuba Diving In France: Get Your Gear Out For A Transcendent Underwater Experience
10. Pigna

Considered as one of the best and most beautiful coastal towns of France, Pigna is a village located on the island of Corsica, on the glorious waters of the Mediterranean Sea. A string of mountain rolling down to the sandy beaches makes Pigna one of a kind. The rustic simplicities and the sound wind blowing are exactly what our mundane life needs. It is beautiful beyond recognition and the best bid to enjoy the sultry beauty of this village is by accepting and rationalizing perspectives as one explores the stretches of smiling lands of Pigna.
Location: Corsica
What to do: Attend a concert at Centre Culturel Voce and be stunned by the architecture
Suggested Read: 13 Festivals In France That You Cannot Afford To Miss On Your Visit To L'hexagone
11. Martigues

If you want to see the tributaries and distributaries of a river finally merging into one and its static course in action, visit Martigues. This town has meandering canals cutting through the streets that flow into the Etang de Berre Lake. This lake connects to the sea, making Martigues a stand out tourism spot. In its entirety, this town's most prominent commerce is fishing. However, the history goes back to long ago when it all began as a Roman barrack and later came out as an independent county around the 12th century. The chapels and churches in this town each tell a story of their own. One can rent a car and drive to the nearby La Couronne which has one of the most beautiful beaches in the area. All kinds of recreational varieties are dotted around the beaches with cozy restaurants and cafeterias, shopping markets and other attractions. But the best way to bask in the sultry sun of Martigues is to chill by the shore with a pint of beer, a friendly game of volleyball and a company that makes it all worth it!
Location: Southern France
What to do: Visit Cote Bleue and a fine art museum Musee Ziem
12. Wimereux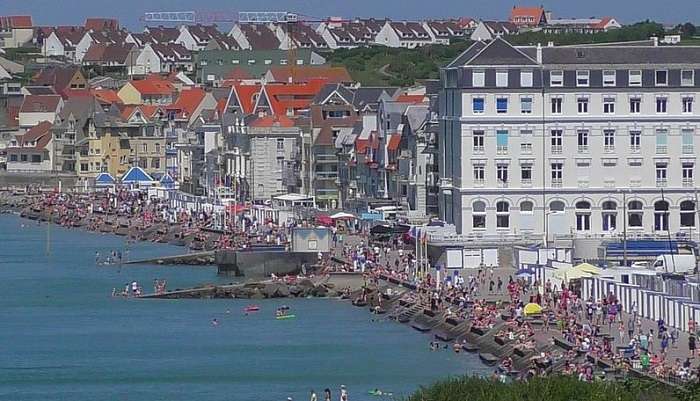 If you ask which is the most beautiful French Coastal town then Wimereux is the answer. Locatedon the Opal Coast, to the south of Calais this exotic coastal town is a must visit on your next visit to France. Tucked away from the bustling towns and offering incredible views of the beaches this coastal town is as close to paradise as it can get.
Location: Northern France
What to do: Try playing Golf at Wimereux Golf Club and visit WWII Museum
13. Cap Ferret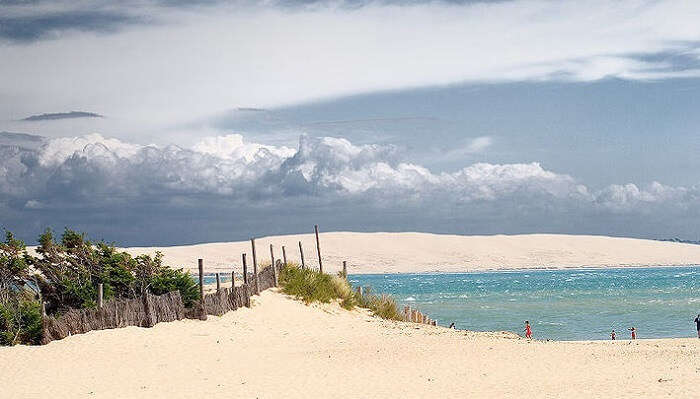 20,000 acres of forest, that is what awaits you at Cap Ferret. With many beaches which include both the wild, the ocean and the mild, the bassini, Cap Ferret has something for everyone. Used as a backdrop in the French movie 'Les Petits Mouchoirs' the best thing about Cap Ferret is the scenic landscapes it offers and the laid back lifestyle.
Location: Southern France
What to do: Visit Phare du Cap Ferret, La Cabane du Mirabeau
14. Barfleur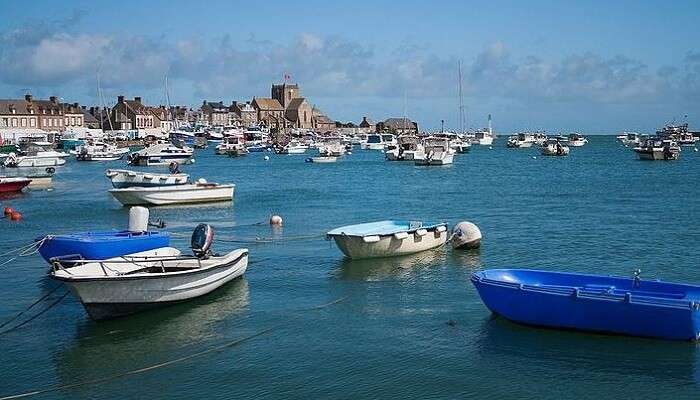 One of the main fishing ports in the middle ages, Barfleur is now the departure point for Norman nobs which go to England. Located on the tip of Contenin peninsular, Barfleur is now a tiny, quaint and tranquil fishing village that you must visit if you are seeking beauty and peace at one place. It's a cool entry into Contentin's east coast.
Location: Northwestern France
What to do: St. Nicolas Church and Gatteville Lighthouse
15. Roscoff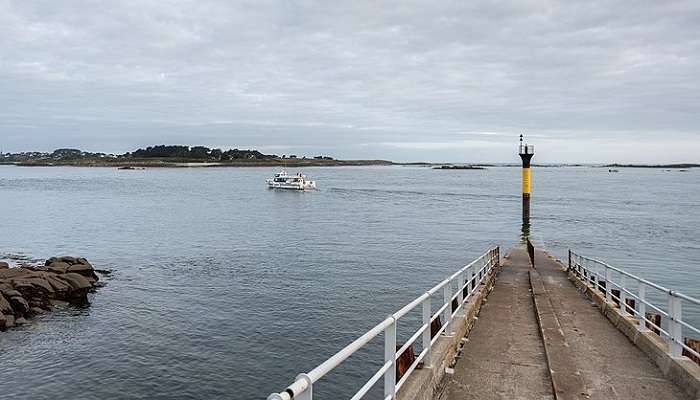 Awarded with the 'little town of charactere in Brittany' for its epic historical centre and many other popular attractions, Roscoff is a place you just cannot miss. The place is all about beauty, adventure and relaxation. You can spend a good time without a care in the world. Not just that but you will also find many lavish bungalows and houses that once belonged to rich ship owners.
Location: Northwestern France
What to do: Jardin Exotique and Sante Barbe Chapel
Further Read: Shun The Cliched and Visit These 10 Best Waterfalls In France This Summer!
All these French coastal towns are linearly placed as nature's wonders that make us sit and appreciate them in their pure forms. France's glory lies in its fashion, in its lifestyle, its food, and modern-day accomplishments. But take a hint and move toward the coast and what awaits us is an astounding saga of history, culture and the essence of life. So why be a slave of fascist-modernism when we can learn and grow from the simple pleasures?Take a trip to Europe and give the wanderer in you the best gift to see and feel nature's gigantic means of subtlety. France's coastal towns stand as a representative of some of the most beautiful creations of Mother Nature. Pack the bags now and embark on a journey of self-discovery through this mitigated dazzle consisting of only the most beautiful things on earth.
Disclaimer: TravelTriangle claims no credit for images featured on our blog site unless otherwise noted. All visual content is copyrighted to its respectful owners. We try to link back to original sources whenever possible. If you own the rights to any of the images, and do not wish them to appear on TravelTriangle, please contact us and they will be promptly removed. We believe in providing proper attribution to the original author, artist or photographer.
Please Note: Any information published by TravelTriangle in any form of content is not intended to be a substitute for any kind of medical advice, and one must not take any action before consulting a professional medical expert of their own choice.
Frequently Asked Questions About French Coastal Towns
Does France have a Mediterranean coast?

Yes and the length of the Mediterranean coast of France is 600 kilometres.

What cities are in the French coastal region?

Sete, Honfleur, Saint-Jean-de-Luz and many other cities fall in the French coastal region.
---