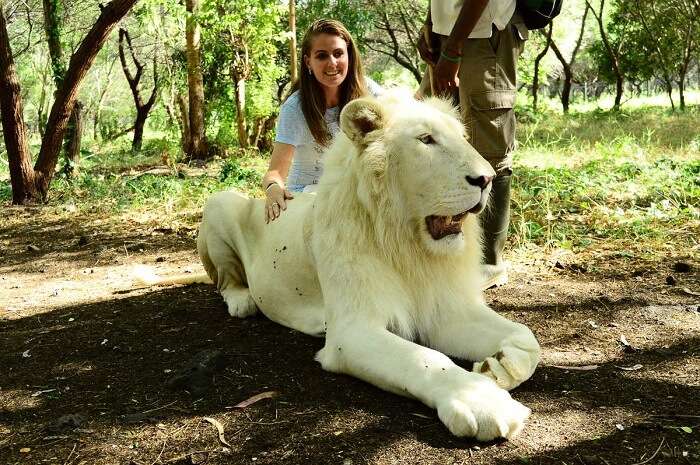 Be it a family or a honeymoon trip, your tropical African experience is incomplete without a visit to the land of adventures – Casela Nature Park in Mauritius.

Situated on the west coast of Mauritius atop sugar cane fields, the beauty of this park is complemented by the Rempart Mountain in its backdrop. Spread over 250 hectares, Casela Nature Park also known as Casela World of Adventures, offers an exciting mix of adventure, nature, and wildlife activities. It is perhaps one of the most expansive natural parks in Mauritius and also the world with its own waterfall, canyon, animal enclosures, and almost a forest like an ambience. Opened in 1979, the park has been repeatedly adding new activities resulting it in becoming one of the must visit places in Mauritius. Oh, and did we tell, one can also walk with lions here (yes we said lions).
About Casela Nature Park

Area: 250 hectares
Location: Cascavelle Mauritius
Average Time Spent: 4 hours
Average Spend: INR 3000 – 5000 per person excluding transfers
How to reach: Nonresidents and outside travelers can arrange for transfer to the park either through their hotel, through their travel agents or locally.
Casela Nature Park Mauritius entrance fee:
Non Resident: INR 775 (adults, above 12 yrs) & 500 (below 12 yrs)
Resident: INR 395 (adults above 12 yrs), INR 210 (3 – 12 yrs), & INR 295 (65 yrs & above)
Timings: 9 am to 5 pm (open every day except Public Holidays, New Year's, & Christmas)
Contact:
Tel: +230 401 6500 (Monday to Sunday, including public holiday 8:30am – 5:00pm)
Mobile: +230 5727 6076; (Monday to Friday 8.30am – 7:00pm, Saturday/Sunday/Public Holiday 8:30am – 5:00pm.
Bookings: booking.casela@caselapark.com Fax: +230 452 0694
Must Read: Incredible Things To Do On A Family Trip To Mauritius
Casela Nature Park In Mauritius: Best Experiences
Due to its vast topography and area, Casela World of Adventures is divided into 3 kingdoms and each kingdom offers a unique set of experiences. And keeping this mind, we give you the best things to do in Casela Nature Park. Embark on a Casela safari journey with us.
1. Interaction With Lions

As the name suggests, you will be taken to the lions' enclosure where you will get to see the majestic king of the jungle face to face. Observing and interacting with the lions' mind you will be an extremely heart racing experience – one that you will not forget for the rest of your life! You can share that story later on and cherish the memories.
Time Slots: 9:30 am, 11:30 am, 1:30 pm, & 3:30 pm
Duration: 15 min
Price: INR 850 per person
Age Limit: 15 yrs and above
Suggested Read: Paragliding in Mauritius: An Exhilarating Activity To Experience A Dash Of Adventure In 2022
2. Interaction With Tigers

A similar activity to Interaction with Rhinos & Lions – this one too offers a 'too good to be true' experience with the royal beasts. Beware, the mesmerizing stance and charm of the tigers can be fatal! Be safe and witness the animal in its day to day routine.
Time Slots:9:30 am, 11:30 am. 1:30 pm, & 3:30 pm
Duration: 15 min
Price: INR 1000 per person
Age Limit: 15 years and above
3. Walk With The Lions

Scary, delightful, and a once in a lifetime experience – walking with the lions in Mauritius is one activity no one should miss ever! This electrifying experience will get you as close to lions as you had imagined! (safely of course!). You will be taken to the enclosure of the lions where after a briefing the activity will begin. This 1-hour session will see you walking with the lions, observing them from really really close and see them have a good time on their own.
Time Slots: 9:15 am, 10:00 am, 10:30 am, 2:00 pm, & 3:30 pm
Duration: 1 hour
Price: INR 3750 per person
Age Limit: 15 years and above
4. Safari Quad Biking Adventure

Driving a quad bike to explore the wildlife and nature of Yemen Natural Reserve is a really cool – and that is exactly what this 1-hour activity offers! Your trip will start with a test drive of the quad bike and would be supervised by experienced guides. After this, the real safari begins. The best part about this quad biking experience is that the whole trip will allow you to discover the safari park, observe its animals which include zebras, ostriches, wild boars, African antelopes among many others. The course will take you down the valley, across the rivers, and up the park! It will truly be a scenic bliss.
Vehicle types: Single quad, Double quads, & Buggy
Duration: 1 hour
Time Slot (Single Quad Bike / Buggy): 9:15 am, 10:00 am, 11:30 am, & 1:00 pm
Price: INR 2620
Time Slot (Double Quad / Buggy Quad): 9:15 am, 10:00 am, 11:30 am, & 1:00 pm
Price: INR 2040 p
Duration: 2 hours
Time Slot (Single Quad Bike / Buggy): 9:15 am & 2:30 pm
Price: INR 3425 & INR 4600 (with lunch)
Time Slot (Double Quad / Buggy Quad): 9:15 am & 2:30 pm
Price: INR 2730 p & INR 3320 p (with lunch)
Age limit: Children who are 12 years or older can take part in the activity alongside an adult on a double quad bike. One has to be at least 16 years old or more to drive a quad/buggy and of a height of at least 1m35.
5. Segway Safari Trip

Suggested Read: Adventure, Romance, & Luxury: An All In One Exciting Trip To Mauritius
One of the unique safari experiences – Casela Nature Park offers a Segway Safari where you can explore and discover the beautiful nature in Yemen Reserve Safari Park. Led by experienced professionals and guides, you will have complete freedom exploring the park on a self-balancing environmental friendly two-wheeled vehicle or as we know it – a Segway
Time Slot: 9:15 am, 11:15 am, 2:00 pm, & 3:30 pm
Duration: 1 hour
Price: INR 1500
Age Limit: At least 12 years with weight between 40 kg – 100 kg
Operates every day of the week
6. Interaction With Rhinos

One of the most exciting things to do in Casela, an interaction with rhinos activity will send your adrenaline levels way beyond the normal. As you enter the rhino enclosure and approach the majestic beasts, you will realize the brute strength and presence that these majestic animals hold. Additionally, after a briefing on do's and don't's, you will be allowed to interact and observe their characteristics in a supervised condition and manner.
Time Slots: 8:30 am & 9 am
Duration: 15 min
Price: INR 2000 per slot (Min. 2 – Max. 4 people per slot)
7. Giraffe Feeding

A fun and extremely relaxing activity, feeding the Giraffe will not only be a unique one of a kind experience but also a soothing one. This is an activity that will be loved by people of all ages. So, make sure you don't miss out on this.
Time Slot: 10:30 am, 12:30 pm, 1:30 pm, & 3:30 pm
Duration: 10 min
Price: INR 350
8. Drive Thru

A perfect safari experience for animal lovers especially Big Cats lovers – this safari turns the tables since the humans are enclosed in a fenced vehicle while the animals roam around freely in their territorial enclosures. Additionally, the safari ride in the Yemen Reserve is also a very enriching experience where you can observe different flora and fauna.
Time Slots: 9:00 am, 10:00 am, 11:00 am, 1:30 pm, 2:30 pm, & 3:30 pm
Duration: 45 min
Price: INR 320 (non residents) & INR 210 (residents)
8. Mud Karting At Casela Park

Experience a whole new karting adventure at Casela Nature Park! Enjoy 20-minute exciting mud karting ride with your friends on a single seat mud kart or a double seat one! This activity will start with a quick briefing by the guide on how to drive the mud kart post which you will be allowed to go for a 10-minute drive on the mud circuit.
The circuit which is an offroad track is full of twists, turns, and all the fun that you would expect from a muddy track. This activity will give you the opportunity to bring out your inner pro driver and soak in some offroading action.
Single Mud Karting
Time Slot: 23 sessions per day from 9:00 am to 4:30 pm at an interval of 20 mins
Duration: 20 min
Price: INR 800 (non-resident) & INR 640 (resident)
Double Mud Karting
Time Slot: 23 sessions per day from 9:00 am to 4:30 pm at an interval of 20 min
Duration: 20 min
Price: INR 500 p (non-resident) & INR 400 (resident)
9. Canyon Swing

Canyon Swing is a new type of bungee jumping that offers you the free-falling thrill you always wanted! If you are the adrenaline junkie type, then this is the activity you would definitely want to do. You will be tied to vertical cables and would jump from a platform that is 45 meters above the ground. Also, did we tell you that the canyon you will be swinging on too is a real one! Yep.
Time Slot: 9:15 am, 10:45 am, 12:45 pm, 2:15 pm, & 3:30 pm
Price: INR 450 (resident and nonresident)
Age Limit: At least 12 years with max weight 100 kg
10. Other Experiences

These are two slides on a slope in which one can slide down using buoys. Fun!
Take a walk through the bird aviary and witness many shades of color as you interact with different species of birds.
A tour that offers amazing value, you will come face to face with many animals including African antelopes, rhinoceros, deer, ostriches, and more as you take a tour in the safari vehicle.
Visit the Big Cats park to enjoy a close view of lions, tigers, and caracals.
Get to know one of the friendliest creatures in the world here – camels!
This is a new playground that is perfect for your kids!
Another place that can be enjoyed by both families and kids is petting farm.
Casela Tour Packages
1. Pack Explorer Adventure
Entrance
Zipline 400m
Drive thru
4D cinema X2
Photo Souvenir
2. Pack Safari Adventure
Entrance
Drive Thru
Interaction with Lions
Photos
3. Pack Family Adventure
Entrance
Hippo Feeding
Tilapia Feeding
Petting Farm
Giraffe Feeding
Lorikeet Feeding
4D Cinema X2
Photo Souvenir
4. Pack Xtreme Adventure
Entrance
Canyon Swing
Nepalese Bridge
Photos
Note: All of the above packages are not available on Sundays
Casela Nature Park: Food

There are numerous eateries at Casela Nature Park with restaurants serving multiple cuisines that include Mauritian, Indian, European, and Thai specialties. There is also a kids menu and the whole dining experience is further complemented by the beautiful flora and fauna that surrounds the area. Don't be surprised, if you see beautiful peacocks spreading their wings near you!
Casela Nature Park Hotels
Some of the best hotels near Casela Nature Park are Manisa hotel, Tamarina Golf & Spa hotel and Hilton Mauritius resort & Spa. During your visit to the park, stay at these comfortable and luxurious hotels for the perfect holiday in Mauritius. The price to stay at these hotels starts from INR 5,000.
Tips
Wear appropriate clothing since this is an activity centric park. Sports shoes are a must.
Avoid taking toddlers since it is difficult to maneuver the prams in the park
Exclusive activities require prior booking – make sure you check on those
One can easily add lunch in their package if your activity is going to take time or is falling during the lunch time
Follow the instructions of the guide carefully and never provoke the animals
For reaching Casela, one can easily book a cab from their hotel or can arrange a private one on their own.
Further Read: 14 Important Things To Know About Mauritius: A 2022 Travel Guide For All Travelers
Overall, Casela World of Adventures is one stop destination that not only offers an enriching natural experience but also gets you up close with wildlife. It is a park for the adventure lovers and also for the peaceful kind. Families, honeymooners, and adventure seekers – all will be happy visiting this land of good times! I guess you better get going for a trip to Mauritius now!
Disclaimer: TravelTriangle claims no credit for images featured on our blog site unless otherwise noted. All visual content is copyrighted to its respectful owners. We try to link back to original sources whenever possible. If you own rights to any of the images and do not wish them to appear on TravelTriangle, please contact us and they will be promptly removed. We believe in providing proper attribution to the original author, artist or photographer.
Please Note: Any information published by TravelTriangle in any form of content is not intended to be a substitute for any kind of medical advice, and one must not take any action before consulting a professional medical expert of their own choice.
Frequently Asked Questions About Casela Nature Park
How much time would it take to enjoy the activities?
The timings for the park are from 9 am to 5 pm and it is recommended to stay the full day to enjoy all the activities.
Are outside food and drinks allowed in the park?
No outside food and drinks are allowed in the park except for a bottle of water.
Can one book a slot for the slide?
No. Free activities that are included in the cost of entrance ticket are on first cum first served basis.
Are there any baby changing facilities available at the park?
Yes, the facility is available at the entrance of the Discovery Centre. For more info, please contact the front desk.
Is the park wheelchair friendly?
Due to the varied terrain of the park, there are only some areas that are wheelchair friendly. However, the park staff is always there to assist.
Is touching the animals or taking close-up pictures with them permitted?
Touching, feeding, disrupting, or disturbing the animals is strictly forbidden. No shouting, please. Respect the animals and their space.
Are we allowed to play music and ball games in the park?
No, music or any other kind of audio equipment is not allowed in the park for it disturbs the natural decorum of the place and the wildlife. Ball games are also not allowed.
What kind of clothing is recommended for Casela activities?
In general, the visitor is advised to wear loose clothes and sports shoes since it will not only help with the activities but would be suitable for the warm weather.
---