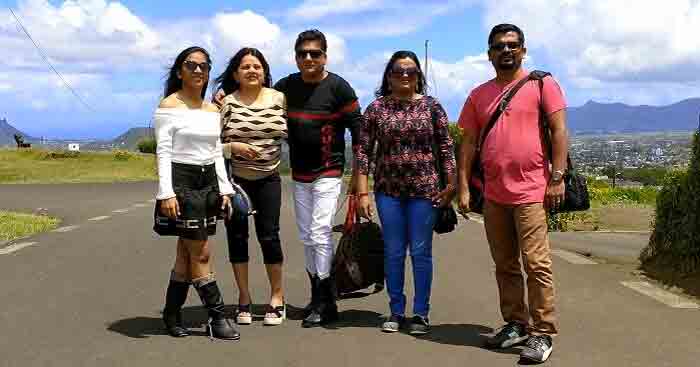 "I believe no holiday is complete without family and friends. Thankfully, mine had both and I am happy to tell you that it was the most incredible trip to Mauritius"
An international holiday with family and friends was always on my mind. So this time, when everyone was free during the Christmas time, we decided to go for it.
As a frequent traveler, I used to plan my trips by myself but this time it was different. Since there were family and friends involved, we decided to go for a package and that is when the discussion about where to go came up.
How we scored an incredible friends & family Mauritius tour package
Turkey was an option that was dropped due to safety reasons. Maldives because it had limited activities to do and even Mauritius because the flights were coming out to be expensive. We were about to go for Malaysia when we got in touch with TravelTriangle (found on Fb). Upon raising a request on their website, we were connected to their verified travel agents on board who assured us that a trip to Mauritius was possible within our budget and that is when we switched back to Mauritius. Long story short – we got our package customized to our needs, selected the best quote, and were now ready for a friends and family trip to Mauritius.
Trip Type: Friends and family Mauritius trip
Number of people traveling: 4 adults, 2 children
Cost: INR 4,11,000
Inclusions: Flights, hotel, transfers, & meals,
Exclusions: water activities, dolphin tour, and activities that we did on our own
Weather in Mauritius in December: 23 – 25 degrees (May to December)
Our customized friends and family Mauritius tour itinerary:

Day 1: Arrival – check in – rest – cocktail party in the evening
Day 2: Breakfast – proceed to Ile aux Cerfs island – water activities in Ile aux Cerfs – return to the hotel – dinner
Day 3: Breakfast – south island tour begins – see Grand Bassin, Shiva Temple, Diamond factory, Boat making factory – lunch – shopping at Curepipe, Color de Chamarel – return to the hotel
Day 4: Breakfast – proceed to Casela Nature Park – return to the hotel
Day 5: Breakfast – Dolphin Tour – departure
And now – our trip experience!
A warm welcome in Mauritius followed by an evening full of music

Adventure, Romance, & Luxury: An All In One Exciting Trip To Mauritius
Mauritius in our first view was a sight to behold. Bright and sunny, it gave us a very positive vibe. From a warm welcome (by our trip handler – Seaside Holidays) to our check at the Silver Beach resort, everything was smooth.
The hotel too was very nice. It had clean spacious rooms, well kept gardens, pool side restaurant, and a pretty while silver sand beach.

Later, even though we were tired by the journey, we had a great time at the pool. In the evening, there was a cocktail party with lively music. Surprisingly, the vegetarian meal that they served us was amazing and overall, our evening went well.


Local dance, live piano, singing performance, and an energetic DJ were surely the highlights of our Christmas eve here.
Doing water activities at Ile aux Cerfs Island

Post a delicious buffet breakfast today, we proceeded for to the Ile aux Cerfs office to book our water activities on the island. We met our travel representative Aashish here who helped us book our slot for Underwater Sea Walk, Parasailing, Tube ride, and a Speed boat ride to the waterfalls.

Honeymoon In Mauritius: A Toast To The Best Trip Of Our Life
We loved how each and every activity was properly explained to us and were particularly impressed by how Aashish managed to add better things in our itinerary that weren't there before.



So we headed towards the beautiful Ile aux Cerfs island on a speedboat and it was truly a magnificent experience. Out of all the water activities in Ile aux Cerfs island, the first one was Underwater Sea Walk and it was truly a refreshing experience. This was followed by a breathtaking parasailing!

Having lunch at this blue lagoon was another out of the world experience that we would always cherish. Post this, we had a really really fun Tube ride which was followed by a speedboat ride to the waterfalls on the island.
All the activities were managed in a timely manner thus resulting in an excellent day experience.
Indulging in the South island tour of Mauritius

After breakfast, we headed for the South Island tour with another soft spoken and helpful guy – Manoj who made our full day tour informative and suitable as per our timings.



Mauritius Honeymoon Guide: Here's All You Need To Plan The Romantic Vacation
Places we visited on the South Island tour of Mauritius
1. Grand Bassin: This was our first attraction in the south island tour and it was an ok experience except for the beautiful mountain and a nice walk that we had here.
2. Shiva Temple (Ganga Talao Temple): Here we saw a really big Shiva statue and spent some devotional moments in peace.
3. Diamond Factory: This was once again an average experience
4. Ship Building Factory: Here we saw how boats are made and it was a very interesting experience. It even had a shop outside where we could buy miniature ships as souvenirs. They even packed these pieces in a traveler friendly manner.
5. City of Curepipe: This was a small city where we did some shopping
6. Color De Chamarel: Also known as Seven Color Earth – this was an extremely enjoyable experience where we were given a proper six seater buggy to explore the area and later on taken to the waterfalls.

All in all the whole day was spent very well!
Fun at Casela Nature Park

One of the most enjoyable days out of all, we visited the Casela Nature Park today. "Casela Nature Park is a real nature and adventure park that houses a number of adventure activities, wildlife experiences, and other natural delights!"
We had a great time here and our package included the following activities at Casela Nature Park


1. Interaction with lions: This was an enthralling experience and probably the only place in the whole of asia to offer this experience.
2. Feeding the giraffe: Again a very interesting activity that made us feel close to nature and wildlife.
3. 4D show for kids: This was a great experience for kids and lasted for some 20 – 30 mins.
Apart from this, the park was full of activities, different sections with birds, many species of animals (believe me they were kept very well unlike a zoo) and small parks for kids. We had a lot of fun the whole day and overall it was a wonderful experience.
Leaving Mauritius with memories of a fabulous Dolphin tour

Mauritius Tourism Guidelines: A Detailed Guide To A Stress-free Holiday In 2022
This was our departure day but we had one more thing to go before leaving – Dolphin Tour. Thanks to our hotel management, they arranged a private car and passes for the same and off we went! As expected, we loved it. Riding on the waves in our motor boat, we were amazed beyond imagination when we spotted the beautiful gentle creatures splashing up and down in water. It was a sight to behold and even the divers on our boat went crazy when they spotted them. All in all, it was fabulous and we loved how our trip came to an end.

Later back in the hotel well in time, we proceeded to the airport for our flight back to india at 4:30 pm.
Final thoughts..
Mauritius for lack of better words was truly mesmerizing. We loved all the experiences we had here. From sightseeing to water sports to adventure activities and nature – everything exceeded our expectations and thanks to excellent management and hospitality by the hotel we had hiccup free trip that we all would remember for the rest of lives!
"Great memories were made on this trip and we remember them till the end of our days!"
Things we enjoyed most in our trip: Interaction with lions & Dolphin Tour
Things that could have been better: No negative points but our itinerary could have been better planned in terms of more activities and things to do!
My tips for travelers going to Mauritius: Focus on South Island Tour, spare at least 5 Days. enjoy all activities – forget budget. Also don't miss Casela Nature Park and Dolphin Tour and do Submarine tour if possible.
Mauritius was a dream destination for this family! They loved every bit of its tropical charm and you too can experience the same! Simply book a Mauritius family package here.
---
Looking To Book An International Holiday?
Book memorable holidays on TravelTriangle with 650+ verified travel agents for 65+ domestic and international destinations.
---