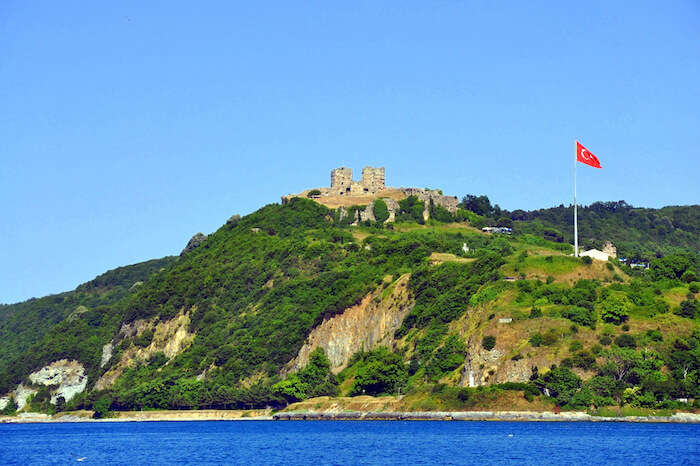 So you're here in Istanbul, have sought accommodation and few other places of attraction, but still are unsure of whether your itinerary is top-notch or not? Fear not, because Istanbul in Turkey has a grand collection of fortresses, ancient relics, towers and castles encompassed within its culturally and historically rich mainland. The top quality preservation efforts of castles in Istanbul are sure to impress you.
5 Picturesque Castles In Istanbul
We bring you a list of top 5 castles in Istanbul, Turkey to enrich your travel plan with more beautiful views, open-air museums and much more. Take a look at these gorgeous castles that remind you of the glorious bygone times.
1. Sehir Surlari
This fortified city wall surrounds the pristine city of Istanbul starting from the Golden Horn and wrapping it all around up till the Sea of Marmara. Being built in the time of the old Byzantium, they were initially used as construction material by the Ottoman army during the capture of Constantinople during the 15th Century AD but were subsequently destroyed by earthquakes. Today, as an ode to its former glory, some sections of the wall are being restored by the municipality.
Must Read: 7 Churches In Istanbul Whose History And Architecture Will Sweep You Off Your Feet!
2. Anadoluhisari Fortress
Also called the Anatolian Fortress, this castle dates back to the 14th century, and was from the time when the Ottoman executed their first attempt to conquer and capture what was the then city of Istanbul. The narrowest point of the Bosphorus Strait is where the Asian shore of the city is, and beside that you will find this fortress. The Anatolian Fortress was built on top of the ruins of a temple dedicated to the King of the Gods – Zeus. This fortress is much smaller when compared to the famed Rumelihisari on the European side.
Location: Anadolu Hisarı, Beykoz
Suggested Read: Mosques In Istanbul: Experience Calmness & Divinity At Their Best In This Scenic Land Of Turkey!
3. Rumelihisari
The 16-acre fortress in itself has 4 main gates, 1 small gate, and in addition, features 3 large and 1 relatively smaller tower. There is also a small mosque inside the Rumeli Castle today. Although being shaken up by multiple earthquakes in the past, restoration has always been done on it, the final one being performed as late as 1953, and leading to its inauguration as a museum. Today, guests can visit the castle which has transformed itself into an open-air museum and enjoy the many dramatic and musical concerts.
Location: Yahya Kemal Caddesi No:42, Rumelihisari, Sariyer, Istanbul
Suggested Read: 13 Best Places Near Istanbul To Explore The City Beyond Its Borders
4. Yedikule Hisari
Yedikule Hisari in Turkish literally translates to the "Seven Towers dungeons", and as its name says clearly, this is a seven-towered fortress which happens to be built around the Turkey wall near the Golden Gate, during the rule of Sultan Fatih Mehmet in order to protect the treasury of the state. Soon after, the treasury was moved, and Yedikule Hisari now began to be used as a dungeon. This place was used as a place of imprisonment for the foreign ambassadors that used to visit and the other Ottoman statesman.
Location: Osman Kale Meydani Caddesi No:4, Yedikule – Fatih
Suggested Read: Villas In Istanbul: 10 Examples Of True Luxury Across The Bosphorus Strait
5. Yoros Castle
Ever wanted to gaze at the splendid boundaries of a terrific city from Istanbul? The view atop the Yoros Castle provides you with exactly that and more. The Yoros Castle is built on top of a green hill which is partially occupied for a long long time now, by soldiers of the Turkish army. There are two major ways of reaching here – either choose between one of the special touristic ferries from where you can sit back comfortably and enjoy the views of the Bosphorus, or you can take a bus ride from Kavacik.
Location: Anadolu Kavağı. 34825 Beykoz, İstanbul
Further Read: 10 Cruises From Istanbul That Will Add A Dash Of Luxury To Your Turkish Getaway
These castles in Istanbul are famous for their sheer constructions, their touring options, the splendid views that guests can get from atop, and the rich entangled histories that they bring along with them. Pay them a visit on your trip to Turkey. Look through a window into the past to the times of the Byzantines and Ottomans, and get lost in wonder.
---
Looking To Book A Holiday Package?
Book memorable holidays on TravelTriangle with 650+ verified travel agents for 65+ domestic and international destinations.
---