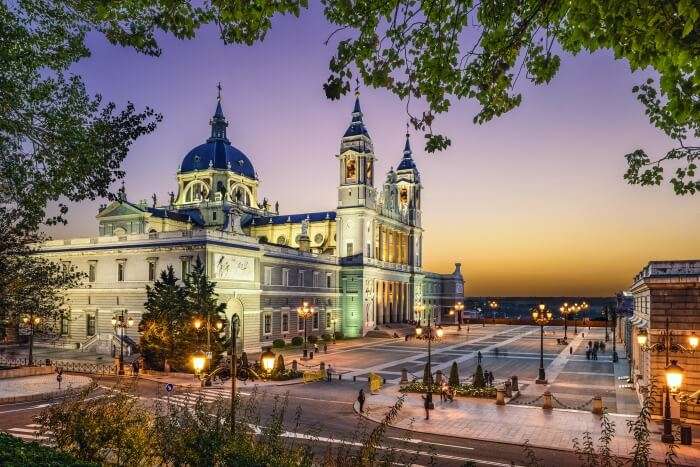 Building castles in the air is no longer a forbidden thing to do. You can not only dream of visiting castles in Madrid but also can fulfill these dreams. Spain is a wonderful country and has one of the richest medieval histories in entire Europe. There empires, kingdoms, and conquests. The province of Madrid houses over 30 fortresses, castles, and towers. If interested, take a look and try visiting the following castles. Spain has some of the most stunning castles in Europe. Have a look!
9 Best Castles In Madrid
These castles are important and bear the interesting history of Spain and its wars and even culture and tradition. Here is an exhaustive list that should be your go-to guide on your visit to Spain.
1. Coca Castle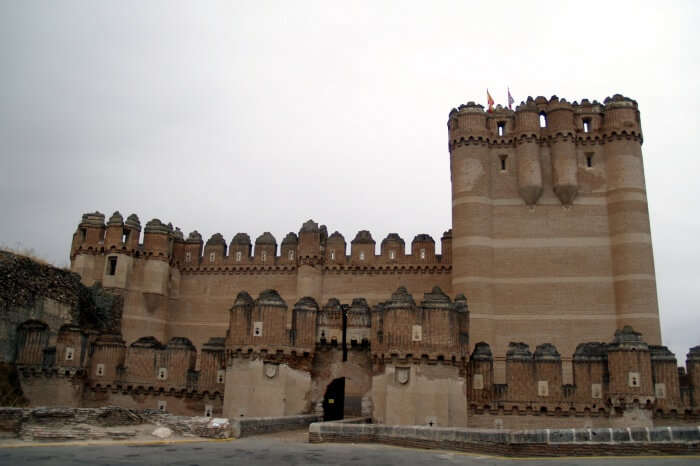 Situated in central Spain, the Coca Castle is a stunning castle and exquisite remains of 'Spanish Mudejar' architecture which merges Gothic and Moorish designs creating a characteristic castle nothing like any other. The castle times back to 15th century and was also repaired and then embellished through the 19th century. Now, it is a national monument and is home to a school of forestry, chapel, central keep, and armory. It is unquestionably extraordinary compared to other castles in Europe. This is certainly not a place to miss.
Must Read: 10 Beautiful Museums In Madrid That Will Enchant The History Buff In You
---
Europe Holiday Packages On TravelTriangle
Explore the most beautiful places to visit in Europe, from Paris to the Venice canals and from the Greek islands to the Swiss alps. Book customized packages by expert agents on TravelTriangle. Inclusive of airport transfers, cab, resort, sightseeing and meals. Best holiday experience Guaranteed. Book Now
---
2. Castle of La Mota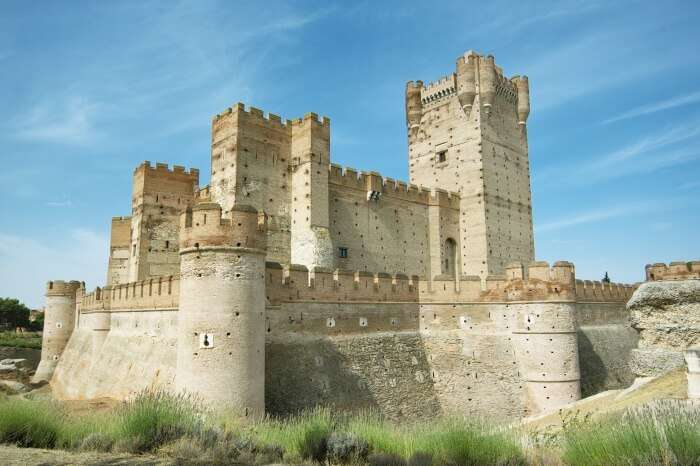 It is one of the utmost charming and beautiful castles which is likely to blow away your mind. This is an enormous castle near Madrid and has a pivotal role to play in the historical narrative of Spain. Built in the 1400s, this castle has seen a number of battles and wars and sieges. A large number of rival kings have competed for winning the battle. La Mota is a really important place where you will find important things too. You and your family will find solace here and you will never regret coming here. It is pertinent to mention here that it was later on converted into a prison. It is remarkable for its gardens, a Gothic chapel, and medieval walls.
Must Read: 15 Best Wedding Venues In Madrid 2022 That'll Make Your Dream Day Even More Special
3. Watchtower of Torrelodones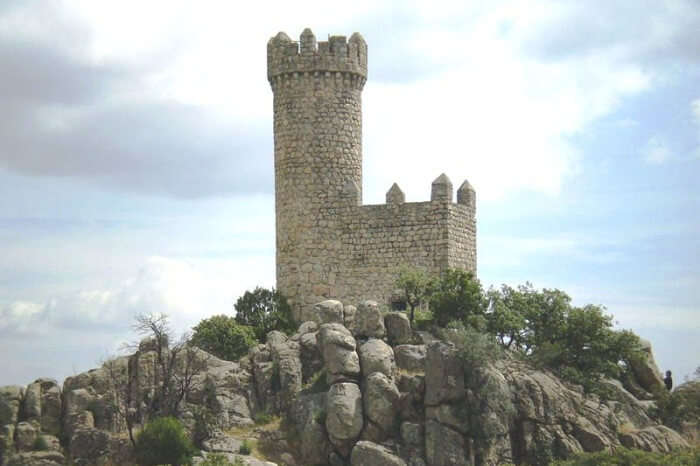 This is interesting and exciting and is shrouded in spooky, eerie and haunted tales. It is extremely old and was working amid the well-known Umayyad dynasty. i.e. Moorish empire. The tower is in excellent condition and has been recognized as a Historical and Artistic Monument. Going by the legends, the day following the Night of the Dead (Noche de Difuntos), the resident of the tower, Tirso Lodón found his children had mysteriously died under unusual circumstances. Though he tried to cover up the incident by hanging the bodies outside the tower, yet people knew very well that it was the devil's work. At present, you can definitely hear the ghouls of these dead children up at the top of the tower.
Suggested Read: Madrid In December Is The Best Place To Celebrate Your Christmas In Spain This Year!
4. Castillo de Villarejo de Salvanés

It is unusual and built with extreme care. It has 8 towers which are itself abnormal and unnatural since Spanish towers can only have four towers. In spite of the fact that very little is known to the general population; it must have been built somewhere between the 10th and 11th century. Now note it. There is a gallery, mini in structure, inside the castle and most importantly interested persons can ascent to the rooftop for getting a 360º view of 'Villarejo de Salvanés.' Visiting this castle will entice you to know more about the history of Spain and also its castles.
5. Aulencia Castle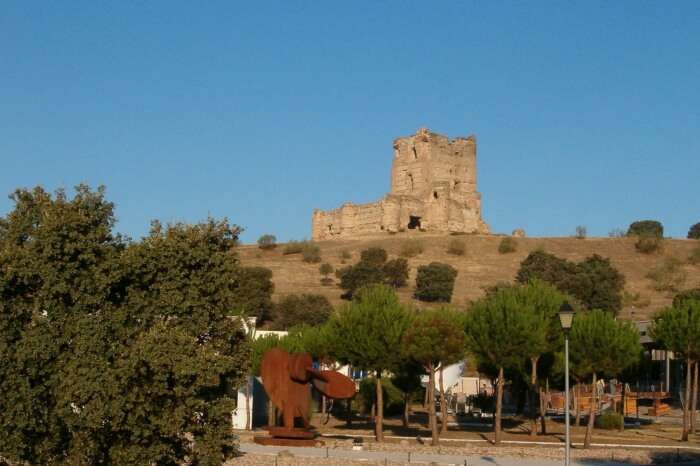 Built by and in the period of the Moors, Aulencia castle speaks volume of its grandeur architecture and design. It is located at the top of the Horcajo hill which is situated in the region of 'Villanueva de la Cañada' where ties the remains of the 'Castillo de Aulencia.' It was not only owned and but also used by the kings of Toledo, and of course the noble Gelo family. Since Castillo de Aulencia is privately owned by the Ballesteros family, you cannot possibly visit the castle up close. But there is no point in missing it. You should come and feel the essence of such a castle. The castle is a standout amongst the most wonderful castles in Madrid, Spain .
Suggested Read: Winter In Madrid Is All About Sunny Sky, Crisp Weather, & Whiff Of Tasty Churros
6. New Castle of Manzanares el Real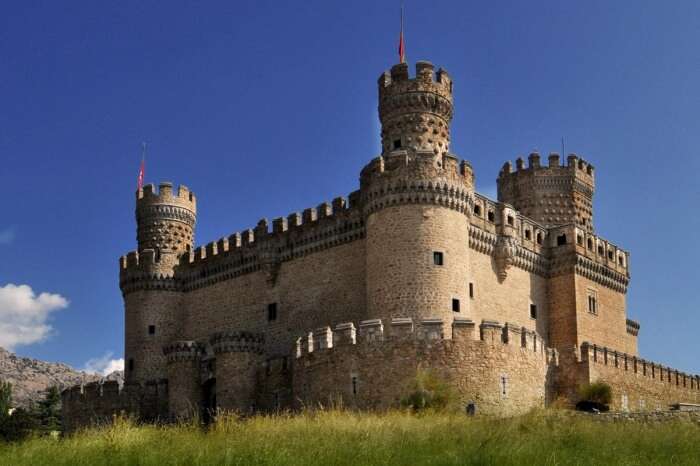 New Castle of Manzanares el Real is known as the Castle of Los Mendoza. It is located outside of Madrid and is an extremely fortress. The walls of the castle dominate the landscape and surroundings of it. The castle was worked in the year 1475 and was made as a defensive fortress. But it should be mentioned here that it was very soon transformed into a beautiful and stunning royal place well fitted to be a residential one. The enormous exterior acts as protective delicate columns, cool gardens, and tiles. It is the best-preserved castle in and around the region. Guests can see probably the most mind-boggling views. They can tour the place with the help of a costumed guide. In addition, there are actors who perform reenactments and embellish life in the castle. A lot of activities and exhibitions which explore culture, music, monarchy, and the technology of the day are conducted here on daily basis.
7. El Castillo de Batres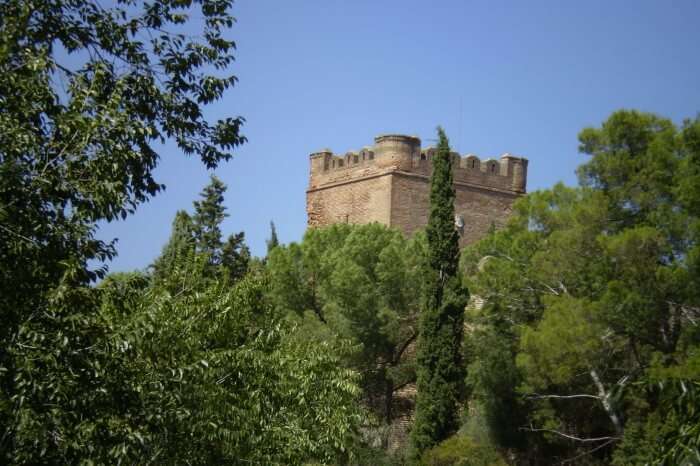 Madrid castle tour will be incomplete without a visit to the Batres castle. The castle is well built, well preserved and well maintained. The most fundamental feature of this castle is that it is surrounded by beautiful landscape and scenery. The fortress which is solid is surrounded by a trench, a gorgeous forest, a river, and fertile lands. One of the most striking features is that it is utterly romantic and a place where you can daydreaming in the lap of the castle. It needs mention here that it is where the world-famous poet 'Garcilaso de la Vega' grew up.
Suggested Read: Mosques In Madrid: Soak In The Sights Of The Multicultural Spanish Heritage
8. Castle of Torrejón de Velasco

This is one of the utmost treasured, revered, precious and respected pieces of Spanish history. It is situated on the 'Hispania Nostra Red List' of 'Endangered Heritage.' Note it, it is essential in light of the fact that the manor played an imperative and critical job in the feudal history in the Madrid territory. Visit this castle for once and feel the presence of history and its essence. It is believed that it was built in the early part of the 13th century. Interestingly, 'Castle of Torrejón de Velasco' was used by a large number of noble houses which included the 'House of Alba.' In fact, in the 16th century, the fortress was also used as a prison for noble criminals and in the 16th century, it was almost destroyed and damaged during the War of Independence.
Suggested Read: 10 Most Beautiful Churches In Madrid That Are On Every Globetrotter's Bucket List
9. Alcazar of Segovia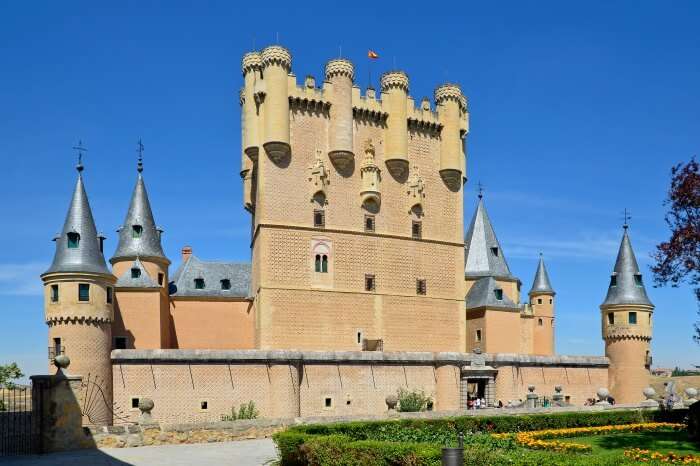 It is near Madrid and takes less than an hour to reach from them Madrid. Alcazar of Segovia Castle is located in the city of Segovia Now, the interesting feature is that it is believed that Walt Disney was inspired and charmed for Cinderella's Castle by this beautiful and exquisite castle. The delicate turrets and gracious walls are well adorned and decorated. It was originally a Roman fort and was once occupied by the Moors. Indeed, even the present stronghold was worked in the tenth century and over its long history, the castle has served as a very beautiful and exceptional fortress, military academy, prison, palace and later became a museum. Till date, it is a museum which deserves special mention. The distinguishing prow shaped castle and its beauty are matchless, unparalleled and unmatched till date.
Further Read: 9 Beaches Near Madrid That Add Charm To The City's Beauty!
A visit to these places of historical importance will enlighten you, acquaint you and inform you about the rich heritage of Madrid and its castles. Moreover, the castles are reflective of the then times and thus have been well built, well maintained and well kept. The beauty and grandeur of these castles transcend the boundaries of time and space. Come and visit Spain and enjoy life to the brim as there cannot be anything better than this.
---
Looking To Book An International Holiday?
Book memorable holidays on TravelTriangle with 650+ verified travel agents for 65+ domestic and international destinations.
---