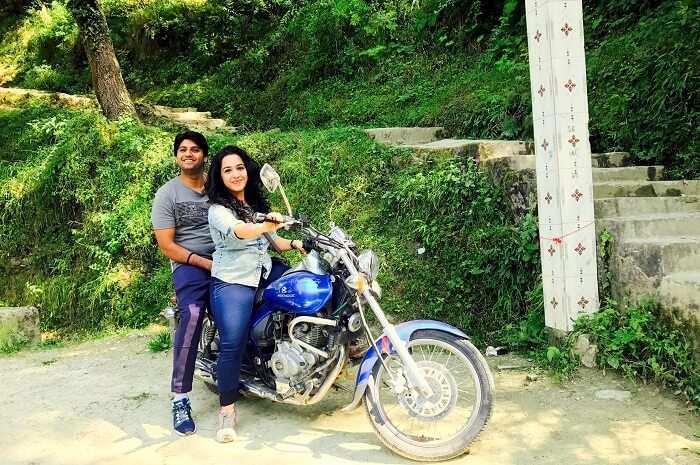 The habit of surrounding oneself in nature and immersing in its elements is often the purest form of delight for someone who loves the outdoors. On her first solo trip, Charu traveled on 2 nights 3 days weekend solo trip to Tirthan to discover charming waterfalls and adventurous treks.
Everything about this trip was beyond the realms of usual for me. It was the first time I decided to go solo on a vacation. Besides my usual urge of wanting to go to a beach destination, I thought of going to place where I could be trekking and exploring nature. I badly needed a weekend getaway where I'd catch a break from the hectic work schedule spend my five-day break from work.
The reason why I chose a solo trip to Tirthan was that my love for waterfalls compelled me to visit such an offbeat destination. There's always that element of intrigue and surprise while visiting an unknown place that promises a lot.
I had traveled before with TravelTriangle on a weekend getaway to Bir Billing with my sister. Therefore, I most certainly knew where I would get a Tirthan weekend package at a competitive price.
 Top Things To Do In Binsar With Friends: Our Weekend Of Absolute Fun
About my solo trip to Tirthan
Trip Cost: INR 6,500
Trip Duration: 2 nights 3 days
Month Of Travel: September
Inclusions: Transfers (from Delhi), accommodation, sightseeing, meals, and bonfire
Exclusions: Entry fees, and additional expenses (if any)
I had never been shy of new experiences in my life, and this solo trip to Tirthan was no exception.
All the travelers boarded the bus from Jhandewalan Metro Station in New Delhi to begin the journey to Tirthan. Since I was traveling solo, it took me a while to open up to all the unknown travelers in my group. Eventually, my school teacher instincts took over, and I got along with all kinds of people very nicely. Everyone had a fascinating story of their own and having a conversation was never this easy.
Day 1: The long journey and a warm welcome
The journey to Tirthan was long and tiresome due to traffic as we checked into the resort at 2 pm. But thanks to the new friends I made on the bus, I remained distracted from the traffic ordeal.
At our resort, travelers were accommodated at two different campsites- Usha and Trishla. Coincidentally, all the people I had befriended until they were in the same camp as mine. I guess that was one stroke of luck which made my solo trip to Tirthan better.
By the time we got settled it was already evening, and therefore we didn't have much to do except sit around the bonfire and enjoy the evening under the stars. The food at the resort was really delicious as everyone enjoyed a wholesome dinner.
 Thrilling Paragliding On A 2 Day Weekend Trip To Bir Billing
Day 2: Hiking up to a hidden lake!
I made an early start on the second day of my solo trip to Tirthan. After having an early breakfast, we started with the 7 km trek to Lake Serolsar. We made quick progress and arrived at the serene lake around noon.
Now, all that hiking made us hungry, but unfortunately, none of us were carrying any food expecting that we would get some at a tea stall at the top. There were many travelers who came before us and had finished literally all the Maggis and eggs before we even reached. Therefore, we were left with no option but to buy the horribly tasting leftover chips and biscuits.
After enjoying the lakeside view for a few hours, we began the descent to head back to our campsite. We boarded our tempo traveler and reached the campsite at 6 pm. Our empty stomachs and tired legs were so relieved to see delicious food and campfire.
Day 3: Paths less taken that led to magical waterfalls
The next morning was free, but a few enthusiastic people like me woke up at sunrise for the Choi Waterfall trek (2 km). This trek was scheduled for the first day, but since we arrived late it got canceled. Hence, some of us waterfall lovers made sure that we would make time for it regardless.
We enjoyed taking a dip and clicking pictures of the stunning Choi waterfall. The waterfall was pretty much hidden from tourists as only our group was present at Choi waterfall. Around 9 pm, we came back to the resort for breakfast and to check out.
 Luxury Adventure Camping On A Weekend In Rishikesh
As we were moved out of the resort, there was one more sightseeing place left to see- Chaini Fort. Going to this fort also required a trek that was tougher than the others due to the steep climb on this one. Later on, we returned to our bus around 2 pm and continued on our journey back to New Delhi.
After this solo trip to Tirthan, I felt that traveling with new groups should come naturally to teachers. After all, teachers get plenty of experience in handling unknown people. As for the state of my mind goes, getting a five-day holiday was indeed nature's way of giving me a perfect excuse for an adventure to wherever I please and come back home rejuvenated.
 All About Relaxing On A 2-Day Weekend Getaway In Rishikesh
High points:
Resisting the extra few hours of sleep and visiting the Choi waterfall was totally worth it.
Meeting amazing travelers during this trip opened my perspective to a world of things.
Lessons learned:
Always carry a small ration of packed food on a trek.
Traffic and long bus journeys can be a nightmare only if you let them be.
Pictures Courtesy: Pratyoosh Kashyap
Countless adventures are waiting to begin. Book your Weekend Getaway and discover how you can make your holidays memorable!
---
Long Weekend Trips Starting @ Rs 3299/-
Take a trip to spend the upcoming long weekend with your buddies.
✓ Stay at 4 star rating hotels with local sightseeing, meals and transfers.
✓ Travel in AC coach round trip (from Delhi).
✓ All Inclusive Deal– Camping, Jeep Safari & Trekking as per itinerary
✓ Sign up NOW to celebrate the long weekend out of town!
---