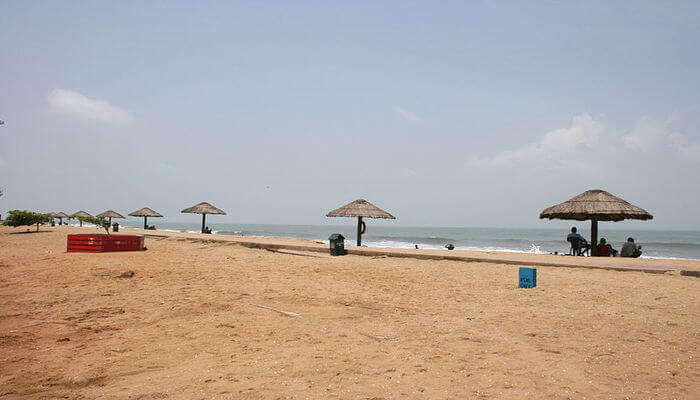 Cherai is a small town in Kerala that is situated on Vypin Island, Kochi. It is home to the Kottakkavu Mar Thoma Syro-Malabar Church, a church constructed by the Portuguese.
Apart from its historical significance, Cherai is also a pilgrimage site as it houses the Cherai Gowreeswara Temple (Kerala's version of Palani) and the Azheekal Sree Varaha Temple (and its infamous chariot). But another major highlight of Cherai, apart from Cherai Beach would be the Elephant March conducted by the Cherai Gowreeswara Temple. Therefore, a visit here is highly anticipated and more the visits, the more the requirement for stays. So, here, we present to you the top Cherai resorts that offer a unique and joyous stay.
8 Best Cherai Resorts
Another important attraction of Cherai are its super awesome resorts located in serene locations. So, here is the list of 8 Cherai resorts for a pleasant stay which have been categorized into specific budget segments:
3 Best Cherai Resorts Under 5K
For a start, here are three top-notch resorts to stay under INR 5,000:
1. Les 3 Elephants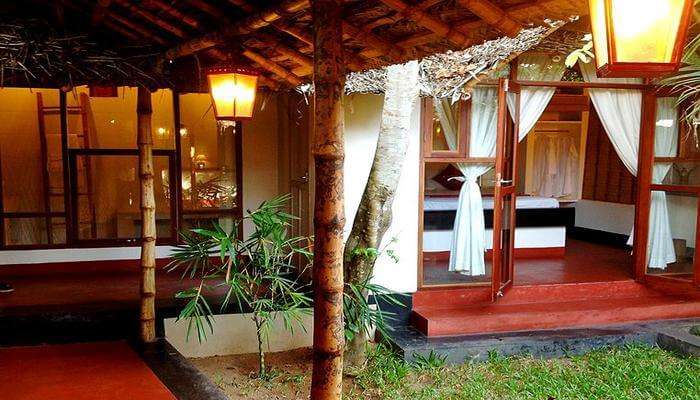 Les 3 Elephants is a holiday resort located close to Cherai Beach. Les 3 Elephants adopted traditional methods in its construction and hence possesses a rustic appearance. It consists of 11 cozy and simple looking cottages that are fitted with various modern amenities (such as private bathrooms and free WiFi). The huts each come with a private veranda that offers an exquisite view of the lagoon.
Les 3 Elephants goes a step ahead by offering traditional spa services. Les 3 Elephants also has an in-house international restaurant, tropical gardens and a library. The Les 3 Elephants is a child friendly resort that offers its guests special access to the beach.
Location: About 6 km from Cherai
Must Read: Kerala New Year Celebration: 8 Exotic Places
---
Kerala Holiday Packages On TravelTriangle
---
2. Cherai Beach Palace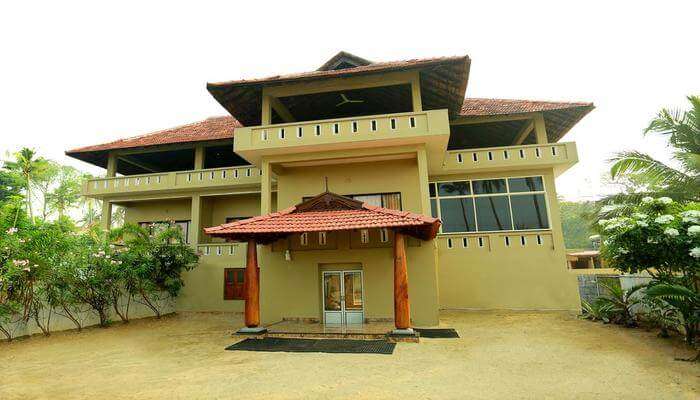 Cherai Beach Palace is located close to most of its sightseeing spots (Cherai Beach and Pallipuram Fort). Cherai Beach Palace is a beach resort that offers traditional Kerala hospitality. The rooms are equipped with all basic facilities: hi-speed WiFi, flat screen TV, air conditioning and a private balcony. The room service is top of the class. The resort also contains an indoor and outdoor swimming pool and offers conferencing facilities and spa services.
Location: 10 minutes walk from Cherai
Suggested Read: 37 Amazing Things To Do In Kerala For An Incredible Holiday
3. 36 Palms Boutique Retreat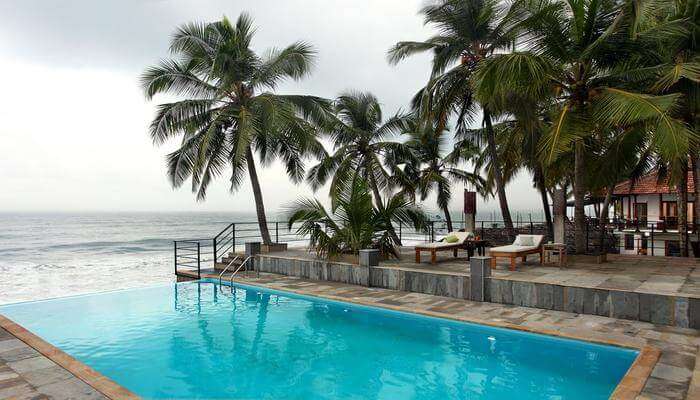 36 Palms Boutique Retreat is the ultimate relaxation cruise as it takes its guests to an ethereal level of peacefulness. Its relaxation approach combines yoga with Ayurveda and takes its guests on a tour to Kerala's traditions. It provides ease of access to Cherai Beach and neighboring villages. 36 Palms Boutique Retreat offers world class rooms and room service to its guests. Guests have unlimited access to its infinity pool. 36 Palms Boutique Retreat also offers shuttle services to and from the airport.
Location: 6 km from Cherai
Suggested Read: Winter In Kerala: 11 Best Places To Visit For A Blissful Vacation
2 Top Cherai Resorts Under 3K
The following resorts come well under INR 3,000 and have basic as well as premium level services:
1. Sealine Beach Resort

Sealine Beach Resort is an amazing resort that offers premium services to its guests at a reasonable price. Its rooms are equipped with free WiFi, flat screen TV and wooden furniture. Upgrading offers guests air conditioning and balcony views. Whilst suite rooms come with a living area, the others are nevertheless ambient and cozy.
Sealine Beach Resort has a rooftop restaurant. It also offers spa services and complimentary breakfast for guests. Sealine Beach Resort offers its guests privileged beach access and is child friendly.
Location: 10 Minute Walk From Cherai
Suggested Read: Kerala In November: Places And Events Not To Be Missed Out!
2. Mare Blu Resort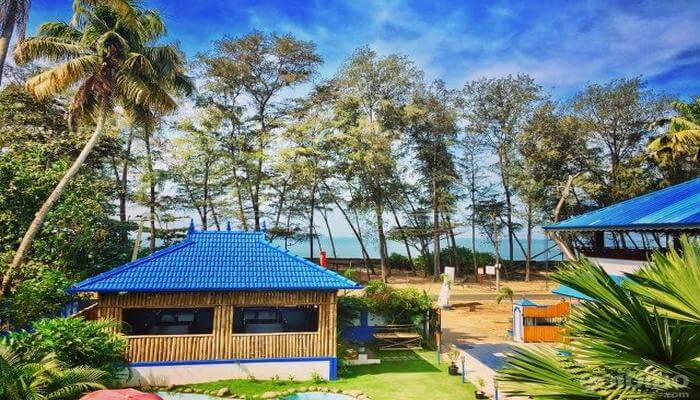 Mare Blu Resort is probably one of the most private resorts in or near Cherai. It is an ideal resort for couples. Mare Blu Resort consists of 10 aesthetic rooms, equipped with a private balcony, individual temperature control and free Wifi. Mare Blu Resort also offers spa and relaxation services. It has an onsite beach restaurant that serves fresh seafood and also offers conferencing services.
Location:Located 4 km from Cherai
Suggested Read: Kovalam In December: Explore This Touristy Seaside Town In Kerala
3 Best Cherai Resorts Under 2K
Here are 3 simple and serene resorts that offer ultimate comfort and relaxed stay:
1. Samudra Resort Munambam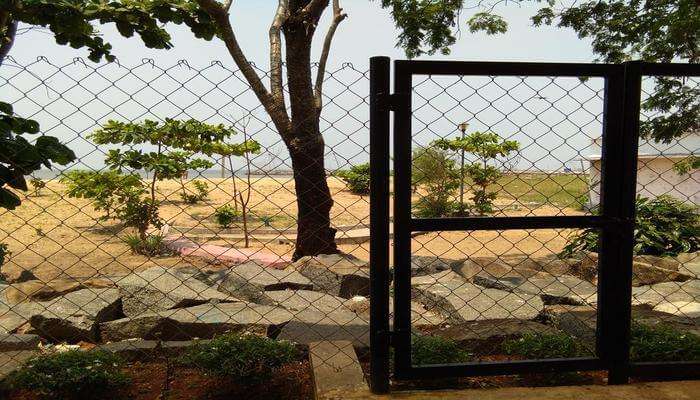 Samudra Resort Munambam is a beautiful couple-friendly resort. Its rooms are warm and cozy, with furnished interiors and equipped with modern amenities. This is a resort that specifically values the privacy of its guests. It provides special access to Cherai Beach. Rooms by the seaside offer amazing views of the sea. This resort is the ultimate weekend getaway for couples or a group of friends.
Location: Located 4.1 km from Cherai
Suggested Read: Munnar In December: A Pocket Guide For A Tour Down This Charming Kerala Town
2. Palm Beach Villa Cherai Beach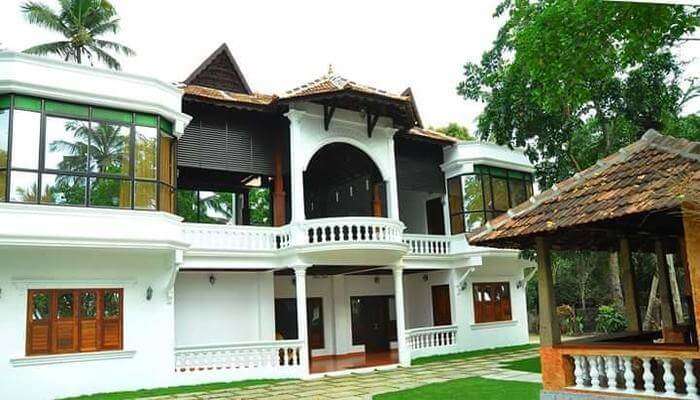 Palm Beach Villa Cherai Beach is probably the most child friendly lodging establishment in Cherai as it has a play area for children and enough activities to keep them occupied. What makes the rooms extremely comfortable is the fact that they are soundproof; meaning less disturbances. The resort also allows pets, unlike most other establishments in Cherai.
The resort also offers two-wheeler rentals, four-wheeler rentals, cycle rentals, water sport activities, boating activities and even fishing. It also offers backwater boat trips and sightseeing tours.
Location: Located 2.1 km from Cherai
Suggested Read: 5 Amazing Zoos In Kerala To Witness The Captivating Wildlife In God's Own Country!
3. PNA Resort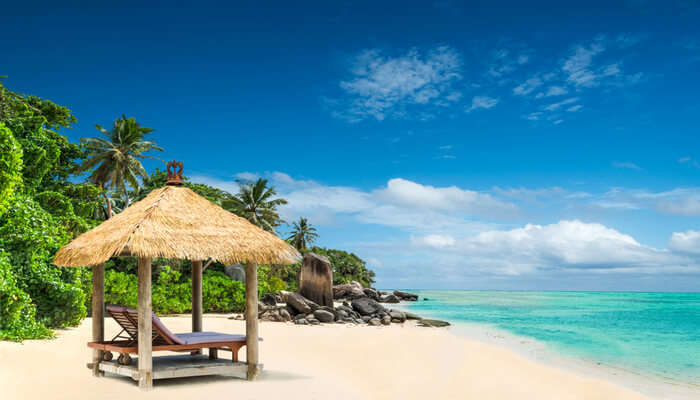 Despite being distant from Cherai, PNA resort establishes itself as an economic option. PNA resort offers its guests the following amenities: airport shuttles, free Wifi, in-house restaurant and laundry service. It is a child-friendly resort and also one that provides greater accessibility for the physically challenged. The rooms are simple, bright and cosy. The room service is extraordinary and the staff are very friendly. PNA Resort is a good choice for tourists travelling in groups.
Location: Located nearly 18 km from Cherai
Further Read: 6 Unusual Yet Exciting Things To Do In Ernakulam On Your Next Kerala Trip!
Cherai is highly applauded as a serene and peaceful destination. You can plan a trip to Cherai for a vacation with either friends or family. Experience luxury, comfort and happiness by visiting any of the above mentioned Cherai resorts . Also, don't forget to comment and share your experience with us.
Frequently Asked Questions About Cherai Resorts
During which month can one witness the Elephant March?
Tourists can witness the Elephant March during either the last two weeks of January or the first two weeks of February.
When is Cherai Beach open?
Cherai Beach is officially open between 9 AM and 6 PM all days of the week, but tourists and locals tend to show up a bit earlier and retire a bit later regardless of the timings.
Is Cherai Beach safe for swimming?
There are no restrictions for swimming at Cherai Beach but at times, especially during the monsoon season, the sea is known to be rough.
Are water sport activities available at Cherai Beach?
Yes, there are plenty of water sports activities are available at Cherai Beach. A must if you enjoy water and adventure.
What time does the Portuguese Fort open and close?
The Portuguese Fort is open between 9 AM to 6 PM all days of the week and admission is free.
---
Looking To Book A Holiday Package?
---
People Also Read:
Resorts Near Gurgaon Resorts In Mahabalipuram Resorts In Solan