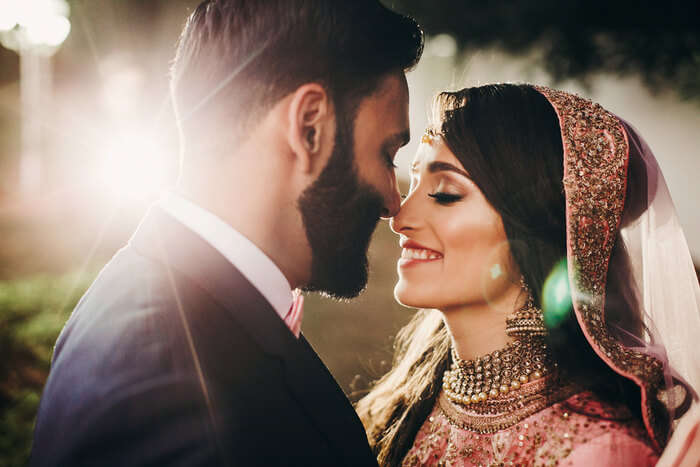 If the grandeur of the forts and palaces in Jaipur caught your fancy way back when you were a kid, you'll jump with joy after knowing that these places could be the venue for the most awaited day of your life. Yes, these ever more spectacular and royal palaces are the perfect place for you to tie the knot. And to lessen the stress of your D-day preparations, we've shortlisted these 10 best wedding venues in Jaipur for you to have the most gorgeous ceremony ever!
While the pink city stays beautiful throughout the year, the best time to plan a wedding here is during winters, i.e. from November to February when the weather is absolutely pleasant to step outside. So, just in case you're getting married at the end of the year, consider yourself really lucky to have a Jaipur destination wedding!
20 Gorgeous Jaipur Wedding Venues
Looking for places where you can get hitched? Why go anywhere else when you can do that in Jaipur? The following places are the best venues for doing just that:
Taj Jai Mahal Palace
Pride Amber Vilas Resort
ITC Rajputana
Chomu Palace
Fairmont Jaipur
Samode Palace
Oberoi Rajvilas Palace
Jaigarh Fort
Rambagh Palace
Alsisar Haveli
Le Meridien
Raj Palace
Mansingh Palace
Jaipur Marriott
Clarks, Amer
Gold Palace
Shiv Vilas
The Lalit
Park Inn
Lebua Resort
1. Taj Jai Mahal Palace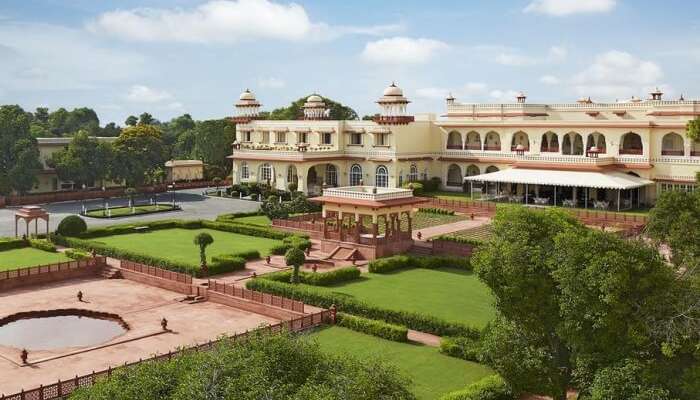 Set amidst the beautiful Mughal gardens, this 260 years old palace turned into a hotel is the most romantic one out of all the Jaipur wedding venues. Its Indo-Saracenic architecture and intricate details in every nook and corner make it a perfect backdrop to capture the best memories of your special day. This luxury heritage hotel has indoor and outdoor venues like celebration lawn, poolside lawn, fountain lawn, Durbar Hall, and palace lawn, etc. which can easily accommodate 100 to 3000 guests. Thus, it is one of the best wedding lawns in Jaipur.
Highlight: The 260 year old palace has luxurious rooms and suites, and is in close proximity to the railway station and the airport.
Location: Jacob Road, Civil Lines, Jaipur, Rajasthan
Nearby attractions: Amber Palace, Hawa Mahal City Palace
Website
Must Read: 10 Private Places For Couples In Jaipur For A Super Romantic Date
---
Rajasthan Honeymoon Packages on TravelTriangle
Explore Rajasthan, the land of Maharajas. Experience its royal cultural heritage, luxurious hotels, camel safaris, pristine lakes, and magnificent forts and palaces. Cover the best of Jaipur, Udaipur, Jodhpur, Jaisalmer, Pushkar and Ranthambhore at best prices with TravelTriangle.
---
2. Pride Amber Vilas Resort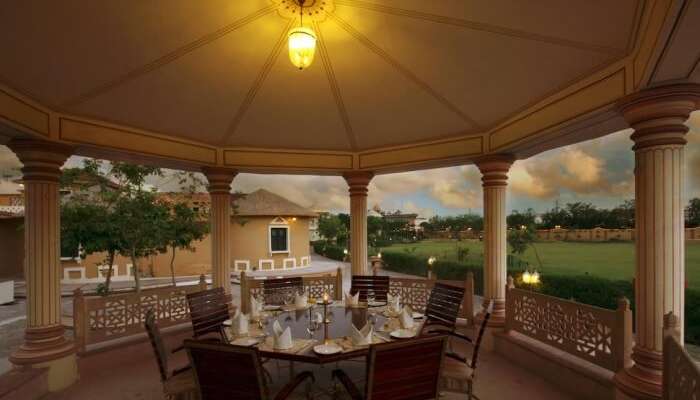 While what happens at a wedding to how it happens is most important to you, it's also for the guests. After all, they are a part of your special day to give you their wishes and love. To ensure that your guests have an unforgettable experience, Pride Amber Vilas gives them a royal treatment like never before. The central lawn, entrance lawn, Haveli, and banquet halls can accommodate up to 3000 guests. What makes this venue more amazing is that you can book stunning rooms, and enjoy both resort's and catering food at the venue.
Highlight: One of the best wedding resorts in Jaipur, Amber Vilas gives royal treatment to not only the bride and groom, but also pampers the guests.
Location: 12 Mile, Vatika Mod, Tonk Road, Jaipur, Rajasthan
Nearby attractions: Ram Niwas Garden, Jantar Mantar, Nahargarh Fort
Website
Suggested Read: 20 Best Hotels In Jaipur For Enjoying A Princely Stay In The Pink City
3. ITC Rajputana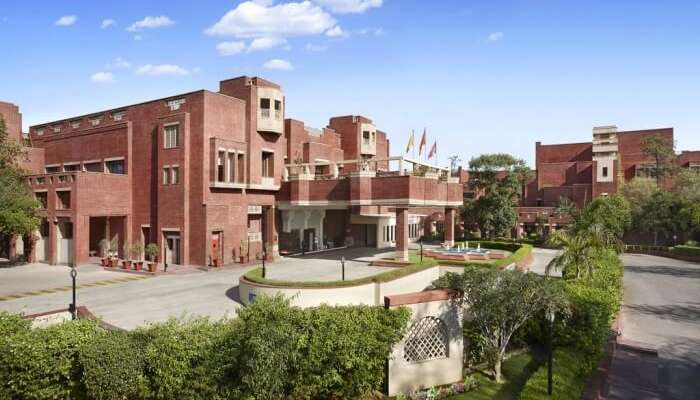 If luxury is what catches your eye and heart the most, then begin the journey of your new life from this 5-star hotel. Every nook and corner of this hotel exhumes royalty and is the best amongst all the wedding places in Jaipur. The property can accommodate up to 400 guests and offers in-house multi cuisine catering. Thanks to its world-class hospitality and the beautiful, exuberant lawns, your wedding at this hotel will be no less than a classy affair!
Highlight: This centrally located hotel is designed like the traditional havelis of Rajasthan.
Location: ITC Rajputana, Palace Road, Jaipur
Website
Nearby attractions: Hawa Mahal, City Palace, Amber Palace
Suggested Read: Top 15 Things To Do In Jaipur: Exploring The Pink City All Over Again
4. Chomu Palace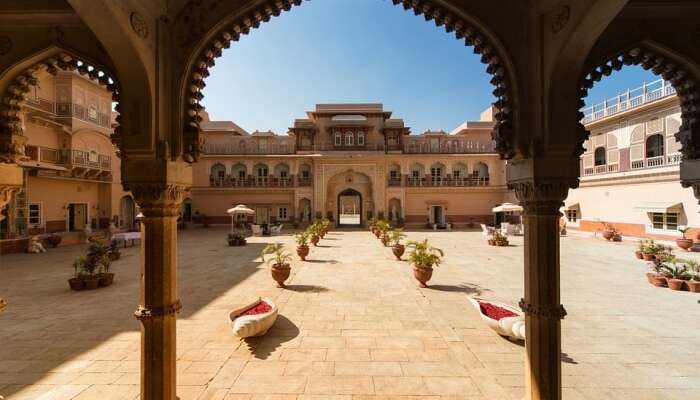 Amongst all the best wedding venues in Jaipur, Chomu Palace is the one which has been restored exactly like how it used to be ages ago. What doubles the value of having your wedding here is the fact how this top palace is a window to luxury, elegance, and Rajputana royalty. Its gardens and halls can accommodate up to 1000 guests, and there's no reason why you shouldn't consider this popular place for your Jaipur wedding.
Highlight: Being one of the top wedding venues in Jaipur, this palace is the epitome of luxury and elegance.
Location: District Jaipur, Chomu, Rajasthan
Nearby attractions: Hawa Mahal, City Palace, Amber Palace
Website
5. Fairmont Jaipur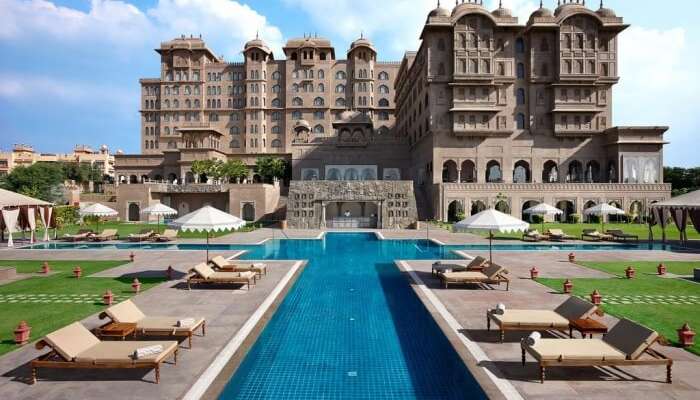 Located amidst the Aravalli Hills, Fairmont Jaipur is undoubtedly the most luxurious hotel for your Jaipur destination wedding. Its modern decor with a touch of Rajasthani culture will make the perfect backdrop for the moment in which you would walk down the aisle. Be it a traditional luxury wedding or a themed one, stay assured as this hotel will leave no stone unturned in making it the most memorable day of your life!
Highlight: This 5 star hotel has a plethora of elegant options like majestic Charbagh and The Grand Ballroom for your special day.
Location: 2, Riico, Kukas, Jaipur, Rajasthan
Nearby attractions: Jaigarh Fort, Sheesh Mahal
Website
Suggested Read: 20 Best Resorts In Jaipur For Every Budget
6. Samode Palace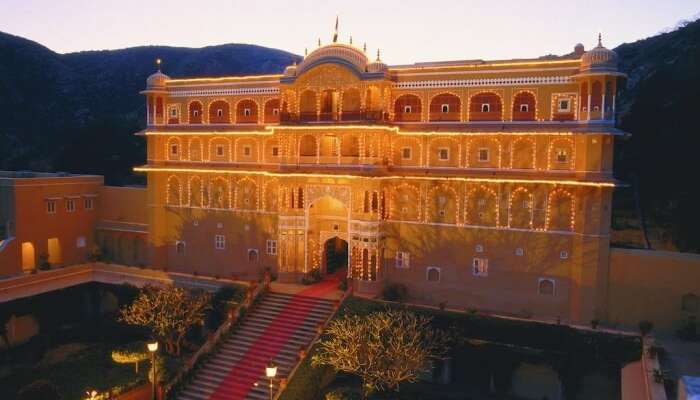 This 475 years old palace is the perfect place for you to have a fairytale wedding. The spellbinding architecture speaks volumes for this place, making it one of the best wedding venues in Jaipur. From venues like Darbar hall to Sheesh Mahal and Mughal gardens, this palace redefines romance and offers a number of venue options to choose as per the requirement of your ceremony.
Highlight: Out of all the best wedding venues in Jaipur, this palace is famous for adding regality to your wedding.
Location: Village Samode, Tehsil Chomu, Jaipur, Rajasthan
Nearby attractions: Hawa Mahal, City Palace, Amber Palace
Website
7. Oberoi Rajvilas Palace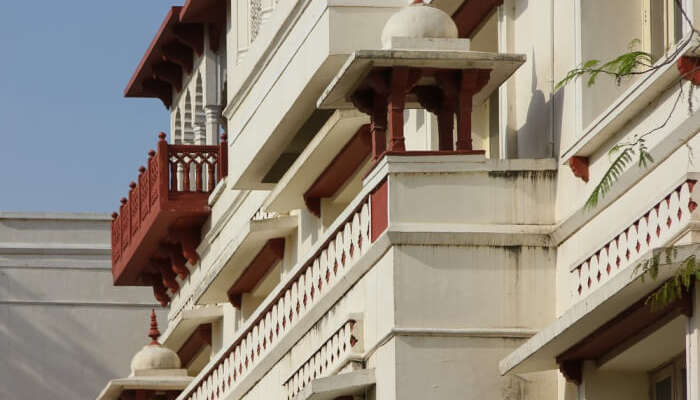 This is undoubtedly the most admired resort amongst all the wedding places in Jaipur when it comes to having your wedding in the most unique style. The resort oozes elegance and creates the most opulent setting for your special day with its sparkling pools, fountains, and lush green gardens. It is one of the best wedding gardens in Jaipur. With an impeccable venue like this, you neither have to stress, nor look for any other destination wedding venues in Jaipur!
Highlight: This luxurious resort is the perfect place to have a vibrant wedding ceremony
Location: Goner Rd, Jagdish Colony, Paldi Meena, Jaipur, Rajasthan
Nearby attractions: Birla Temple, Albert Hall Museum
Website
Suggested Read: From Royal To Offbeat, Here Are 15 Best Wedding Destinations in India To Say "I Do" In Style!
8. Jaigarh Fort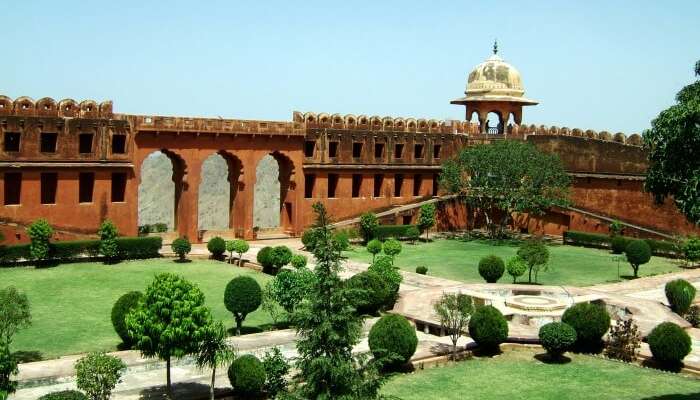 Built by the legendary ruler Sawai Jai Singh of Jaipur in 1726, this fort is absolutely the best place to get hitched if you're looking for a regal wedding. The fort still speaks and flaunts the craftsmanship of the rulers, and offers a stunning view of the pink city. It also has a host of venues and enough space for various ceremonies of your wedding.
Highlight: The fort is located on the outskirts of Jaipur, and is well connected by the road to the city, which makes it a great venue for your Jaipur destination wedding.
Location: Above Amber Fort, Jaipur, Rajasthan
Nearby attractions: Panna Meena Ka Kund
Website
9. Rambagh Palace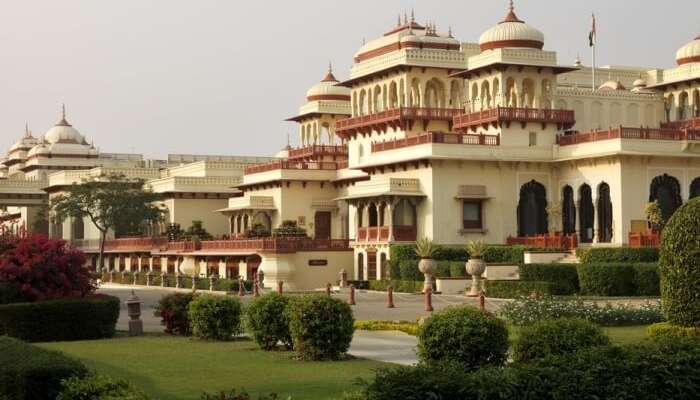 This palace has been popular as a romantic wedding venue in Jaipur for decades. What makes this place the talk of the town is that the Sridevi and Anil Kapoor starrer 'Lamhe' was shot here, and even the famous celebrity couple Katy Perry and Russell Brand got engaged at this location. So, if you're someone who has a thing for celebrities and their wedding venues, there's no place else, but this meant for your wedding!
Highlight: This palace is renowned as one of the most romantic wedding venues in India.
Location: Bhawani Singh Rd, Rambagh, Jaipur, Rajasthan
Nearby attractions: Birla Temple, Albert Hall Museum
Website
Suggested Read: Romantic Trip To Jaipur: Welcome To The City Of Palaces
10. Alsisar Haveli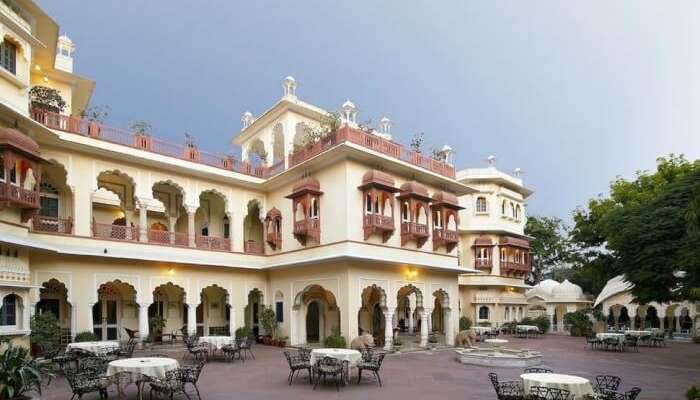 Located in the heart of the city, this Haveli is beautifully refurbished and restored to its former glory. It flaunts the splendor of traditional Rajput architectural style and has multiple options for your different ceremonies. Plan your D-day without any worries, because it will surely turn out to be a memorable extravaganza at this heritage property!
Highlight: With its beautiful fountains and well-maintained gardens, this is among the best heritage wedding venues in Jaipur that adds more glam to your vibrant day, and is undoubtedly one of the best marriage gardens in Jaipur.
Location: Sansar Chandra Road, Jaipur, Rajasthan
Nearby attractions: Raj Mandir Cinema, Hawa Mahal
Website
11. Le Meridien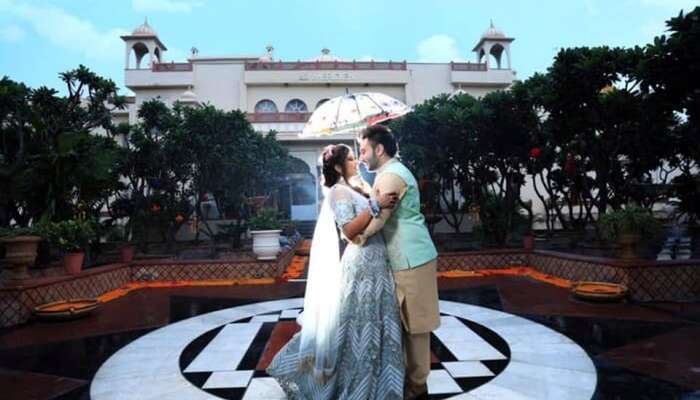 Ideal for any large scale celebration, Le Meridien Jaipur is among the best luxury wedding venues in Jaipur. For an engagement ceremony, the Diwan-E-Khas banquet is perfect, while for stunning balls and reception parties, Amer Ballroom is the place to book. If the guest list is huge, both these places can be merged into a huge one. There is an in-house catering team as well and the buffet menu is excellent.
Highlights: The large Amer Ballroom, In-house caterers, Diwan-E-Khas Banquet
Location: RIICO, Kukas, Rajasthan
Nearby attractions: Jaigarh Fort, Sheesh Mahal
Website
Suggested Read: Hawa Mahal: A Complete Guide To Explore The Culture And History Of Jaipur
12. Raj Palace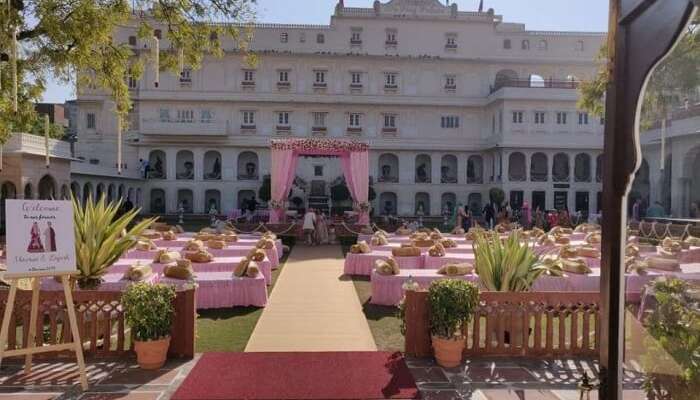 Want the ultimate royal wedding? Why not book one of the most famous hotels in Jaipur? The architectural masterpiece that this hotel is stuns everyone at first sight. Your guests will be left in awe of the sophisticated services in a historical palace. If you want a procession of elephants, horses, and camel grace your wedding – just as they used to for old kings and queens – Raj palace is the place to be.
Highlights: A large banquet hall perfect for pre-wedding ceremonies
Location: Amer Rd, Jorawar Singh Gate
Nearby attractions: Jal Mahal, Amber Palace, Sheesh Mahal
Website
13. Mansingh Palace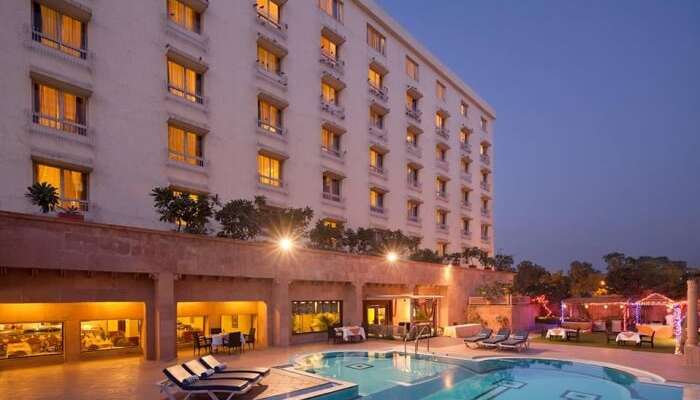 One of the best wedding venues in Jaipur India, Mansingh Palace is a historical palace that has been turned into a hotel. The staff takes care of all the wedding-related preparation and makes sure that the guests feel at home from the moment they enter the premises. If you want the traditional Indian warmth mixed with modern amenities and sophistication, Mansingh Palace is your to-go destination.
Highlights: A grand banquet hall that can fit in a huge number of people, friendly staff
Location: Sansarchandra Road, Lalpura Colony, Sindhi Camp
Nearby attractions: Raj Mandir Cinema, Albert Hall Museum
Website
Suggested Read: Monsoon In Jaipur 2019: A Guide To Explore The Pink City Of Rajasthan!
14. Jaipur Marriott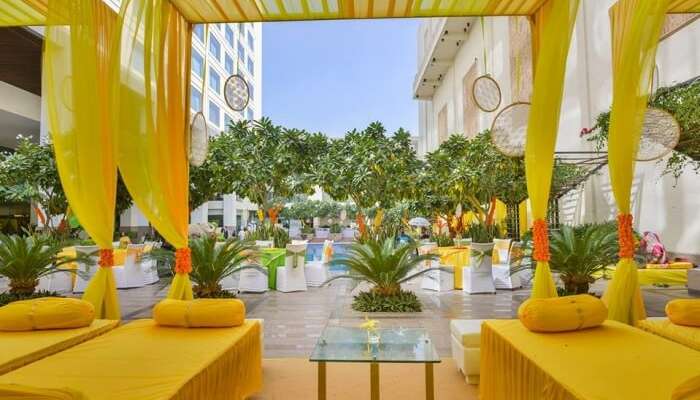 One of the most elegant venues for a wedding in Jaipur, Jaipur Marriott can accommodate a large guest list. There are 2 wedding venues on the hotel premises, each of which has a capacity of 1500 people each.
If you are baffled about how to plan your wedding, there are a few famed wedding planners who can nail the details for you. Even if you want a vegetarian affair, the in-house caterers can arrange for that.
Highlights: Wedding planners, separate on-site kitchen, two very large halls.
Location: Near Ashram Marg, Jawahar Circle
Nearby attractions: National Seashell Museum
Website
15. Clarks, Amer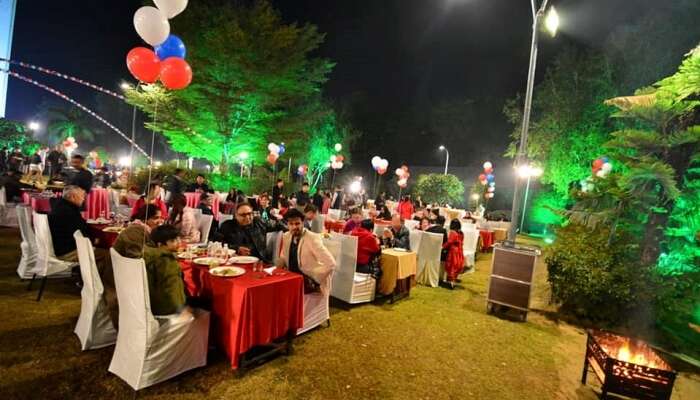 With one of the most dedicated staff you will ever find, Clarks Amer is quite an incredible venue when it comes to weddings. The preparations go on like clockwork here at the two huge wedding venues worthy of a lavish wedding. If you only want to supervise, you do that as well. All the rituals and ceremonies can be seen within the premises, including food. Also, all the guest rooms are stocked according to the request of the hosts.
Highlights: Customize the gifts and amenities for your guests
Location: Jawahar Lal Nehru Marg, Lal Bahadur Nagar, Chandrakala Colony
Nearby attractions: Jawahar Circle Garden, Jawahar Circle Gate
Website
Suggested Read: 6 Invigorating Picnic Spots Near Jaipur To Visit In 2019
16. Gold Palace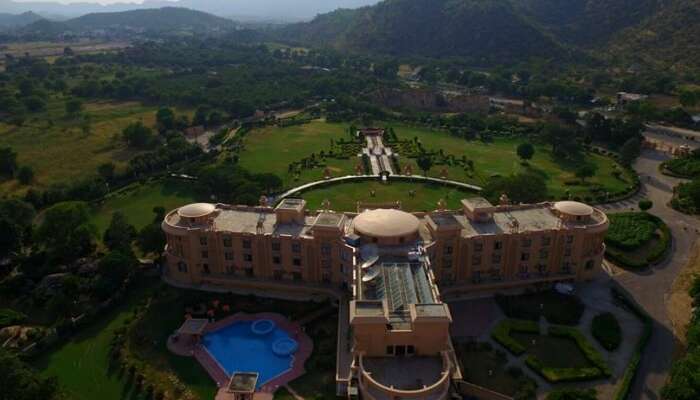 The thing that sets apart Gold Palace from other wedding venues in Jaipur is the lack of space constraints. The sprawling grounds are perfect for those who want a creative wedding. You can have a separate venue for each of your ceremonies and events at this palace-turned-hotel in Jaipur. The palace serves as a grand background of a wedding mandap and the staff is quite adept at handling such events.
Highlights: Large wedding lawns, no space constraints.
Location: 8th Mile, Jaipur Road
Nearby attractions: Amber Palace
Website
17. Shiv Vilas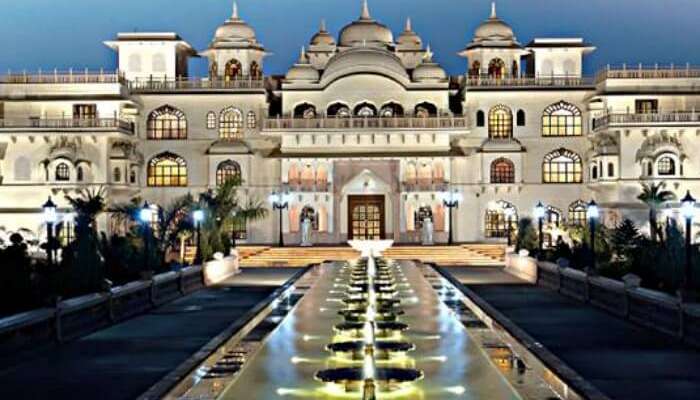 One of the more budget wedding venues in Jaipur, Shiv is truly spectacular. Grandeur and sunny interiors are a highlight of this place. The gorgeous venue has sprawling gardens and stunning interiors. The venue is quite secluded and serves the purpose for those looking for a private yet stunning wedding. Also, the white palace serves as a great backdrop for wedding mandaps. The guest can stay at the little cottages as well.
Highlights: Privacy, sprawling lawns, and gardens
Location: Jaipur Delhi Highway, Kukas
Nearby attractions: Jaigarh Fort, Sheesh Mahal
Website
Suggested Read: 8 Best Places That Exemplify The Nightlife In Jaipur
18. The Lalit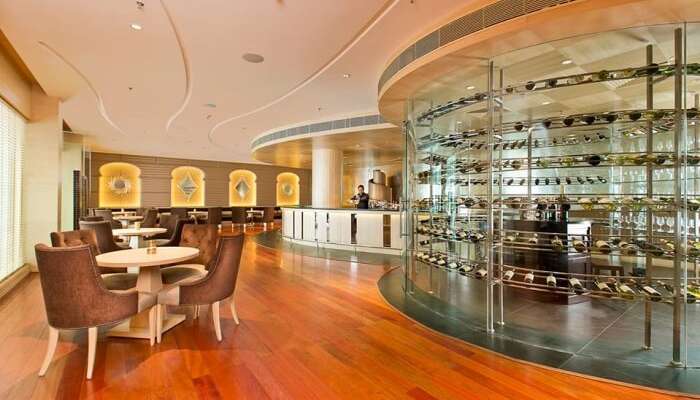 Ultimate luxury hotel in Jaipur for weddings – if this is what you are looking for, Lalit is it. The halls in the hotel can accommodate nearly 1500 people. The wedding ceremony can take place in one of the ballrooms or banquet halls in the hotel. The Crystal Ballroom is a sight to behold with its pillarless magnificence and opens to large lawns. There is a central courtyard with fountains and ponds makes for quite a romantic setting.
Highlights: Large ballrooms for all wedding events
Location: Jawahar Circle, Near Jagatpura Rd
Nearby attractions: National Seashell Museum
Website
19. Park Inn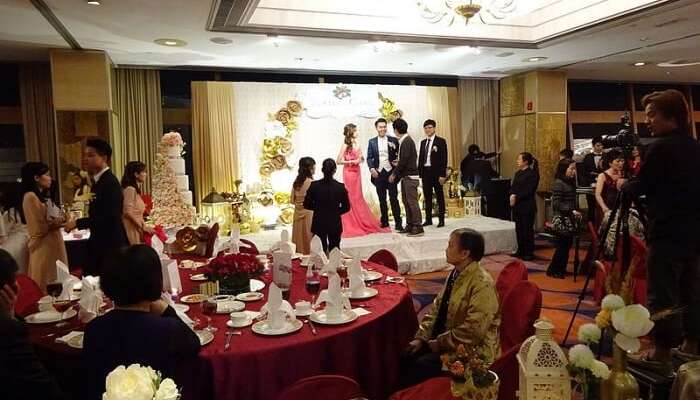 A 4-star property, it is one of the budget wedding venues in Jaipur. The services are grand without being exorbitant. When you want to celebrate the biggest day in your life without too much of a fuss, this place will come to the rescue. If you have your own choices about what should go where then you can easily get that done. Boasting of great amenities and decor, this is amongst the best wedding venues in Jaipur with price less than most other venues in Jaipur.
Highlights: More budget friendly
Location: Sawai Jai Singh Hwy, Kanti Nagar, Bani Park
Nearby attractions: Raj Mandir Cinema
Website
20. Lebua Resort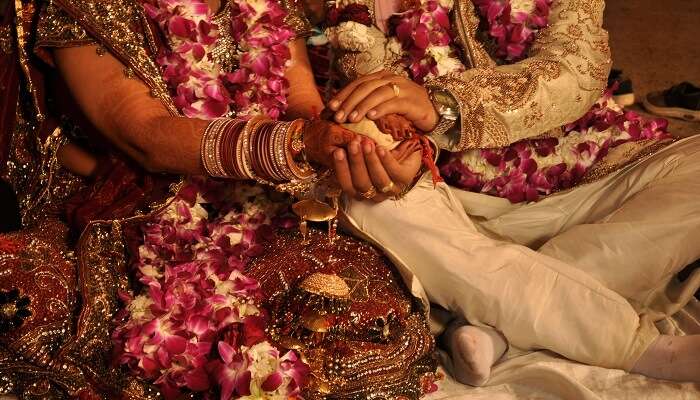 Image Source
A budget destination wedding in Jaipur? Lebua is your best bet! Don't be fooled by its regal looks and state-of-the-art facilities. Lebua is among the most affordable places in Jaipur where you can hold a wedding ceremony. Providing an elegant mix of indoor and outdoor venues where one can host nuptials and their guests, this resort is known for its exceptional hospitality and services. It's the perfect place to get hitched in style and give your guests a royal treatment! Your guests will receive a grand reception at the resort's intricately detailed latticework lobby, and each and every ceremony will be held in equally opulent and stunning halls like the Adya Banquet Hall. Your guests will be able to savor the finest Rajasthani delicacies during dinner at the Vajra Restaurant and Chakra Bar.
Location: Jamdoli, Agra Road, Tehsil Ballupura, Jaipur 302031, India
Nearby attractions: Amber Palace
Further Read: From Royal To Offbeat, Here Are 21 Best Wedding Destinations In India To Tie The Knot In 2019!
Aren't these best wedding venues in Jaipur too perfect for your D-day?! Like we said, why go for exotic locations when the perfectly royal one is so close to home? On your next trip to Jaipur, do make sure you scout these places to gauge which one fits your requirements. Once you visit the city, do tell us which one caught your fancy the most!
Frequently asked Questions About Wedding Venues In Jaipur
How much does a destination wedding cost in Jaipur?
A. Depending on the arrangements, venue, location, season, number of guests, and ceremonies, a destination wedding in Jaipur can cost anywhere between 10 lakhs to 40 lakhs.
People also read:
Naples wedding venues Wedding venues in Bloemfontein Wedding venues in Queensland
---
Looking To Book Your Honeymoon Package?
Book memorable honeymoon on TravelTriangle with 650+ verified travel agents for 65+ domestic and international destinations.
---
Comments
comments