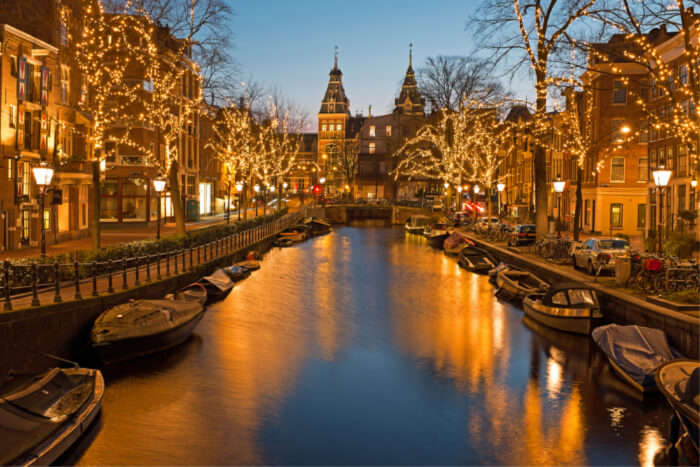 During the festive season, this northwestern European country magically transforms into a brightly lit up arena with a number of decorated Christmas trees in Netherlands and many other opportunities for visitors to enjoy and have a fun-filled experience. The festive season in this area starts during the month of November and the celebrations continue until the end of January. The celebrations of Christmas in the Netherlands lays out a variety of exciting options of activities to do in different places.
Weather During Christmas In Netherlands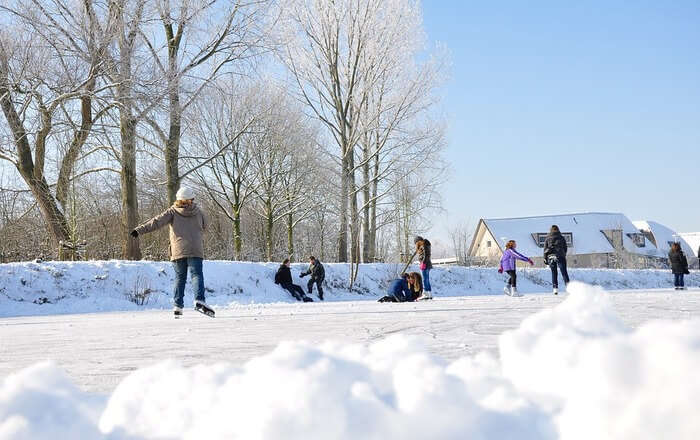 The festive season in the Netherlands is generally the time when peak winters hits this European region. In Netherlands, December is the wettest month of the year and the month of January is the coldest.
The weather during Christmas in Netherlands is quite chilly. It is so cold during winters in Netherlands that even the water in the canals and lakes of the region freeze. The cold weather may be accompanied by strong and intense winds. One must be prepared to deal with very low temperatures while planning a trip to Netherlands during the festive season. Sufficient warm clothing has to be packed if one wishes to spend their Christmas in the Netherlands.
Must Read: 15 Best Things To Do In Netherlands For Treating The Adventurer & Nature Lover In You
---
Europe Honeymoon Packages On TravelTriangle
---
Events During Christmas In The Netherlands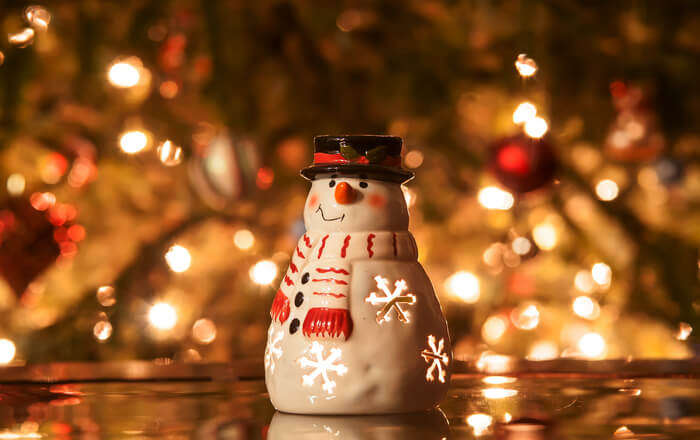 Sinterklaas is a prominent figure in the Netherlands, whose visit to the country marks the beginning of the Netherland festive season. The arrival of Sinterklaas is a very significant and an important Christmas tradition in the Netherlands.
Sinterklaas arrives in Amsterdam on 13th November every year. People from every nook and corner of the country assemble along the river Amstel to catch a glimpse of the arrival of this jovial figure. Sinterklaas arrives on a well-decorated speedboat which is sure to catch every visitor's attention. He then hops on a white horse which joins in the parade and marches through the main streets of Amsterdam. Sinterklaas remains in the city till the Christmas eve in Netherlands, and is said to return after presenting the families with several gifts.
This whole event is famously known throughout Netherlands as Sinterklaasavond or Pakjesavond and is a significant Netherlands Christmas tradition.
Markets To Visit During Christmas In Netherlands
The local markets are lit up with colourful Christmas lights in Netherlands and are well stocked with seasonal products. Some of the must visit markets during the Christmas season in the Netherlands are given below:
1. WinterWelVaart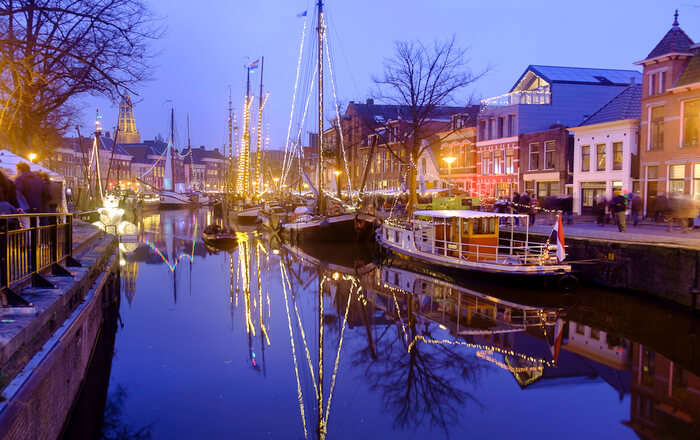 This is a famous Christmas market in the Groningen region of Netherlands. During the Christmas season, this market features a number of traditional wooden stalls offering exciting options to buy. This market opens up to the canals housed by this town which are completely frozen during this time of the year and offers amazing opportunities for a fun-filled experience of ice-skating on naturally formed ice.
Location: Lage der A, Groningen, Netherlands
Duration: 17th to 19th December
Suggested Read: Top 10 Hotels In Netherlands For Those Who Want A Grand Stay While Living The Good Life
2. Christmas Market Velvet Cave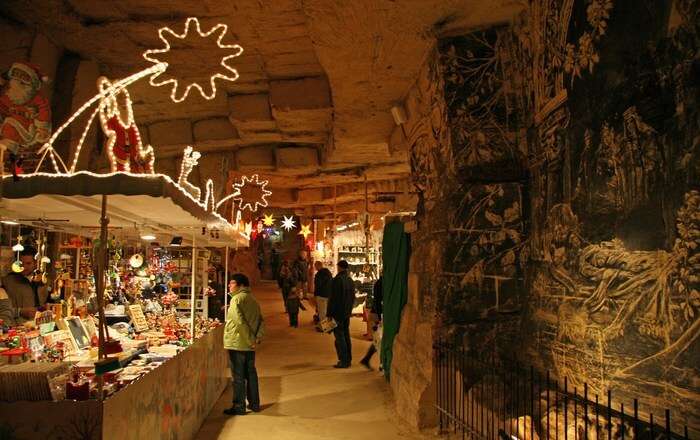 This market is set up in a grand way under the Valkenburg Castle ruins in the Limburg region. During the festive season, more than 60 merchants arrive here to set up their shops which offer an interesting variety of goods. These caverns under the castle are decorated with colourful lights which magically transforms these caverns into a wondrous vibrant area. The visitors and tourists even have the option of taking a guided tour into these caverns and also into the castle which stands above these caverns.
Location: Valkenburg Castle Ruins, Grendelplein 13, Valkenburg, Netherlands
Duration: 17th November to 23rd December
3. Magical Maastricht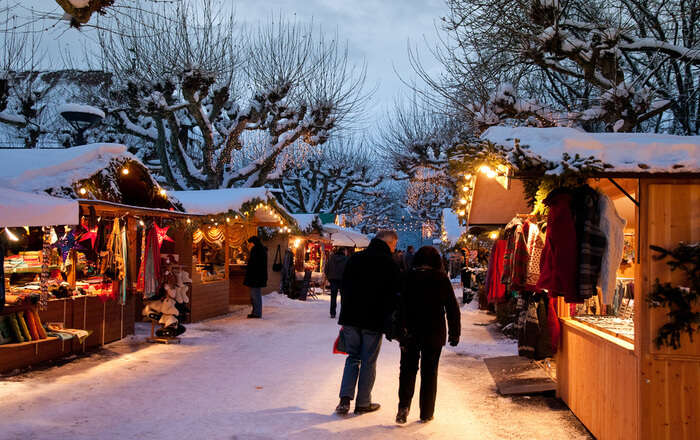 During the Christmas season, Maastricht turns into a spectacular shopping destination with several market stalls throughout the village pathways. This town sets up these stalls and hosts many shopping opportunities in the traditional way to pay tribute to the markets set up in these areas centuries ago. The best experience of Christmas in Netherlands for kids is offered by the game stands in this area which hosts a variety of games. This market features ice-skating rinks which forms an interesting activity to try out when in this region.
Location: Het Vrijthof, Maastricht, Netherlands
Duration: 1st December to 1st January
Suggested Read: Guess Which European City Gets The Title Of World's Most Liveable City This Year!
Must Try Food Delicacies During Christmas In Netherlands
The Dutch delicacies are sure to win every food lovers heart. An array of lip-smacking traditional dishes are offered almost in every street and restaurant in the Netherlands. Here are some of the must try dishes which have the capability to satisfy every gastronome's taste buds.
1. Speculaas

These crunchy cookies are generally made and relished during the Sinterklaas arrival festival. Several hand picked speciality spices are incorporated on these thin cookies to give them a unique and distinct flavour. It tastes somewhat like the gingernut cookies made in the UK. These cookies are shaped in such a way that they resemble the things which Netherlands is famous for like the windmills.
Where to try: Bakkerrij Simon Meijssen, Van Baerlestraat 23, 1071 AN Amsterdam, Netherlands
Suggested Read: A View From This Europe's Tallest Skyscraper Will Leave Your Jaw Dropped!
2. Oliebollen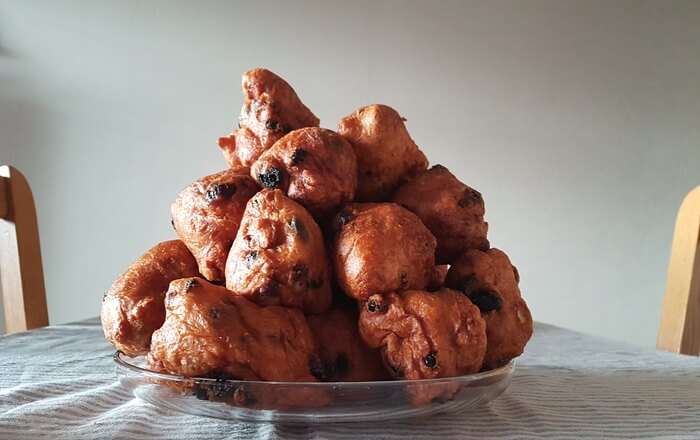 Oliebollen means "Oil Balls" in English. They are spherical balls which taste like doughnuts and are covered with oil and powdered sugar. They are high in calories but one bite into an Oliebollen and you would forget about the calories and end up gulping down the whole tray of this delicacy. During the Christmas season, many seasoned sellers and bakers offer a delicious variety of Oliebollen on almost every major street of the country.
Where to try: Lanskroon, Singel 385, Amsterdam, Netherlands
Suggested Read: Top 7 Places To Visit In Zagreb To Savor The Best Of South Europe
3. Kerststol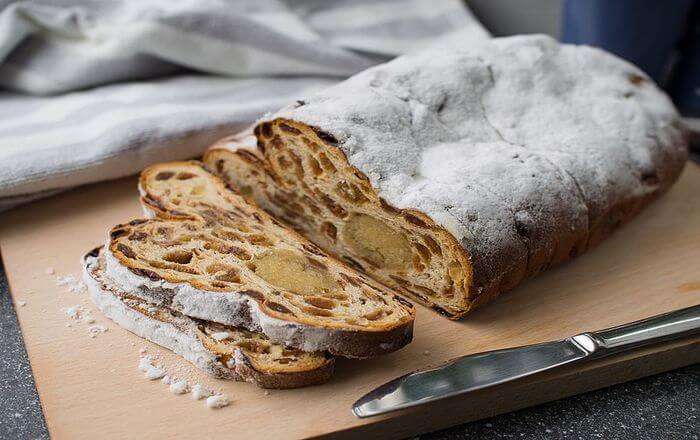 This delicacy is prepared by kneading the dough to make the sweet bread and after this, raisins, sultanas, lemon zest, and brandy is added and the dough is folded in such a way that it resembles a kind of swiss roll and then this combination is baked till the exterior becomes golden and crunchy. After this is taken out of the oven one can enjoy the soft mushy interior along with the crusty exterior of this delicacy. This is then glazed with poedersuiker(powdered sugar). It is best enjoyed when accompanied by seasonal wine or beer.
Where to try: Sugar & Spice Bakery, Zeedijk 75, 1012 AS Amsterdam, Netherlands
Christmas Traditions In Netherlands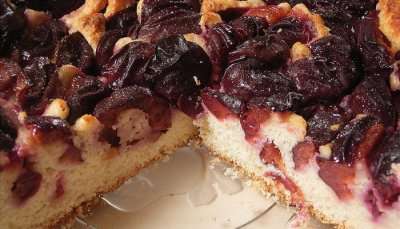 Image Credit: Frank Vincentz for Wikimedia
Christmas traditions in Netherland is typically defined by celebration of birth of Jesus, family gatherings, good food and drinks, arrival of Santa and the exchange of gifts. The unique tradition here includes Sinterklaas Avond which is celebrated annually on December 5 as St. Nicholas' birthday. On this eve, Sinterklaas visits home of every child and leaves a gift for them. It is similar but not the same as Santa Claus giving gifts.
Delicious food is the main part of the holiday celebrations including vegetables, roast pork, and homemade breads. Many families in Netherland have chosen to celebrate the festival in their own unique cultural way.
Facts About Christmas In The Netherlands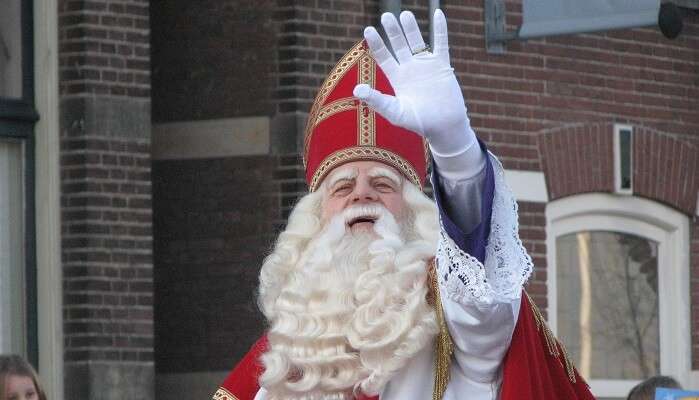 Image Source
Here are some interesting fun facts about Christmas in Netherlands that you should know before you leave for the Dutch land to celebrate the festivities.
One thing you should know about Netherlands christmas traditions is that they have separate days for gifting and Christmas i.e. 5th December.
Dutch people don't have a Santa Claus, they have a Sinterklaas. He does not ride a sleigh pulled by reindeers but arrive on a white horse.
Christmas celebration in Netherlands includes every kid getting an alphabet made from chocolate that starts with their name.
Christmas holiday in Netherlands is celebrated over two days i.e. 25th to 26th December.
Christmas day in Netherlands is celebrated by spending time with family as the gifts are already exchanged.
Further Read: 10 Best Airports In Europe For An Enjoyable Journey To Your Dream Destination
Christmas in the Netherlands during the month of December opens the opportunity to try out many different things in the various towns, villages, and cities housed by the country. Get an opportunity to experience the Christmas festivities in Netherlands by planning a winter holiday to the Netherlands here with Travel Triangle.
Disclaimer: TravelTriangle claims no credit for images featured on our blog site unless otherwise noted. All visual content is copyrighted to its respectful owners. We try to link back to original sources whenever possible. If you own the rights to any of the images, and do not wish them to appear on TravelTriangle, please contact us and they will be promptly removed. We believe in providing proper attribution to the original author, artist or photographer.
Frequently Asked Questions About Christmas In The Netherlands
What are some popular Christmas traditions in Netherland?
Playing games, watching movies and eating delicious Christmas food includes the main Christmas tradition in Netherland.
What do the Netherlands drink on Christmas?
People in Netherland drink a special type of mulled wine called glühwein starting the beginning of Christmas season.
What do they eat for Christmas in the Netherlands?
A typical Christmas dinner in Netherland includes of venison, turkey with plenty of vegetables, goose, and Kerstbrood (Christmas bread).
People Also Read:
Christmas In Sri Lanka Christmas In Prague Christmas In Barcelona
---
Looking To Book An International Honeymoon?
---