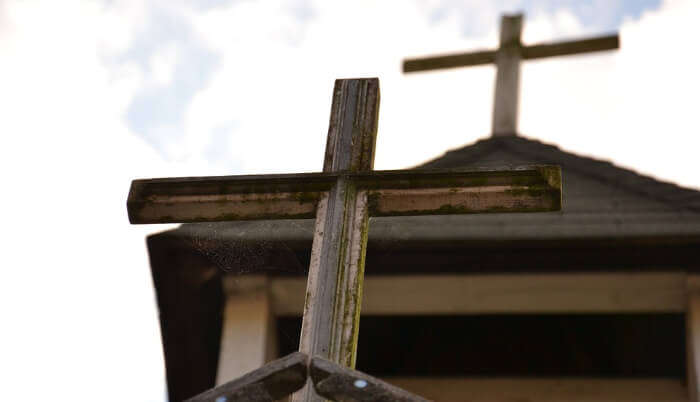 Cover Image Credit: Pixabay
The capital of the newly formed Telangana State, Hyderabad is a bustling metropolis in the south of India. Located between the Deccan Plateau and the Western Ghats, Hyderabad is a hotbed of intermixing cultures and customs. It is the fourth most populous city in the country and therefore has a significant population from all religions. Hyderabad has Muslims, Hindus, and Christians living together in harmony. Therefore, you'll find a variety of mosques, temples, and churches in Hyderabad – each of them is worth a visit.
Top 11 Churches In Hyderabad
Are you planning a visit to Hyderabad? Check out these churches that are quite popular for their architectural value, their history, and are a real must visit.
St. George's Church
St. Joseph's Cathedral: 
Centenary Methodist Church
All Saints Church
Millennium Methodist Church
St. John The Baptist Church
Wesley Church
St. Mary's Church
St. Alphonsus Catholic Church
St. Thomas Marthoma Church
Hebron Church
1. St. George's Church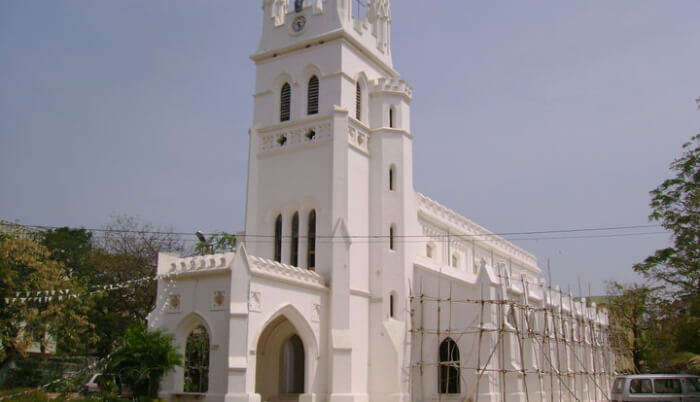 This church is one of the oldest churches in Hyderabad. Despite having been renovated over the years, it carries an old world charm. St. George's is classified as a heritage site. It attracts a large number of devotees. St. George has been given patronage to a large number of things, but perhaps the most significant is him being the patron saint of soldiers. This is one of the famous church in Hyderabad.
This key patronage is due to his immovable loyalty and faith; when asked to renounce his Christian faith, he refused and was put to death. He is now a renowned martyr of the Christian faith, known for his courage. Service begins at 8:30 on Sunday mornings, and typically goes on for 2 and a half hours. Found on King Koti Road, this church also has a school attached to it.
Location: 4-1-1111, King Koti Rd, Bogulkunta, Basheer Bagh, Hyderabad, Telangana 500001
Must Read: 23 New Year Eve Parties In Hyderabad 2022 You Should Not Miss!
2. St. Joseph's Cathedral: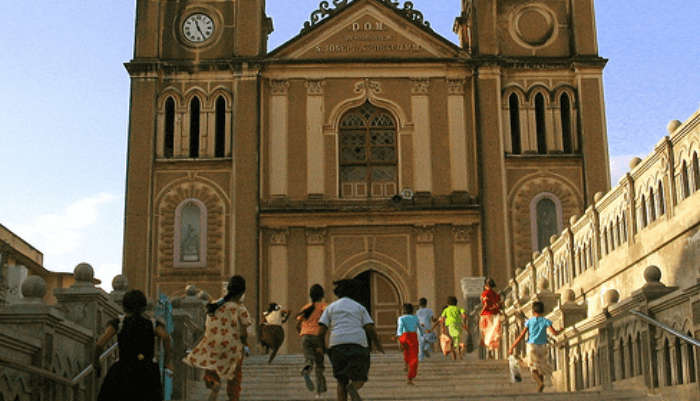 The cathedral is located quite close to St. George's Church. It is a very beautiful and popular Catholic church. The church has a very beautiful exterior, and an equally beautiful interior, with seating capacity for a large gathering. The church can accommodate over 500 people with ease. The bell towers were completed in 1891, but the bells were imported from Italy and installed in the year 1892.
The bells are times so they can play a number of hymns, most popularly 'Ave Maria'. Masses offered here are in English and Telugu. Fr. Antonio Tagliabue bought a large plot of land in the year 1869 with the intention of building a church, a convent, and a school on the plot. St. Joseph's was erected here.
Location: 5-9-305, Gun Foundry Street Number 1, Gun Foundry, Basheer Bagh, Hyderabad, Telangana 500001
Suggested Read: 13 Best Beaches Near Hyderabad For A Relaxing 2022 Vacation With Your Loved Ones
3. Centenary Methodist Church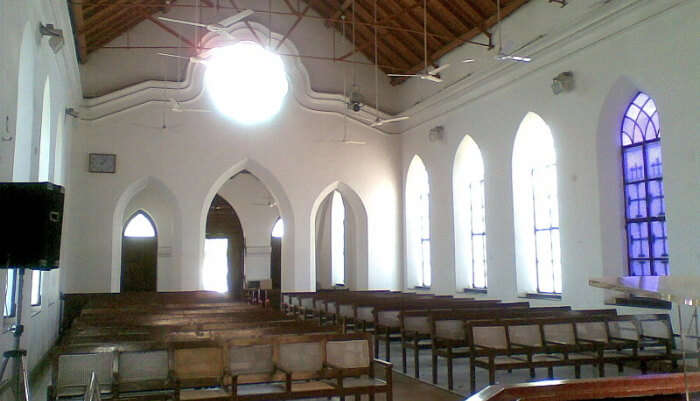 Built in the 1970's, this Protestant church is one of the bigger churches in Hyderabad. Centenary Methodist is really the name of a compound that contains Two churches, a Telugu church and an English church. Service is conducted both in the morning and the evening on Sunday, and is conducted in English, Telugu, and in Kannada.
It is popular among the protestant population. The church is the largest in Hyderabad, at least in terms of seating capacity. The church has been constructed in a more contemporary fashion and the altar has a beautiful stained glass background. The church has a simple structure, surrounded by greenery. It is located on Chapel Road, Nampally.
Location: Shop No-8-3-230/5/1A, Venkatagiri, Yousufguda, Hyderabad, Telangana 500045
Suggested Read: 10 Haunted Places In Hyderabad With Real Ghost Stories For Spooky Trips In 2022
4. All Saints Church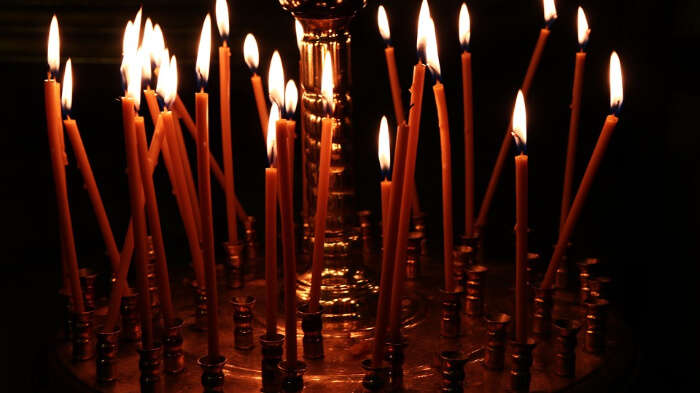 This large, red structure is quite iconic. This church was built in the 1700s by the British, to cater to the spiritual needs of the British Army men and their families. As the name indicates, the church is not dedicated to one specific saint. This is one of the famous church in Hyderabad.
It is a CSI church now, and services are conducted in English and Tamil primarily. The altar has a stained glass background with an image of the crucified Christ that will fill you with awe. The church is located on All Saints Road, Trimulgherry.
Location: 7-7, All Saints Road, Trimulgherry, Trimulgherry, Secunderabad, Telangana 500015
Suggested Read: Delve Into The Nightlife In Hyderabad At These 21 Exquisite Clubs And Bars
5. Millennium Methodist Church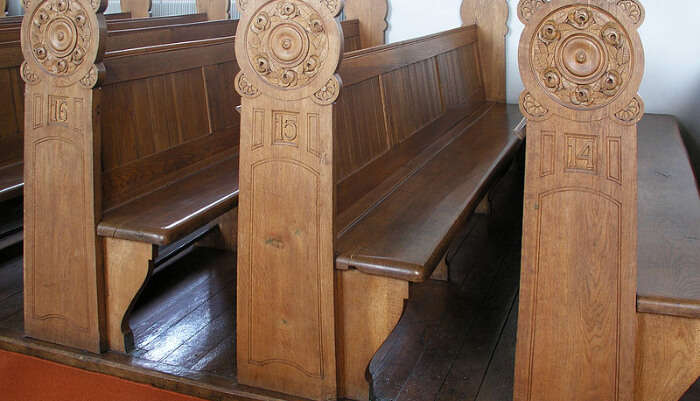 Initially a little chapel that was built in 1883, the chapel was demolished at the turn of the century and a new and bigger structure was built in its place. The new church was ready in the year 2001, hence the name. The renovation was due to the increasing Methodist population in Hyderabad that needed to be addressed.
The church has a large youth population, and as a result the church has a very youthful feel in most of its activities. The church organises a fair with plays and food stalls every year for Easter and Christmas that attracts a huge number of people. These are the best times to visit the church. Located in SD Road, this church is very popular among the believers.
Location: 9-1, 129/1, SD Road, Regimental Bazaar, Shivaji Nagar, Secunderabad, Telangana 500003
Suggested Read: 39 Charming Tourist Places Near Hyderabad To Visit On A Weekend In 2022!
6. St. John The Baptist Church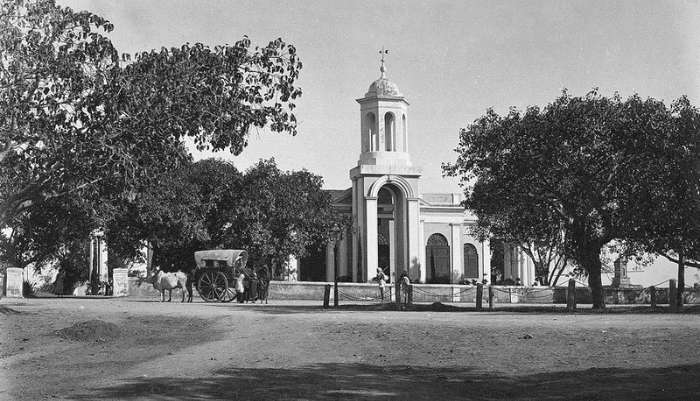 Another one of the old, historic churches in the area, this church was built in the year 1813. Initially built for the British faithful, this church is now a popular Anglican church, frequented by a number of the city's Anglicans. The church is named after the saint John the Baptist, Jesus' cousin.
Also known as John the Forerunner, John is believed to have had a pivotal role in unification of the church . He is the patron saint of a number of countries. The church is huge, with two tower like structures on either side of the door, one of which carries the church bell that calls devotees to prayer.
Location: P-9 & 10, Arul Colony, E C I L, Kapra, Opposite Asrao Nagar, Kapra, Hyderabad, Telangana 500062
Suggested Read: 20 Famous Temples In Hyderabad To Visit In 2022 For Peace And Spiritual Quest
7. Wesley Church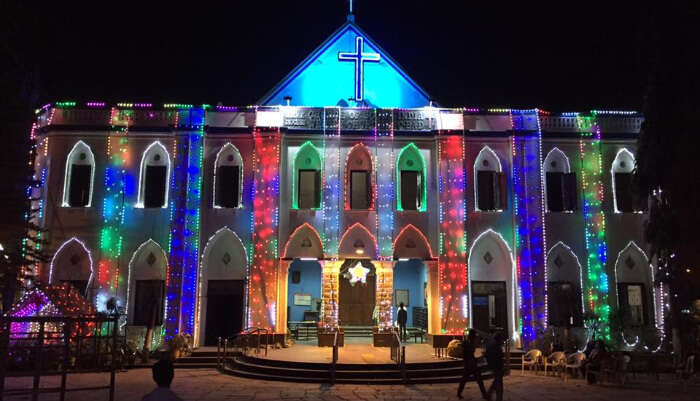 This church still has a very quaint, old feel to it. It was built by English missionaries in the year 1916. It is located beside the famous clock tower. Services are conducted every Sunday in Tamil, Telugu, and in English. It attracts devotees of all ages and is a very peaceful, calm place, perfect to connect to your inner spiritual self. The Wesley Church is traditionally a Tamil Protestant church. This is one of the famous church in Hyderabad.
Location:
Suggested Read: Trekking Places In Hyderabad: 12 Perfect Sites For Those Who Seek Real Adventures In 2022
8. St. Mary's Church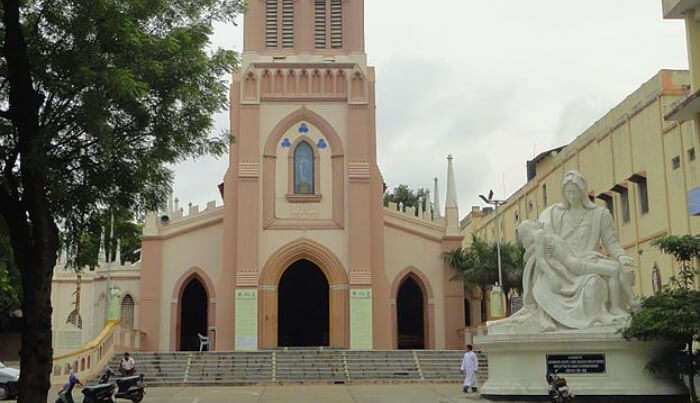 Built in the Gothic architectural style, this church is dedicated to the Holy Mother Mary. It is the most popular church in the area. Formerly a Cathedral under the Archdiocese of Hyderabad, this church now stands alone. The Vatican gave this church the label of ' Minor Basilica'. The most captivating part of this church is perhaps the large statue of the Mother Mary cradling Jesus after he was taken down from the cross.
This statue greets visitors right at the entrance, and is symbolic of the unconditional love provided by the Holy Mother. This is a very prominent Catholic church. It is located in Shivaji Nagar.
Location: 43, SD Road, Regimental Bazaar, Shivaji Nagar, Secunderabad, Telangana 500003
Suggested Read: 12 Happening Holi Parties In Hyderabad That Will Make You Say 'Rang Barse' In Style In 2022
9. St. Alphonsus Catholic Church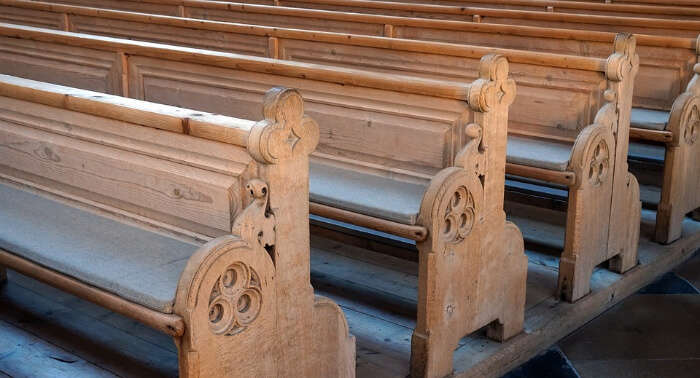 If caught in the middle of the city and seeking peace, this is the church to go to. The surroundings of the church are beautifully constructed to mesmerise and satisfy an itch for beauty. Popular among tourists, the surroundings of this church are both clean and beautiful.
St. Alphonsus was an Italian bishop and he is the patron saint of confessors, lawyers, and if arthritis. Therefore, when the burden of guilt is weighing heavy on one's soul, St. Alphonsus is the Saint to pray to. Additionally, the tranquility of the church will immensely help in attaining spiritual bliss.
Location: 9, Nandi Nagar Rd, GS Nagar, Nandi Nagar, Banjara Hills, Hyderabad, Telangana 500873
Suggested Read: Delhi to Hyderabad Trains For A Pocket-Friendly Ride
10. St. Thomas Marthoma Church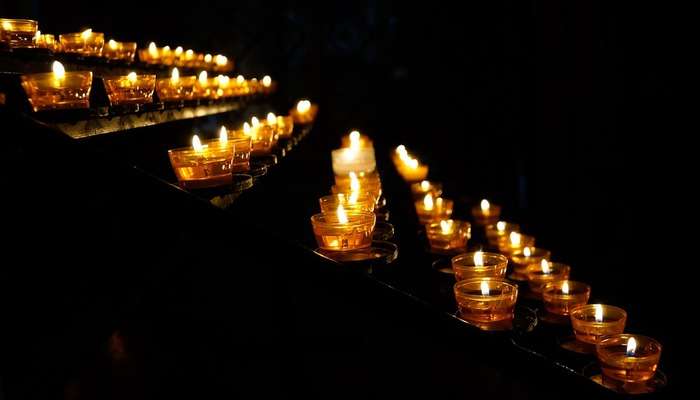 Disclaimer: The image is for representation purposes only.
St. Thomas Marthoma Church is one of the most popular churches in Hyderabad and is known for its exclusive designs. The serene environment makes you have the most peaceful in this lively city. The church has got beautiful interiors and is often visited by tourists staying in this beautiful city of Nizams. 
Location: CH. 740, HUDA Colony, Chanda Nagar, Hyderabad, Telangana 500050
11. Hebron Church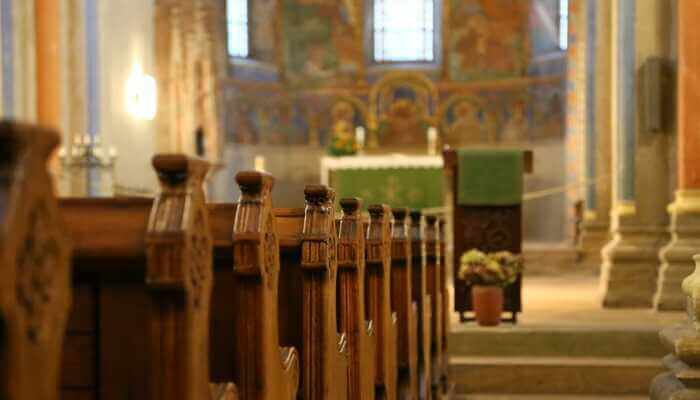 Disclaimer: The image is for representation purposes only.
Hebron Church is located in the centre of the Hyderabad city and is among the most peaceful sites here. The church is a popular tourist hub and the beautiful surroundings make visitors fall in love with this peaceful place located in the heart of the city. You can also attend a spiritual lecture here. 
Location: 1-1-574, Golconda Cross Road, RBI Colony, Kavadiguda, Hyderabad, Telangana 500006
Further Read: 10 Honeymoon Places Near Hyderabad For A Short Romantic Escape In 2022
Each of the above-listed churches in Hyderabad will make your whole vacation memorable. Your Hyderabad trip will be worthwhile if you'll go out and explore these churches built with brilliant architecture, beautifully reflecting the religious aspects of the locals of this city.
Disclaimer: TravelTriangle claims no credit for images featured on our blog site unless otherwise noted. All visual content is copyrighted to its respectful owners. We try to link back to original sources whenever possible. If you own rights to any of the images, and do not wish them to appear on TravelTriangle, please contact us and they will be promptly removed. We believe in providing proper attribution to the original author, artist or photographer.
Frequently Asked Questions About Churches In Hyderabad
Which is the biggest church in Hyderabad?
St. Joseph's Cathedral is a large church, especially in terms of seating capacity. It has a large structure with a beautiful facade and two bell towers. The bells, imported from Italy, have been tuned so they can produce hymnal melodies.
Which is the oldest church in Hyderabad?
St. George's Church is perhaps the oldest functional church in Hyderabad right now. It was constructed in the early half of the 19th century.
Most popular church in Hyderabad?
St. Joseph's Cathedral is very popular. This is due to its history and the architectural size of this church.
Which church has a remake of a famous painting in it?
St. Joseph's Cathedral has a remake of Michaelangelo's Pietá. One of Michaelangelo's most famous works. It depicts Jesus being cradled in the arms oh his Mother Mary following the crucifixion. Pietá translates to 'the pity'.
Is there a Mar Thoma Church in Hyderabad?
St. Thomas Mar Thoma Church is a very popular church for the Mar Thomites in Hyderabad. They have a very strong youth population and frequently conduct camps and other events in conjunction with the other Mar Thoma churches or South India.
What is the Millennium Methodist Church known for?
The festivities around Christmas and Easter attract a lot of people and are a lot of fun. Plays are organised and food stalls are set up all over. The plays depict stories from the relevant festival i.e., the Nativity or the crucified band resurrection of the Christ.
What is St. Joseph the patron of?
Having lived a pious life, according to Catholic tradition, St. Joseph died in the hands of Mary and Jesus. He died a content death, and is therefore the patron saint of a life well lived, of a 'happy death'. He was additionally made the patron saint of the 'Universal Church'.