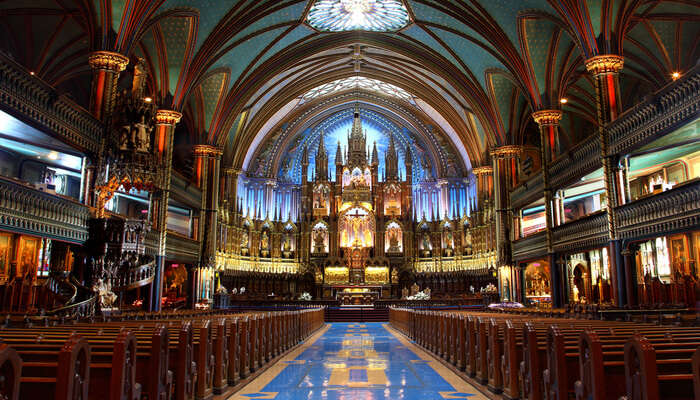 When it comes to churches, Montreal is full of them. There are churches found in every lane, corner and direction and they dont get missed thanks to the beauty and wow factor in each one of them. Mark Twain upon visiting Montreal said, "This is the first time I was ever in a city where you couldn't throw a brick without breaking a church window." This truly talks about the abundance of churches present in here. All these churches are breathtakingly beautiful both on the interiors as well as exteriors and hold a lot of religious importance. If you are traveling to this city and are seeking a spiritual journey then here's the list of popular churches in Montreal that you must visit.
Top 7 Churches in Montreal
There are all kinds of churches that one can find in the city. The popular ones, small, big, evangelical churches in Montreal and many more. Each church is different from the other and provides an experience of a lifetime.
1. Mary, Queen of the World Cathedral
Inspired by the Italian Renaissance revival and is inspired by Saint Peter's Basilica in Rome. This church was built between 1870 to 1894 and it consists of a large dome, a great organ, sculptor Louis-Philippe Hébert's White Crucifix, and a red copper and gold leaf baldachin. The church also consists of nine paintings that showcase the historic events that took place in Montreal. This was one of the first buildings in Montreal that cost more than one million dollars.
Where: Corner of Rene-Levesque Blvd and Mansfield Street
Must Read: Day Trips From Montreal: 5 Places In Canada To Have Maximum Fun In Little Time
2. Saint Joseph's Oratory of Mount Royal
Declared National Historic Site of Canada, is one of the world's great catholic basilica. It was made in 1924 by Brother Andre in the honor of Saint Joseph. The architecture of the church is one of a kind as the exteriors are designed following the lines of the Italian Renaissance, has Corinthian-style pillars and dome that is the third largest and one of a kind in the world. The inside of the church has the remains of Saint Andre who was declared venerable in 1978 because of the many miracles that cured millions of healings. Today the church is visited by n number of pilgrims who climb the church on their knees and pay respect to him.
Where: 3800 Queen Mary Road
Suggested Read: 10 Budget-Friendly Hostels In Canada For Enthusiastic Backpackers!
3. Notre-Dame Basilica of Montréal
Designated as the National Historic Site of Canada, this church was designed by an Irish-American architect. The architecture is Gothic inspired and consists of 2 towers. The interiors are decorated with hundreds of intricate wooden carvings, religious statues along with Casavant Feres Pipe organ. A crown jewel in Quebec's religious heritage, the church is not just popular among the locals and tourists by also among celebrities. It was here where Celine Dion got married to Rene and it was here superstar Luciano Pavarotti performed his 1978 Christmas concert. This Montral Church is one of the most popular ones in the whole of Canada.
Where: 110 Notre-Dame St W, Montreal, QC H2Y 1T2, Canada
Suggested Read: Monsoon In Canada: See How Best To Enjoy This Blissful Season In Canada
4. Christ Church Cathedral
This is a Neo-Gothic styled structure that is a built-in form of a cross. It is a Regiment Church of the Canadian Grenadier Guards. It is also designated as the National Historic Site of Canada. This church also hosts several concerts all year round and is one of the most famous churches in the city.
Where: 635 Saint-Catherine St W, Montreal, QC H3A 2B8, Canada
Suggested Read: Festivals of Canada: 10 Unmissable Extravaganzas That Will Give Celebration A New Meaning
5. Saint Patrick's Basilica
Saint Patrick's Basilica, also declared as the National Historic Site of Canada is another popular church in the city. It has a Gothic revival style and has links to the Irish Canadian community. It is the oldest English speaking Roman Catholic church in Montreal. The interiors of the church are stunning and consist of Irish shamrocks and french Fleur de Lys. The church also features a memorial to 2 famous parishioners, Thomas D'Arcy McGee, and Québécois poet Émile Nelligan.
Where: 460 Rene Levesque Blvd. West
Suggested Read: Honeymoon In Canada: 12 Best Places To Kick Start Your Romantic Journey
6. Notre-Dame-de-Bon-Secours Chapel and Marguerite Bourgeoys Museum
Visit this church and it would seem as if you have time traveled back in time. Built in 1771 over the ruins of an earlier chapel, today Notre-Dame-De-Bon_Secours Chapel is one of the most famous churches in Montreal. It is also known as Sailor's Churcha d overlooks the harbor which gives a breathtaking view of the old pot and old Montreal. The church is also home to an archeological site and museum, and is visited by a lot of people every year.
Where: 400 Rue Saint-Paul Est
Suggested Read: 40 Best Places To Visit In Canada In 2022 That Will Leave You Spellbound!
7. St. James United Church
St. James United Church is one of the protestant churches in Montreal and is an architectural gem. It is made in the Gothic Revival style with an exterior in a victorian new-gothic image of a medival French cathedral. The church consists of an amphitheater with seating for almost 1200 people. It is also home to Feres Organ which consists of 4000 pipes.
Where: 463 Saint-Catherine St W, Montreal, QC H3B 1B1, Canada
Further Read: 10 Interesting Canada Train Journeys That You Can't Miss Out On!
Churches in Montreal are truly beautiful in every way. Visiting them gives you peace and you will experience the utmost calmness. One can find an evangelist to protestants and pentecostal churches in Montreal. All these churches are a must-visit whether or not you are spiritual as they have gorgeous interiors. Make sure to add these churches to your trip to Montreal with TravelTriangle and have a wonderful time.
Frequently Asked Questions About Churches in Montreal
What is the famous church in Montreal?
The most famous church in Montreal is Notre-Dame Basilica that is a basilica that is in the old Montreal. This church is at 110 Notre-Dame Street West, at the corner of Saint Sulpice Street.
How many churches are in Montreal?
There are about 650 churches in Montreal out of which around 200 are the Catholic Churches.
What is the oldest church in Montreal?
The oldest Church in Montreal is Notre-Dame-de-Bon-Secours Chapel located in the district of Old Montreal.This church was built in 1771 over the ruins of an earlier chapel.
What is Montreal known for?
Montreal is famous for being the top host city of North America that hosts international events. Also, this one houses the really famous Cirque du Soleil.
Do they speak English in Montreal?
Though most of the people in Montreal speak in French but you will still find people speaking in English in Mont-Tremblant, Quebec city and Tadoussac.
Is Notre Dame Montreal a replica of Paris?
Yes, Notre Dame Montreal is an exact replica of Notre-Dame Cathedral of Paris. This is a famous attraction which is in the older Montreal, also this one has a lot of cobblestone streets and walkways.
What food is Montreal famous for?
Montreal is famous for a lot of food. In fact, if you are planning a visit to Montreal, you can be assured that this trip is going to cater not just to the traveler in you but will also be a great place to give a treat to your taste buds. Make sure that you don't miss out on Poutine, Bagels, Orange Julep, Wilensky's Special, Smoked Meat, Pâté Chinois etc.
People Also Read
Churches In Houston Churches In Austria Churches In Netherlands
Comments
comments