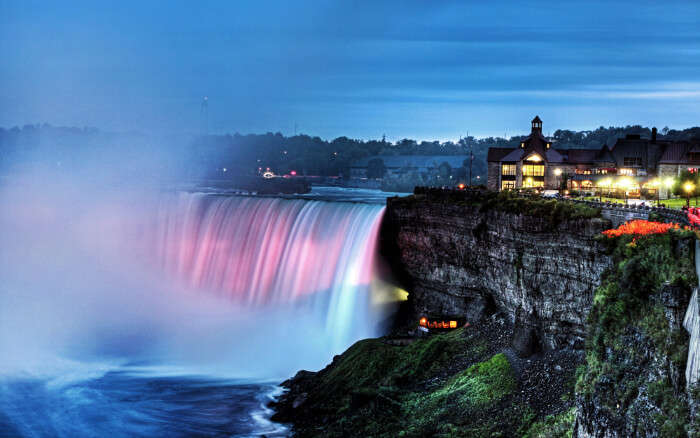 If you are planning to go on a honeymoon in Canada, you need not doubt your choice. The country has some of the most romantic places to visit and you'll surely enjoy this holiday journey with your partner. The beautiful scenery, nature adventures, snow capped mountains, rolling hills and a lot more are waiting for you.
Best Places To Visit During Your Honeymoon In Canada
Why not go a little classy and enjoy some cuddles in the cold? Below will be listed some of the best honeymoon destinations in Canada that you should visit.
1. Niagara Falls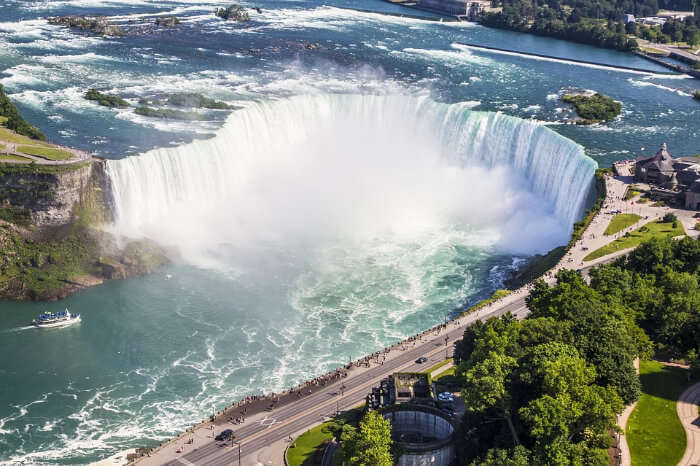 This is one of the most visited places by couples on their honeymoon which is located on the border of Canada and America and one of the main attraction is the falls which can be viewed from either side, you can also go for a boat cruise, enjoy the 24 hour parties, visit casinos, visit the glow in dark miniature golf course and more, the hotels in the area especially cater to couples and have numerous luxuries along with certain naughty offerings. Niagra Falls is definitely one of the most visited honeymoon destinations in Canada.
Niagra Falls Tickets: $46 for adults, $35 for children (6 to 12 yrs) | INR 3,200 for adults, INR 2,400 for children (6 to 12 yrs)
Romantic Experiences: 
Take a ride on the Niagra Skywheel.
Descend through the tunnels together to reach the Observation Decks of Niagra Falls and witness the beautiful views.
Take a trip on the Hornblower Niagra Cruises.
Romantic Restaurants: Weinkeller, Casa Mia Ristorante, The Moose and Pepper Bistro
Canada Travel Tips: For A Perfect Holiday In The Largest Country Of North America
2. Whitehorse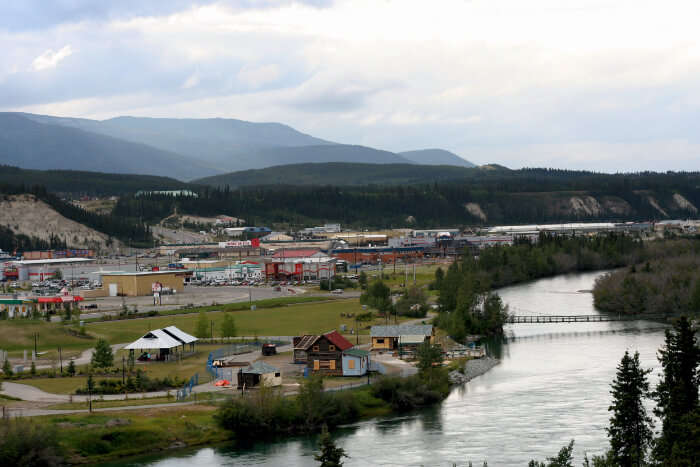 Whitehorse if located in Yukon which is far up north of Canada in the land of the midnight sun where you can see the Aurora Borealis or the Northern Lights and they also offer several activities such as ice fishing, skiing, hiking, canoeing, snowboarding and many more winter activities, during the summer you can go for mountain biking and canoeing. If you are looking for an adventurous Canada honeymoon then Whitehorse is the ideal place.
Romantic Experiences: 

Witness the marvelous Northern Lights together.
Have the night of your lives with draft beer, cocktails, and pizzas in Dirty Northern Public House. 
Stroll along the banks of Yukon River and soak in the beauty.
Romantic Restaurants: Antoinette's Restaurant, Giorgios Cuccina, G&P Steak House
 18 Best Airports In Canada that Offer A Respite To Weary Travelers
3. Quebec City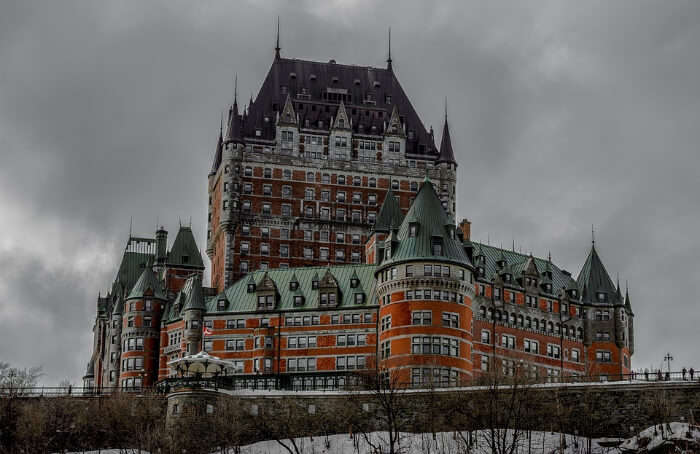 This is one of the most romantic places in Canada which is located in Quebec, the place is covered in European history and atmosphere with numerous cafes, cobblestone streets, architecture etc and the old town in the city is now deemed a World heritage site by UNESCO. In Quebec City in Canada, you can take a tour or stay in the Chateau Frontenac which is the most photographed hotels, ride a horse drawn carriage through town, walk along St Lawrence river, watch the singers and dancers performing on the streets and you enjoy a coffee at a café and much more. This is an ideal place to experience a romantic fairy tale honeymoon. Definitely you can call it a great honeymoon destination in Canada.
Romantic Experiences: 

Take a ride on a horse carriage with your partner.
Stroll along the Promenade Samuel De Champlain and embrace the peace.
If going in winters, ice skate in the Place D'Youville.
Romantic Restaurants: Initiale, Ophelia, Le Continental, Le Saint-Amour, Restaurant Taniere
 13 Things To Do In Niagara Falls, Canada: An Experience Below A Majestic Waterfall
4. Vancouver Island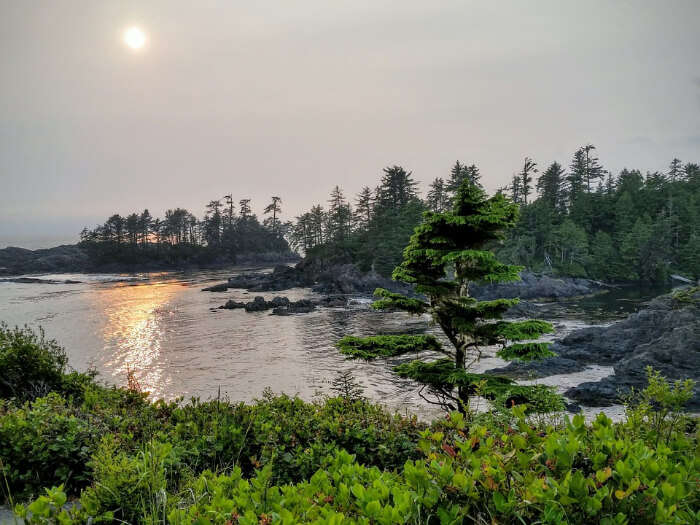 This romantic island is located off the west coast and features dozens of romantic spots and things to do for couples, the island has beautiful beaches, wineries, harbours, orchards, lodges and hotels with magnificent views of the Pacific ocean and you can indulge in activities such as hiking, swimming, spotting orca whales, tasting locally made wine and craft beer, surfing and much more. Two popular places to stay is the Wickaninnish inn and Fairmount Express in Victoria.
Romantic Experiences: 

Spectate the picturesque views fof the mountaintops.
Stroll along the beach, hand in hand, and witness the sun setting down.
Take a wine tour and learn the art of wine tasting and processing. 
Romantic Restaurants: The Butchart Gardens, Saveur Restaurant, Sooke Harbour House, The Mahle House, Asteras Greek Taverna 
5. Whistler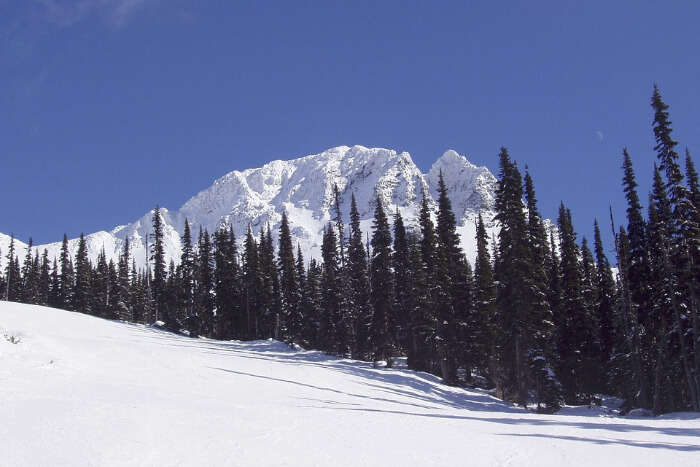 This town is located just north of Vancouver and holds on of the largest ski resorts named Whistler Blackcomb and is one of the biggest ski destinations, this town has a lot to offer as you can go skiing, snowboarding, go for sleigh rides, snowshoeing, ski jumping and many more winter activities and if you are done with that then you can enjoy a spa, do yoga, get in a jacuzzi, eat a five meal course in the numerous restaurants and later go for shopping as well, during the summer activities such as hiking and bungee jumping is also available. This place is recommended for couples seeking adventure and if you decide to honeymoon in Canada in November or December then this is the place to be.
Romantic Experiences: 

Enjoy a couples spa day and get released of all the wedding stress. 
Go for skiing, snow-boarding, or other snow sports when traveling in winters. 
Escape to the peak chair on the Whistler Mountain and spectate some amazing views.
Romantic Restaurants: Aura Restaurant, Alta Bistro, Araxi Restaurant and Oyster Bar, Bar Oso
 Festivals Of Canada: 10 Unmissable Extravaganzas That Will Give Celebration A New Meaning
---
Planning your honeymoon but confused about where to go? These honeymoon stories help you find your best honeymoon trip ever!
Real honeymooners. Real stays. Real opinions to help you make the right choice.
---
6. Lake Ontario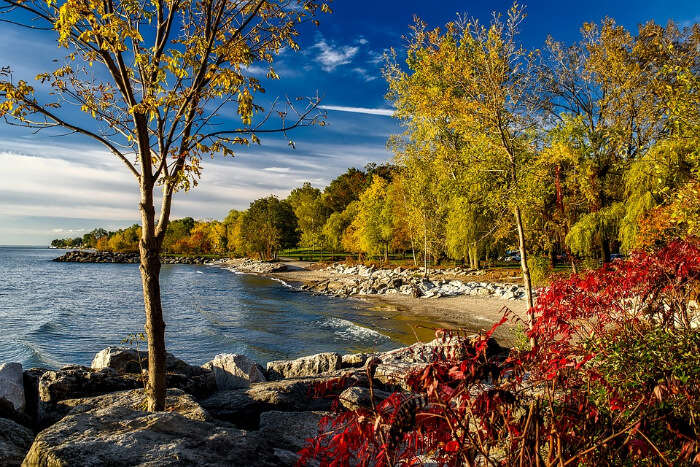 This is another very romantic honeymoon spot which is located in southern Ontario and rests on the shores of Lake Ontario, this place is known for its numerous wineries and the annual Shaw Festival which a premier theatre festival, the architecture is from the 19th century and there are numerous gardens as well. Couples can go for wine tasting, ride horse driven carriages, go for a spa and take a walk admiring the town's architecture and beauty, there are also numerous honeymoon suites and hotels which also offer a view of the Niagara falls which is just a 15 min drive away.
Romantic Experiences: 

Lock your love away forever at the Humber Bay Arch Bridge.
Sail along the Lake Ontario and tour around the Toronto Island with your loved one. 
Engage in couples' painting activity at Paintlounge Toronto.
Romantic Restaurants: Canoe Restaurant, Auberge du Pommier, Cucci, Hob Nob Restaurant
7. Cape Breton Island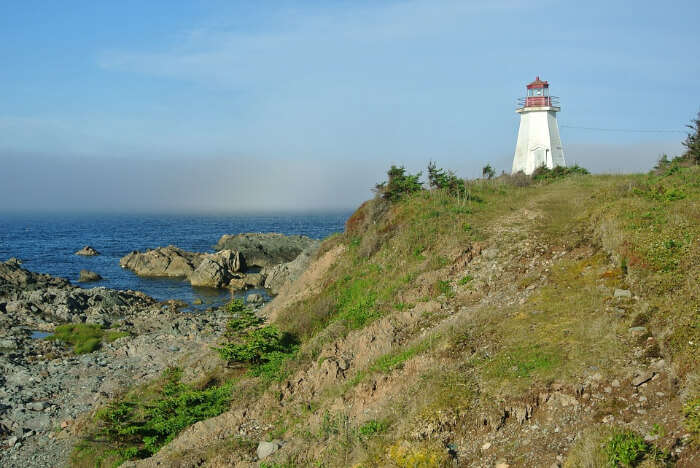 This island which is located on the eastern end of Canada in the province of Nova Scotia offers a break from the city life and give couples some peace and time to relax, couples can go hiking in the highland national park, play golf at the golf course, go fishing, cycle some of the trails and learn about the Celtic culture and heritage that this island has, you can also enjoy some fresh seafood and lobsters are a speciality here. There are numerous hotels and inns located where you can get a stunning view of the ocean and the island itself, fall is the best time to visit this place when the trees start to turn colour.
Romantic Experiences: 

Stroll along the scenice mountains and embrace the tranquility in the atmosphere. 
Pay a visit to the Fortress of Louisbourg and teleport to the 18th century France. 
Hike along the Skyline Trail and learn about the adventurous side about your partners.
Romantic Restaurants: The Olive Tree, Flavor on the Water, Trio Restaurant, Black Spoon Bistro 
12 Waterfalls In Canada That Will Surely Mesmerize You With Their Enchanting Landscape!
8. Montreal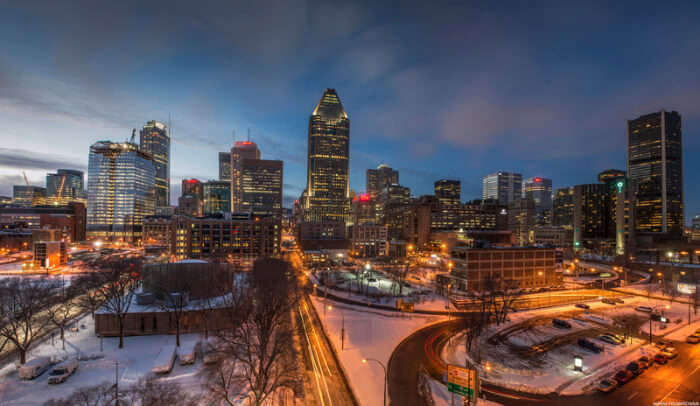 The largest city in Canada which is set on an island in the Sint Lawrence River where couples can experience the culture, go shopping and experience fine dining, visit the Old Montreal which showcases architecture dating back to the 17th century and cobblestone streets, visit the biodome and botanical gardens, you can also check into the John and Yoko suit where the famous couple held their bed in for peace. There are numerous hotels and suits ideal for couples on their honeymoon especially in Old Montreal.
Romantic Experiences: 

Relax and rejuvenate on your couples' spa day.
Take a food and drink tour all over the old Montreal.
Pack along a bottle of wine and food and enjoy a picnic at Dinette Triple Crown. 
Romantic Restaurants: Agrikol, Le Mousso, Noren, Le Club Chasse et Peche 
9. Prince Edward Island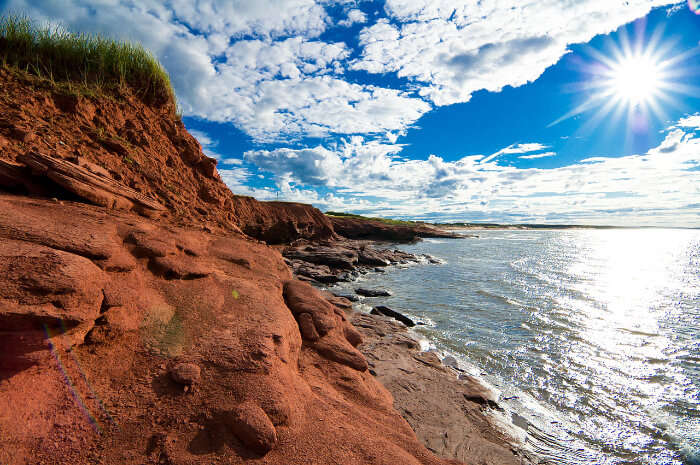 This island is located in the Gulf of St Lawrence where couples can relax on beaches, go snorkelling, fishing, golfing, visit the National park and the lighthouse, go kayaking, visit Charlotte town and its Art galleries and centres and enjoy their popular seafood cuisine. Hotels like Holman Grand hotel and The Gables of PEI are good places of lodging.
Romantic Experiences: 

Try snorkeling and stroll along the white sand of the Brackley Beach.
Witness the marvels of mother nature including beaches, sandy dunes, saltmarshes amalgamating.
Indulge in thrilling activities of hiking and swimming at the Cavendish Beach. 
Romantic Restaurants: Terre Rouge, The Table Culinary Studio, Sims Corner Steakhouse & Oyster Bar, Redwater Rustic Grille
11 Incredibly Beautiful Lakes In Canada Every Nature Lover Must Once In Their Lifetime
10. Banff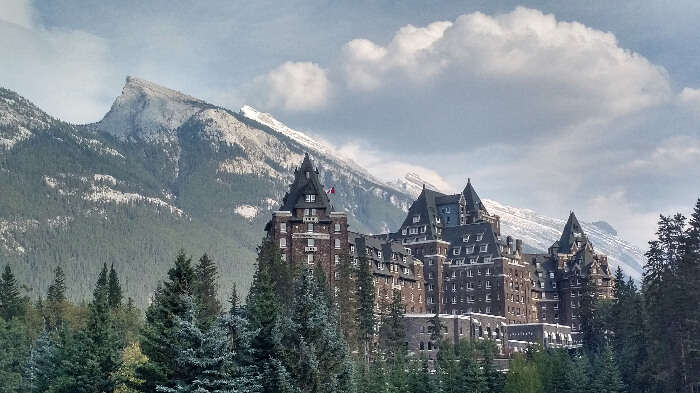 One of the best places for honeymoon in Canada, this is a resort town which is located in the province of Alberta within the National Park and is home to some of the best hiking trails, crystal clear lakes, amazing vistas of mountains, numerous hot springs, gold courses, places to ski and snowboard and much more, couples can experience nature and the local wildlife and enjoy the delicious local cuisine. Fairmont Banff Springs is a popular luxury hotel located there.
Romantic Experiences: 

Take a road trip to the beautiful Lake Louise with your partners.
Take a dip and rejuvenate in the Upper Hot Springs of Banff.
Conquer the Tunnel Mountain together.
Romantic Restaurants: Three Ravems Restaurant & Wine Bar, The Bison Restaurant, La Terrazza, Grapes
11. Fogo Island

Sitting on the beautiful Iceberg Alley, a little off the coast is the Fogo Island that offers great opportunities to travelers to enjoy their honeymoon. One of the remote honeymoon places in Canada, Fogo Island offers a great escape from the bustling of the world to the couples and allow them to spend all of their time with each other. Home to one of the most romantic and the only hotel- Fogo Island Inn, this destination is one of its kind. The rooms of this beautiful contemporary building offers floor-to-ceiling windows that allows couples to witness spectacular views of the ocean, the sky, and the horizon. The Inn also blankets a bar, restaurant, library, cinema, and much more.
Romantic Experiences:
Indulge in sauna and relax in the hot tub.
Spend some alone, quality time with the partner, away from the world.
Hike along the Lion's Den trail.
Romantic Restaurants: Nicole's Cafe, Scoff Restaurant, Bangbelly
Glacier National Park: Have An Amazing Country Experience In The Nature's Backyard
12. Canadian Rockies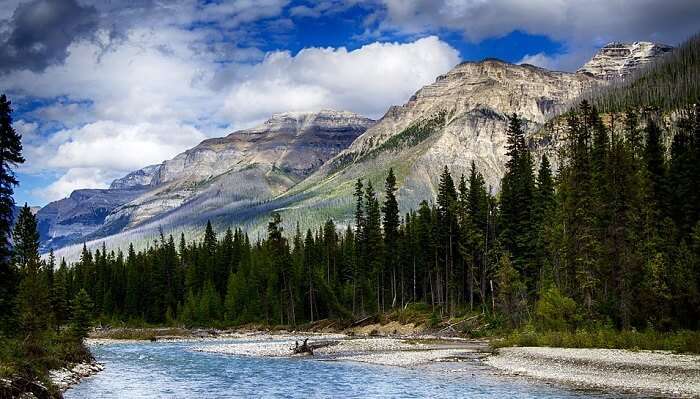 One of the most iconic honeymoon places in Canada, the Canadian Rockies is a great escape for those who are seeking to embrace romance with a little touch of adventure to it. Earning a spot for itself in the list of UNESCO World Heritage Sites, the Canadian Rockies blankets Jasper, Kootenay, Banff, and Yoho National Parks that are spread over Alberta and British Columbia. From mighty mountain ranges and clear blue lakes to enchanting hot springs and charming glaciers, there is no dearth of natural wonders that come under the Canadian Rockies. When traveling in winter season to Banff, couples also get a chance to engage in the most thrilling adventure sport- skiing by virtue of three ski areas that house under the Rockies namely Lake Louise, Mount Norquay, and Sunshine Village. Where as, summers in the Canadin Rockies calls for biking, hiking, trekking, rafting, and much more exciting activities.
Romantic Experiences:
Try skiing in the snow-clad hills.
Witness the exotic wildlife in their natural habitat.
Spectate the Banff at a glance in a gondola.
Take a trip to the Takakkaw Falls.
Romantic Restaurants: Eden, Grapes, Tapas Restaurant, Sky Bistro, The Trough Dining Co., The Walliser Stube
We are sure that after knowing about these beautiful and romantic places to visit in Canada, you would surely be excited to plan your honeymoon holiday to Canada Honeymoon in Canada is exactly how one imagine their romantic getaway to be like. The experiences you'll gain here will make your love and bonding multiply a million times. Happy honeymoon!
For our editorial codes of conduct and copyright disclaimer, please click here
Frequently Asked Questions About Honeymoon In Canada
Which is the most romantic place in Canada?
Canada is one of those destinations that offers a myriad of places reeking of romance such as Whistler in British Columbia, Niagara-on-the-Lake in Ontario, Alberta, Quebec City, Love in Saskatchewan, and Nove Scotia.
What can I do in Canada when on a honeymoon?
There are numerous things that one can do on a honeymoon in Canada such as losing oneself in the charm of Niagra Falls, enjoying 24-hour parties, fishing, hiking, canoeing, skiing if going in the winter season, witnessing the beautiful sunsets, embracing the old-world charm of Quebec city, and much more.
Where can I go in Canada?
Attracting flocks of tourists all year long, there is no dearth of places that one can go to when in Canada. Some of the must-visit places of Canada include Calgary, Ottawa, Toronto, Montreal, Vancouver, Victoria, Niagara Falls, and Quebec City.
What is the best time to visit Canada?
In order to witness Canada in its transitional and best phase, the ideal time to pay a visit to Canada is during the fall season. Months from September to November is when the crowds are less, prices have dropped, and the changing colors of foliage make a perfect backdrop for some amazing captures.
Is Canada an expensive country to visit?
If we compare the rates of food and accommodation to other major parts of the United States of America, then Canada might turn out to be a little expensive by virtue of taxes that are levied.
What can we do in Whitehorse?
Sitting in Yukon, Whitehorse is the location that showcases the surreal Northern Lights perfectly. This location offers numerous activities that one can be a part of such as ice fishing, canoeing, hiking, skiing, snowboarding, mountain biking, and many more.
What is Whistler famous for?
Tagged as one of the most beautiful places to visit in Canada on honeymoon, Whistler is famous for its largest ski resorts and is one of the biggest ski destinations in the entire world. From sleigh rides to snowboarding and ski jumping, one can do all kinds of winter activities when visiting Whistler in the winter season.
What is Canada known for?
Canada, one of the most peaceful destinations, is known for its tranquility, friendly locals, the oldest national park, rocky mountains, lakes, and stunning landscapes.
---
People also read
Honeymoon In Australia Honeymoon In Mexico Honeymoon In Brazil