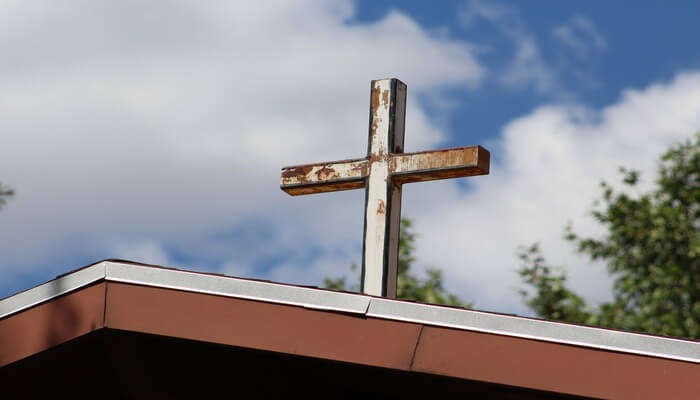 Cover Image Credit: pexels.com
Nagpur is one of the popular towns of the Maharashtra state and it happens to be the third biggest city in succession after Pune and metropolitan city of Mumbai. In fact, this annual winter capital had witnessed one of the largest business conglomerates in Modern India, but this does not mean it was never rich in secular fervors. The skyline of Nagpur on one hand is dotted with Hindu Temples, while on the other there are catholic churches in Nagpur.
Top 10 Churches In Nagpur
Here is the list of 10 top catholic faith churches in Nagpur city, which will attract your imagination, and bring out the reason to visit there, and later feel blessed altogether:
Francis De Sales Cathedral
St. Francis Xavier Church
St. Claret Church
St. Anthony's Church
Mary Queen Of Apostles Church
Our Lady Of Fatima Church
Holy Family Church
St. Pius X Mass Center
Infant Jesus Church
Our Lady Of Vailankanni
1. Francis De Sales Cathedral

The principal church of oldest parishes in Nagpur Archdiocese, which is also quite old than the diocese itself, is home to various religious feasts. There is also the liturgy, as well as the Sunday school teacher's training conducted in the church and the parish around. It is significant to note that Cantors, and the Lectors, as well as the Ushers make it the point to look into the matters concerning liturgy and other principal things that connect to the church.
Francis De Sales Cathedral is indeed a popular church with an outstanding architecture. It is one of the churches in Nagpur known among Christians of catholic faith. And besides, there is also Sacraments of Holy Communion, Penance as well as Confirmation.
Address: Kamptee Road, Mohan Nagar, Nagpur, Maharashtra- 440001
Opening Hours: Monday to Saturday- 5:45 am – 7 pm
Sundays- 6 am – 7 pm
Closed Days: Open on all days.
Must Read: 20 Best Resorts In Lonavala: Embark On A Getaway From Mumbai And Pune In 2022!
2. St. Francis Xavier Church

The times were ripe when English talking Catholics who once inhabited Chhindwara area in rule of the British Empire. In 1863 the appointee authority of Chhindwara locale gave in excess of 20 sections of land of Nazul land to Fr. Theveneth. There was no occupant cleric except the Kamptee Church. Once in a while later, a little Chapel was constructed.
The present lounge area was the house of prayer and the principal room confronting the street was for the Priest to remain. There was no Priest in Chhindwara till the appearance of the SMMI sisters who were brought to the crucial the MSFS Fathers. This Roman Catholic church is famous around the Parish among the Christians and the Hindus.
Address: Temple (Bulti Marg), Somwar Bazaar, Sitabuldi, Nagpur, Maharashtra – 440012
Opening Hours: 8 am – 5 pm
Closed Days: Mondays
Suggested Read: 20 Best Villas In Lonavala To Spend A Luxe Vacation In The Hills
3. St. Claret Church

Prior to the Church, there was a piece of Holy Family Church, Padari Thana. Buti-Bori is an Industrial zone and some individuals come looking for occupation and settle down for quite a while and later leave when they show signs of improvement work. St. Claret Church Buti-Bori was set up in the year 2000 at the greeting of the Archbishop, His elegance Abraham Viruthukulangara.
Address: Wardha Road, New Buti Bori, Nagpur, Maharashtra- 441108
Opening Hours: 8 am – 3 pm
Closed Days: Sundays
Suggested Read: 20 Finest Places To Visit In Lonavala In Rainy Season In 2022
4. St. Anthony's Church

The church is probably the most established ward of the Archdiocese of Nagpur. According to the accessible information, this ward had a modest start in 1919. Blessed Eucharist was commended in the G.I.P Railway.
The task of building the congregation was endowed to Fr. Vincent Lucasz, at that point instructor at SFS School who approached the assignment of gathering assets and regulating the development with incredible energy.
Address: Ajni Road, Near Samudaik Bhawan, Railway Colony, Ajni, Nagpur, Maharashtra – 440003
Opening Hours: 6:30 am – 7 pm
Closed Days: Open on all days
Suggested Read: 6 Best Places For Water Sports In Maharashtra You Must Experience In 2022!
5. Mary Queen Of Apostles Church

The parish came from Rosary Parish authoritatively in 1998 and introduced by Most Rev. Leobard D'Souza. It is arranged in Pallotti Nagar and run by Pallottine fathers of Prabhu Prakash Province. The ward has developed from 50 families to around 200. The area has a lot of peaceful activities did at the ward level by the area peaceful committees in a joint effort with the 9 SCCs.
Address: Anant Nagar, Nagpur, Maharashtra – 440013
Opening Hours: 9am – 6 pm
Closed Days: Open on all days
Suggested Read: 22 Absolutely Breathtaking Places To Visit In Monsoon In Maharashtra In 2022
6. Our Lady Of Fatima Church

The church located in The Jaitala strategic arranged 12 km. from Nagpur city. On the north side we have the Ambazari Lake, on the south side C.R.P.F. Camp. On the east side Dr.Babasaheb International Airport and on the west side M.I.D.C. Jaitala is encompassed by in excess of 600 families living in parishes.
Prior these individuals lived as Hindus, however now the majority of them have grasped Buddhism, in the strides of Dr. Babasaheb Ambedkar when he changed over thousands to Buddhism. Truth be told a portion of the Christians took over Buddhism, with the goal that they excessively become qualified to get Government benefits.
Address: Jaitala, Nagpur, Maharashtra- 440036
Opening Hours: 7 am – 5pm
Closed Days: Open on all days
Suggested Read: The Staircase Waterfall In Maharashtra: A Hidden Gem That We Bet You'd Love To Explore!
7. Holy Family Church

The Catholic church has immense popularity in the locality and is managed by Thana mission. There are many experienced preachers. The church also conducts several awareness classes as well as programs on regular basis. This is done for the individuals P.S.D.P. Ministers began Hospital, English Medium School, home for the desperate and lodging.
Considering the kids' future investigations, they began another inn with all the fundamental offices in Fetri Nagpur. God has done incredible things in the lives of Thana individuals through P S D P evangelists. One of the most significant things is that individuals of Thana quit taking liquor which was their fundamental business for most recent 70 years. Much obliged be to God.
Address: Medical College Road, Near Hari Archana Complex, Medical Square, Untkhana, Nagpur, Maharashtra – 440009
Opening Hours: 7 am – 7 pm
Closed Days: Open on all days
Suggested Read: Top 10 Restaurants In Maharashtra For Tasting The Best Foods Of This Indian State
8. St. Pius X Mass Center

The catholic center is a popular center where classes are held for people in different languages, and for people from different cultures. The parish in which this church is located has a functioning ward board. Individuals are chosen from the diverse SCC units.
There are 5 SCC bunches who meet consistently for the Bible sharing and another petition meeting. They are especially associated with the life and exercises of the area.
Address: Adarsh Nagar, New Manipur, Nagpur, Maharashtra- 441501
Opening Hours: 8 am – 5 pm
Closed Days: Open on all days
Suggested Read: 30 Forts In Maharashtra That Will Let You Experience Its Rich Heritage In 2022
9. Infant Jesus Church

The Church is located at around 13 kms from Nagpur city, off Amravati Road, famously known as 8th mile. This was a piece of Jaitala Parish, till 1997. In 1982, at first, Holy Mass was being offered in singular Christian houses. This training proceeded until different Christian Denominations in Defense Project, constructed a lobby for their administrations.
Address: Infant Jesus Community Hall, Amravati Road, Rati layout, 8 mile, Waddhamna, Maharashtra- 440023
Opening Hours: 8 am – 5 pm
Closed Days: Open on all days
Suggested Read: Top 22 Places To Visit In Maharashtra In Summer 2022 For A Cool Vacation
10. Our Lady Of Vailankanni

The Catholic Church is visited by Christians and holds a convent and the school, which is established by Pathekhera from Congregation of Sisters of the Little Flower of the Child Jesus. A Church to pay tribute to Our Lady of Velankanni and a home for cleric was built at Ghoradongri. Fire up. Fr. Dominic Fargose was the person who built it and he was the primary ward minister of this area.
Address: SFS College Road, Near Japanese Garden, Seminary Hills, Nagpur, Maharashtra – 440001
Opening Hours: 6 am – 8 pm
Closed Days: Open on all days
Further Read: 8 Best Malvan Resorts That Add Comfort To Your Beach Vacation In Maharashtra!
Nagpur is the city of uniqueness, a complete Greenland, and the geographical center of India. It should not come as a doubt to many that Nagpur had been given the title of being the green city of India too. And now with many catholic and protestant churches in Nagpur, this magnificent city has evolved itself into the citadel of Christian belief system alongside the already omnipresent Hindu religious belief. Visiting most of these churches during your Maharashtra trip can make your travel experience quite fun and interesting.
Disclaimer: TravelTriangle claims no credit for images featured on our blog site unless otherwise noted. All visual content is copyrighted to its respectful owners. We try to link back to original sources whenever possible. If you own rights to any of the images and do not wish them to appear on TravelTriangle, please contact us and they will be promptly removed. We believe in providing proper attribution to the original author, artist or photographer.
Frequently Asked Questions About Churches In Nagpur
Why is Nagpur known as the city of oranges?
The climate of Nagpur favors the growth of oranges and this is where the city produces a variety of oranges in the well-kempt orchards. The oranges produced in these orchards are exported to foreign markets and this helps in earning the foreign revenue to India. Besides raw eating oranges are also used in preparation of the traditional Orange Burfi.
How many Churches in Nagpur?
There are at least 100 big and small churches built in Nagpur and symbolise either the protestant or Roman Catholic faith. The marvel and architecture of these churches holds everyone by surprise.
Is there Double Diamond Crossing in Nagpur?
This crossing is a very rare sight in Nagpur, where two double lines cross each other. Basically, the double diamond cross is the meeting point of 3 prominent rail lines. The first one comes from the East, and comprises Gondia, the Howrah – Rourkela – Raipur line. The second one is from the North, or New Delhi. The third line meeting the diamond crossing moves towards the South. This line further bifurcates into Mumbai in the West and the Kazipet in the South, in Wardha.
Does Nagpur have the highest gold deposits?
Yes, it is fairly true. The city has one of the regional RBI offices, and this is where most of the gold reserves of RBI have been kept.
Is Nagpur's Air Traffic Control (ATC) known to be the busiest one in the country?
On average, the Air Traffic Control at Nagpur handles over 300 flights crossing its pristine skies. In fact, the ATC in Nagpur is a pioneer when it comes to INDRA system and also has ADS-B system. And for this reason, Nagpur's Airport became the first in the country to get ISO 27000 certificate, and that too from Air navigation service provider (ANSP).
Was Nagpur the first place where India's National Fire Service College was established?
India's National Fire Service College came up at Nagpur, and it is strategically situated at the Old Settlement Commissionerate Building. The choice of this place is made because it provides good space for holding the fire drills as well as demos.
Why Nagpur is the Tiger Capital of India?
Most people do not know that Nagpur city is the place where many Tiger reserves in India get connected. And besides, the state of Maharashtra has the 3rd highest place when it comes to the population of tigers.