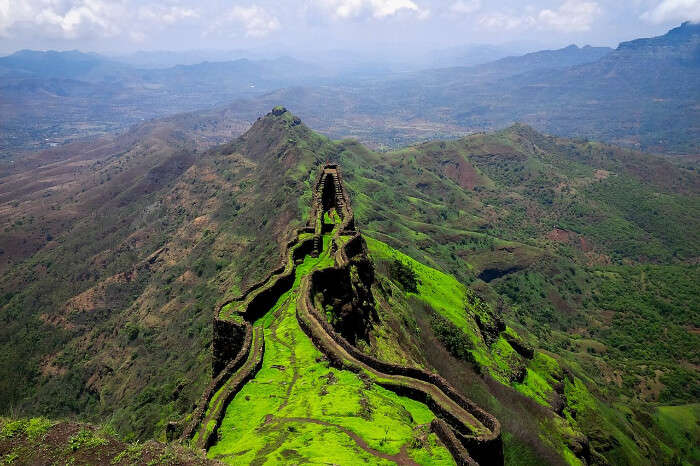 The literal meaning of Maharashtra is "the great nation", which is the land of Shivaji Maharaj. The land where you can still hear the echoes of the wars fought and where you can witness the glorious past and rich culture of the Marathas and the Mughals. Both empires created many pieces of architectural wonder that remained here to tell the story of the bygone times. There are nearly 350 forts in Maharashtra that attract many architecture enthusiasts from different parts of the nation. Here are the 12 most popular forts that'll make you fall in love with the history of Maharashtra.
12 Best Forts In Maharashtra
Here is a list of forts in Maharashtra that will help you understand the glorious and royal history of this state in India and give you plenty of reasons to visit these fascinating hubs at once.
Lohagadh Fort, Lonavala
Janjira Fort, Murud
Daulatabad Fort, Daulatabad
Panhala Fort, Panhala
Raigadh Fort, Raigadh
Shanivarwada Fort, Pune
Yashwantgarh Fort, Redi
Sindhugarh Fort, Malvan
Sinhagadh Fort, Pune
Pratapgad Fort, Satara
Torna Fort, Pune
Kandhar Fort, Nanded
1. Lohagadh Fort, Lonavala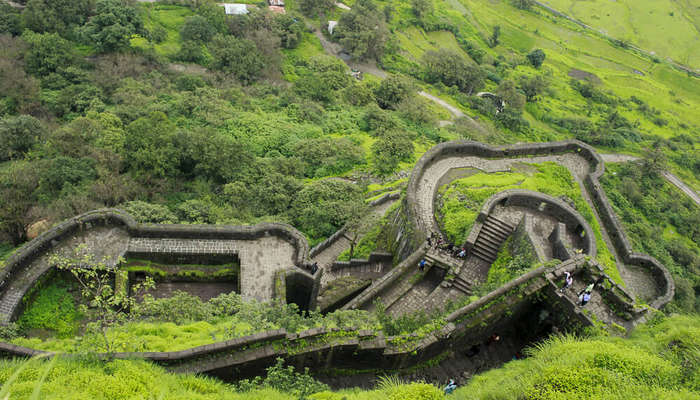 Among the many hill forts in Maharashtra, Lohagadh is a marvelous piece of architecture. Located 52 km northwest of Pune, the fort sits at an elevation of 1,033 m above sea level. In 1648 CE, the fort was captured by Shivaji, which was then captured by the Mughals in 1665 CE. In 1670 CE, Shivaji Maharaj captured the fort again and he used it to store his treasury looted from Surat. Lohagadh fort is also one of the scenic treks in Pune that can be done in a day.
2. Janjira Fort, Murud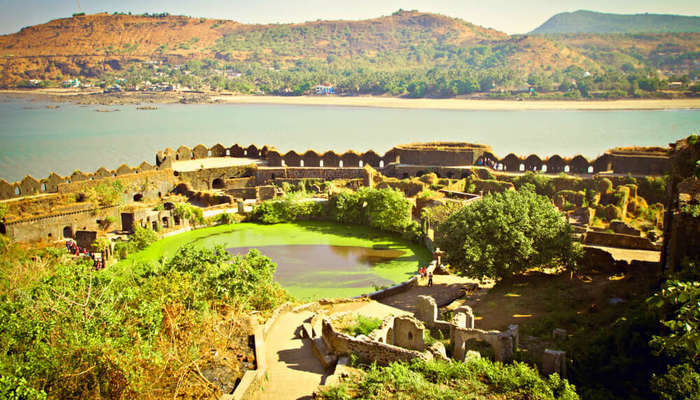 Janjira fort, which is popular as Murud Fort, is located in Murud village of Maharashtra. Among the most impressive forts near Pune, Janjira is surrounded by water on all sides. Built by Malik Ambar at the end of the 17th century, the fort reflects the marvel of ancient engineering. This brilliant fort stands at a height of 40 feet, enduring the lashes of sea waves for ages. The fort had 500 canons but only a few of them are left now, and its towers are now used to keep guns in them. This fort is among the most beautiful forts in Maharashtra and you must explore it.
Must Read: 18 Absolutely Breathtaking Places To Visit In Monsoon In Maharashtra In 2019
3. Daulatabad Fort, Daulatabad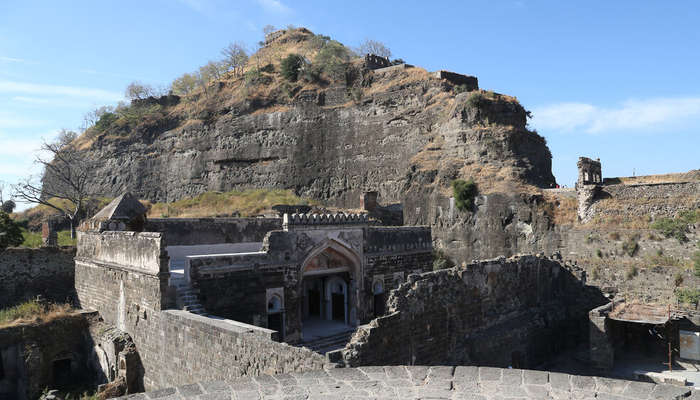 Daulatabad Fort, which is also known as Devagiri was built in the 14th century. Situated at a distance of 16 km northwest of Aurangabad, this fort is considered one of the seven wonders of Maharashtra. Among the most gorgeous forts in Maharashtra, Daulatabad was captured by various rulers, including the Mughals, the Marathas, and the Peshwas. In 1724 AD, it came under the Nizams of Hyderabad. In order to reach the fort, you have to climb about 750 steps, which makes it a great hike.
Suggested Read: 10 Hotels Near Bhimashankar Temple For A Comfy Stay
4. Panhala Fort, Panhala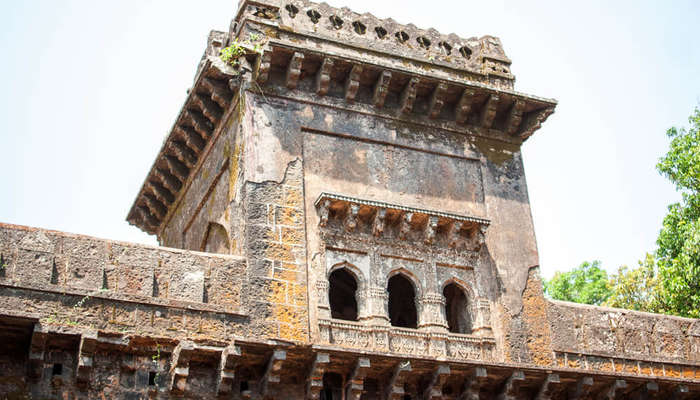 20 km away from the main city of Kolhapur, Panhala Fort is strategically situated looking over a pass, which was a major trade route from Bijapur in the interior of Maharashtra, in the majestic Sahyadri mountain range. Tarabai, the queen regent of Kolhapur spent her formative years in the fort. Some parts of the fort are still intact making it a must-visit destination in Maharashtra. It's one of the most wonderful forts in Maharashtra map not only for architectural enthusiasts but also because it provides a great trekking route for adventure lovers.
5. Raigadh Fort, Raigadh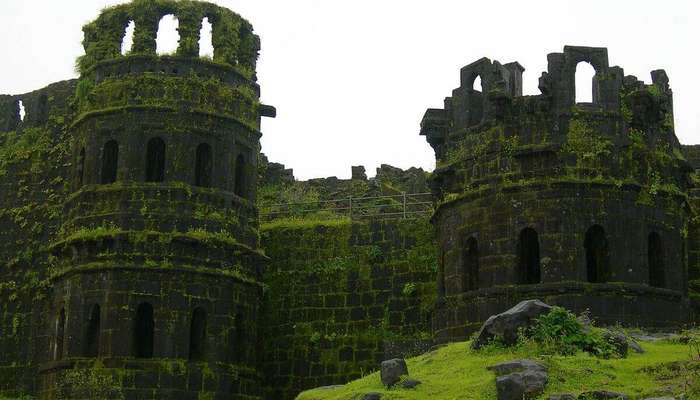 Located at a height of 820 m, Raigadh Fort is perched on the lush green Sahyadri mountain range. Climbing 1737 steps will take you to the fort, which offers spectacular views of the valley down below. One of the most popular forts in Maharashtra, it was considered the most secure fort in the entire region. Great pride of the Marathas, the fort tells the story of their glorious past. The forts were called by 15 different names during different empires: Reddi, Shivlanka, Raigadh, Rashivata, Islamgarh, Nandadeep, Tanas, Badenur, Rairi, Jambudweep, Raigiri, Rajgiri, Bhivgad, Rahir, and Gibraltar of the east. During Nizamshahi rule, the fort was used to keep prisoners.
Suggested Read: Places To Visit In Maharashtra In Summer: Top 12 Sites For A Cool Vacation!
6. Shanivarwada Fort, Pune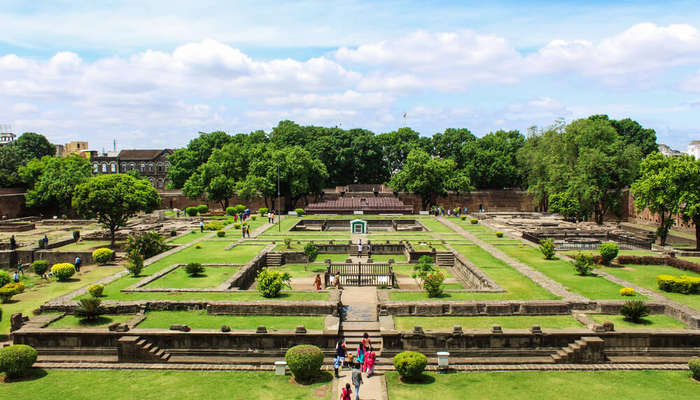 Shanivarwada fort was the seat of the Maratha empire between 1730 to 1818. Among the most stunning forts in Pune, this one holds a special and an important place in Indian history. Built by the Peshwas of Chhatrapati, this palace fort has nearly been destroyed by military attacks and was majorly by an unexplained fire in 1828. It is also believed that the fort palace is haunted by the ghost of Peshwa Narayanro. It's not only among the most popular forts in Maharashtra but also among the most significant monuments in India.
7. Yashwantgarh Fort, Redi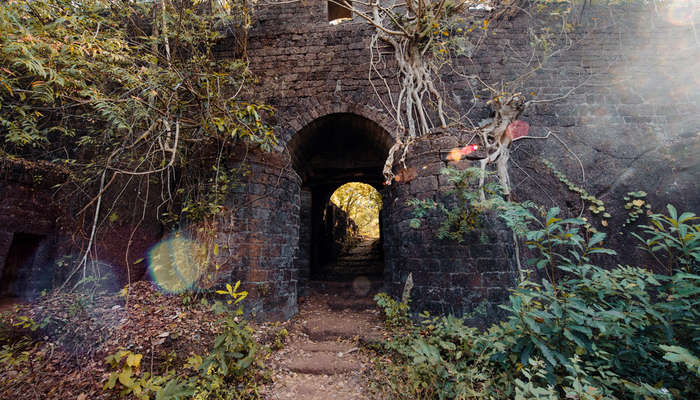 Situated near Maharashtra-Goa border, Yashwantgadh fort mainly ruins now. Also known as Redi fort, it was built by the Marathas in the 16th century. The fort was captured by the British in 1765, who later sold the land to locals in 1890 retaining the ownership of the fort walls. If you're someone who considers ruins beautiful, you must pay a visit to the fort.
8. Sindhugarh Fort, Malvan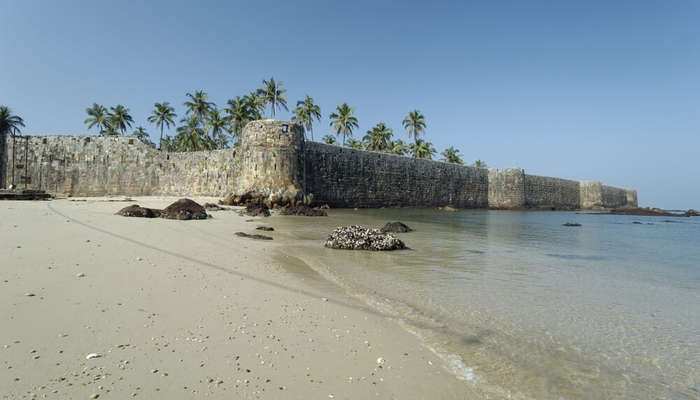 Sindhugarh fort was erected by Shivaji Maharaj in 1664-67 AD on 48 acres of the island. It is believed that he personally selected this location, which is a rocky island. The most amazing feature of the fort is that its foundation stones were laid down firmly in molten lead. The solid walls and beautiful gateways of this fort make it look absolutely majestic. With a 4-km long, 9-km tall solid zigzag wall, this is among the best-preserved forts in Maharashtra. There's a small temple dedicated to Shivaji Maharaj within the boundaries of the fort. The fort also makes a perfect place to take some great pictures with the Arabian Sea in the background.
Suggested Read: The Cursed Ghosts Of Bhangarh Fort – The Most Haunted Place In India
9. Sinhagadh Fort, Pune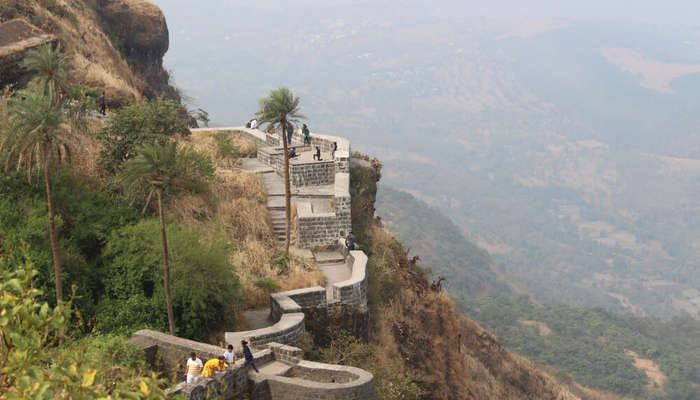 Sinhagadh fort is situated on a hill located about 25 km southwest of Pune. It is located at an elevation of 1,312 m above sea level. Some of the sources say that the fort could have been built over 2000 years ago. The fort was formerly known as Kondhana, which has witnessed many battles through the centuries, and the most important one was the Battle of Sinhagad in 1670.
Suggested Read: 15 Best Hill Stations In Maharashtra That'll Leave You Speechless On Your Next Trip In 2019
10. Pratapgad Fort, Satara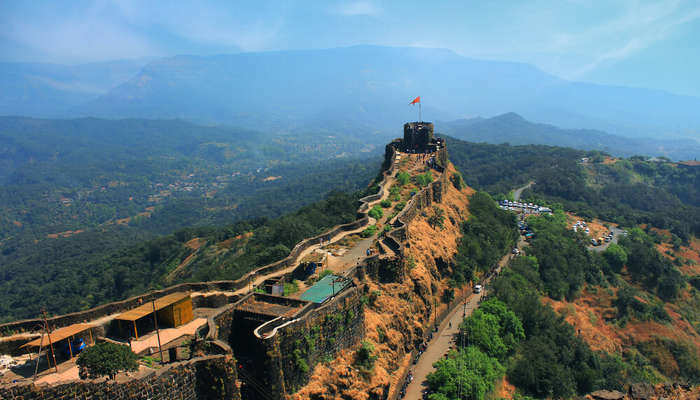 A Shivaji Maharaj fort, Pratapgad is a huge fort located in Satara. As per the records, the fort was built in 1657, offering a mesmerizing view of coastal Konkan. At a distance of only 8 km from Mahabaleshwar, this is among the most popular forts in Maharashtra. In 1960, a guest house and a national park were established inside the fort. This grand fort is currently owned by Udyanraje Bhosale, who's the 13th Chhatrapati of the former Satara state.
11. Torna Fort, Pune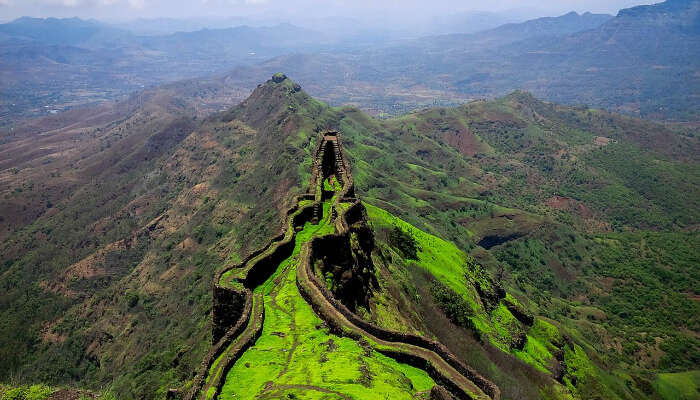 One of the must-visit forts in Pune, Torna Fort is also known as Prachandagad. It is situated at an elevation of 1,403 m above sea level, which makes it the highest hill fort in Pune. It is historically an important monument as it was the first fort captured by Shivaji Maharaj in 1643 when he was 16. With gorgeous towers and monuments built inside the fort, it certainly is a piece of architectural wonder.
Suggested Read: 15 Tourist Places In Madhya Pradesh That You Should Be Visiting Right Now!
12. Kandhar Fort, Nanded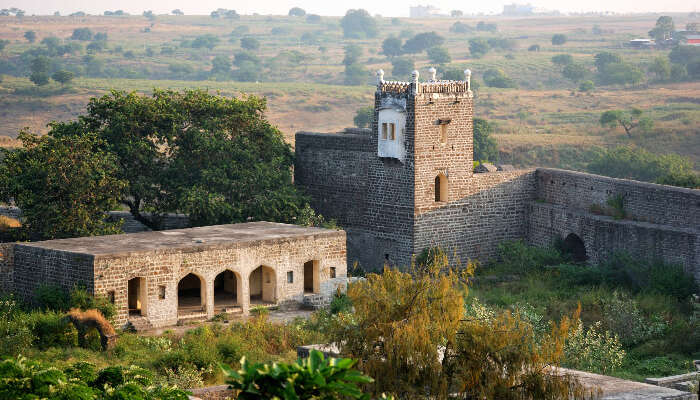 Located at a distance of 50 km from Ranthambhore National Park, Kandhar Fort was built nearly 1200 years ago by King Krishna III of Malkhed. Its architecture is quite similar to that of the Shivneri forts in Maharashtra. Known for its wonderful architecture, it is surrounded by a canal filled with water. Do pay a visit to the fort and make your trip to the land worth it!
Further Read: 25 Regal Forts In India That Are Popular Tourist Attractions Today
Fascinated much? Well, start exploring them by taking a trip to Maharashtra right away to explore all of these wonderful landmarks reminiscing the royal era of old. To extend your stay in Maharashtra, you can also add Vijaydurg fort, Irshalgad, Gwalighur, Lailing fort, Antur fort, Naldurg fort, and Udgir fort to your itinerary.
Frequently Asked Questions About The Forts In Maharashtra
Still confused? See if this helps clear your doubts:
Q. How many forts did Shivaji Maharaj have?
A. Chhatrapati Shivaji Maharaj had 370 forts in India.
Q. Which state has the most forts in India?
A. Rajasthan has the most number of forts in India.
Q. Which is the biggest fort in Maharashtra?
A. The Rajgad Fort is believed to be the biggest fort in Maharashtra.
Comments
comments