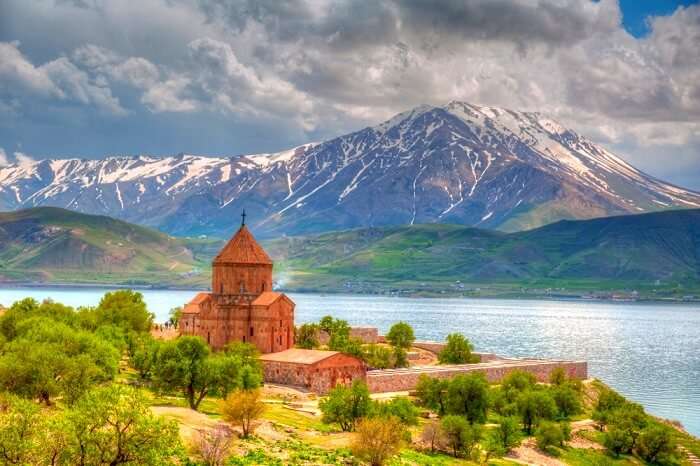 Turkey is a hub of sacred institutions. Christianity in Turkey has had a long history dating back to the 1st-century AD. There are different Christianity sects, religious orders and different national cultures in Turkey which are reflected in the churches. Out of many, a few types of churches in Turkey are Armenian Apostolic, Anatolia, Armenian Catholic, Armenian Evangelical/Protestant, Greek Orthodox, European Catholic, Anglican and Protestant. Though the Christian population has dwindled, its rich history remains in the form of churches in Turkey.
6 Best Churches In Turkey
Take a look at these six majestic churches in the country of Turkey that ought to be on the top of your list. We bet you wouldn't find such anatolian gems anywhere else in the world.
1. The Armenian Apostolic Church
Armenia was the first nation ever to convert to Christianity. This is the great church originated in 301 CE founded by Gregory the Illuminator Apostles Bartholomew and Thaddeus through the apostolic succession confirmed by tradition. This is an Oriental Orthodox church with about 9,000,000 members which makes the largest Christian denomination in Turkey. St. Gregory the Illuminator was the first official governor of this church.
Location: St. Gregory the Illuminator Armenian Catholic Church (Ortakoy, Istanbul)
---
Looking To Book An International Holiday?
Book memorable holidays on TravelTriangle with 650+ verified travel agents for 65+ domestic and international destinations.
---
2. Bulgarian St Stephen Church
Bulgarian St Stephen Church is also known as Bulgarian Iron Church is a famous church in Istanbul region of Turkey due to use of prefabricated cast iron elements in its built. It is a three-domed cross-shaped basilica. This Church is an important part of Bulgarian community. This church was at first made up with wood and later due to fire in 1898 the church was built again by using 500-tonne iron. The architect of this amazing church is Hovsep Aznavour.
Location: Balat Mahallesi, Mürselpaşa Cd. No:10, 34087 Fatih/İstanbul, Turkey
Must Read: Street Food In Turkey: 10 Finger-Licking Delicacies That Pamper Foodies Of All Kinds
3. St. Paul Orthodox Church
Also known as Antakya Orthodox Church is the second oldest church in the world and is one of the famous churches in Turkey. It is a classical orthodox church established around 41 AC is dedicated to two important saints in Jerusalem namely St. Peter and St. Paul. The church building was demolished due to an earthquake in 1872 and therefore rebuilt by Russians. The building is rich in Russian architectural style such as three entrances, an antique font, a small beautiful courtyard, plenty of days light inside the church and many essential antic liturgical artefacts, icons. Usually, Churches aren't open for public worshipping but this place is open for all. This is an important pilgrimage site as every year thousands of Christians visit this church. Before visiting please check if the church is open or not as it is going under restoration for some time.
Location: Küçükdalyan Mahallesi, Hürriyet Cad. No:14, 31120 Antakya/Hatay, Turkey
Must Read: 8 Best Cottages In Turkey For Experiencing The Best Of Luxury, Comfort & Bliss!
4. Church of St. Anthony of Padua, Istanbul
Opened in 1912, Church of St. Anthony of Padua is one of the largest Roman Catholic Church in Istanbul. The other name for this church is Sent Antuan Bazilikası or Sant'Antonio di Padova Church. The original church was built in 1725 by the local Italian community but it was demolished due to certain reasons and new Church of St. Anthony of Padua was built. This church is considered to be a minor basilica type and run by a few Italian Priests. This is the most important Catholic Church in the Istanbul region of Turkey with the largest community following.
Location: Tomtom Mahallesi, İstiklal Cd. No:171, 34433 Beyoğlu/İstanbul, Turkey
Suggested Read: 10 Spectacular National Parks In Turkey For A Rejuvenating Escape Amid Nature
5. Mar Petyun Chaldean Church
Also known as A Chaldean Catholic Church is a 17-century church located in the old city region of Istanbul. The church belongs to the Chaldean Eastern Catholic Church is exceptionally beautiful and visual treat. One of the most beautiful parts of this church is a four-legged minaret in Diyarbakı. The Church is a unique cultural heritage site which is highly well maintained. The walls, light points and altar of this church tend to leave a huge sacred impact on the mind of the visitor. This church structure is built using black basalt stone during construction. Since 1681, it is said that this church is serving as an Amid Keldani Church. It is one of the richest historical remains of Diyarbakı near the Seyh Mutahhar Mosque.
Location: Savaş Mahallesi, Şerefali Sok. No:2, 21200 Sur/Diyarbakır, Turkey
Suggested Read: 10 Spectacular National Parks In Turkey For A Rejuvenating Escape Amid Nature
6. Deyrulzafaran Monastery Church
Also Known as the Mor Hananyo or Saffron monastery or the Monastery Church was built in 493AD for the Syriac Orthodox (Assyrian) Christians sect. The Deyrulzafaran Monastery Church is a main tourist attraction of turkey. Also, it is one of the oldest monasteries in the south Turkey region. This monastery had undergone restoration in the year 2007. This monastery is in marvellous condition with amazing beautiful items on display such as old bibles and an old cellar which was used by people for worshipping at the time when the building was a sun temple. There are two churches inside this monastery. The first one is Mor Hananyo built was Syriac architects namely Theodosius and Theodore. The main attraction of this church is larger and magnificent dome.
Location: Eskikale Mahallesi, Deyrulzafaran Yolu Mardin, Turkey
Hope this article has helped you in finding some of the amazing facts about the great churches in Turkey.. So, the next time you are out for your trip to Turkey, do not forget to check out the beautiful churches.
Further Read: 10 Intoxicating Things To Do In Turkey That Will Sink Deep Into Your Soul
---
Looking To Book A Holiday Package?
Book memorable holidays on TravelTriangle with 650+ verified travel agents for 65+ domestic and international destinations.
---
Comments
comments