When one thinks of taking a trip to the Middle East, the first place that comes to mind is Dubai. The most annoying aspect of a foreign trip is standing in front of the cashier trying to convert INR to Dirham. Luckily for you, our guide will take you through the Dubai currency exchange rate in India, best currency exchange places, and more. Our online currency tracker will help you find the rate for 1 INR to Dirham.
Dubai Currency Exchange Rate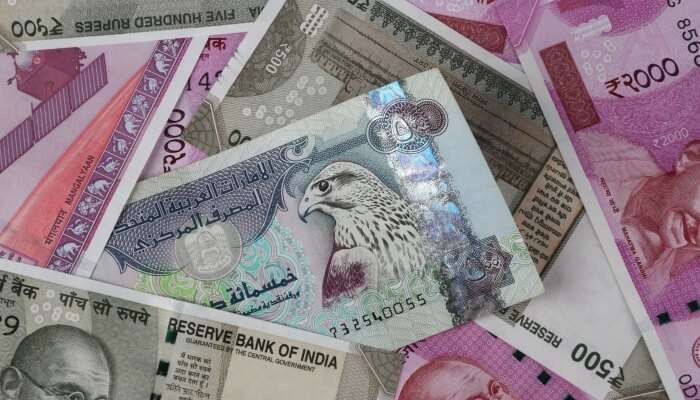 The currency in Dubai is the United Arab Emirates Dirham (AED). The symbol for AED can be written as Dh, and Dhs. The symbol for INR can be written as Rs. The Dirham notes come in denominations of 5, 10, 20, 50, 100, 200, 500, and 1,000. Like the Indian Rupee is divided into 100 paise, the Dirham is divided into 100 fils. Wondering how to convert INR to Dirham? As of 2019, 1 INR equals 0.05261 AED and 1 AED equals 18.9822 INR.
Convert INR To Dhiram
| | |
| --- | --- |
| Indian Rupee | United Arab Emirates Dirham |
| 1 INR | 0.05269 AED |
| 5 INR | 0.26347 AED |
| 10 INR | 0.52694 AED |
| 20 INR | 1.05389 AED |
| 50 INR | 2.63472 AED |
| 100 INR | 5.26944 AED |
| 250 INR | 13.17360 AED |
| 500 INR | 26.34720 AED |
| 1000 INR | 52.69440 AED |
| 2000 INR | 105.38880 AED |
Convert Dirham To INR
| | |
| --- | --- |
| United Arab Emirates Dirham | Indian Rupee |
| 1 AED | 18.97730 INR |
| 5 AED | 94.88650 INR |
| 10 AED | 189.77300 INR |
| 20 AED | 379.54600 INR |
| 50 AED | 948.86500 INR |
| 100 AED | 1897.73000 INR |
| 250 AED | 4744.32500 INR |
| 500 AED | 9488.65000 INR |
| 1000 AED | 18977.30000 INR |
| 2000 AED | 37954.60000 INR |
5 Best Currency Exchange Places In Dubai
Make sure you check the current Dubai exchange rate on a verified currency exchanger before agreeing to convert INR into Dirham at any one of these 5 places in Dubai:
1. Al Fardan Exchange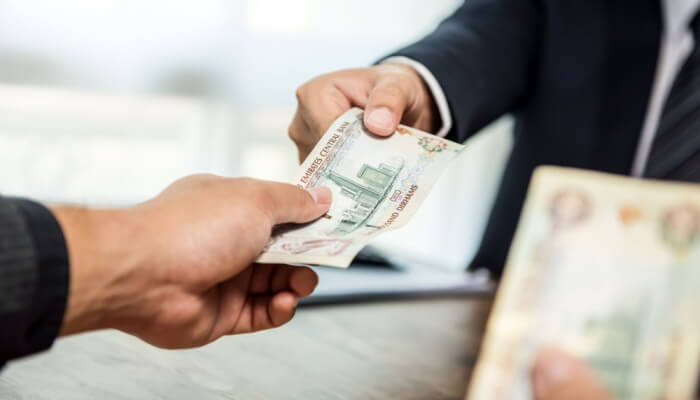 Trust Al Fardan Exchange to provide you with competitive exchange rates on all international currencies. They specialise in both small and large trade of currencies. You will get the most out of your money to meet your personal or corporate financial exchange needs. On top of their currency conversion and transaction needs, their value-added services can save you both time and money.
Must Read: 22 Free Things To Do In Dubai And Experience Over The Top Luxury Without Spending A Penny
---
Dubai Holiday Packages On TravelTriangle
Travel Dubai in Luxury. Visit grand Burj Khalifa or the breathtaking Palm Islands. Enjoy Dhow Cruise, International Buffet Dinner, Dubai City Tour, Desert Safari, Ferrari World and Abu Dhabi City Tour. Book your Dubai holiday package on TravelTriangle.
---
2. UAE Exchange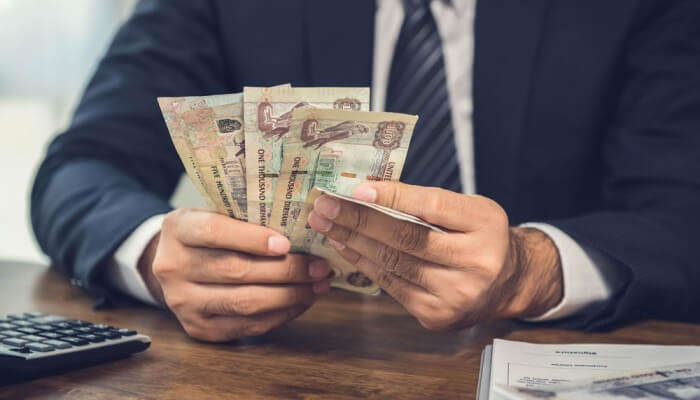 There is no better place to get the best foreign currency services at attractive rates than UAE Exchange. You can buy and sell all major currencies at their 800+ branches worldwide. Be assured to get competitive foreign exchange rates when you carry out conversion of INR to Dirham coupled with excellent customer service.
Suggested Read: Hold On To Your Money Because Indians Can Now Shop At Dubai Duty-Free Using Rupee
3. Al Rostamani International Exchange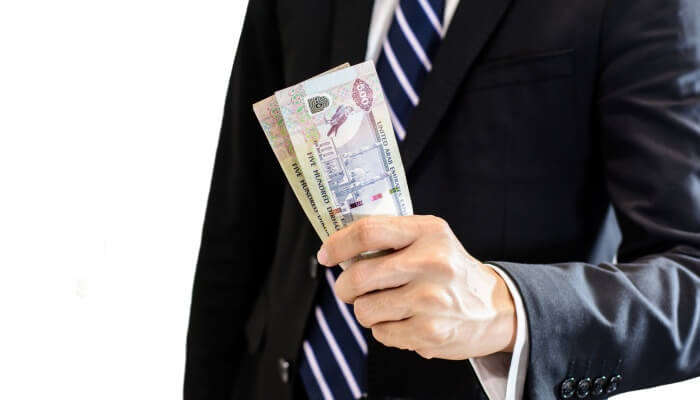 Al Rostamani International Exchange deals with over 40 currencies. Their specially qualified cashiers thoroughly scrutinize each and every foreign currency to establish its authenticity prior to being bought or sold. They also en-cash cheques in all major currencies. Now, isn't that convenient?
Suggested Read: 53 Tourist Places In Dubai: Do Not Come Back Without Visiting These Marvels In 2019
4. Western Union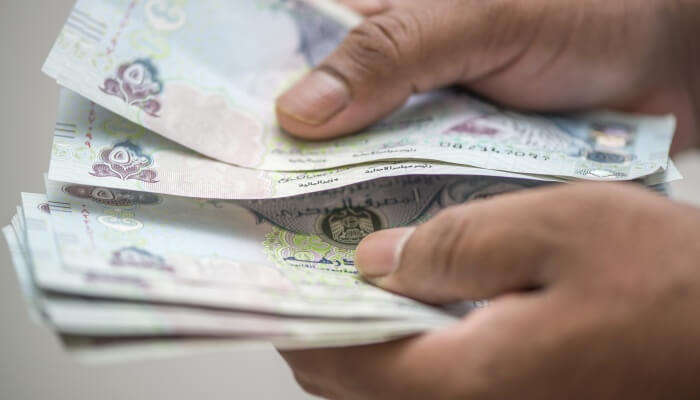 Western Union operates one of the world's largest money transfer networks with more than 500,000 agent locations around the world, but unfavorable exchange rates mean you'll have to pay for the convenience. With Western Union, you get visibility into up-to-date exchange rates before sending a payment overseas in any listed currency.
Suggested Read: Mark These Churches In Dubai On Your Bucket List While You're At This Beautifully Carved City!
5. Al Ansari Exchange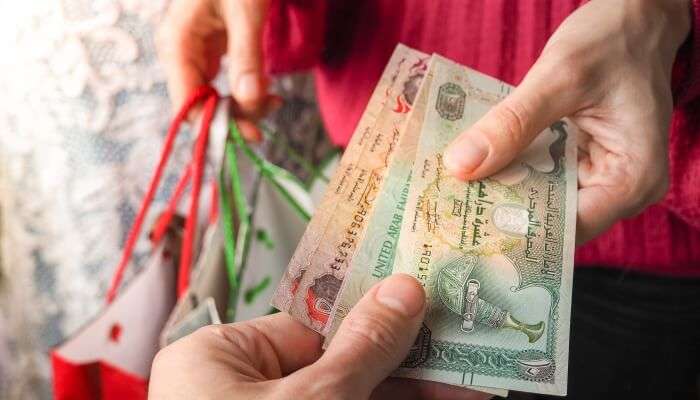 Al Ansari Exchange is a leading exchange company in the UAE with the largest branch network. It started as an offshoot of a flourishing general trading business of the Al Ansari family. The objective was to meet the foreign exchange and remittance needs of their trading partners, at a time when formal banking was yet to be established in the Country.
Suggested Read: Dhow Cruise In Dubai: A Guide To The Best Way Of Touring The Bustling Emirate!
ATMs And Credit Cards In Dubai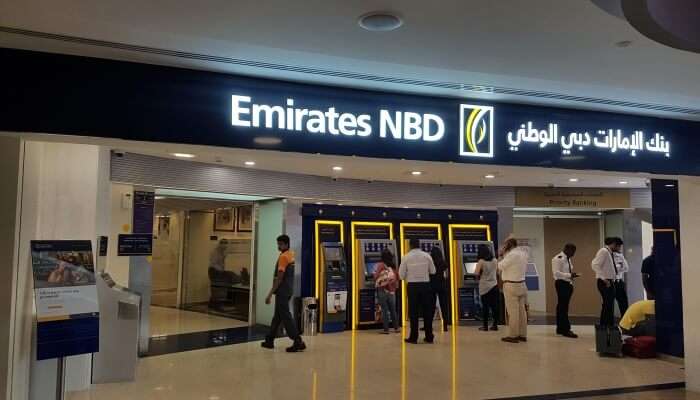 ATMs are a great option to convert INR to Dubai Dirham. You will find an ATM at the metro station, in a mall, at the airport, or on the street. Make sure to keep these things in mind before using your credit card in an ATM in Dubai:
Inform your bank prior to your travel dates and that you will be using your card. There is a high chance your bank might block your card if they see a random transaction being done in a foreign country.
Check if your card is an international card. If it is, check whether UAE is on the list.
Check the foreign currency conversion fee by your card service provider that you will be charged per transaction.
Make sure you withdraw large amounts (not exceeding the limit) but less frequently as you are charged per transaction.
Further Read: Dubai Monuments: Blended List Of 8 Enchanting Old And New Monuments In The City!
You can use the exchange counters at the airport to convert INR to Dirham but the exchange rates are generally higher as compared to other places, like foreign banks and ATMs. You won't face any difficulty in finding exchange counters throughout Dubai. Book your trip to Dubai with TravelTriangle right away to avail exciting deals and discounts and customise the trip according to your requirements.
People Also Read
Uzbekistan Travel Tips Kazakhstan Travel Tips Azerbaijan Travel Tips
---
Looking To Book An International Holiday?
Book memorable holidays on TravelTriangle with 650+ verified travel agents for 65+ domestic and international destinations.
---
Comments
comments