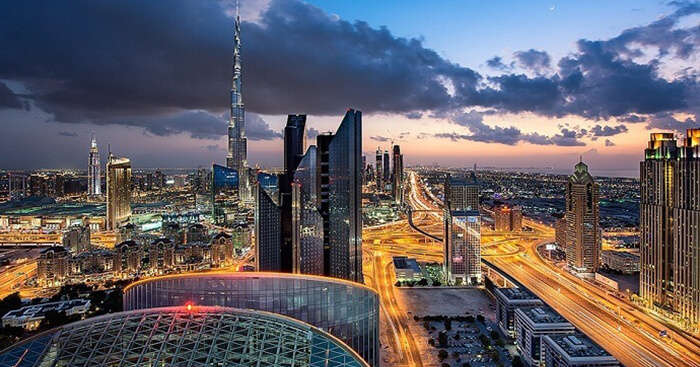 What to do in Dubai for free? Confused, aren't you? The name of Dubai gives a picture of sky-touching buildings, luxury and traditions wrapped with a blanket of  deserts and exotic man-made islands. And with a reputation for over-the-top luxury, the cosmopolitan Mideast Sheikdom is hard to relate to 'free things'. Isn't it? But believe it or not, Dubai offers a plenty of things to do around the city without spending a Dirham.
11 Things To Do In Dubai For Free
If you are still under the shock and wondering about the things which can be enjoyed without spending a penny, then here's a quick list of 11 free things to do in Dubai which will definitely let you enjoy the luxury just like anything.
1. Free Experience Of Dubai's Culture And Heritage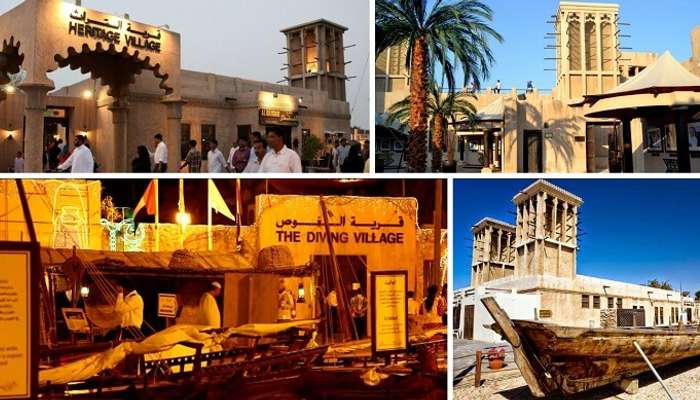 Exhibits of potters, weavers, and practitioners of other traditional crafts, and demonstrations of pearl diving make the experience of Dubai's culture and heritage at Al Shindagha one of the best free things to do in Dubai.
Where: Al Shindagha Area, near the mouth of Dubai Creek
When: Saturday – Thursday 08:30 am – 10:00 pm; Fridays 3:30 pm – 10:00 pm.
Suggested Read: Best Places To Visit In Dubai With Family in 2019 For A Holiday Like None Other!
---
Dubai Holiday Packages On TravelTriangle
Travel Dubai in Luxury. Visit grand Burj Khalifa or the breathtaking Palm Islands. Enjoy Dhow Cruise, International Buffet Dinner, Dubai City Tour, Desert Safari, Ferrari World and Abu Dhabi City Tour. Book your Dubai holiday package on TravelTriangle.
---
2. Free Entry At Camel Museum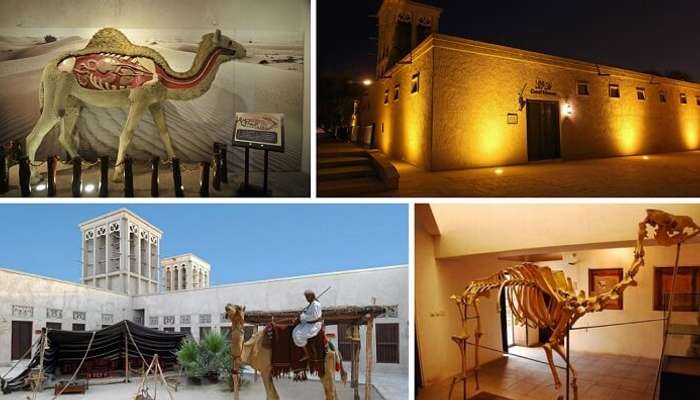 Also in the Al Shindagha Area, the Camel Museum is another free place to visit in Dubai. Different sections in the museum are dedicated to the history of camels in UAE, the relationship between camels and Arabian people, the camel racing, and the camel anatomy. It also houses an auditorium for presentations.
Where: Al Shindagha Heritage Village
When: Sunday – Thursday; 8:00 am – 2:00 pm
Suggested Read: Scuba Diving In Dubai: Explore The Beautiful Underwater World In 2018
3. Free Yoga Classes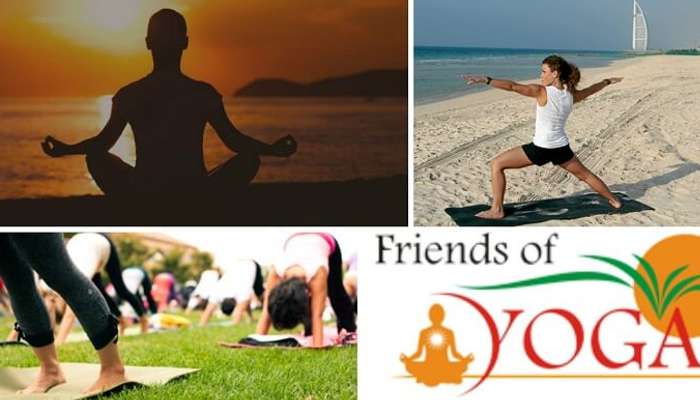 There are a lot of options for cheap things to do in Dubai for the fitness freaks. But the best among those is the free yoga class from Friends Of Yoga. Spread over 5 locations across the city, these 1-hour classes will keep up your fitness routine while on the Dubai trip.
Where: Deira Creek, BurDubai Creek, Zabeel Park, JLT Park, and Internet City
When: Daily; 5:30 am – 6:30 am, 6:30 pm – 7:30 pm
Suggested Read: Top 10 Ferrari World Rides To Thrill You With New Levels Of Speed
4. Free Movie Under The Stars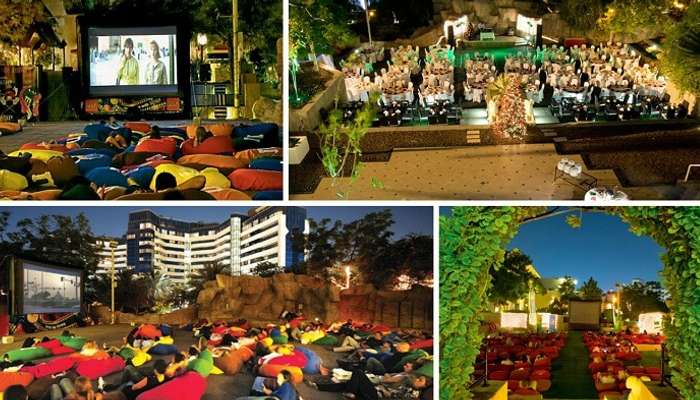 You wouldn't like to head out on a Sunday evening to watch a movie while on a trip to Dubai; now, would you? But since it is free and you get to watch it under the blanket of stars, it becomes one of the must free activities in Dubai every visitor should experience.
Where: Pyramids Rooftop Complex in Wafi complex
When: Sundays; 8:30 pm onwards
Check out what movie is currently playing before you head for this rooftop theatre.
Suggested Read: 14 Reasons Why Dubai Will Ruin Indians For Life
5. Free View Of Dubai Aquarium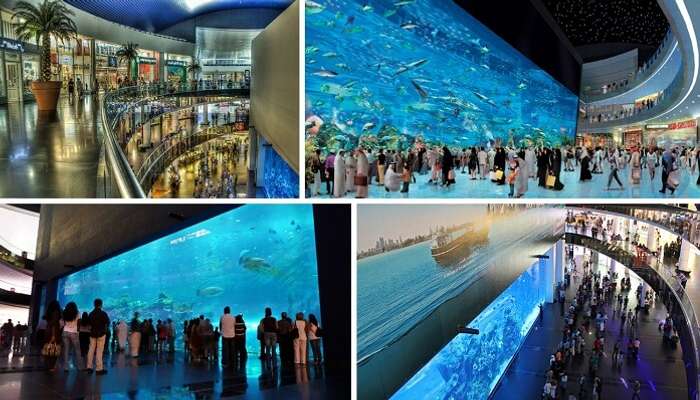 Why spend 70 Dirhams to go inside the aquarium when you can view the main tank for free from outside the entrance in Dubai Mall! The home to the world's single largest acrylic panel in the massive aquarium puts it next on our list of places to visit in Dubai for free.
Where: Outside Dubai Aquarium
When: Any day; Any time
Suggested Read: Visit Dubai In April To Have A Vacation Full Of Amazing Marvels And Miracles
6. Free View Of The Dubai Fountains Display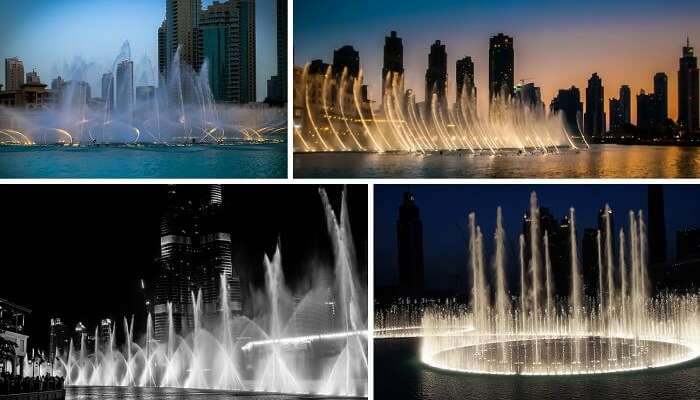 One of the most popular things to do in Dubai for free is to watch the beautiful display of the fountains outside Dubai Mall, dancing in sync with a musical soundtrack.
Where: Outside Dubai Mall
When: 3 – 4 minutes; every 30 minutes
Tip: Being very popular, the fountain is surrounded by a large crowd. Try and be there early to catch a good spot for the best view.
Suggested Read: 9 Hostels In Dubai For Every Backpacker On A Budget
7. Free Entry To The Jumeirah Beach Corniche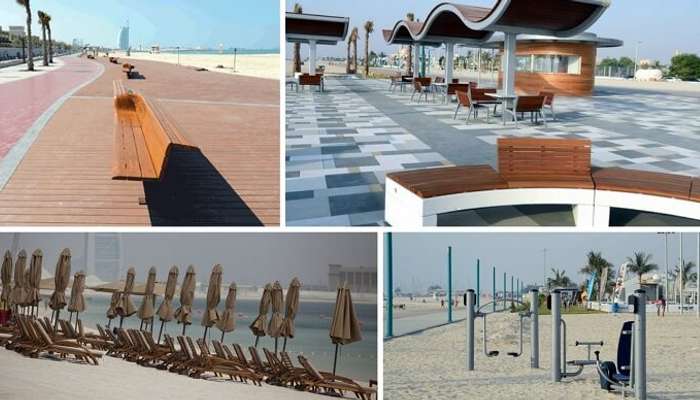 The Jumeirah Beach Corniche is a recent entrant in the list of free attractions in Dubai. It offers 800 meters of beach front, jogging track, showers, children's play areas, and shaded picnic areas. The 14 km long corniche runs from Dubai Marine Beach Resort down to Burj Al Arab Hotel.
Where: Next to the Dubai Marine Beach Resort
Suggested Read: Do Not Come Back Without Visiting These 12 Tourist Places In Dubai
8. Free Wandering Through The Old-Style Gold And Spice Souks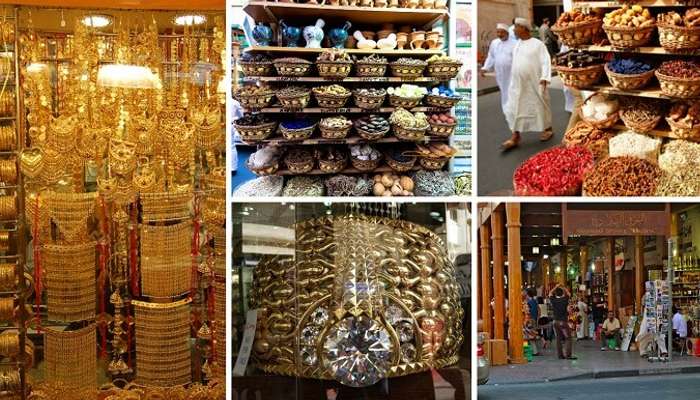 The bustling old souk in the Deira district is one of the popular places to visit in Dubai for free. The old market is famous for the glittering wares of the gold merchants, spices of all kinds, exotic frankincense, and the pashmina shawls. No, you can't buy any of these things for free. But that doesn't mean that wandering through the market costs you either.
Where: Northern side of the Deira Creek near the Ras Metro Station 1
Suggested Read: 11 Best Resorts In Dubai To Stay In 2019 Which Never Run Out Of Luxury
9. Free Car Gazing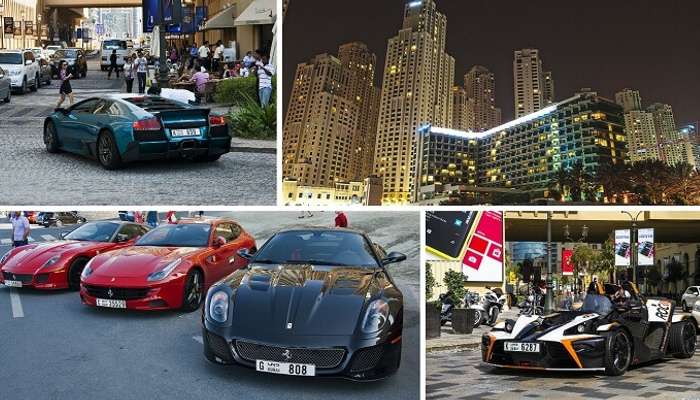 If you do not want to spend money on visiting car museums, yet want to view the best hot rides in the town, The Walk at Jumeirah Beach Residence is the place to be. With the locals showing off their over-priced cars, the restaurant-lined waterfront promenade tops among the places to visit in Dubai for free car-gazing.
Where: Along The Walk at Jumeirah Beach Residence
When: Evenings; especially on Saturday nights
10. Free Pehlwani Wrestling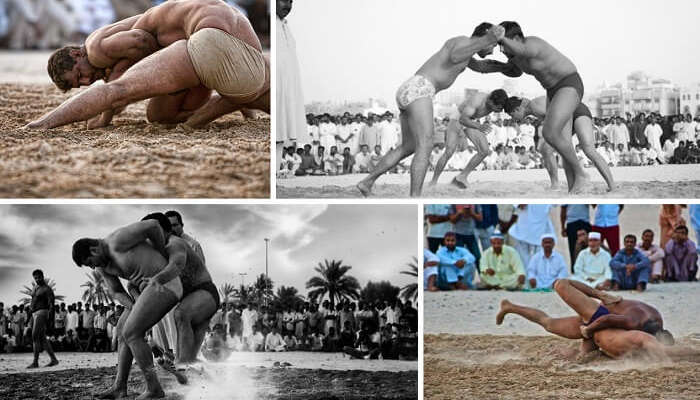 Also among the best things to do in Dubai for free is watching the local wrestling. Every Friday, hundreds of laborers of Indian, Pakistani, and Bangladeshi origins gather around to watch the brave men wrestle for glory.
Where: Deira (sandlot behind the fish market)
When: Fridays; 5:00 pm onwards
11. Free Dance To The Peppy Numbers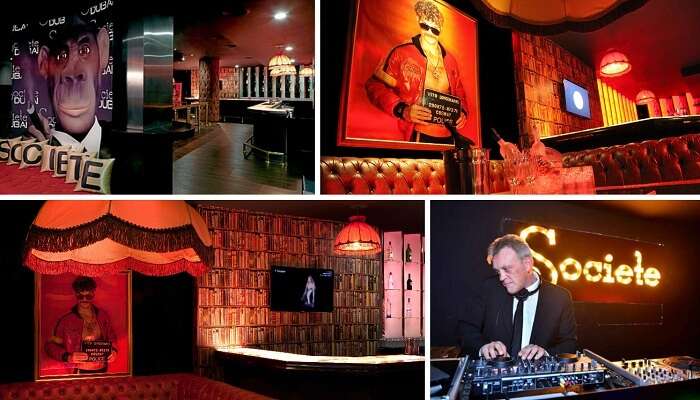 A shabby-chic environment, leather sofas, and oversized lampshades – these are the traits attributed to the Societe Dubai. Visit the newly-opened nightclub on a Friday night and enjoy the best hits from '80s and '90s. And yes, the entry is free!
Where: Societe Dubai, Marina Byblos Hotel, Dubai Marina
12. Free Visit To St. Mary's Catholic Church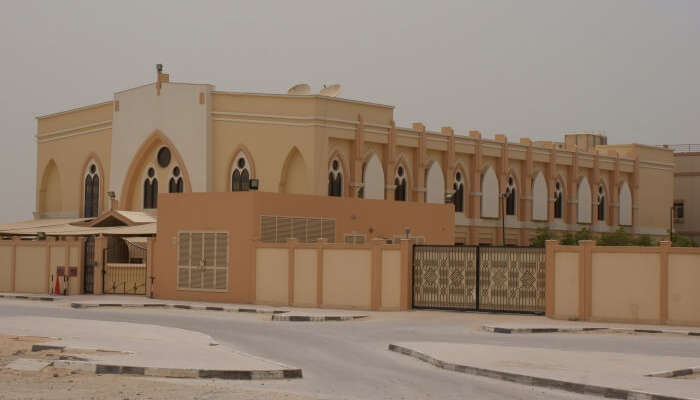 St. Mary's Catholic Church came into existence in 1967. It is one of the oldest churches in Dubai. It is located in the heart of Dubai has served and continues to embrace the diverse generations of Catholics. Registration for the new Catechetical Year for admissions, renewals and also collection of books is held in August at the Catechism Office every Friday.
Location: 247 Oud Metha Rd – Dubai – United Arab Emirates
13. Seek Blessings At Emirates Baptist Church International For Free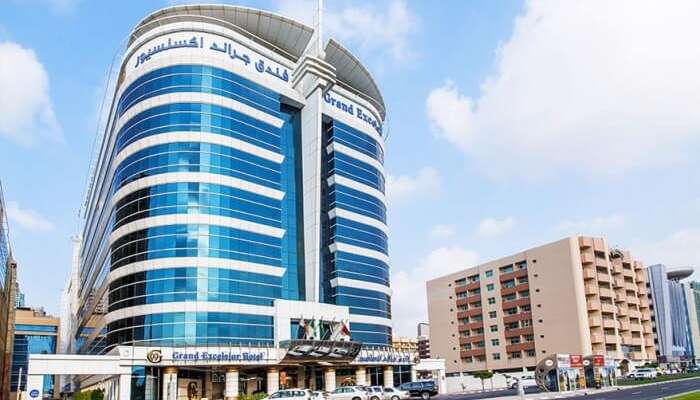 The congregation at EBCI is very diverse with people from many nationalities, comprising of families, and children of all age groups, youth and singles. While they may have chosen to attend or join a Baptist church, they come from diverse denominational backgrounds from their home countries. Given that the entire membership and attendees are expatriates, they live in the country either because they are employed here.
Location: 7 69 A St – Dubai – United Arab Emirates, Grand Excelsior Hotel
14. Pray At Pentecostal Church For Free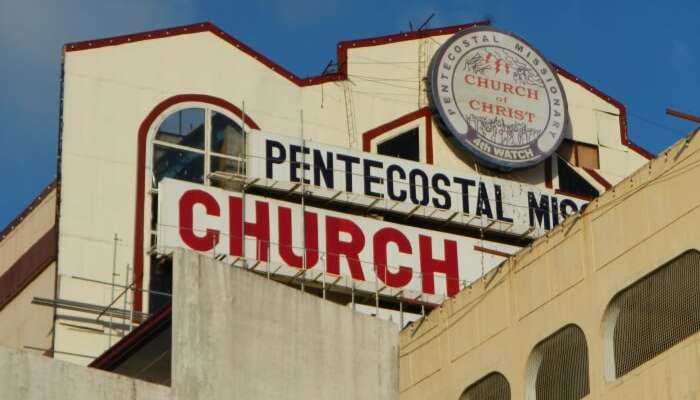 Pentecoastal Church is one of the biggest churches in Dubai. It is also one of the most beautiful places in this region. You will see people from diverse faiths congregate here. Earlier known as the King's Revival Church International has sermons being read from time to time and boasts of many miraculous happenings. Visit the church yourself for those positive vibrations and getting in touch with your soul and to rejuvenate.
Location: Al Barsha
15. Meet The Holy Father At United Christian Church For Free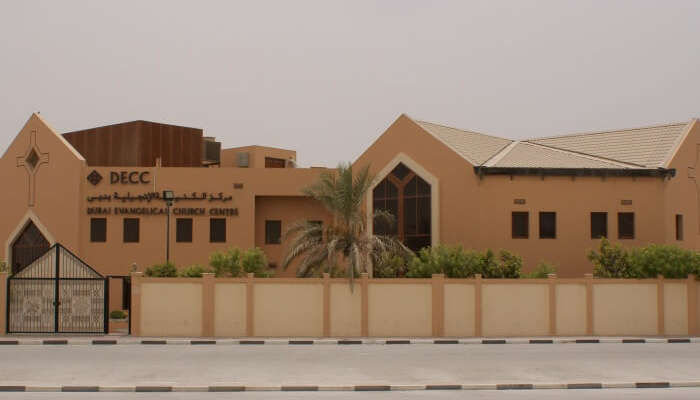 The denomination known as the United Christian Church is a small evangelical body of Christians with roots in the Radical Pietistic movement of Martin Boehm and Philip William Otterbein. This group may often be confused with local congregations and churches of other denominations that also use the name United Christian Church. Those who began the United Christian Church separated from the Church of the United Brethren in Christ between the years of 1862 to 1870 over doctrinal differences of opinion.
Location: Dubai Evangelical Church Center – Dubai – United Arab Emirates
16. Pray At Grand Mosque For Free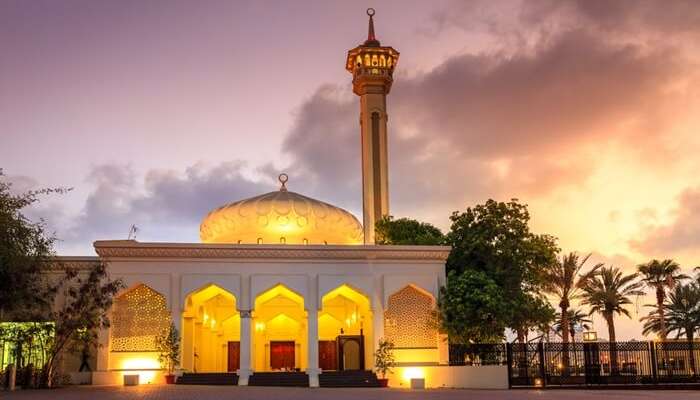 Exhibiting the true Islamic architecture, Grand Mosque in Dubai is the epitome of Dubai's cultural and religious heritage. Quranic inscriptions on the entrance facade, tallest Minaret in the city, small and large domes, and authentic Islamic interiors provide the visitors first-hand experience about Islamic traditions and culture. The essence of peacefulness and spirituality fills the ambiance of this charming place of worship.
17. Take A Selfie Against Burj Khalifa For Free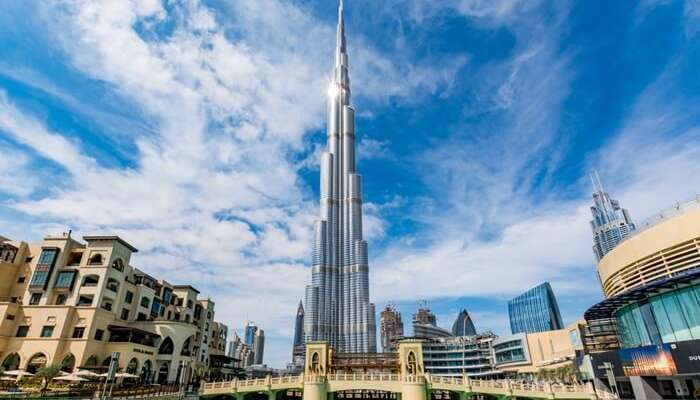 Being the tallest building in the world, Burj Khalifa not only showcases brilliant modern architecture and engineering but also marvelous imagination and implementation. Standing 160 storeys tall, this monument allows the visitor to witness the mesmerizing 360 aerial views of the city of Dubai. To add to this surreal experience, the base of this mighty building is nothing less than a vibrant hub of dining and entertainment. This is one of the most famous Dubai monuments attracting tourists from all over the world.
18. Visit Burj Nahar For Free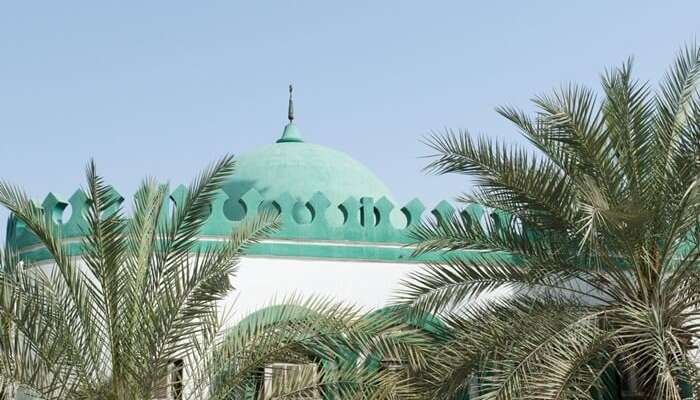 Built in 1870, Burj Nahar blankets three watchtowers that were constructed to protect the old city from invaders. Constructed with mud and coral-stone, this monument has historical importance attached to it. Located on the outskirts of Deira, this monument was fully restored and now is surrounded by scenic gardens, making it a popular attraction for tourists worldwide.
19. Climb Burj Al Arab Jumeirah For Free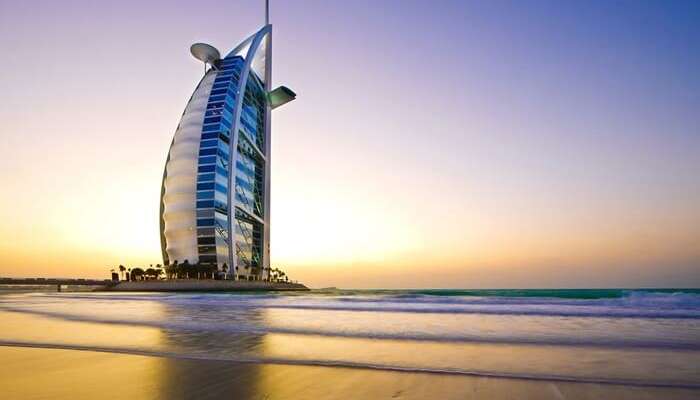 Connected with a bridge to the shore, hotel Burj Al Arab Jumeirah earned its place under the list of Dubai monuments by virtue of its sail-like architectural silhouette. This state-of-the-art construction is the third tallest hotel in the world. Highest level of lavish and luxurious interiors, establishment on an artificially created island, and unique architecture have shot up the hotel to the first rank on the list of most expensive hotels in the world.
20. Visit Infinity Tower For Free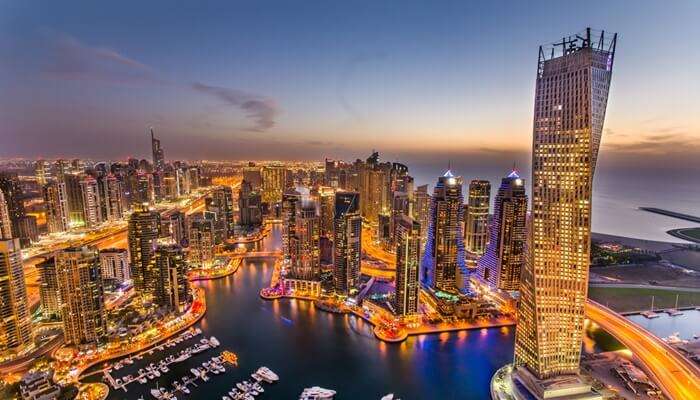 Also known as Cayan Tower, Infinity Tower is a contemporary architectural marvel that took the phrase 'putting a twist' a little too seriously. One of the most photographed buildings of Dubai, the dynamic and twisting shape of this luxurious residential building that turns 90 degrees over its course of height has challenged the conventional styles of architecture in the city. The unique and futuristic design of this Dubai monument takes the breath away of almost all spectators.
21. Pray At Jumeirah Mosque For Free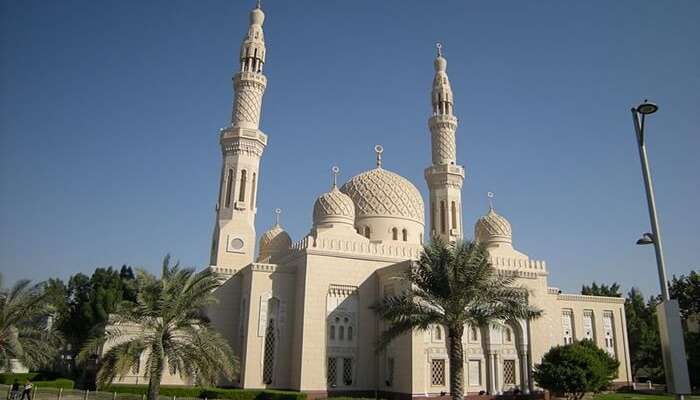 Jumeirah Mosque has been tagged as one of the most beautiful mosques in the city. Built entirely with snowy white stones, this place of worship is the perfect place to have your questions about the Islamic religion answered. Following the policy of 'Open Doors. Open Minds', doors of the mosque are open to humans of all faiths. Local representatives of the mosque conduct guided tours of this beauty and offer to make the visitors learn about their religion and traditions.
22. Play Watersports At Kite Beach For Free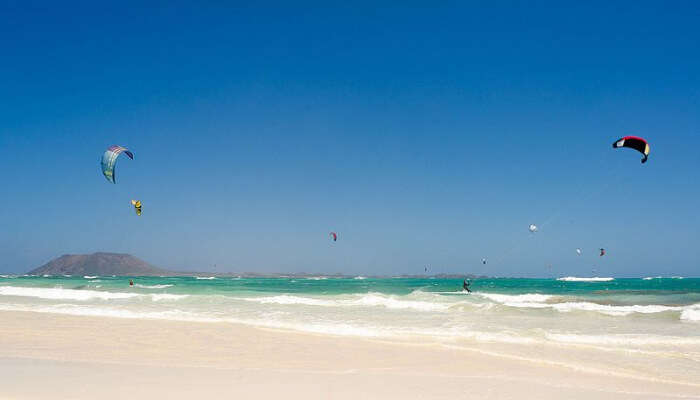 Image Source
The Kite Beach is not just a tourist favorite but locals love this place just as much. It is situated in the Al Manara Road junction and the name of the beach is apt for the kind of activities you can indulge in around the place. The wide range of water sports along with the kitesurfing make up for the amazing activities that majority of the tourists indulge in the entire year around. The pristine white texture of the soft sand is definitely something that will satisfy your heart and soul. The Burj-Al-Arab can be seen clearly from there.
Ideal for: Friends, Family, Kids
Further Read: 20 Best Places To Visit In Dubai At Night For A Vacation In Starry Landscapes!
So now when you know that Dubai is not all about grandeur, then book your personalised personalised Dubai holiday package with TravelTriangle and experience these free things in Dubai which will ensure that your trip doesn't put much of a burden on your pockets.
People also read:
Tourist places in Dubai Free things to do in Dubai Dubai in June
---
Looking To Book An International Holiday?
Book memorable holidays on TravelTriangle with 650+ verified travel agents for 65+ domestic and international destinations.
---
Comments
comments