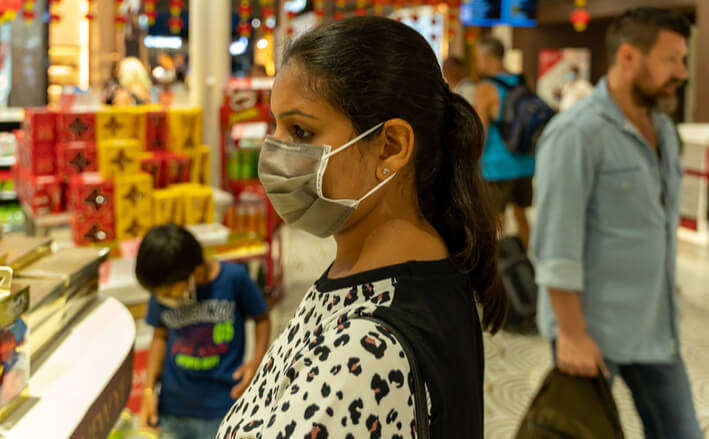 Stay Updated. Stay Aware: Know everything about COVID-19 In Less Than A Minute!
Get the latest updates on what's going around the world amidst Coronavirus Pandemic. Learn what's best to do to reduce the spread of Covid-19. Practice social distancing.
---
Delhi Airport To Resume Flights From Terminal 3
Alerts
After the lockdown is over, commercial flights will begin operations from Terminal 3 at Deljhi Airport. Self check-in bays and machines will be allocated to airlines to avoid crowding. All food, beverage, and retail shops will remain open in order to avoid overcrowding. Ultraviolet disinfectation tunnels will also be in place.
---
India To Bring Back 14,800 Nationals From 12 Countries
Alerts
The Central Government has given a green signal to launch 64 special flights from May 07 that will bring back 14,800 Indian nationals stranded in 12 different countries.
---
Delhi Increases VAT On Fuel
Delhi Alerts
Breaking: *Petrol price hiked by Rs 1.67 per litre, diesel by Rs 7.10 a litre in Delhi after state govt raises VAT on auto fuel:: when you can't get revenue from normal economic activity, there is always petrol (and yes, alcohol!)

— Rajdeep Sardesai (@sardesairajdeep) May 5, 2020
---
Chhattisgarh Begins Home Delivery Of Liquor In Green Zones
Chhattisgarh
Chhattisgarh Begins Home Delivery Of Liquor In Green Zones In order to avoid long queues at the liquor shops in bid to fight coronavirus, the Chattisgarh government has decided to begin home delivery services of liquor in green zone states. A person can place an order online for a maximum of 5000 ml liquor at a time with a delivery charge of INR 120.
---
Rajasthan Govt To Send Migrant Workers To Other States Free Of Cost
Rajasthan
Rajasthan Transport Minister Pratap Singh Khachariyawas announced on Tuesday that no migrant workers were charged of train fare by the state. This came after Sonia Gandhi announced that she would bear the cost of train tickets for migrant workers traveling back home.
---
Exam Dates For JEE-Mains, JEE-Advanced, NEET Announced
Alerts
BREAKING: HRD Minister Ramesh Pokhriyal announces dates for major entrance tests.

JEE (MAIN) test to be held from July 18, 20, 21, 22 & 23
JEE (ADVANCED) to be held in August@IndianExpress

— Ritika Chopra (@KhurafatiChopra) May 5, 2020