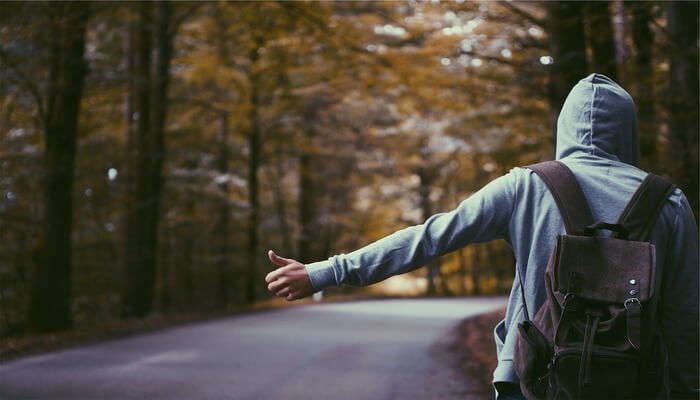 Cover Image Credit: Needpix.com
Backpackers all around the world keep looking for creative ways to make their journeys successful. You must've come across those who seek adventure in the journey itself and slide out of their homes for an impromptu vacay. Some of them even swear by the hitchhiking experience. Not only is hitchhiking an ideal medium of traveling for those who are low on budget but is also a source of ultimate gratification for the thrill seekers. Hitchhiking in India can be a worthwhile experience – you surely will come across all sorts of people but staying wise and cautious will help you throughout the journey.
What Is Hitchhiking

Hitchhiking is a term used for a kind of transportation that is usually gained by asking strangers for a ride in their vehicle. It can be a paid ride but most of the time it is free. It is also known as thumbing or hitching. This mode of travel was one of the most common way of transportation until the later half of the last century.
6 Essential Tips For Hitchhiking In India
For those who are planning to have this experience for the first time, there are a number of hitchhiking tips India that need to be followed. The essential ones have been listed below.
1. Don't Take Preparations For Granted

This tip is especially for those who are traveling solo and are preoccupied by the question – "is hitchhiking safe in India?". You are planning to share your journey with a stranger(s) and therefore you must be well prepared. Don't confuse well preparedness with carrying a heavy luggage. You must make sure that you are carrying enough eatables, a torch, a small knife, and other paraphernalia for emergency purposes.
Must Read: 29 Best Adventure Destinations In India You Must Set Sail For In 2022
2. Choosing The Ride

While you are looking for a lift, remember that you are also looking for a co-passenger. Hitchhiking in India can be a task when traveling alone and therefore you would certainly want to have an assurance about the vehicle owner. Apart from just knowing where the person is headed, you should also take care of his/her conduct. Even if the person seems to be only slightly dubious, consider it as a big red flag. Female travelers should specifically be alert when they're choosing to share a ride with a male driver.
Suggested Read: 13 Treehouses In South India That'll Bond You With Nature's Mystique
3. Catching Their Attention

If done right, this one can be the easiest task. In order to get the drivers' attention, holding a placard with vivid details can be helpful. Best thing to do would be mentioning the name of the destination – but make sure it's visible from a distance. In order to come into notice more effectively, wear bright-colored clothes. This is essential to follow and failing to do so would have you wait for too long. However, do not leave the edge of the highway and stand right in the middle for attention – don't forget to act wisely even under frustration.
Suggested Read: 60 Best Family Holiday Destinations In India To Have A Gala Time In 2022!
4. Everyone's Preferences Matter

If you are hitchhiking in India in groups or pairs, do consider the choices of your fellow traveler(s). Since the hitchhiking experience can be a bit tedious, you have to be sure that everyone's demands are being met. When clashes occur, make sure you find a middle way and look forward to a hassle-free and peaceful journey.
Suggested Read: 24 Cheapest Places In India Even A Broke Student Can Visit In 2022!
5. During The Journey

Remember that hitchhiking does not involve money. So before you hop on, have a clear conversation with the vehicle owner that you are not looking for a paid ride and avoid any sort of swindle to happen. When you finally get in, don't forget that the driver is doing you a favor and don't be hesitant to be kind to him/her. Indulge in conversations to give yourself some assurance and make them trust you. If you know how to drive, then you can also offer some help to them by taking over the wheel and covering halfway.
Suggested Read: 21 Honeymoon Places In India In May In 2022 That Bloom With Love & Fervent Charm
6. On Reaching

Since you found a stranger to be this helpful, don't be reluctant to show immense gratitude. Your parting words can be a great gesture and would help you create a lasting impression on their mind. A sincere act of gratitude would go a long way and will help build their trust upon the hitchhikers.
Suggested Read: 15 Best Places Of Indian Cultural Heritage You Must-Visit In 2022!
10 Best Routes For Hitchhiking In India
Mentioned below are a handful of the most interesting and frequently taken routes for hitchhiking. The experience will definitely be worthwhile, as the routes are admired for their picturesqueness, depicting the true charm of India. Take a look!
1. From Guwahati To Tawang

Although this route is not a popular one, it is definitely worth taking. The people you'll meet here are considered to be quite friendly and finding a ride here wouldn't be a tedious procedure. You'll be crossing high terrains and therefore the views you'll witness would leave you awe-struck.
Distance: 450 km
Best time to hitchhike: February to May
Suggested Read: 11 Best Bachelor Party Destinations In India To Kiss Singlehood Goodbye In 2022!
2. From Manali To Leh

Adventure and breathtaking views are two aspects that strike our mind when Leh comes into the scene. Throughout the route you'll see various monasteries and other attractions. You would want to stop and visit those sites – you must do so if the vehicle owner isn't in a hurry or you can hop off and wait for another lift later.
Distance: 473 km
Best time to hitchhike: mid-May to October
Suggested Read: Bullet Train In India: Here's How It's Going To Change Our Train Travel!
3. From Ahmedabad To Kutch

This one wouldn't surprise you with the mountainous views but the sights here are definitely worth witnessing. The terrains are quite challenging and this makes it one of the most interesting routes when you are hitchhiking in India. You'll witness a vast desert landscape dotted with rural inhabitations.
Distance: 340 km
Best time to hitchhike: November to February
4. From Mumbai To Goa

Now this is one of those routes in India that is loved by all and that too for all the right reasons. It could be due to the excitement of finally ending up at a holiday destination like Goa. There are various cafes on the way so you may have to stop more than once during the journey. It is advisable to start your journey in the wee hours, as the distance is quite long.
Distance: 609 km
Best time to hitchhike: November to February
5. From Srinagar To Leh

Another incredible route for hitchhiking in India is the Srinagar-Leh highway which is a beautiful stretch of 421 kilometres making you admire the magnificent beauty of Himalayan landscapes. This highway is a part of Kashmir valley offering an epic journey with numerous interesting towns and villages in the route, giving you a perfect chance to catch the true vibe of the area. 
Distance: 421 km
Best time to hitchhike: Mid-May to November
6. From Manali To Spiti Valley

Manali to Spiti Valley is the same route that is heading towards Leh but you need to take a diversion at Gramphu. It is a 200 kilometres long journey and is quite exciting for those who love to take hitchhiking challenges. This is also the shortest way to reach Spiti Valley but you need to be prepared according to the geographical conditions before taking this expedition. 
Distance: 200 km
Best time to hitchhike: Mid-May to November
Suggested Read: 5 Gorgeous Waterfalls In Manali For A Blissful Escapade In 2022!
7. From Itanagar To Ziro

Route between Itanagar to Ziro is one of the most popular tracks for hitchhiking in India. If you are planning to take this journey then you need to leave early in the morning when trucks leave from Itanagar. Don't forget to get our Inner Line Permit before heading for this adventure. 
Distance: 110 km
Best time to hitchhike: Between February and May
Suggested Read: River Rafting In Kullu 2022: Sign Up For The Most Thrilling Experience In The Valley
8. From Leh To Nubra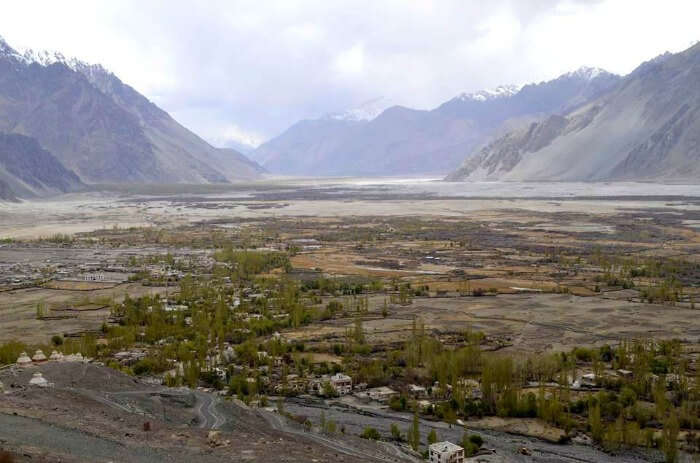 The road between Leh to Nubra is quite popular among tourists and can be best enjoyed when you are riding your own vehicle. However, you can also have an awesome hitchhiking experience on this route. The total distance between Nubra and Leh is nearly 150 kilometres making you witness the exquisite beauty of the Mother Earth. 
Distance: 150 km
Best time to hitchhike: Mid-May to October
Suggested Read: Visit The Leisure Valley Chandigarh For A Blissful Retreat Amidst Lush Greenery
9. From Jodhpur To Jaisalmer

For those who want to catch the true vibe of Rajasthan, hitchhiking between Jodhpur to Jaisalmer is surely one of the best experiences. Grabbing delicious and flavoursome Rajasthani meals on your way, this 290 kilometres route between these prominent cities of Rajasthan have numerous villages where you can interact with villagers and capture the beauty of their vibrant culture. 
Distance: 290 km
Best time to hitchhike: Between November and February
10. From Chandigarh To Manali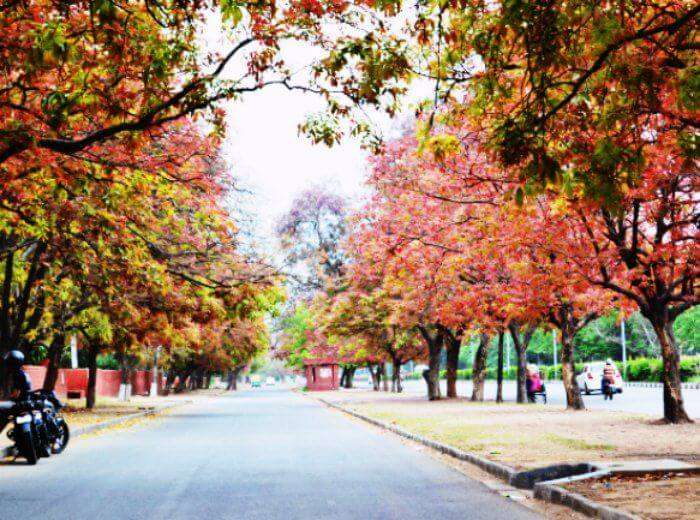 Another beautiful route for hitchhiking in India is between Chandigarh and Manali. Offering perfect glimpse of Himachal natural beauty, this is one of the most mesmerising routes in North India. The locals are friendly here and ensures comparatively environment for visitors.
Distance: 289 km
Best time to hitchhike: Throughout the year
Further Read: 16 Most Beautiful Villages In India That You Must Visit In 2022!
As a traveler in India, if you want to try something unconventional for your next vacation, go for a hitchhiking experience. Hitchhiking in India will not only be an addition to your adventurous stories but will also give you a great idea about the cultural significance of the country. Keep the tips handy when going for your adventurous vacay in India.
Disclaimer: TravelTriangle claims no credit for images featured on our blog site unless otherwise noted. All visual content is copyrighted to its respectful owners. We try to link back to original sources whenever possible. If you own the rights to any of the images, and do not wish them to appear on TravelTriangle, please contact us and they will be promptly removed. We believe in providing  proper attribution to the original author, artist or photographer.
Frequently Asked Questions About Hitchhiking In India
Is hitchhiking safe?
Hitchhiking can be a fun experience if one is alert and conscious enough. If you are not following the essential steps, then it can be an unsafe experience for you.
Is hitchhiking legal in India?
There are no such legality issue involved when it comes to hitchhiking in India. This medium of travel is a bit uncommon here as compared to other countries. However, it is definitely worth a try.
Does hitchhiking still work?
Yes, it still works, however, the percentage is much smaller as more people own cars these days.
What are the best routes for hitchhiking in India?
The most popular routes for hitchhiking in India are between Mumbai and Goa, Manali and Leh, and Guwahati and Tawang.
Which is the safest route for hitchhiking in India?
Route between Chandigarh to Manali is believed to be one of the safest routes for hiking in India, however, the traveler needs to be cautious.