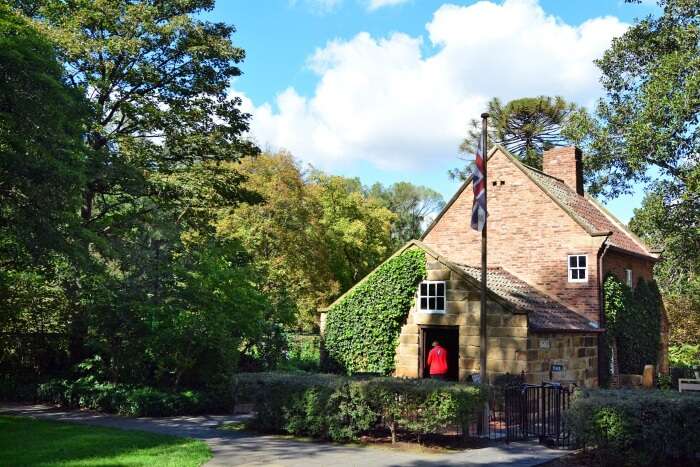 Melbourne is considered to be the coastal capital of Victoria, Australia. It is not an exaggeration to call Melbourne the perfect amalgamation of all things fun – from art, delicious food, sports, and inspiring fashion, the city has it all. When a place is jam-packed with such nice things, it is bound to be a tourist magnet. People from all over the world come to visit the place to relax and experience the recreational activities that the place has to offer.
To soak in the culture of a country and to understand its values and traditions, it is important to choose the location of your stay wisely. Cottages in Melbourne are a great way of cutting down the cost of your trip as opposed to staying at some expensive hotels.
12 Amazing Cottages In Melbourne
To simplify the accommodation plan for you, we have carefully listed down some of the cottages that you can choose to stay at while exploring the city of Melbourne.
1. Blue Moon Cottages

The cottages have a very serene and pleasant vibe attached to them. The blue moon cottages live up to the things that you would expect a cottage to have. The place is quite close to the shops and beach. A cottage close to beach is an ideal location. You can easily walk down to the beach, so the commute becomes quite easy.
Address: 12 Blakiston Grove, Rye VIC 3941, Australia
Phone: 61 468 395 085
Google rating: 4.9
Must Read: Casinos In Melbourne: 4 Game Houses To Set The Dice Rolling In Australia
2. East Cliff Cottage Sorrento

Imagine staying and waking up to a nice beautiful Victorian style place. Sounds exquisite right? If you want to experience a stay like this then East cliff Cottage is an ideal place for you. The interiors are done beautifully in a 19th century style. The cottages are made of limestones that amplify the beauty of the cottage. It is very near to the Sorrento beach and Nepean National Park.
Address: 881 Melbourne Rd, Sorrento VIC 3943, Australia
Phone: +61 3 59 84 0668
Google rating: 5
3. Lakeside Cottage Luxury

During the vacations it is quite that you start to feel a little homesick, start to miss your comfortable bed. But we can vouch for the fact that Lakeside cottage is so good that you will not miss your home or your bed at all! The cottages here are quaint and cozy. You will get mouth watering food while you are staying here. And to add more relaxation in your vacation, you can enjoy a spa while you are staying here.
Address: 11 Tereddan Dr, Kilsyth South VIC 3137, Australia
Phone: +61 3 9761 9 791
Google rating: 4.8
Suggested Read: Food Festivals In Melbourne: Indulge Yourself With Delicious Cuisines & Exciting Events
4. Clarendon Cottages Dandenong Ranges

Picture a scenario where you have lush verandahs and greenery all around the place you stay. Sounds very picturesque? But this too good to be true imagination is a reality, thanks to Clarendon Cottages. There is a beautiful verandah here where you can chill and may be play some games with friends and family. The best part is that the place is very close to all the must see sites. You will even be treated with a complimentary breakfast while you are staying at the Clarendon Cottages.
Address: 11 Clarkmont Rd, Sassafras VIC 3787, Australia
Phone: +61 3 97 55 3288
Google rating: 4. 9
5. Como Cottages Dandenong Ranges

The como cottages are a perfect place to stay if you like your stay to be rustic, warm and cozy. The scenery in and around the cottages is quite beautiful and you will feel quite close to the nature if you are staying at the Como Cottages. There is also a provision of open fire which gives the place the rustic vibe it need. For relaxation there is also provision of spa.
Address: 1465 Mount Dandenong Tourist Rd, Olinda VIC 3788, Australia
Phone: +61 3 9751 2 264
Google rating: 4.1
Suggested Read: 7 Best Hot Springs In Melbourne To Pamper Yourself On A Thrilling Vacation
6. Observatory Cottages

The Observatory cottages will give you a home like comfort. There is a fire place and the beds are of canopy. The entire setting of the room and the cottage is very serene. Moreover, this is the perfect place if you want to spend some time away from the hustle-bustle of cities. The place is known for having little touches like chocolates to welcome you to your room.
Address: 8 Observatory Rd, Mount Dandenong VIC 3767, Australia
Phone: +61 3 97 51 2436
Google rating: 4.8
7. Arcadia Cottages

As a child, many of us were fascinated with Mowgli and Tarzan and were in awe of how amazing life they lead in forests. Well, the arcadia cottages are closest you can have of living your dreams of residing in a forest. The place is amid forest gardens and looks very beautiful. The rooms have a nice vintage touch to them. What is even more exciting is that the place also has provision of tree houses. So you are a tad bit closer to living your childhood fantasy!
Address: 188- 190 Falls Road (enter from, Monash Ave, Olinda VIC 3788, Australia)
Phone: +61 3 9751 10 17
Google rating: 4.8
Suggested Read: 5 Best Guest Houses In Melbourne To Stay At Ease On Your Next Thrilling Aussie Vacay
8. Credo Cottages

While away from all the crazy environment of our city lives, our lives are such that we still want to be connected all the time. The Credo cottages are the perfect place as while staying at a quaint place you will have access to the WiFi. The place also has spa that you can enjoy with your family. Apart from the spa the place also has whirlpool tubs. This is perfect for a weekend getaway.
Address: 543 Mt Dandenong Tourist Rd., Olinda VIC 3788, Australia
Phone: +61 3 9751 2300
Google rating: 4. 0
9. Merrow Cottages

The Merrow cottages are known for their comfortable and cozy stay. The spa is something that is enjoyed by all. While you are staying here, you will be given a breakfast hamper which will have some mouth watering assortments of food. So, you know, you will get a perfect relaxing stay experience here. Therefore, add this cottage in your list for your next trip!
Address: 21-23 Hume Ln, Mount Dandenong VIC 3767, Australia
Phone: +61 3 97 51 2712
Google rating: 4.1
Suggested Read: 6 Best Zoos In Melbourne For A Wildlife Encounter In The Fox Capital Of The World!
10. Cottages Monreale

The best part about the Cottages Monreale is that it is very close to the major tourist sites around the area. The property on which it the cottages are built dates back to the year 1902. These cottages are a great place to relax and enjoy the nature. And you can visit the nearby places whenever you want to! So, isn't it one of the best cottages in Melbourne?
Address: 81 The Crescent, Sassafras VIC 3787, Australia
Phone: +61 3 97 55 1773
Google rating: 3.8
11. Olinda Country Cottage

A quaint and beautiful little place is what best describes the Olinda country cottages. The cottage is close to all the recreational activities and sites that you would want to visit. There is a kitchenette area that is provided along with the room, so that you can cook your own meals if you want. This is one of the top cottages in Melbourne!
Address: 1558 Mount Dandenong Tourist Rd, Olinda VIC 3788, Australia
Phone: +61 3 9751 1777
Google rating: 4.8
Suggested Read: New Year Party In Melbourne: Head To Australia For A Celebration Like Never Before!
12. A Cottage In The Forest

The name of the cottage is very fairy tale like. And the location itself is also very beautiful. The view that you will get from your cottage is of lush, dense green forests. The place also provides spa facility. And for all the movie buffs, you would be happy to know that there is a great selection of DVDs that you can choose from. All in all this is a place you would want to spend some quality time with your family.
Address: 452 Mount Dandenong Tourist Rd, Olinda VIC 3788, Australia 452 Mount
Dandenong Tourist Rd, Olinda VIC 3788, Australia
Phone: +61 3 97 51 2464
Google rating: 4. 8
Further Read: Top 10 Indian Restaurants In Melbourne For Those Who Miss Desi Flavors In The Foreign Land
Choosing a location to stay is indeed a major factor that consumes a lot of time to get finalised during the planning of a trip. With the list provided enough, hopefully this tedious task gets a bit easier for you as you search for cottages in Melbourne. Each cottage offers you with the perfect place to rest to make your vacation to Melbourne hassle free.
---
Looking To Book An International Honeymoon?
Book memorable honeymoon on TravelTriangle with 650+ verified travel agents for 65+ domestic and international destinations.
---