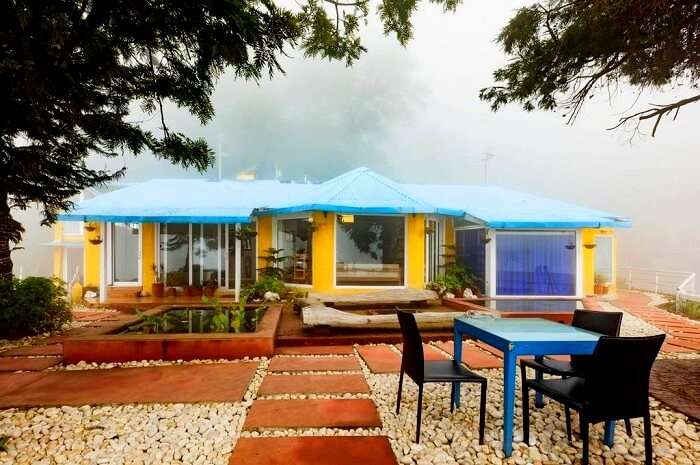 Mussoorie is one of the most attractive hill stations in India. This is one destination that offers the bustle of the mall road and old British charm in Landour. It offers a sweet dose of nostalgia and an even sweeter vacation tho those who desire it. So if you're one of those who likes to get the feel of every hill station, we bring you the best cottages in Mussoorie to stay at. For it only by living the Mussoorie way of life that you can relive its past glory!
15 Best Cottages In Mussoorie
Surrounded by a colonial charm and mountain vibes, there can be no better place to spend a vacation. So, here are top cottages in Mussoorie which provide you with an enthralling vacation:
1. Wildflower Cottage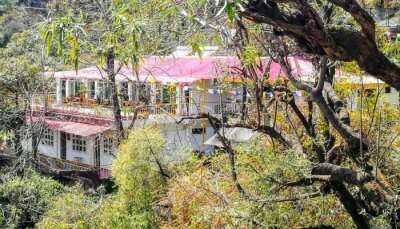 Set amidst the towering oak trees, the Wildflower Cottage is laced with lots of comfort and warmth. The mesmerizing natural aura of Mussoorie can clearly be felt once you take a stroll in the cottage garden and outdoor space. Feel the earthy fragrance of the blossoming wildflowers and the aromatic herbs. The tranquil silence is replaced by the natural sounds nearby. This is undoubtedly known to be the best Mussoorie cottage among travelers. 
Facilities:
Outdoor fireplace

Culture tours

Adventure activities

Parking

24-hour front desk

CCTV in all common areas

Multi-cuisine restaurant
Tariff: From INR 3100
Location: Mackinnon's, Cart Rd, Tundhar Village, Sher Garhi, Mussoorie, Uttarakhand 248179
Nearby Places: Lal Tibba, Kempty Falls
19 Things To Do In Mussoorie For A Hill Station Holiday Experience In 2022
2. Nature Cottages Cafe and Stay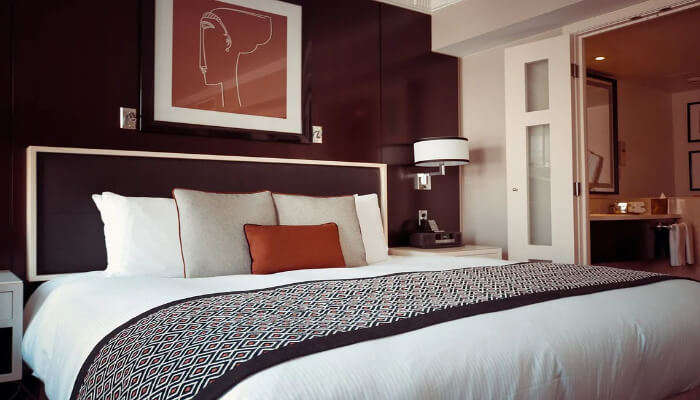 A superb place to stay under the warmth of a courteous staff, the cottage is a perfect stay to relax, unwind and enjoy a laid-back vacation. You literally get supreme nature views including the tall trees fixated on hills and clouds that kiss the mountains.
Facilities:
Free parking

Outdoor dining area

Wake-up service
Tariff: From INR 1800
Location: Kyarkhuli, opposite pawar fast food, Mussoorie, Uttarakhand 248001
Nearby Places: Gun Hill, Camel Rock View
3. Deodar Cottages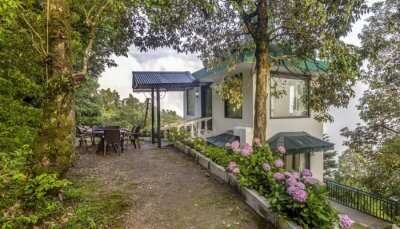 The Deodar Cottages are a perfect place to enjoy the peace and beauty of nature. It is located near Landour which is a calmer version of Mussoorie. The 20 acre property is surrounded by lush green forests and fitted with the most modern amenities. The sleepy nature of Landour is perfectly complementary to the tranquil ambiance of the cottage.  
Facilities:
Live music and bonfire

Free parking

Pets are allowed

BBQ facilities

Open garden
Tariff: From INR 5000
Location: Chamba – Mussoorie Road, Bhataghat, Mussoorie, Uttarakhand 248122
Nearby Places: Camel's Back Road, Kempty Falls
Camping In Mussoorie: Here Is All You Need To Know For Your 2022 Vacay
4. Oak Cottage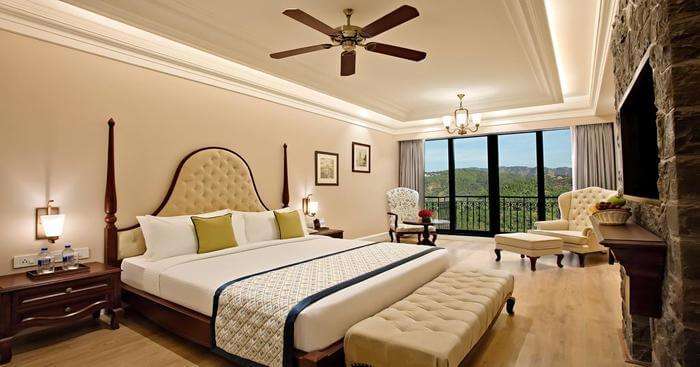 The Oak Cottage is a warm and welcoming accommodation which is well-equipped with necessary amenities. It will surely provide you with a cheerful experience as the rooms are comfortable, cozy and well-designed. It is an amazing option for budget travellers looking for a short stay within the hills of Mussoorie.
Facilities:
Laundry

Parking

Housekeeping

Kitchenette

CCTV Cameras
Tariff: From INR 1200
Location: Into The Woods Bhilladu, Kempty – Thatyur Rd, Mussoorie, Uttarakhand 248179
Nearby Places: Kempty Falls, Hawa Mahal Viewpoint
5. Cottage in the Clouds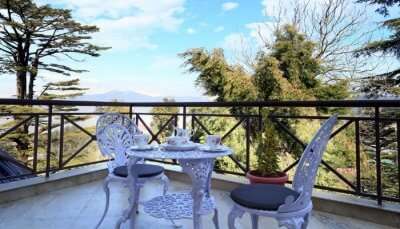 Enjoy Mussoorie's natural splendour while staying at this comfortable cottage located on a hill. You will absolutely love the living space which is perfect to connect and chat or have fun over drinks and board games! Either watch the clouds that will roll over your window or witness the panoramic views of the mountains. This is among the best luxury cottages in Mussoorie.
Facilities:
Parking

Free WiFi

Outdoor fireplace

Extra comfort rooms

Shared lounge area
Tariff: From INR 10,000
Location: Library Chowk, Adjoining Hotel Dunsvirk Court, Mussoorie 248179
Nearby Places: Lambi Dehar Mines, Lal Tibba
A Detailed Guide For Shopping In Mussoorie On Your 2022 Vacay
6. Sundays Forever – King's Cottage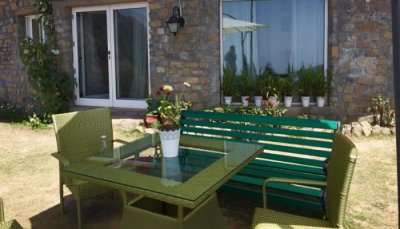 The neat and tidy property is set amidst a corner in Mussoorie making it ideal for peace seekers looking for a laid-back vacation. The quaint and charming cottage is perfect for couples and honeymoon travellers. Watch the mountains from the cottage garden or sunset that hides behind the very mountains.
Facilities:
Caretaker

Housekeeping

24×7 power backup

Laundry Service

Barbeque facility

Free Parking
Tariff: From INR 5000
Location: King's Cottage, Suwakholi Mussoorie – Dhanaulti Road, Mussoorie, 249180
Nearby Places: Watch Tower, Mossy Falls
7. Tabor Cottage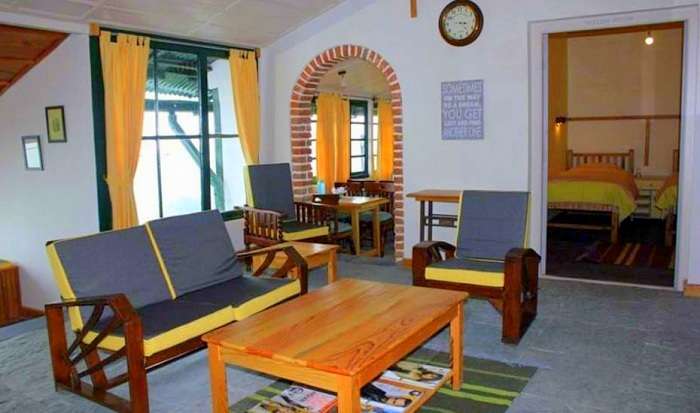 Tabor Cottage is an ideal option for travelers wanting a colonial feel on their stay. Its classic furniture and old-world decor combined with modern facilities and amenities make it one of the best places to stay in Mussoorie.
Facilities:
Internet Access
Laundry
Room Service
Parking
Tariff: From INR 2000
Location: Landour Cantt, Mussoorie, Uttarakhand 248179
Nearby Places: The Haunted House, Lal Tibba
15 Best Places To Visit Near Mussoorie For An Unending Affair With Nature In 2022!
8. Central Government Holiday Home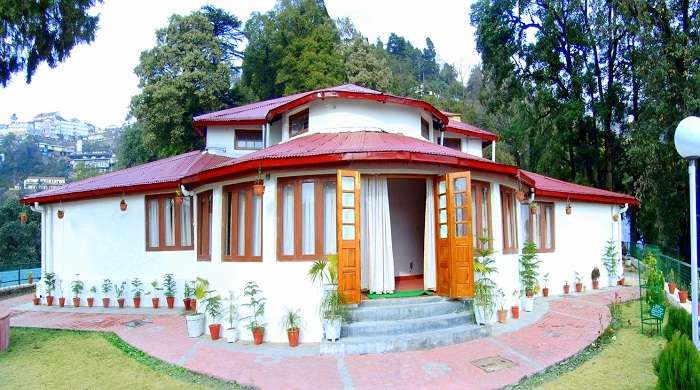 This is one of those holiday homes and cottages that are exclusively meant for central government employees. It is an economical option that justifies its price and facilities. Breakfast and dinner is served and all the basic amenities are in place.
Facilities:
Meals (breakfast and dinner)
Caretaker
Tariff:
INR 50 – 100 (Government Employees)
INR 500 (Outside visitors)
Location: Southwood Cottage, ITBP Campus, Next Dove Cottage, Card Road, Mussoorie, Uttarakhand 248179
Nearby Places: Hawa Mahal Viewpoint, Mussoorie Waterfall
9. The Living Heritage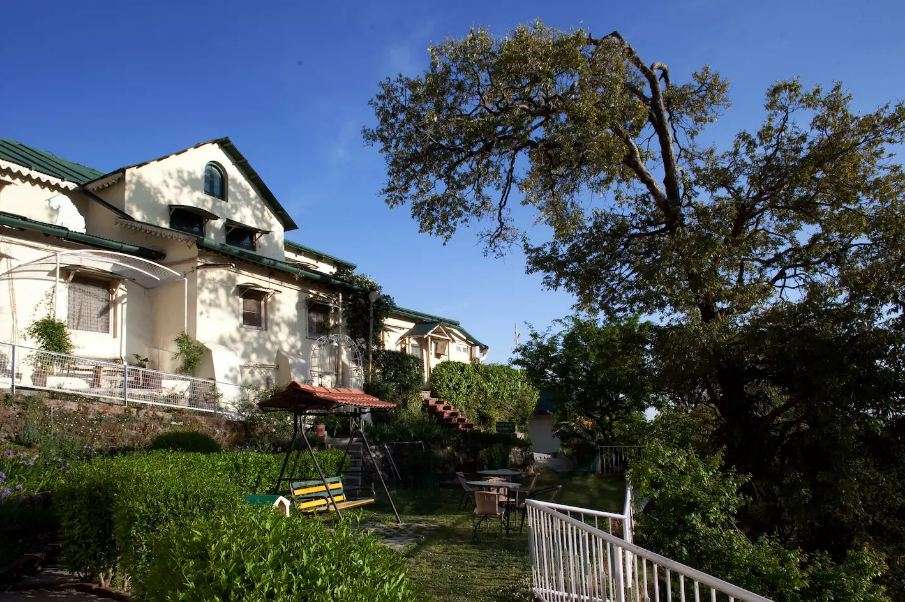 This property sprawls over 4 acres and has various apartments and cottages offering a splendid natural ambiance. This is a converted heritage home and true to its personality, offers a colonial charm like none other.
Facilities:
Common Lounge
Garden
Restaurant
Games Room
Lobby
Essentials
Parking
Tariff: From INR 5500
Location: Mall Road, Mussoorie, Uttarakhand, India
Nearby Places: The Abbey, Company Garden
9 Exquisite Places To Visit In Mussoorie In May For A Nature Retreat
10. Ralston Cottage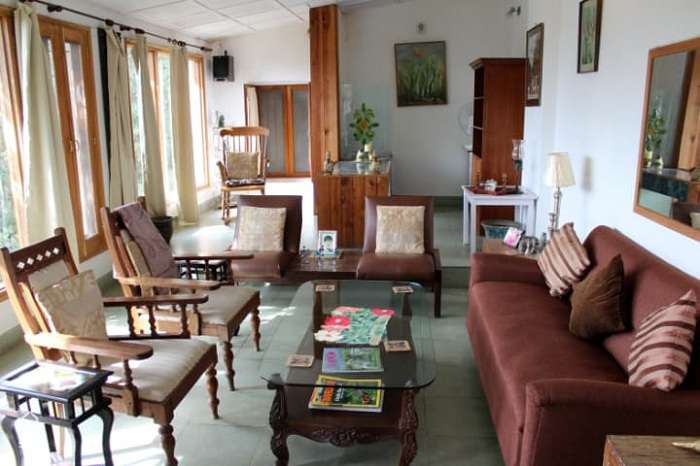 Offering the "Mussoorie" way of life, the Ralston Cottage is one place where every lover of the hills should stay at. Offering a vintage colonial kind of ambiance, this is one home away from home you would not want to miss.
Facilities:
24 Hour Check in and security
Caretaker
Kitchen
Parking
Room Service
Television
Terrace
Tariff: From INR 3000
Location: Barlow Ganj, Mussoorie, Uttarakhand 248179
Nearby Places: Mossy Falls, Jabarkhet Nature Reserve
11. Kamal Cottages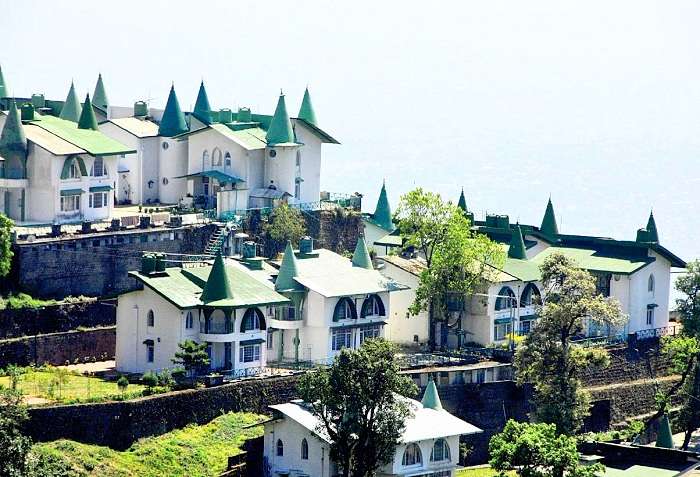 One of the best cottages in Mussoorie, Kamal Cottages is a perfect definition of what is known as a home away from home. Offering private kitchen, balcony, terrace, and a host of modern and media facilities, this is an ideal vacation home for a hilly holiday with family.
Facilities:
Private Kitchen
Outdoor dining and arrangements
Games Room / TV Area
Shared Lounge
Tariff: From INR 5000
Location: Jharipani, Doom Gaon, Uttarakhand 248122
Nearby Places: Jharipani Waterfall, Mossy Falls
6 Luxurious Resorts Near Mussoorie Which Are Ideal For A Relaxing Weekend Getaway!
12. The Brigadiers Cottage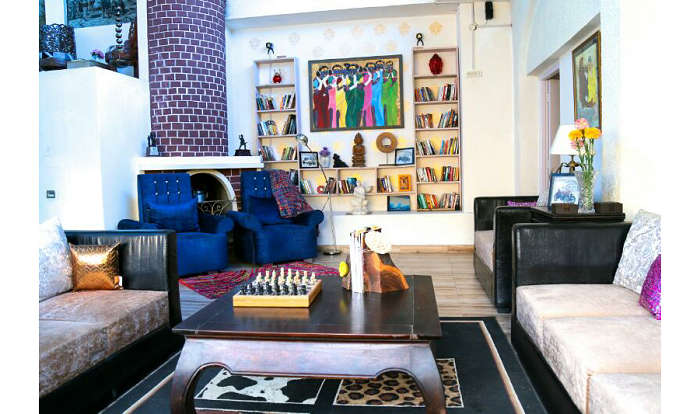 One of the finest cottages in Mussoorie, the Brigadiers Cottage offers a vintage experience to all. Nestled in acres of greenery and woods, this cottage has outdoor bonfire areas, beautiful lawns, and barbecue places. It is 10 minutes away from J.W Marriot and 2 minutes from the famous Kempty Falls.
Facilities:
Three rooms and one suite
Lounge
Dining hall and outside dinner arrangement
Indoor Games
Housekeeping
Wifi
Tariff: From INR 4300
Location: Kempty Falls, Mussoorie, Uttarakhand 248179
Nearby Places: Kempty Falls, Company Garden
13. Cliffe Cafe and Cottages

One of the most famous cottages in Mussoorie, The Cliffe offers a perfect blend of old and new. It has all the modern facilities you would expect for a resort and yet at the same time, an old-world ambiance that is hard to define. Post and sophisticated, this is an upmarket offering for those who want a dose of nostalgia without compromising on comforts.
Facilites:
24X7 Services
Wifi
Fine Dining Facilities
Parking
Housekeeping
Laundry
Tariff: INR 4500 (offseason), INR 6000 (mid-season), and INR 8000 (peak season)
Location: Chardukan Road, Near Lal Tibba, Landore, Mussoorie, Uttarakhand 248179
Nearby Places: Gun Hills, Kellogg Memorial Church
13 Best Places To Visit In Mussoorie In June Which One Must Visit For A Relaxing Vacation
14. Albert Lodge Cottage Mussoorie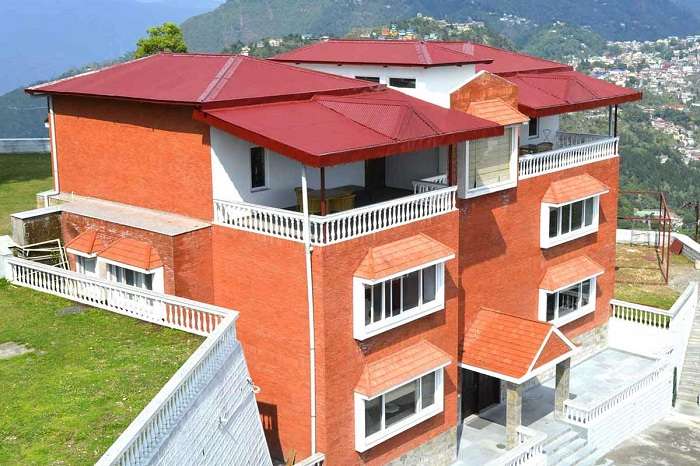 Offering panoramic views of the Himalayas, the Albert Lodge and Cottage Estate is one of the best cottages in Mussoorie. Classic furniture landscaped gardens, and a refreshing ambiance makes it a perfect choice for spending some quality time with your loved ones or that special one. Not to forget, this property comes fully loaded with all the modern facilities you would expect from a hotel.
Facilities:
Cottages with kitchen
Wifi
Modern amenities
Concierge
Media System
Tariff: From INR 7000
Location: Baroda estate, near reserve water tank Chandalgari, Mussoorie, Uttarakhand 248179
Nearby Places: Radha Bhawan, Company Garden
15. Seclude Mussoorie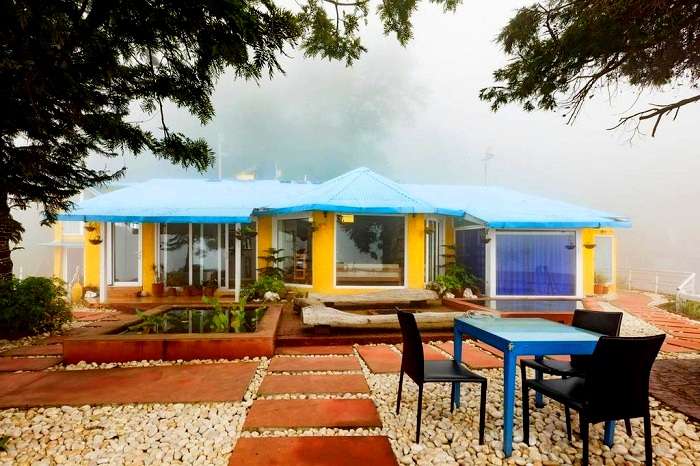 An excellent option when it comes to cottages in Mussoorie, Seclude offers a refreshingly luxurious cottage experience that is had to find anywhere else. There is a shared lounge, sun terrace, and modern facilities to take care of your every need. In general, this is a great option for couples who want to spend some quality time together amidst nature and luxury.
Facilities:
Modern Facilities
Soundproofing
Housekeeping
Parking
Outdoor dining
Tariff: From INR 3900
Location: Westonal Cottage, Picture Palace Road, Uttarakhand, 110001 Mussoorie, India
Nearby Places: Mussoorie Heritage Center, St. Emilans Church
Manali Vs Mussoorie: A 2022 Guide That'll Help You Decide Your Next Vacay Spot
So, these were some of the many cottages in Mussoorie that pamper your stays in this part of the world. With an ever-charming aura of the place, you can explore a lot on your trip to Mussoorie. And now that you know you can get a really authentic Mussoorie trip experience at these cottages, when are you planning your escapade?  
For our editorial codes of conduct and copyright disclaimer, please click here.
Frequently Asked Questions About Cottages In Mussoorie
Are Mussoorie and Landour same?
They are different. However, the distance between the two is only 7 km. Mussoorie is a hill station while Landour is a cantonment town. Both of them are twin towns of the British colonial era.
How far is Dehradun from Mussoorie?
Dehradun is only 33 km from Mussoorie and public transportation plies on the route regularly.
Are cottages better than homestays in Mussoorie?
It is really a matter of personal choice. Both of their own charm. Although, an authentic and private experience can be enjoyed in a cottage much better than a homestay.
---
Long Weekend Trips Starting @ Rs 3499/-
---
People Also Read: