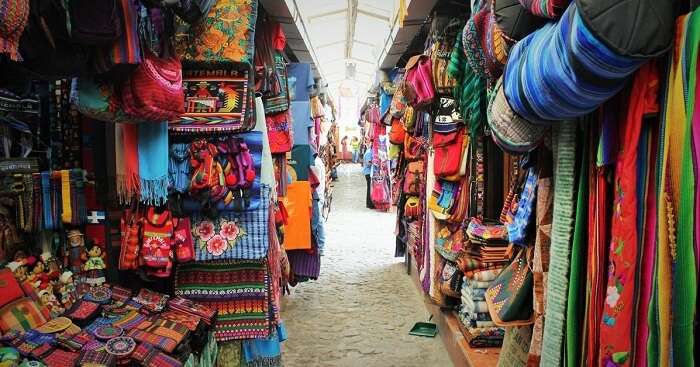 Mussoorie is a charming hill station in India, known for its colonial charm, beautiful churches, and scenic surroundings. Nestled in the foothills of the Himalaya, this place is flocked by tourists around the year. Mussoorie may not be a huge shopping destination, but you can certainly shop for things like woolen apparels, home décor, lamps, and wooden items. Here's our little guide to shopping in Mussoorie for you.
What to shop in Mussoorie?
No vacation is complete without a wholesome retail therapy and Mussoorie vacation is not an exception. Every market and shop are full of fascinating items here. From apparels to knick-knack, the wide plethora of shopping items of Mussoorie will never let your bags return empty.
Woollen garments: Your Mussoorie shopping is not complete without buying woolen clothes. Woolen dresses, pullovers, caps, mufflers, and scarves are available through the town.
Wooden and brass items: Some of the brilliant things to buy in Mussoorie include, wooden items like boxes, walking sticks to various artifacts. Brass items, especially brass statues and home décor items are also popular in Mussoorie.
Image Source
Accessories: While your are street shopping in Mussoorie, you can find items like fashionable bags, footwear and junk jewelleries at Tibetan market.
Souvenirs: Buy elegant and chic souvenirs and knick-knacks like prayer wheels, lampshades, porcelain items etc from Mussoorie and gift it to your friends and folks.
Must Read: 9 Things To Do In Mussoorie For A Complete Hill Station Holiday
Where to shop in Mussoorie?
1. The Mall Road
The Mall Road is one of the most popular places to shop in Mussoorie. Lined up with local shops dealing with mementos, knick-knacks, souvenirs, apparels, and home décor, this market is always crowded and buzzing. From hand-woven shawls, local handicrafts to wooden items, you can get everything here.
Opening hours: 9 am to 9 pm
2. Tibetan Market
One of the biggest shopping places in Mussoorie includes the Tibetan Market, which is best known for sober artifacts, hand-woven carpets, inexpensive yet trendy clothes and fashionable jewelry. The wide plethora of fascinating items sold here, attract tourists around the year. Make sure you bargain, before settling for any object.
Opening hours: 9 am to 9 pm
Suggested Read: 17 Amazing Places To Visit In Mussoorie
3. Library Bazaar
Another place for street shopping in Mussoorie is the lively Library Bazaar. This local market is located around a vintage library, hence the name. The market is dotted with shops selling wooden items, Chinese vases, trinkets and electronic goods. There is a huge statue of Mahatma Gandhi in the marketplace, hence this market is also popularly known as Gandhi Chowk.
4. Kulri Bazaar
From apparels, local handicrafts, stylish footwear, silver jewelry to delightful cakes and confectionaries, Kulri Bazaar is one of the popular places to shop in Mussoorie. Studded with cozy restaurants, hotels, and cafes, Kulri Bazaar is one of the most buzzing regions of the hill station.
Opening hours: 9 am to 7 pm
Must Read: Guide To Landour, A Town Where You'll Lose Track Of Time
5. Classic Emporium
Located near Mall Road, the Classic Emporium is an exquisite shop selling Tibetan sculptures, porcelain figures, handcrafted lampshades and exclusively cut jewelry items. This age-old shop started its business roughly 40 years ago as a manufacturing unit for walking sticks, and now it is considered as one of the most popular shopping places in Mussoorie.
Opening hours: 8 am to 8 pm
6. Himalayan Weavers
Image Source
Situated on the Mussoorie-Dhanaulti Road, Himalayan Weavers is one-of-a-kind shop that started its operation in 2005. This is a local co-operative society, that aims in promoting native products, especially from the Himalayan region. Visit this shop and pick the best of scarves sweaters, stoles, and pure Pashmina shawls.
Opening hours: 10 am to 4:30 pm
Further Read: Top 15 Places To Visit In Uttarakhand
Mussoorie certainly isn't a shopaholic's heaven, but that doesn't stop tourists from exploring the hill station for items to buy. Did you come across any better place to shop in Mussoorie on your trip? Let us know in the comment section below.
Frequently Asked Questions About Shopping In Mussoorie
Comments
comments