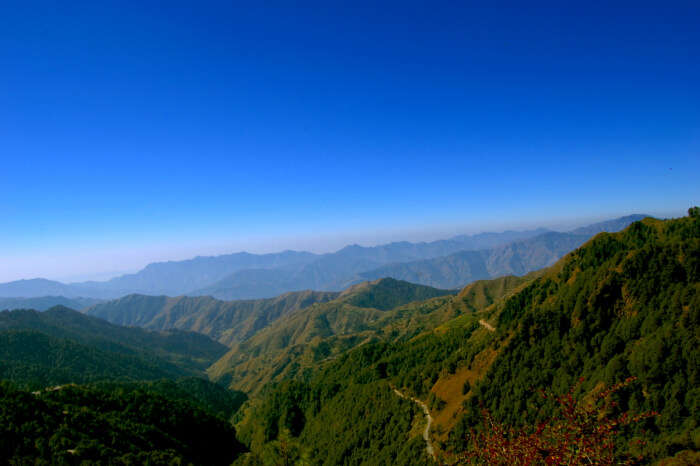 If you are looking for a slightly offbeat destination in Uttarakhand, Chakrata could be your next getaway. Located 92 km from Dehradun, this little hill station has plenty to offer. With an elevation of 2,118 meters, it not only offers grand and spectacular views of the lofty mountains but also lets you explore various places to visit in Chakrata.
5 Places To Visit In Chakrata
From natural escapes to unparallel terrains of the region, continue reading to know the interesting places in Chakrata:
1. Tiger Falls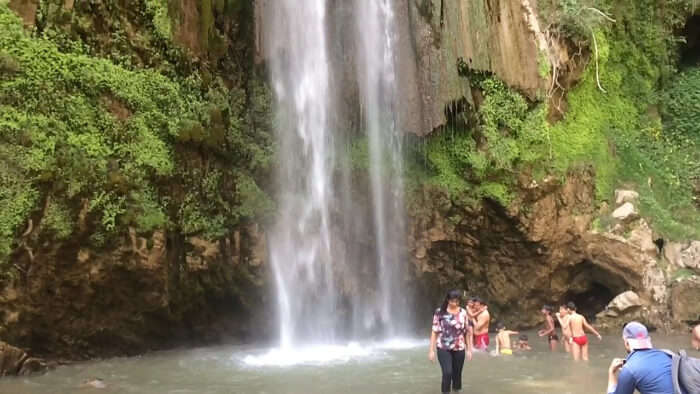 The Tiger Falls is considered one of the tallest waterfalls in India making it one of the most popular places to visit near Chakrata. It has an elevation of 312 feet and the spot can be reached after a 5km trek from Chakrata. This serves as a great picnic spot thanks to the beauteous falls surrounded by lush green forests.
16 Things To Do In Chakrata On An Exciting Weekend Escape
2. Chilmiri Neck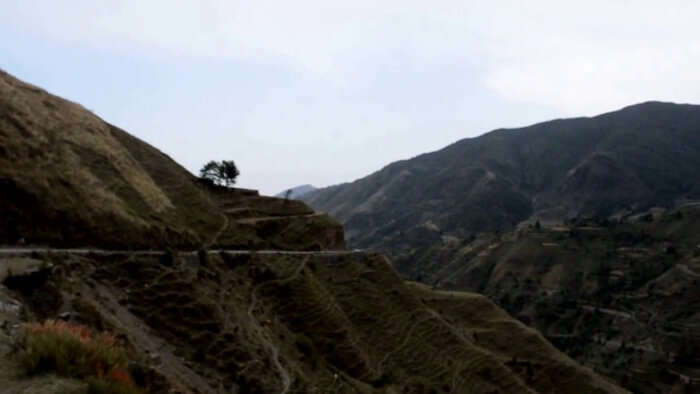 This is one of the highest peak around Chakrata region and one of the prime touristy places to visit in Chakrata. The peak offers magnificent views of the Himalayan range including famous peaks like Bandarpoonch, Rohini and Swarg peaks. This is also home to several species of migratory birds that visit every winter, making it an ideal destination for bird watchers. The peak can be reached by taxi or a short trek from Chakrata.
3. Ramtal Horticultural Garden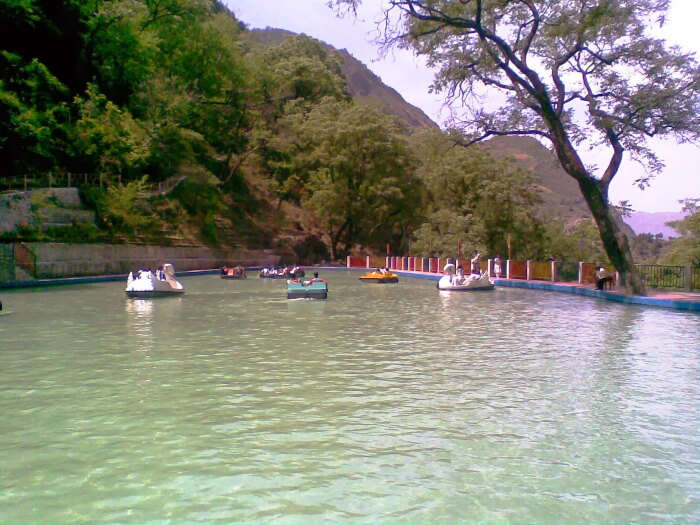 Despite being called Ramtal, there is no 'tal' or lake to be seen here. Although originally there used to be a lake but remains mostly dry except the rainy season. Still, this is one lovely place to visit near Chakrata, thanks to the garden. There is a rich diversity of flora and fauna making it the perfect picnic spot for nature lovers. Apple trees, conifers and lichen decorate the garden while birds like Grey Treepie, Turtle Dove, and Black Headed Jay call this place their home.
7 Chakrata Camps For An Affordable And Adventurous Stay In The Doon Valley
4. Deoban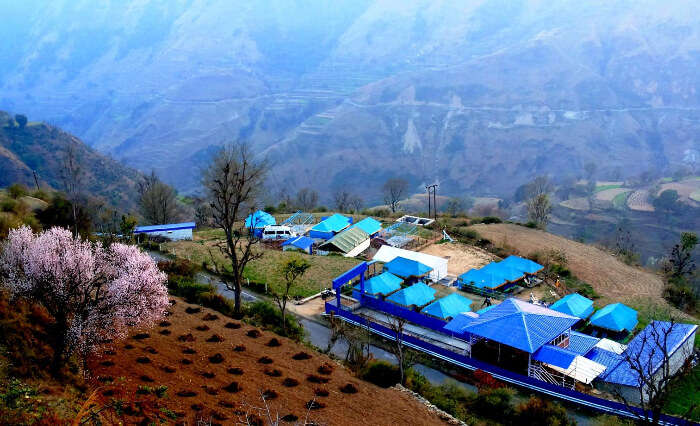 Located around 13km away from main Chakrata market, this is a must among places to visit around Chakrata if you are a nature lover. A dense forest of Deodar trees offers the perfect stage for birdwatching and being at one with nature. Local birds like white collared blackbirds and Himalayan woodpeckers humbly open their homes to the migratory birds that visit the area every winter.
5. Budher Caves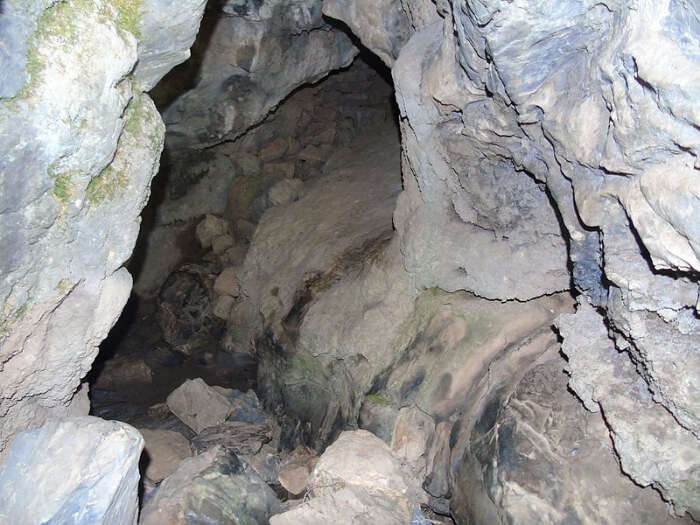 This is one of the most exciting places to visit around Chakrata. You will need to travel around 30 km from Chakrata to visit this amazing cave full of stalagmite and stalactite formations. According to legend, the 150km long cave system was built by the Pandavas during the Mahabharata period. The caves are sometimes quite treacherous and it is advisable to take a guided tour to properly explore the caves.
Taking The Offbeat Route: How I Fell In Love With The Wild Side Of Chakrata
Have you ever been to Chakrata? Let us know what more is there for tourists and explorers in our comment section below. And if you are planning a trip to Chakrata or looking for Uttarakhand tour, we can help you find the right package for you and your family.
For our editorial codes of conduct and copyright disclaimer, please click here.
Frequently Asked Questions about Places to Visit in Chakrata
What is Chakrata known for?
Chakrata is one of the flourishing destinations amidst tourists. This quaint, little hill station is perfect for those who are seeking to embrace tranquility and peace. Chakrata offers some of the most picturesque and breathtakingly beautiful views. With some enchanting places to witness and impeccable things to do, Chakrata is definitely worth visiting.
What can you do in Chakrata?
A paradise on earth for all the nature lovers out there, Chakrata covers plenty of things to do such as waterfall rappelling, camping, river rafting, trekking, bird watching, rock climbing, and many more.
Is it safe to visit Chakrata during covid times?
Yes, it is perfectly safe to visit Chakrata, as it has a relatively low number of covid cases. But don't take our word for it: check up on the latest travel advisory, Covid-19 measures, and the number of cases before your departure. It is safer to undertake solo travel or with a small group of people to somewhere that is not overly crowded at the moment.
Is there snowfall in Chakrata?
Yes, Chakrata does experience snowfall. If one wants to witness this destination turn into a magical white land, they should travel to Chakrata towards the end of the winter season to experience snowfall.
How do I get to Chakrata?
Chakrata can be easily accessed via roadways or railways from Dehradun while Dehradun is well-connected with other major cities of the country. One can take a train from Dehradun and reach Chakrata in an hour itself. The nearest railway station and airport to Chakrata both lie in Dehradun. One can also hire a taxi to reach Chakrata by road.
How many days are required to explore Chakrata?
Chakrata offers some of the most spectacular sights that you can experience during your tour. A 2-3 days tour is sufficient to explore Chakrata during your visit to Uttarakhand. If you wish to have a thorough experience of this beautiful destination, then a 4-5 days tour would be enough for you.
What is the best time to visit Chakrata?
Chakrata is a destination in Uttarakhand that boasts about extremely pleasant weather throughout the year. The summer season is the best time to visit Chakrata when the town gets covered in dese blossoms, offering some of the most overwhelming sights. One can also visit Chakrata during the monsoons when this little town looks extremely lively, bringing out the lush greens.
Is it safe to visit Chakrata?
Yes, it is safe to visit Chakrata. The locals are extremely welcoming and friendly. It is better to avoid Chakrata in the winter season as the snowfall makes traveling around a little risky. However, a helpline number is provided for tourists that you can use during emergencies.
---
Long Weekend Trips Starting @ Rs 3499/-
---
People Also Read:
Places to Visit in Rajasthan Places to Visit in Mount Abu Places to Visit in Palakkad
Comments
comments