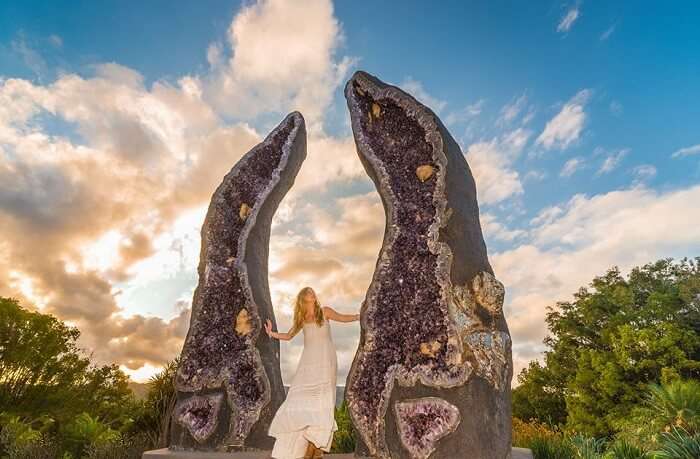 If you love crystals and strongly believe in the power of crystal healing, this enchanting Crystal Castle in Australia will shoo off all your worries and woes.
Byron Bay in New South Wales, Australia, is the home to world's largest and also the most beautiful Amethyst Crystal Cave and a dazzling pair of world's tallest crystal geodes.
Formed 120 million years ago in Uruguay, the miraculous cave is the resultant of a giant bubble formed inside a molten lava flow. The cave and the geode were then brought to Australia by a businessman who established the Crystal Castle, a spiritual attraction in the hippie-land of Byron Bay.
Why should you visit the Crystal Castle in Australia?
Regardless of whether you like crystals or not, there are plenty of reasons why you should visit the Crystal Castle in Australia. The captivating castle offers a variety of daily experiences to visitors to help them develop a spiritual connection with their soul.
Suggested Read: The Horizontal Falls In Australia Is Nature's One Crazy Conjurer Which Is A Must Visit
Meditation in Cave: You can book an hour-long guided Enchanted Cave Immersion where you and upto three of your friends can meditate inside the belly of geode to cure your aura. In case you have any qualms about the meaning of life, an hour inside the purple crystal cave will make your mind clear as a crystal (pun intended)
Price: $80 per person. You need to book the meditation experience in advance before you arrive at the castle.
Aura Photos: Ever wondered what your aura looks like? Unlike the monochromatic negatives of a camera film, your aura projects different colors each with a different meaning. Since selfies are so cliche, the professional photographers in the castle will click your aura's photograph and provide you with a print-out along with the insights into colors of your aura.
Price: $60 per person
Exquisite Garden Tours: The perfectly landscaped Shambhala gardens are where the world's largest crystal geode are on display. It is the most peaceful and healing place on the earth that you wouldn't want to leave. Stumble upon the hidden charms like the labyrinth, the stone spiral, and the rare fossils displayed in the lush foliage settings.
Apart from this, bedazzle your senses with other geological wonders and tarot reading offered inside the castle.
How to reach Crystal Castle and Shambhala Gardens?
Crystal Castle in Australia is located 20 minutes away from Byron Bay and just 40 minutes away from Gold Coast Airport.
Suggested Read: 8 Type Of Australian Cottages That Let Live The Aussie Way
Diamonds may not solve all your problem, but if you believe in the power of crystal healing, this place might. Any worries you have in life, however big or small, book a trip to Australia and embark on a spiritual journey to the Crystal Castle where all your problems will vanish in a jiffy.