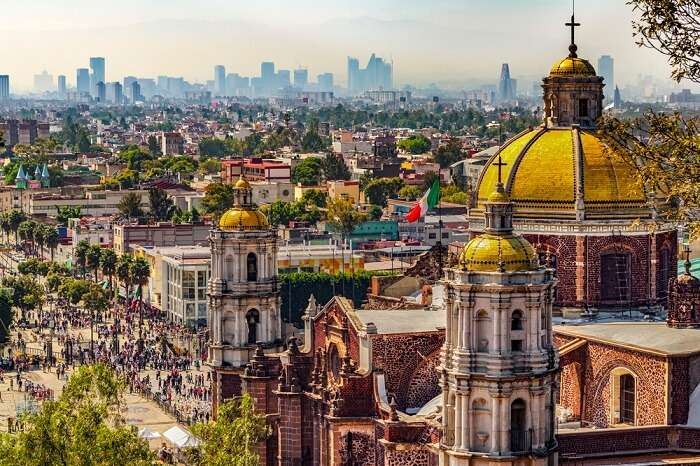 A country filled cultural and political heritage, Mexico has a lot to offer to the travelers. Though unlike tropical destinations, you won't find beach side relaxation but the country is filled with ancient monuments and museums that will transport you back in time. Also the food and drinks are worth exploring in Mexico.Visitors find it very fascinating, familiarizing themselves with the Mexico City. However, there is also so much more to explore throughout entire Mexico that you will be stunned by the sheer number of magnificent locations that you can treat your eyes with on day trips from Mexico City.
There are many wonderful locations around the bustling capital of Mexico that are worth exploring. Although you can visit many places in and around Mexico City in a day trip but some places are at a relatively fair distance away that takes around a two or three day trip to explore.
Nonetheless, here in this article we have put together 7 such best day trips from Mexico City that you can go on exploring.
7 Best Day Trips From Mexico
If you happen to visit Mexico and want to explore as much as you can of this fascinating, historical destination, then there are many day trips from Mexico that will take to the magnificent locations in and near Mexico City that will leave you in awe of the place. Here we have compiled a list of 7 best day trips from Mexico that you might find worth exploring. Take a look at the list.
1. City of Gods, Teotihuacan
This is obviously the first choice any traveler would make while taking day trips from Mexico City. This is a very famous site to visit nearby the capital of Mexico. The place is said to have been inhibited by the Aztecs around 13th century, though the subject is highly debatable.
Here, you will see the pyramid of the sun, which is the third largest in the world among the other pyramids. You can also take a hike up the pyramids to get some stunning views of the complex and the adjoining scenery. Stroll around the pyramid complex and enjoy the glorious remnants of an historical era at this impressive location.
Location: 40 Km North east of Mexico City
Things to Do: Visit the sun pyramids, night events with colored lights being projected in the pyramids, delicious cuisine at restaurants at a short walk from the pyramids, visit La Ciudadela.
Must Read: Mexico Travel Guide: Know Where To Go And What To Do On Your Next Visit To The Country!
2. Puebla
A day trip from Mexico City to Puebla is another trip that is a must have while in Mexico. The old town of Pueblo offers a scenic view and a true landscape of the colonial past of Mexico. The tiled streets and the magnificent cathedrals draw a very wonderful picture of a past era.You can also explore the talavera and onyx factories, getting a deep insight about the traditional industries in Mexico. The colonial town also has an English castle in the midst of the city lake called 'Ex-Hacienda de Chautla'.
Location: 100 Km Southeast of Mexico City
Things to Do: Explore volcanoes, indulge in the sweet delicacies from 'Calle de los Dulces', explore the colonial city, admire the architecture, visit Museo Amparo, try local drinks, try ' mole pablano', take pictures of the murals in Xanenetla, visit 'Cerro de Loreto y Guadalupe, visit the cathedrals and browse antiques on Frog Alley.
Suggested Read: 7 Best Zoos In Mexico Which Will Be A Great Place For A Playful Day With Kids!
3. Cacahuamilpa Caves
This is yet another exciting day trip from Mexico City. Once you reach the town of Cacahuamilpa, you can easily visit the Cacahuamilpa caves, a part of the Grutas de Cacahuamilpa National Park. These caves are considered to be the second largest cave system in the entire world. The caves are 230 feet high and go about 10 kilometers inside the ground and tunnels weave in every direction and the rocks are constantly morphing. After you have done exploring the caves you can also enjoy many other entertaining activities that the National Park has to offer.
Location: Sierra Madre dei Sur, Mexico
Things to Do: Spot faces, cathedrals and fountains among the stones of the caves, wander around the gardens, rock climbing.
Suggested Read: 10 Best Indian Restaurants In Mexico That Will Titillate Your Taste Buds Like Never Before
4. Palacio Del Obispado
If you are planning on a day trip from Monterrey, Mexico, then you should definitely visit this magnificent ancient palace. This building built in the late 18th century is of great architectural as well as historical value. Palacio del Obispado is one of those rare architectural monuments that is constructed of the ashlar stones which is still preserved in north eastern part of Mexico.
This beautiful golden yellow palace has taken up significant roles throughout the history. It has served a military fortress, quite a prominent one and also as a quarantine hospital. Now this wonderful palace is home to the famous Regional Museum, where you can check out the exhibits demonstrating the history of Monterrey.
Location: Teorema de Nuevo Leon, Rafael Buelna, 64010, Monterrey, N.L., Mexico
Things to Do: Browse the Museum gallery, visit Museo de Arte Contemporaneo, walk along Paseo Santa Lucia, and take a tour to the old town of Barrio Antiguo.
Suggested Read: 5 Amazing Airports In Mexico For A Comfortable Journey To The Beautiful Country!
5. Chichen Itza Ruins
If you are looking for day trips from Merida, Mexico City, then you should absolutely visit the Chichen Itza, a famous Mayan ruins in Merida. It is the largest archeological site in Yucatan and designated as a world heritage site by the UNESCO.This famous and popular archeological site has an enormous Castillo temple and attracts a vast number of tourists as well as local visitors. You can also visit the place in early morning hours to avoid the crowd.
Location: Yucatan, Mexico
Things to Do: Apart from visiting Chichen Itza in Merida you can visit Paseo Montejo, take a walking tour of the city, visit Bici Ruta, visit Plaza Grande, visit Cathedral de San Ildefonso, visit Palacio de Gobiernio, shop and dine at Santa Lucia Parque.
Suggested Read: Top 10 National Parks In Mexico That Offer The Most Incredible Wildlife Experience
6. Volcano Hiking At Izta Popo National Park
For those whole love trekking and hiking, this is a perfect day trip for them. The hike takes place in Izta-Popo National Park conquering the Iztaccihuatl volcano, a dormant volcano in this region.This day trip is extremely different from the ones of visiting colonial towns and museums. The hike is 5230 m high and offers fresh air, a beautiful natural scenic view and a very satisfying physical challenge. Once you reach the top, the breathtaking view of the natural environment is truly worth it.
Location: Calle Plaza, De La Constitución 10-B, Centro, 56900 Amecameca de Juarez, Mexico.
7. San Miguel De Allende
It is one of the most scenic, cosmopolitan town in Mexico with buildings dating back to the 17th and 18th century. All the cultural festivals of music and art takes place in this beautiful, breathtaking city and this city also has many UNESCO world heritage claims.As you stroll across this magnificent city, absorbing the breathtaking views, you will see a lot of spires and will also get to learn a lot of the city's historical and cultural heritage from the locals.
Location: Guanajuato, Mexico
Things to Do: Visit Museum of Ignacio Allende, San Francisco's temple, Parish of San Miguel de Archangel and Paseo del Chorro.
Further Read: 10 Hand Picked Affordable Homestays In Mexico You Should Stay At
The historical and cultural city of Mexico has a lot to offer. With its beautiful age old colonial cities to the famous archeological ruins and adventure sports activities like hiking and trekking, it is one of the most famous destinations that is worth visiting. Once you reach the capital of Mexico City you can take many day trips from there on that will take deep into the wondrous locations that Mexico has to offer. So, don't wait and plan a trip to Mexico right away!
---
Looking To Book A Holiday Package?
Book memorable holidays on TravelTriangle with 650+ verified travel agents for 65+ domestic and international destinations.
---