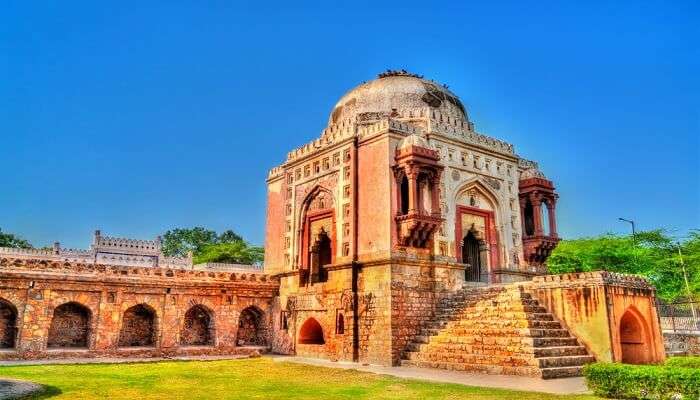 Festivals may be a common thing for the capital city, but what if it has something more than any other usual celebration? Lined up with several cultural, food and historic events, the first ever Delhi Monsoon Festival is here to get us all prepped up for a unique festivity. And why not? With all the heavy rains and traffic jams, Delhi is finally set to offer a combination of different activities which will go on for 3 days here!
This grand Monsoon gala will start from August 30 and will go on till September 1st this year. Promoting Mehrauli's true historic essence that has gotten lost with the passage of time, this festival will have heritage walks along with dastangoi sessions, which involves an artistic way of storytelling in Persia, multiple art events, and some folk music which will educate both tourists and locals alike. In addition to this, there'll be sherbet, pakoras and tea to suit your monsoon mood!
Must Read: Privately Run Tejas Express From Lucknow To Delhi Is The First In India

Sahitya Kala Parishad was approached by Delhi Tourism, as stated by Manisha Saxena, Secretary, Delhi Tourism, to help in organizing the festival as several artists and performers will be invited to perform at this event. The details and final schedule of the programme are yet to be announced but this is surely a refreshing break to look forward to!
Not many people know this, but Mehrauli was the one place visited by the Mughals during their reign in this region throughout the monsoon season. This is so because the mango orchids, lush gardens and beautiful stepwells provided a sense of relaxation in those times. Today, the grand Qutub Minar and Mehrauli Archaeological Park, comprising of several historical structures, are the prime attractions of this place. Besides, the tombs of Balban, Adham Khan and Jamali-Kamali are also situated in this region.
Venue: Jahaz Mahal, Mehrauli, Delhi
Further Read: Delhi's IGI Airport Becomes Plastic Free By The End Of 2022!
Did you know the famous village of Mehrauli has the ancient Yogmaya temple which is known to be a Siddha peeth too? There's so much in this city that you may be yet unaware of! So, instead of waiting, plan a Delhi holiday right away and tag along your friends and family for an even better experience with your loved ones!
People Also Read
Monsoon In Delhi Places To Visit Near Delhi In Monsoon Tourist Places In Delhi
p.box-links a {
display: inline-block;
margin-right: -2px;
font-size: 13px;
-webkit-box-sizing: content-box;
-moz-box-sizing: content-box;
box-sizing: content-box;
border: none;
color: rgb(0, 0, 0);
-o-text-overflow: clip;
text-overflow: clip;
background: #98eae3;
-webkit-transform: skewX(-20deg);
transform: skewX(-8deg);
text-decoration: none !important;
padding: .2em .6em .3em;
margin-top: 2px;
}
p.box-links a:hover {
background-color: #000000;
color: #ffffff;
}