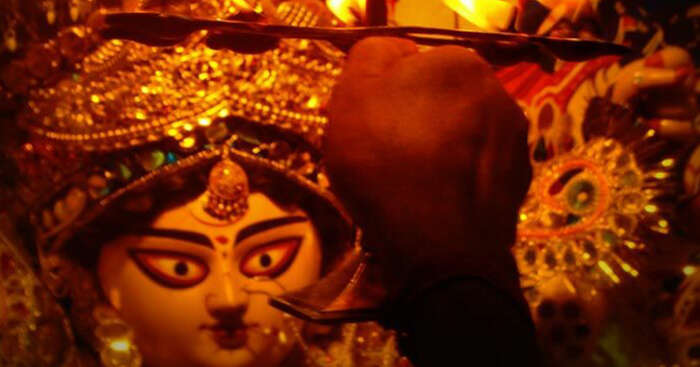 As Durga Puja 2020 fever catches up in the country, Ayandrali Dutta—a journalist by profession and a wanderess by passion—shares an exclusive guest piece on traditional family Durga Puja celebrations in Kolkata. Tea junkie, gypsy feet, an amateur cook and a perpetual bhukkad, Ayandrali pens her travel accounts on her blog Scattered Expressions. The blog on Durga Puja at Kolkata gives a peek into the madness contained in a vagabond's mind, along with her travel inspirations, frustrations, struggles, happiness and more.
Slowly soaking in the Pujo mood, she takes TravelTriangle readers on a virtual journey through the lanes of Kolkata, offering a glimpse of 5 larger than life traditional family celebrations—the best places to witness the grandeur of Kolkata Durga Puja 2019.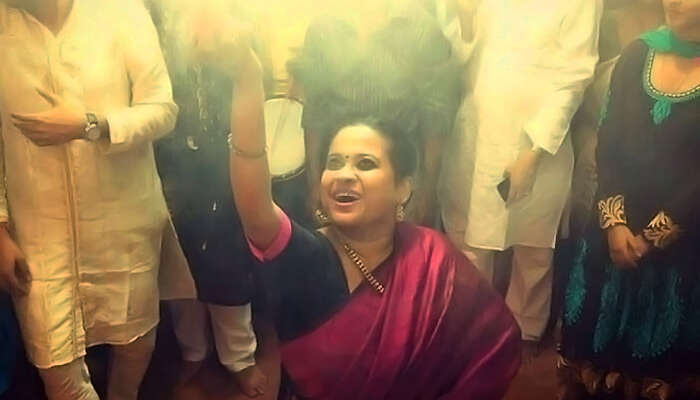 5 Oldest Durga Puja 2019 Celebrations in Kolkata
It's that time of the year when Kolkata is in its full glory. The city is decorated no less than a bride and everyone is awaiting the homecoming of Maa. Durga Puja in Kolkata has always been a larger than life affair. If you are planning to spend this festive season of Durga Puja in Kolkata, you'll witness a whole lot of action happening at the puja pandals; but one simply cannot miss the star attraction – the traditional pujas that are still carried on in full glory in few households.
Some families have held on to the cultural heritage by performing Durga Puja festival in 2019 with much dedication maintaining all the rituals. It's a big affair for each household and just like enthusiastic pandal hoppers, many make it an agenda to visit these traditional pujas which are a grand reflection of the cultural heritage of the city.
1. Sovabazar Raj Barir Puja
More than 250 years old, the Sovabazar Raj Barir Puja was started by Raja Nabakrishna Deb. Back in 1757 when the Durga Puja at Kolkata was started, even the Britishes used to come to adorn the whole ceremony. Till date, its complete pomp and show remains the same, and the puja is still celebrated with extreme enthusiasm. The specialty of this traditional family puja is that they observe the "Mithaai Bhog" which comprises sweets placed in a 'big thal' (radius 3.5 feet) and offering them to Durga Maa. Mithaiwalas come all the way from Odisha bringing lip-smacking sweets for this customary offering.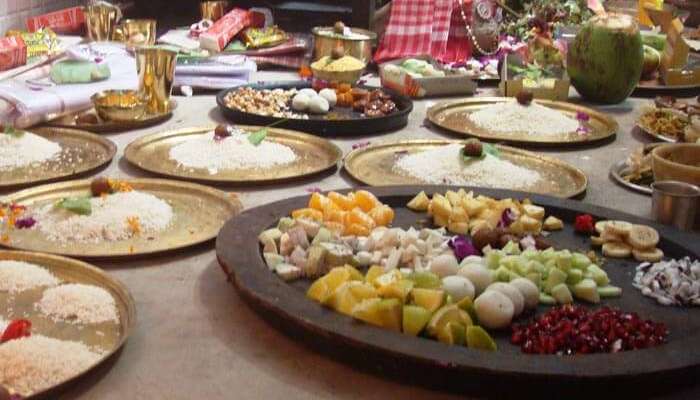 Image Source
In the whole cheer of this family celebration of Durga Puja in Kolkata, there is a lot that will catch your attention. The beautifully decorated Thakur dalan (courtyard), and the painted backdrop behind the Durga idol, which depicts the story of Devi and her incarnations, are simply stunning. Also, the Ved path is an important part of the puja.
The ancient rituals of Durga Puja at Kolkata have been kept intact and followed with much dedication. Till date these house pujas see a number of devotees coming and being a part of the celebration from different parts of the city.
Address: 36 and 33, Raja Nabakrishna Street, Sovabazar (Near Sovabazar Metro Station)
---
Looking To Book A Holiday Package?
Book memorable holidays on TravelTriangle with 650+ verified travel agents for 65+ domestic and international destinations.
---
2. Rani Rashmoni Durga Puja
Those familiar with the Dakshineswar Kali Temple will not have much trouble in knowing Rani Rashmoni. She was the one who started Durga puja at her house at S.N. Banerjee Road, and since then the puja has been carried on with the same enthusiasm. Though there are two pujas that are held at the S.N. Banerjee Road, at Rani Rashmoni's residence the celebration happens like one big family.
During the hay days of the puja the house saw cultural functions like Jatra and Kabigaan where artists came from all across Bengal. If you happen to visit the house during the festive time the sound of chants and Durga jaap will transport you to a different world.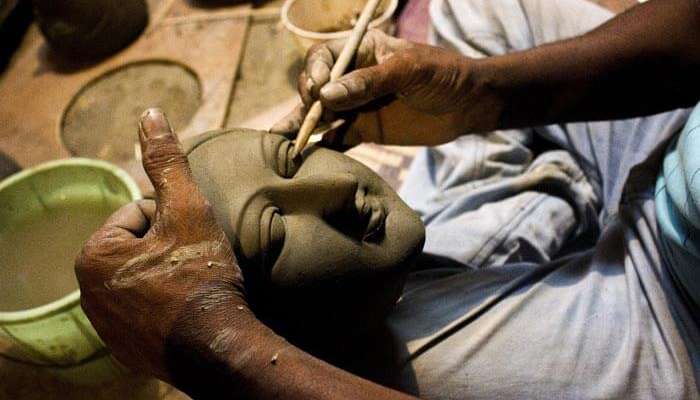 Every year, the family opens their door for one and all, and everyone who comes can have the bhog (traditional prasad) during the Durga Puja 2019 celebration in Kolkata. Their idol is done by Shri. Laalu Chitrakar and his brother Shri. Dulal Chitrakar. Currently the Hazra family are the ones who are doing the puja.
The entry to this grand Kolkata Durga Puja celebration is through the Free School Street.
Address: 13 Rani Rashmoni Road, 18/3 S.N. Banerjee Road and 18 Rani Rashmoni Road
3. Harinath Mookerjee Family's Durga Puja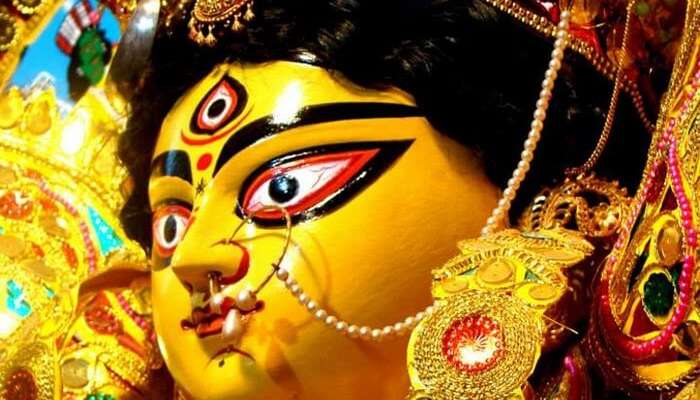 Image Source
Started in 1720 by Harinath Mookerjee this Durga Puja in Kolkata 2019 stands close to its 300th year. The family celebration is a result of a dream that his grandfather had, and since then female shakti worship has also been a part of their traditions. The current day Thakur dalan is a symbol of their prosperity that the family has seen over the years. This Bonedi Barir Durga Puja of Kolkata thakur dalan sees multicolor paintings with figures and floral motifs. Even the ceiling fans are from a bygone era. Keeping all the rituals in place Durga Puja 2019 festival is the time for a family reunion in the Mookerjee Bari.
Giving a glimpse of the rich cultural heritage, the Mookerjee Bari puja is much of a crowd puller, and certainly the perfect pick for you to experience the grandeur of Kolkata Durga Puja.
Address: 4, Kalidas Singha Lane Kolkata – 700009 (Behind Rajabazar Science College)
Suggested Read: Kullu Dussehra To Dussehra In Mysore: The Best Dussehra Celebrations In India
4. Bholanath Mallick Barir Puja
Amongst all the fun and frolic the Kolkata Durga Puja hold for Bengalis, Bonedi barir pujo has a different charm and one such Pujo Bari in Central Kolkata is the Mallick Bari puja. The traditions of the pujo have been retained since 1853, i.e. more than 160 years. The Durga Puja of Mallick Bhawan is unique with its traditional approach. The idol of Maa Durga reaches the very next day after Mahalaya and her arrival starts the Devipaksha, another type of Durga Puja festival Kolkata. The smiling face with a charm in her eyes (Mrinmoyee) is something one just can't miss. The artisans who create such beautiful idols have been doing it for generations without fail. The uniqueness is the Sonar saaje sajono (decorated in real gold), which the idol is famous for.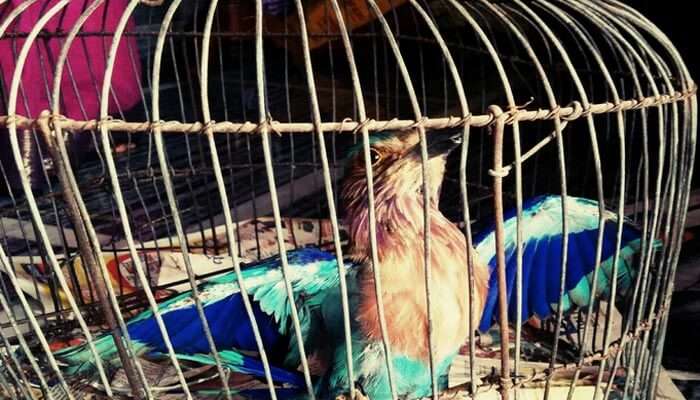 Currently the 5th generation Barun Mallick runs the Puja and the lavishness of the celebrations has only increased over the years, along with its sanctity and devotion. Saptami marks the first day of puja days when Kola Bow or Nabapatrika is given a pre-dawn bath on the ghats of Ganga. During Sandhi Puja, the entire courtyard of Mallick Bhawan is filled with hymns of spiritual Mantras. Mallick bari still continues the Nilkontho ritual where Nilkontho (Indian roller) is set free. She acts as a messenger to inform Shiva about the arrival of Goddess Durga during the Durga Puja aarti in Kolkata.
---
Planning your holiday but confused about where to go? These travel stories help you find your best trip ever!
Real travel stories. Real stays. Handy tips to help you make the right choice.
---
Address: 7 Ratan Sarkar Garden Street, Burrabazar, North Kolkata
5. Chatu Babu Latu Babu Family's Durga Puja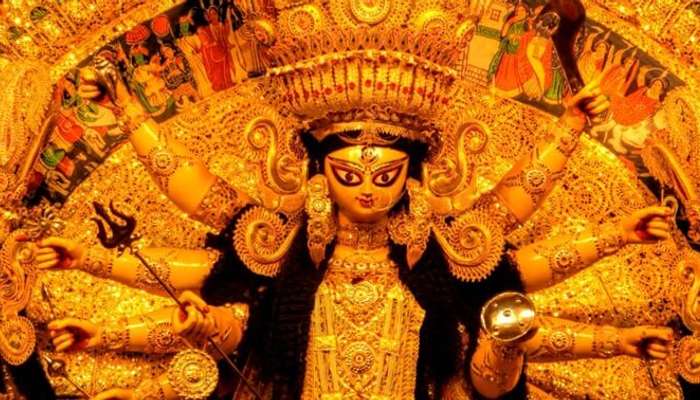 Image Source
This Durga Puja celebration in Kolkata saw the dawn in 1770 when Ram Dulal Dey started Devi puja at their Beadon street residence. After him the puja lineage was carried on by his sons and it fondly came to be known as 'Chatu Babu and Latu Babu' puja. The uniqueness of the idol is that Laxmi and Saraswati are not seen with veena or rice pot. They just have their hands raised in the form of blessings. The décor behind the idol is known as 'Chalchitra' and is the major attraction in this puja. It is divided into three parts – Motchauri. On the 'chalchitra' one can see Jaya and Bijaya (Durga's consorts or sakhis), along with Shiva, Ram and Hanuman behind. Vegetable sacrifice is still very much a part of the puja.
Address: "Ramdulal Nibas", 67E Beadon Street ( Alias Dani Ghosh Street), North Kolkata
10 Famous Kolkata Durga Puja Pandals
Here are some of the most famous pandals in Kolkata where you can enjoy the festivities and seek Goddess Durga's blessings:
Ekdalia Evergreen
Bagbazar
Kumartuli Park
College Square
Mohammad Ali Park
Suruchi Sangha
Santosh Mitra Square
Bose Pukur Sitala Mandir
Jodhpur Park
Badamtala Ashar Sangha
Further Read: 23 Reasons Why I Would Rather Be From Kolkata Than Anywhere Else In The World
Without a doubt, these Kolkata celebrations are going to be the highlights of Durga Puja 2019, like all previous years. Plan a trip now to experience the fervor and festivities in full bloom and glory.
Frequently Asked Questions About Durga Puja In Kolkata
Q. How is the Durga Puja celebrated in Kolkata?
A. Durga Puja is amongst the most popular festival of West Bengal and is celebrated with great zeal in Kolkata. The locals wait for the entire year for this 4-days celebration to honor Goddess Durga.
Q. What can I eat at Kolkata?
A. Kolkata offers numerous interesting and delicious food recipes that make visitors fall in love with this city. Apart from delicious and world-famous Bengali sweets, there are many popular recipes of Kolkata cuisine that you surely don't want to miss out while staying here. Macher Jhol, Kolkata Biryani, Kosha Mangsho, Alur Torkari with Luchi, Shukto, and Chelo Kebab are the most popular food items of Kolkata.
Q. Who started Durga Puja in Kolkata?
A. According to the old texts and surviving manuscripts, Durga Puja was celebrated even before the 16th century by royal and wealthy families to celebrate the Goddess Durga.
Q. What is the main attraction of Dussehra in Kolkata?
A. Durga Puja and their magnificent Pandals are the main attraction of Dussehra in Kolkata. According to the records, Kolkata hosts over 3,000 major pandals during Durga Puja.
Q. How many days is Durga Puja celebrated?
A. Durga Puja is celebrated for 4 consecutive days during the time of Navratri and Dussehra.
Q. What is special about Durga Puja?
A. Durga Puja is a festival that celebrates the triumph of righteousness over darkness. The celebration of Durga Puja in Kolkata is one of its kind and lures pilgrims and travelers from across the world with its exclusive experiences. From beautiful pandals to delicious bhog prasad, and prominent cultural performances, Durga Puja is a unique experience in Kolkata when the entire city joins their hands to glorify the power of Goddess Durga.
Q. Which is the most famous Durga Puja Pandal in Kolkata?
A. The most popular Durga Puja pandals in Kolkata are that of Bagbazar, Kumartuli Park, College Square, Mohammad Ali Park, Santosh Mitra Square, Badamtala Ashar Sangha, and Suruchi Sanhga.
Looking To Book An International Holiday?
Book memorable holidays on TravelTriangle with 650+ verified travel agents for 65+ domestic and international destinations.
---
Comments
comments