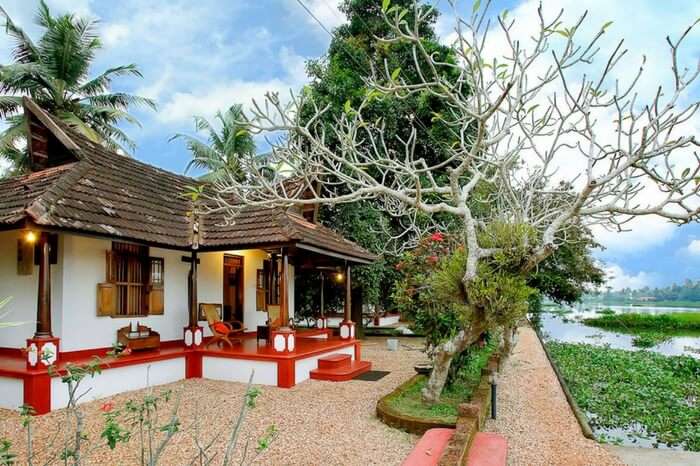 Who doesn't want to breathe fresh air amid pure, totally unpolluted environment that preaches sustainability? At least I do. And this is why I recommend taking a break from your urban routine and heading for any of the nearest eco farmstays in India.
Eco and organic farmstays allow you privileges that the city life has snatched from you. Touch the earth, feel the freshness, know your food and sing in chorus with the birds. Explore unblemished countryside life where the real India resides.
Come, let's take a sneak peek into the way of life farmstays in India encourage and the cause that they stand for! We start from the north and go down south exploring ecological and organic farmstays that offer the most refreshing getaways.
1. Himalayan Orchard, Himachal Pradesh: A profound stay in the Himalayas
Where: Rukhla, Shimla
70 km beyond Shimla lies Himalayan Orchard, a peaceful sojourn amid the serene locales of the Himalayas. The Himalayan Orchard is a family-run farmstay located in the apple belt of the great mountain range. The farm is an ideal place to rejoice, meditate or simply sit back and absorb the nature's magnificence. The homegrown food and warm hospitality will make you feel at home all along.
A top notch stay with all the amenities is guaranteed at Himalayan Orchard – a warm homestay where tourists are treated as guests. A contribution in farm activities like cooking or milking a cow is always appreciated and welcomed by them.
Special activities: Bird watching, local walks, fishing, and hiking
How to reach: 2-hour drive from Shimla
Tariff: INR 2500 per night onwards
Suggested Read: 11 Secret Homestays In Himalayas That Will Possess You For Life
2. Prakriti – Kaushal's Ecological Farms, Punjab: A delightful farm stay near Delhi
Where: Rupnagar, near Rail Majra
Gift of conservation initiatives of Netar Pal Kaushal, Prakriti Farms are your ideal wilderness getaway. One of the delightful farmstays in India, it offers a countryside living experience only 45 km ahead of Chandigarh. Escape the maddening city life and enjoy a few days in the lap of nature by planning a short family stay here. Actually, it is a good pick if you are confused between multiple places to visit near Chandigarh or Delhi for that matter.
Accommodations at Prakriti Farms are well-equipped – you can choose from Thatch and Mud Deluxe Cottages; cottages overlooking the Kinnow orchard and Swiss Luxury Tents. There is good mobile connectivity, but everything else here keeps you close to nature. Mesmerizing views of the Shivalik ranges, homely hospitality and delicious home cooked food further enhance the experience.
Special activities: Bird watching tours, short trails and hikes and a number of outdoor activities at the Adventure zone.
How to reach: 5.5-hour drive from Delhi. Nearest railway station is Ropar is 5 km.
Tariff: INR 2000 per night onwards
3. Banni Khera Farm, Haryana: Good old comfort is always cherished
Where: Samar Gopalpur Village, Rohtak
An initiative by Kunwar KV Singh, Banni Khera is a community-based project that works in collaboration with Haryana tourism. In the process of promoting sustainable farm tourism, the community extends a warm welcome to tourists.
Banni Khera's eco-friendly farmstay allows its guests a glimpse of authentic rural India, its nature, culture, and traditions. Besides, there are a number of activities to keep everyone in the family engaged. You can pick your favorite activities and also choose from day trips and stay packages.
Special activities: Yoga and meditation classes, boating, fishing, duck feeding and folk shows
How to reach: 1.5-hour drive from West Delhi/Gurgaon
Tariff: INR 5500 per night onwards
4. Surjivan, Gurgaon: Your weekend getaway from Delhi NCR
Where: Off Jaipur Highway (NH-8), Naurangpur-Tauru Road, Opp. ITC Grand Bharat Hotel
When you are looking for picnic spots near Delhi, Surjivan is the answer. The traditional and ethnic resort has been recognized as 'The Best Eco-Friendly Design' by Inside Outside magazine. Besides the green expanse, the highlight of this exclusive farmstay near Delhi is the earthy accommodation. Aesthetically done interiors perfectly complement the rural exteriors of the thatched roof cottages. Luxury tents and dorms are also available. Best of amenities are available to the guests.
Food at Surjivan is another huge attraction. A range of delicacies are available – all prepared with the goodness of organic ingredients and age-old methods of traditional Indian cooking.
Special activities: Traditional Indian games like Gilli-danda, Lattoo and Kanchhe; farm tours;  and educational activities for kids. Also, there is a range of available-on-request activities.
How to reach: 1-hour drive from New Delhi
Tariff: Connect on call/email
5. Bon Farmhouse, Sikkim: Of green, faith & fertility
Where: BON Farmhouse, P/O Kewzing Bazaar, Below Kewzing Monastery, Ravangla
Bon Farmhouse offers 'a typical village farm ambiance of Sikkim in Kewzing Village with a Bonpo Family.' Relish the experience with all the modern facilities and hundred percent organic food, all amid a lush green sojourn.
Bon Farmhouse is one of the popular farmstays in India in the northeast region. Surrounded by lush green cardamom fields, it also boasts of rich livestock inventory, which means you get a nutritious breakfast of fresh milk and eggs!
Special activities: Nature walk, one day/night camp, bird watching, sightseeing, excursion to Trout valley, and Sikkimese hot stone herbal bath
How to reach: 2.5-hour drive from New Jalpaiguri
Tariff: INR 2750 per night onwards
---
Planning your holiday but confused about where to go? These travel stories help you find your best trip ever!
Real travel stories. Real stays. Handy tips to help you make the right choice.
---
6. The Country Retreat, Rajasthan: Detox underneath nature's shade
Where: Bankli, Godwad, Dist. Pali
Rustic, regal and wilderness is how The Country Retreat introduces itself. Located between Jodhpur & Udaipur, the boutique farmstay is spread over 130 acres of lush farmland. It offers romantic hideaways, family getaways, and adventurous escapes as well. Plan an action-packed adventure holiday or spend lazy days reading books, the farmstay has something for everyone.
You can enjoy a healthy breakfast in the farm, a warm meal with the host or an indulgent Rajasthani fare – the culinary options here are spoiling. Ethnic massage at the farm is an added luxury for those seeking a tranquilizing retreat.
Special activities: Excursions to nearby attractions, birdwatching, shepherd herding, cycling, photography, and farm tour
How to reach: 2.5-hour ride from Jodhpur
Tariff: INR 7000 per night onwards
Must Read: 10 Exclusive Stays In Rajasthan That Will Leave You Spoilt
7. Farm Of Happiness, Maharashtra: Savor every bead of happiness
Where: Near Katal Wadi, Chandika Mandir Road, Ratnagiri
Leaving behind successful careers in Mumbai, Rahul and Sampada turned to the interiors of Maharashtra and adopted a simple, rural lifestyle. Farm of Happiness or 'Aanandache Shet' is the sweet result of their hard work and zeal to make a difference.
One of the soul-pleasing organic farmstays in India, and popular farm stay near Mumbai,  Farm of Happiness offers an unusual vacation in a traditional Konkan house. The ethnic decor is accentuated with clay floors, wooden interior, and antique furniture. Laze on the hammocks, find yourself surrounded by chirping birds or just take a nap under the tree gazing at stars after treating yourself to some home cooked mouth-watering food. Farm of Happiness is the place to spend peaceful quality time with your family and friends.
And while you enjoy a tranquil stay, savor delicious Maharashtrian preparations – mostly vegetarian. Fruits, veggies, and grains are picked from the farm and food is prepared on a Chulha.
Special activities: Farm tour, trekking, fishing, birdwatching, and stargazing
How to reach: 1-hour ride from Ratnagiri railway station. Pre-booking gives you a pickup from the station
Tariff: INR 5000 per night onwards
8. Maachli, Maharashtra: Spend time with nature
Where: Parule, Vengurla
Located in the Parule village on the far south Konkan Coast of Maharashtra is Maachli – a divine farmstay where the Samant family hosts you. Preaching simple living, it is a simple accommodation tucked in Verongula and a fairly accessible farmstay near Mumbai. The closest beaches to Maachli are Bhogwe and Tarkarli. The attractive hut-style accommodations are built deep amongst betelnut, banana and spice plantations. Also, there is a sweet water stream flowing through the property that makes for an awesome view while you feast on authentic Malvani cuisine in the open dining area.
Maachli also organizes local tours covering key attractions around, which include Adinarayan Temple, Lotus Lake and Mauli Temple, the bank of the Karli River and Sindhudurg fort, among others.
Special activities: Village walks, cooking lessons, farming experiences, and trekking
How to reach: 15-minutes drive from pristine beaches of Bhogwe and Tarkarli
Tariff: INR 4000 per night onwards
9. Off The Grid, Border of Goa & Karnataka: Redefining homestay experience in the Western Ghats
Where: Poppalwadi, Castle Rock, Joida
As the name suggests, Off The Grid presents you a unique way of sustainable living where you are kept eluded from modern amenities like electricity, the internet, and phone. Yet, the kind of cozy comfort they provide is commendable.
This eco farmstay – owned by John Pollard and Sylvia Kerkar – makes you experience rustic life enveloped by the lush greenery of the Western Ghats. It is a typical village stay near Bangalore that mesmerizes with a life too different from the one that you lead in metro cities. Come here to take a break and soak in the freshness of unperturbed environs.
Special activities: Trekking, a tour of the waterfall, and wildlife safari. This popular farm stay near Mumbai also offers summer and winter camps for kids!
How to reach: 50-minute drive from Londa Junction. Pickup facility available
Tariff: INR 3250 per night onwards
Suggested Read: 42 Best Resorts Near Mumbai For A Quick Relaxing Getaway In 2022!
10. The Hermitage Guest House, Karnataka: A quaint eco-lodge in the Western Ghats
Where: Khanapur Taluka, Belgaum
The Hermitage Guest House is a well appointed and secluded farmstay in Karnataka that makes you experience the art of simple living without electricity, without television and the other modern technology. With the houses made up of bamboos, thatch, and hand-made village tiles, you couldn't have asked for a more subtle and simplistic abode.
If you are planning a vacation in this lovely farmstay near Bangalore, pick from Machan – the 11 feet high wood and bamboo cottage, Kadaba – a village style accommodation, and Gota – a rural cottage made of red clay tiles.
Special activities: Star gazing, bird watching, pottery, and cooking classes
How to reach: 2.5-hour ride from Goa
Tariff: 2500 per night onwards
11. Harvest Fresh Farms, Kerala: An organic home away from home
Where: Lower Camp, Melagudalur, Near Thekkady, Idukki
Harvest Fresh is an organic fruit farm and farmstay located in the tranquilizing Cumbum valley. Apart from providing a quality stay with all the amenities, the farm also grows pomegranates, papayas, and passion fruit. The farm manufactures and serves organic dairy products and other food essentials to their guests.
Actively involved in agritourism in India, Harvest Fresh treats its guests to the best of organic meals and lush green surroundings. You can go take a walk in the nearby village or enjoy a lazy evening in the garden.
Special activities: Bullock-cart ride, village tour, and trip to organic fruit farm
How to reach: 15-minute drive from Thekkady
Tariff: INR 2800 per night onwards
12. Oyster Opera, Kerala: Life sustained by the seashore
Where: Thekkekadu, Padanna, Kasaragod Dist.
Managed by GS Gul, Oyster Opera started as a social initiative to help the unemployed local folk of the region. Today it is a well-known eco stay that boasts of nine cottages and one houseboat. The cottages have small verandahs where you can enjoy evening tea with your loved ones. All modern facilities including 24 hours power back up, attached bathrooms and air conditioners are available.
Special activities: Coracle boat ride, indoor and outdoor games, fishing, island hopping, and oyster picking
How to reach: 15-minute drive from Chervattur railway station
Tariff: INR 3800 per night onwards
13. Philipkutty's Farm, Kerala: A calm retreat amid the Kerala backwaters
Where: Kumarakom, Kottayam
This family run 35-acre farm, set on a beautiful island is your perfect hideout in God's own country. With its laidback retreats and waterfront villas, Philipkutty is the perfect farmstay in the backwaters of Kerela. There are lovely ridges and canals that add to the quaint charm of this haven.
The luxury villas depicting fine architecture are traditionally styled and decorated with antiques. They are equipped with all modern facilities, but what makes them blissful is the excellent circulation and spellbinding views of the garden, farm and the backwaters from their 18 windows and 8 doors (in each villa).
In the food served at Philipkutty's farm, delicacies made from the fresh backwater catch and organic farm produce take the cake. Community meals is a strict practice here, so you will be served either in the common dining area or alfresco style, in the thatched pavilion.
Special activities: Sunset cruise, fishing, birdwatching, local tour, and yoga. For all activities, see here.
How to reach: 15-minutes drive from Kottayam railway station
Tariff: INR 16000 per night onwards
Must Read: 8 Quaint Homestays In Kerala For A Cozy, Private Holiday
14. Acres Wild, Tamil Nadu: Taking organic cheesemaking to another level
Where: Upper Meanjee Estate, Kannimariamman Kovil Street, Coonoor
A family farmstay in India and an awesome farm resort near Ooty, Acres Wild invites families to come, stay and experience  farm life. It is managed by Tina and Mansoor Khan – the director of hit movies like Qayamat Se Qayamat Tak, Jo Jeeta Wohi Sikander, and Josh. The farmstay has three kinds of cottages – namely, Colby Cottage, Haloumi House and Cheddar House. It encourages simplistic living and thus the food served here is also not very spicy or fancy.
Set in the Nilgiris, Acres Wild offers plenty of wildlife and rare bird sightings. Also, it is well-known for organic cheesemaking. Guests staying here can take their exclusive 'Homemade Gourmet Cheesemaking Lessons'.
Special activities: Bird watching, and observing gaur (of bison family)
How to reach: 30-minute drive from Ooty
Tariff: INR 3700 per night onwards
15. Destiny, Tamil Nadu- Tucked away in nature
Where: Vakkiel Thotum, Muligur Village, Emerald Post, Ooty
Breathe the crisp mountain air, soak in the stunning views of the picturesque lake, and the beautiful mountains- all from your private sitout. One of the most sought after farm stays in Ooty, Destiny offers five different types of accommodation, but what remains unchanged is the gorgeous outside view. Come here for a tranquil holiday and make sure you book the honeymoon suite!
Special activities: Rappelling, valley crossing, outdoor games, golf putting, hiking, camping, and horse riding along with other indoor activities
How to reach:  30-minute drive from Ooty
Tariff: INR 7000 per night onwards
                                                           Further Read: Reconnect With Your Inner Self At These 20 Yoga Retreats In India
Do plan a stay in these rustic farmstays! Maybe there you would find the haven that you have been looking for all this while.
Frequently Asked Questions About Farmstays In India
Where can I learn farming in India?
You can learn farming in India from a certified institute. ICAR (Indian Council of Agricultural Research) is considered as one of the most ideal places to conduct research on farming in India. It is an ideal place for students and farmers who are keen on understanding the nitty gritty of agriculture.
What is agro tourism?
Agrotourism is an agriculture-based activity that brings visitors to a farm or a ranch. It refers to staying on a farm and participating in , overnight stays, educational activities, collecting eggs or milk, feeding the animals, cooking, cleaning, handicrafts, and taking care of crops. Agrotourism has immense capacity to generate additional source of revenue.
Which is the best farmstay in India?
The best farmstay in India is arguably Himalayan Orchard in Himachal Pradesh. It is a family-run homestay located 70 kilometers ahead of Shimla. If you plan to meditate and give yourself a break from the hectic city life, make a beeline for this beautiful property. Make sure you add it to the list of places to visit in India before you turn 30.
What is farmstay accommodation all about?
A farmstay is any kind of accommodation on a farm where you have the chance to feed the animals and engage in other interactive activities. Farm life is not easy and comes with its own set of challenges and predicaments. However, farmstay accommodations show you an idealised version of farm life.
Which farmstay in India offers the ideal farm experience for a family?
Prakriti Farms in Punjab offer an ideal farm experience for a family, replete with homely hospitality and home-cooked food.
Which farmstay in India is ideal for a honeymoon?
If you're planning a honeymoon, Banni Khera Farm in Haryana would be an ideal choice.
Which farmstay in India is kid-friendly?
Surjivan in Gurgaon is a kid-friendly option if you plan to live on a farm in India.
---