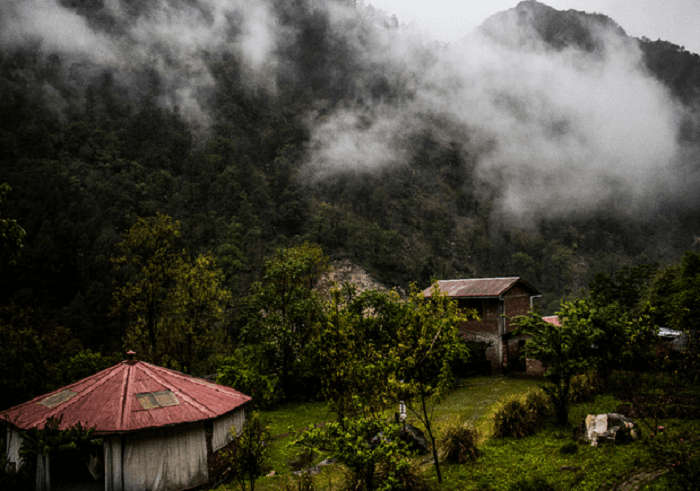 Tell me of a trip to the mountains when you have not sighed and longed for a home there. Let me paint it for you – a small rusty cottage with a lawn and kitchen garden, mist and cloud at the windows and secluded greenery all around. Is it? Is it? I know it is.
Well, owning such a home in the mighty mountains can be a distant dream but spending some quality time at one is a mere question of your will and information. Scroll through this list of secret homestays in Himalayas and let your dreams come alive for the time. Who knows, you might pick an idea or two to own one in the future.
1. La Villa Bethany, Garhwal, Uttarakhand

Image Source
Okay! Okay! I know that's an awesome view and the name may, already, have hinted at a colonial connection. So is it. A missionary home of yesteryears, La Villa Bethany is a 15 minute walk away from the famous and crowded Mall Road of Mussoorie. The villa offers a views of rare vistas of Doon valley.
What's special: The villa is region's only self-sustainable building i.e. – it has its own water, own electricity and own agriculture. We are talking about rainwater harvesting, solar energy and organic farming.
Must do: Explore the charms of Milky Way in the night sky through the telescope in the observatory
Cost: INR 5,000 for doubles
Website
2. Yang sum Heritage Farm, West Sikkim

Image Source
Almost a 100 years old history and Kanchenjunga in the backdrop – the Yang Sum Farm is an idyllic countryside retreat with numerous stories to regale. A stay at this homestay in Himalayas guarantees blissful sceneries, authentic Sikkimese cuisine, and serene nights.
What's special: The birdhouse shaped attic, sumptuous cuisine, organic fruits and vegetables, proximity to the monasteries
Must do: Hike along to the secret valley of Rhododendrons, trek to the villages and nearby monasteries,
Cost: INR 5,500 for couples, including meal; for details,
Website
Suggested Read: 15 Secrets Of North East India Locals Have Been Keeping To Themselves
3. Jeolikot's Cottage, Nainital

Image Source
Well there are lot of popular stories about childhood dreams coming true. This one  here, is a classic unheard tale. Bhuvan Kumari used to admire this Victorian cottage on her way to school. And sooner than later, she acquired it, and against many suggestions to demolish and reconstruct – she did not disturb the outer shell – that original 'ivy covered cottage' of her dreams. But, she completely revamped the interiors as her heart dictated.
What's special: The vignette tale about the two neighbors – one, a lady who happened to be a direct descendent of Napoleon came visiting, fell in love with a local boy and stayed on. Another was a retired British Army major named Warwick sahib, who hung on till death with a fantastic secret that he was actually a she!
Must try: Golfing at Government house, birdwatching, shopping
Cost: INR 4,500 for doubles
Website
4. Kuflon Basics House, Garhwal, Uttarakhand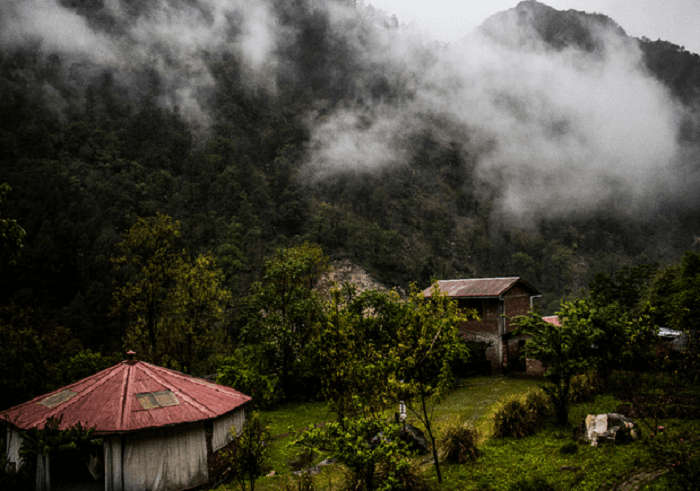 Image Source
Kuflon is a hamlet situated in the Assi Ganga valley. And in Kuflon, at 5,000 ft, is the home of Anil and Shree who quit their cushy corporate jobs for the love of mountains. The last home in the hamlet of some 30 residents, it has two lovely handcrafted cement walled huts offering mesmerizing views of the majestic Himalayas.
What's special: Hearty meals cooked from the ingredients from organic farmers, drinking water from the heart of Ganga(creatively filtered), ideal base for Gangotri, Yamunotri and Dodital treks
Must do: Hike along till the Asi Ganga waterfalls, bonfire at the stargazing rock
Cost: INR 4,000 for doubles
5. The Dak Bungalow, Kumaon

Image Source
Well, Dak Bungalows have always been famous for their colonial connection. This one – the Kumaun Dak Bungalow was built in 1905 along the Silk Route. 100 years later, an elderly couple, Pradeep and Shubha rescued it from the abandoned stage and restored it to the glory.
What's special: It is a base for the trek to Nanda Devi and Trishul peaks, residents in the hamlet of Peora
Must do: Hike along Pradeep's fruit wines, devour upon Shubha's delectable homely cooking
Cost: INR 2,500 for doubles
6. The Retreat, Kumaon

Image Source
This retreat usually features in the list of secrets of Bhimtal. History that belongs to The Retreat is about Frederick Smetacek who fled the Nazis and sailed to India. He settled down here after marrying the descendants of the famous Tipu Sultan in 1930 and set up this welcome home for the diplomats. The place is still managed by his descendants and the hospitality has retained its charm till date.
What's special: Cozy fireplaces, ancient furniture and belongings of the original founder, Anglo Indian cuisine
Must do: Hike to the lakes of Sattal, trek along with the Sametacek boys and let them show you the secrets of the valley, wander around in the Orange Pekoe tea plantations of 1850s
Cost: INR 3,500 for doubles
Website
Suggested Read: 10 Lesser Known Secrets That Malana Has Been Keeping To Itself
7. Innisfree Farm, Kumaon

Image Source
Literature folks, did you get something? Lake Isle? Innisfree? WB Yeats? Does it ring any bells?
Anyways, the hostess at Innisfree is the descendant of Burmese royal family. The windows here, open to the most mind blowing sights of snow clad peaks. The back doors of this stone and wood made house open to the acres of deodar and oak, an organic farm and quaint mountain.
What's special: Fresh milk, butter and cottage cheese from the resident cows, organic eggs, traditional pahari dishes
Must do: Try homemade apple stuffed pancakes, trek with the hosts to the village of Sitla and Mukteshwara
Cost: INR 1,900 for couples, call 097196 96745 for queries
8. The Taras, Ladakh

Image Source
We bet, no list of secrets of Ladakh would have ever mentioned Taras which was built for the nuns to host the world weary travelers. A stay here guarantees a genuine peek-a-boo into the innocence and hardships of life in Ladakh.
What's special: A stay here is a financial help to sustain the nunnery, overwhelming stories of nuns, access to the trekking trails of higher Himalayas
Must try: Interact with the nuns and try having a deeper understanding of the Tibetan Buddhism
Cost:  INR 1,300 onwards,
Website
9. Ramgarh Heritage Villa, Manali

Image Source
Like it or denounce it, but luxury statements of first Indian Prime Minister – Jawaharlal Nehru can't be detested. This heritage villa used to be his regular work station while he was in office. Then a five star hotel, it has now transformed into this charming retreat perched upon the rhythm of river Beas with a background of Dhauladhar ranges.
What's special: Apple and kiwi orchards, scenic village cluster of Raison away from the maddening crowds, can be used as a base for trekking towards challenging Dhauladhars
Must try: Monastery visits
Cost: INR 4,500 onwards
Website
10. Aira Holme, Shimla

Image Source
For starters, the large windows of this stone cottage allow you to poke visiting clouds every now and then. Next, the creatively designed open-air terrace is itself a window opening over the lush green deodar forest and hill slopes. To add to that, Aira Holme has a wooden attic full of books and brilliant artworks.
What's special: For obvious reasons,  Billy's wooden attic with its books and artworks
Must try: Trek leading to the Tara Devi temple and a tour to the orchards full of Apples and Apricots
Cost: INR 5,000 for couples;
Website
11. Darang Tea Estate, Palampur

Image Source
70 acres of a 150 year old history,  Darang Tea Estate has preserved it all. Unblemished greenery presented by the nonchalant Dhauladhar ranges make this property a stunner for many. Historically, it was among the first tea plantations in India designed and maintained by an Indian. The descendants of the same family have restored and retained the charms of the by gone days.
What's special: Creative cooking of Neera's, lightly brewed Darang tea, dramatic views of the Dhauladhars, proximity to the paragliding base in Bir Biling
Must try: Persuade the matriarch in the house to share her past and you will have the best stories to share; walk to the Darang village,
Cost: INR 3,000 onwards for couples
Website
Alright! Any plans? Do share!
Further Read: 8 Lesser Known Secrets Of Kashmir That It Has Kept To Itself
---
Looking To Book A Holiday Package?
Book memorable holidays on TravelTriangle with 650+ verified travel agents for 65+ domestic and international destinations.
---