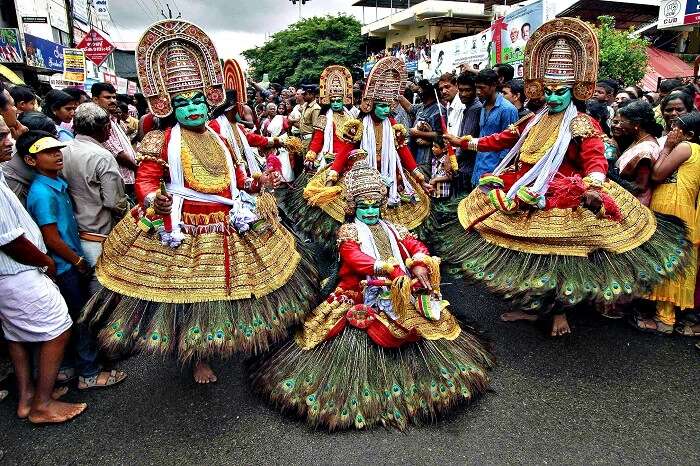 The God's Own Country has got it all – from backwaters to the most colorful festivals in India. Festivals in Kerala are celebrated with great zeal and enthusiasm, as they speak volume about the state's history, culture and beliefs. There are dance performances, boat races, bejeweled elephants, colorful rangolis and everything that's awesome. No wonder people from around the world head straight up to this enchanting state with backwater.
So, if the wanderlust wasn't enough already, here is a dose to spark it further.
9 Festivals In Kerala
Go through this Kerala festival list of all the vibrant and colorful celebrations that take place in this state. Know everything you need to around the time your favorite festival takes place.
Kerala Boat Festival: Some Thrill In The Calm Backwaters
Theyyam Festival: Behold The Dance Of God
Onam: The State Festival Of Kerala
Temple Festivals: Witness The Grandeur Of Kerala
Vishu: Celebrating The First Day Of The Malayali Year
Attukal Pongala: The Largest Religious Gathering Of Women
Christmas: Comes, But Once A Year & It's A Time To Cheer
Maha Shivarathri: All About Paying Homage To The Lord
Makaravilakku: Witness The Religious Processions
1. Kerala Boat Festival: Some Thrill In The Calm Backwaters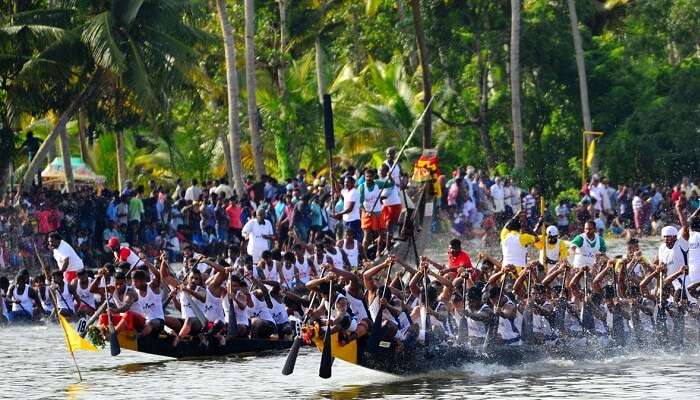 Kerala is known around the world for its backwaters. And the Kerala Boat Festival elevates the charm of these glistening water canals. The race is all about enthusiasm and most importantly team spirit and sync between the members. Watching this race is one of the enthralling Kerala festivals that one shouldn't miss while on a trip to Kerala.
What to expect: A lot of action as the most popular races – Champakulam Moolam Boat Race (Alappuzha), Nehru Trophy Boat Race (Alleppey), Payippad Jalotsavam (Payippad Lake) and Vallam Kali (Punnamada Lake) – take place.
When is the Boat Festival celebrated: Boat Festival in Kerala is celebrated from July to September
Kerala Boat Race 2020 dates: Nehru Boat Festival is on 8th August 2020 and the remaining three boat races in Kerala would fall in intervals from 7th September to 19th October 2016.
Must Read: 14 Guest Houses In Kerala For The Ultimate Comfort And A Pocket Friendly Vacay

---
Kerala Holiday Packages On TravelTriangle
A holiday in Kerala will fill you with memories. Witness pristine backwaters with comfortable houseboats, lush green hill stations, waterfalls, and plantations of tea and spice. Indulge in an ayurvedic massage or taste exotic cuisines. Book a Kerela holiday on TravelTriangle. Best prices guaranteed.
---
2. Theyyam Festival: Behold The Dance Of God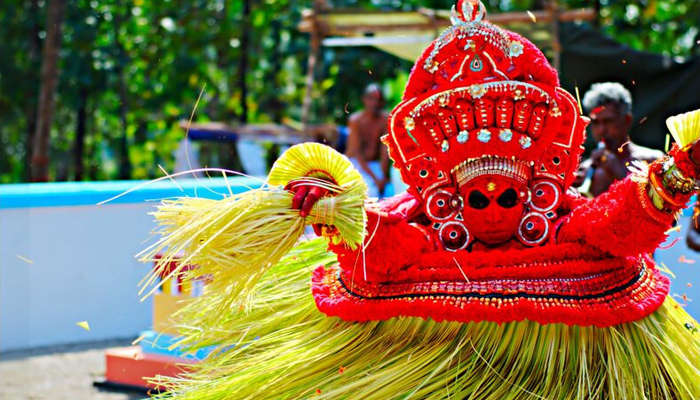 Theyyam is one of the most popular festivals celebrated in Kerala, and indeed the most-awaited. This 800-year-old festival flaunts folk dances and art. There are more than 400 varieties of Theyyam performances to pick from, of which the best ones are Kari Chamundi, Raktha Chamundi, Muchilottu Bhagavathi, and Wayanad Kulaven. This is one of the most famous festivals in Kerala. 
What to expect: As mentioned above, mythological acts are the highlights of the Theyyam festival. People dress up and paint the performer, who belongs to an upper caste, and adorn him with flowers, mask and color. The performer then undergoes self torture and dances to the rhythms in front of shrines.
When is Theyyam celebrated: Theyyam falls in the period between April to December.
Theyyam 2020 dates: 14th February to 20th February 2020
Suggested Read: Kerala In November 2020: Places And Events Not To Be Missed Out

3. Onam: The State Festival Of Kerala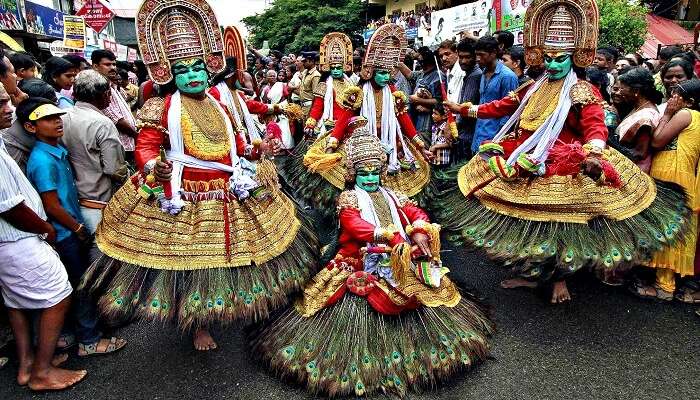 One of the most important festivals is the Onam festival in Kerala. It is a harvest festival of Kerala that falls in the Malayali month of Chingam. It is celebrated to commemorate the Vamana avatar of Lord Vishnu and homecoming of King Mahabali.
Around Onam, the whole state gets drenched in the festive spirit, marked with delicious dishes, dance, music, rituals and boat races. For a culture-vulture, the best time to visit Kerala is during Onam celebration. It is also the national festival of Kerala. 
What to expect: The 10-day celebrations are best experienced in Kochi where a royal parade 'Athachamayam' kick starts the grand celebrations. From a colorful extravaganza of tableaux on the roads the center shifts to the Thrikkakara temple. On the day of Onam, there are games, music, dance and fireworks in all parts of the state. Onam Sadhya is the customary feast comprising a vegetarian spread of 20-25 curries and a couple of desserts.
When is Onam celebrated: Onam falls between August and September
Onam 2020 dates: 22nd August to 2nd September 2020
Suggested Read: Kerala New Year Celebration: 8 Exotic Places To Bring In 2020!

4. Temple Festivals: Witness The Grandeur Of Kerala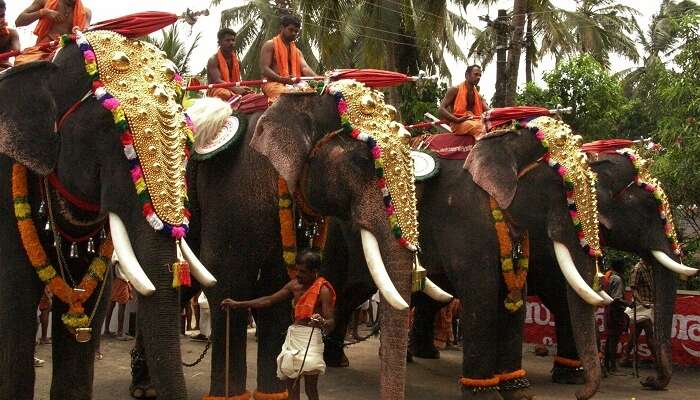 Now this is not a single festival, rather a string of festivals celebrated in almost all temples across Kerala. Mostly named after the temple they are celebrated in, temple festivals are grand and elaborate. They are annual extravaganzas that last for 9-10 days and can be attended through a period of 6 months as festival dates vary from temple to temple. One should definitely attend these celebrations of Kerala festivals 2020. 
What to expect: Famous temples of Kerala host this festival and flaunt the grandeur with lavish decorations, adorned elephants, music, dance, fireworks and numerous religious traditions. The celebrations also feature hoisting of a holy flag, processions around the countryside, and offerings of rice and coconuts made to God as the procession moves ahead.
The whole celebration gives a glimpse of the religious traditions of Kerala and is a must see for those who are fascinated by the pomp of Kerala's religious traditions. Some of the best temple festivals of Kerala are held in the temples of Thrissur, Sabarimala, Attukal, Padmanabhaswamy, Vaikom and Chinakkathoor, among others. Of these, Thrissur Pooram is the most gala temple festival that promises a visual treat for spectators.
When are Temple festivals of Kerala celebrated: The temple festivals start towards the end of November and go up to the mid of May.
Kerala Temple Festival 2020 dates: Some of the Temple Festival dates to mark are 8th March 2020 for Chinakkathoor Pooram Palappuram and 3 May for Thrissur Pooram.
Suggested Read:
Winter In Kerala: 6 Best Places To Visit For A Blissful Vacation In 2020!

---
Planning your holiday in Kerala but confused about what to do? These Kerala travel stories help you find your best trip ever!
Real travel stories. Real stays. Handy tips to help you make the right choice.
---
5. Vishu: Celebrating The First Day Of The Malayali Year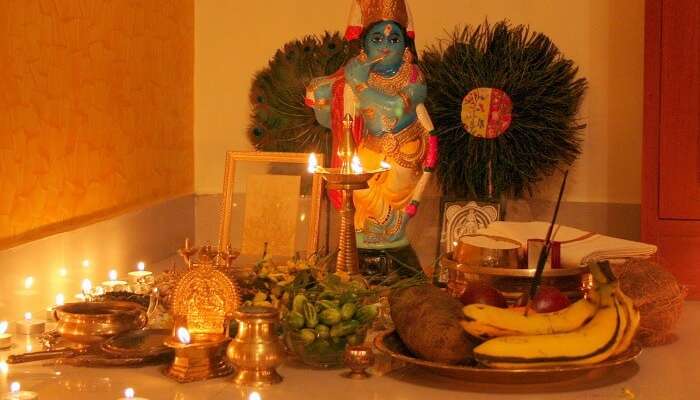 Vishu marks the beginning of Malayali year and is one of the most important and famous festivals of Kerala. Mostly celebrated at home, a pooja with the family and the evening feast are the highlights of this Hindu festival.
What to expect: A night before Vishu, a number of auspicious articles are collected and then arranged in a small vessel in a particular fashion. This vessel is kept in the prayer room. The morning starts with Kani Kanal – the first sight of Lord Vishu. Later, the whole family gathers to eat Sadya (mid-day feast), followed by fireworks in the evening.
When is Vishu celebrated: Vishu falls in the month of April (known as Medam, as per Malayalam astrology calendar)
Vishu 2020 date: 14 April 2020
6. Attukal Pongala: The Largest Religious Gathering Of Women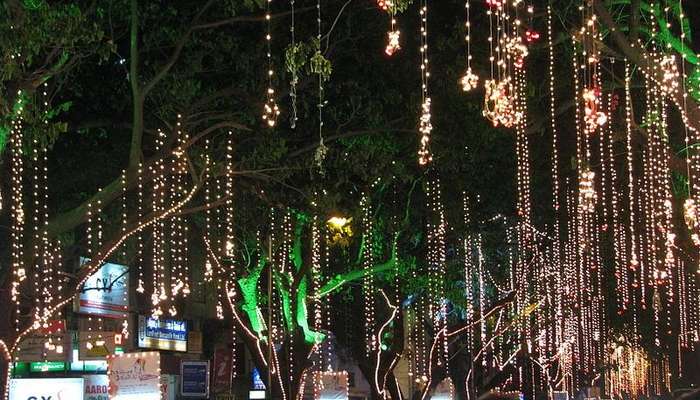 Another popular festival in Kerala, Attukal Pongala brings together women of all caste, religion, and color.This is one of the popular Kerala festivals, dedicated to Attukal Devi and celebrated at the Attukal Devi Temple in Trivandrum, Kerala. The festival has been appreciated in the Guinness Book of World Records, for hosting the largest gathering of women for the religious purpose. Interestingly, the number of ladies attending the festival increases every year dramatically. It also holds a record in Guinness Book of World Record for hosting the largest female crowd every year.
What to expect: During this festival women wear their best dresses and gather to decorate deity with colorful bangles. The aura gets enlivening with folk musical concerts, bhajans, plays and parades. The deity is offered Ponkala (rice prepared with jaggery and other ingredients) as a gesture of praise by the ladies.
When is Attukal Pongal celebrated: The festival is celebrated for 10 days and falls in February – March. Usually, the last day is when the festival sees a huge gathering.
Attukal Pongal 2020 dates: 9 March 2020
Suggested Read: 35 Amazing Things To Do In Kerala For An Incredible Holiday In 2020!

7. Christmas: Comes, But Once A Year & It's A Time To Cheer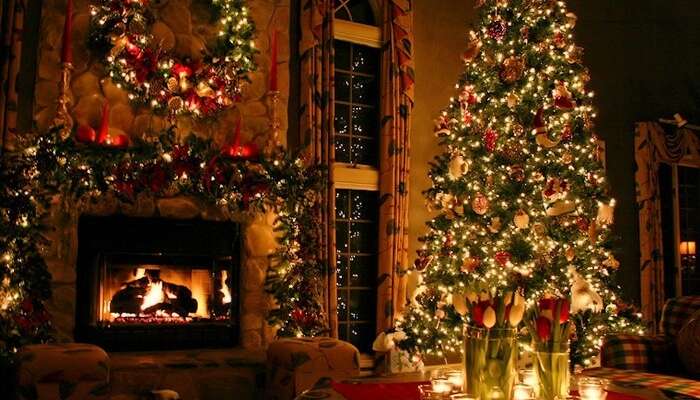 In the state of Kerala, where Christians account for over a quarter of the population, Christmas holds a strong position. With festivities ranging from shopping and tree decorations to carols and feast, Christmas is definitely one of the most celebrated festivals in Kerala. The festival marks the birth of Jesus Christ.
What to expect: During the festival, Christians decorate their houses with lights and other decorations. Christmas trees are bought and decorated with gifts, lights, and other colorful items. People buy new clothes and exchange gifts. A Christmas mass is held in the churches where scenes of the life and birth of Jesus Christ are depicted through models. A scaled down version of the manger where Jesus was born is most commonly put up in these displays. After lighting the candles and singing hymns in the church, people savor delicious cakes and other delicacies.
When is Christmas celebrated: Christmas is held every year on the 25th of December.
8. Maha Shivarathri: All About Paying Homage To The Lord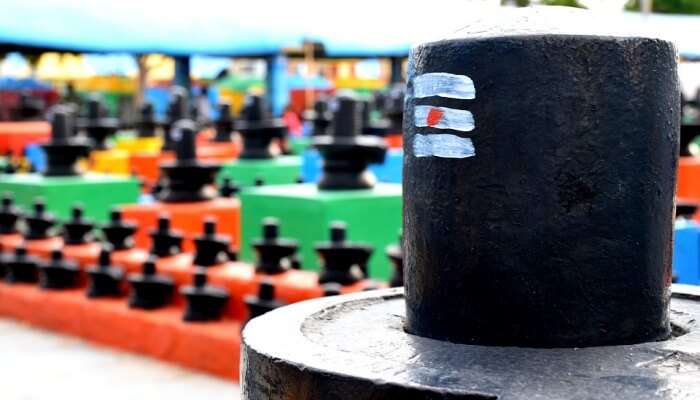 This is one of those festivals that reflect the richness of religious aspect of Kerala. Like all the festivals in Kerala, this one too is celebrated with utmost enthusiasm and is therefore counted amongst the most significant ones. The grandiose of this festival can be seen on the Periyar river banks.
What to expect: It is a wonderful sight to see all the pilgrims coming to worship the Lord Shiva idol. One of the highlights at this festival are the various dance performances
When is Maha Shivarathri celebrated: Boat Festival in Kerala is celebrated anytime between July and September
9. Makaravilakku: Witness The Religious Processions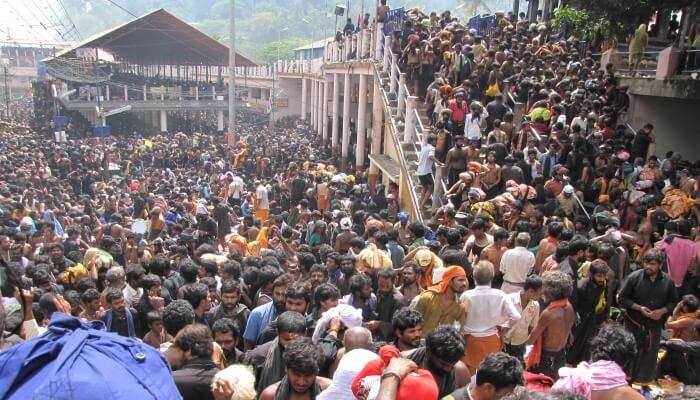 This Kerala traditional festival is celebrated for a whole week and occurs on the famous Hindu festival, Makar Sankranti. On this day, people of Kerala worship Lord Ayyappa's idol. The whole program is organized at the Ayyappa Temple located in Sabarimala.
What to expect: When you are in Sannidhanam during the celebrations, you can see the Divya Jyothi from 9 different spots. You should also take part in the Thiruvabharanam procession. In this procession, you get to see the Lord's accessories transfering to Sabarimala from the Old Palace
When is Makaravilakku celebrated: 30th December 2019 to 20th January 2020
Further Read: 15 Famous Festivals Of India To Bring Your Life Into A State Of Exuberance
We know you're all set for a Kerala holiday! Attending these festivals in Kerala will only help you get an understanding of the culture even more. Also, it's always the best plan when you have your bestie along. So, share this with your best friends and let them, too, have their dose of wanderlust!
Frequently Asked Questions About Festivals In Kerala
Q. How many festivals are there in Kerala?
A. There are various festivals in Kerala that are celebrated with full vigor. Some of the major ones are Onam, Vishu, Thrissur, Theyyam, etc.
Q. What is the famous food of Kerala?
A. There are various dishes in Kerala that shouldn't be missed out while you are here. Some of them are – Malabar Biryani, Puttu, Sadhya, Idiyappam, Naadan Kozhi, etc.
Q. Which dance is famous in Kerala?
A. Kerala is essentially known for two types of classical dance forms: Mohiniyattam and Kathakali.
Q. What festivals are celebrated in Kerala?
A. Some of the famous festivals celebrated in Kerala are Kerala Boat Festival, Onam, Vishu, Christmas, Maha Shivratri, and more.
Q. Which is the most famous festival in Kerala?
A. Onam is the most famous festival that is celebrated nationwide.
Q. Which is the national festival of Kerala?
A. The national festival of Kerala also happens to be the most popular and vibrant festival. Onam is considered as the national festival of Kerala.
Q. What is the agricultural festival of Kerala?
A. Onam is the agricultural festival of Kerala. It is a 10-day harvest festival that is celebrated in the months of August and September.
Q. What is the famous dress of Kerala?
A. For local men and women both, the famous dress is Lungi which is also known as Kaili or Kalli Mundu. It is a casual dress or a working uniform for the laborers in the South.
Q. What is the mother tongue of Kerala?
A. The mother tongue of Kerala is Malayalam. It is the official language of Kerala.
---
Looking To Book A Holiday Package?
Book memorable holidays on TravelTriangle with 650+ verified travel agents for 65+ domestic and international destinations.
---
People Also Read:
Festivals In Manali Festivals In Ladakh Festivals In Tamil Nadu
Comments
comments