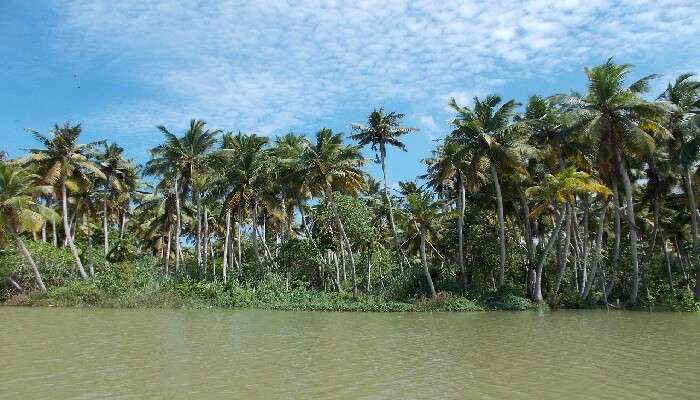 Thiruvananthapuram or Trivandrum as the city is popularly known for its riveting natural beauty and stunning architectural marvels. The city is popular for its rich cultural and religious heritage. You'll find some really amazing places to visit in Trivandrum that will not only make your trip worthwhile but will also give you a fair idea about the enthralling cultural structure of the city. Trivandrum is the capital city of Kerala and is one of the largest cities in the state. City is popular for its alluring beaches and elegant British architectural designs which can be found all over the city. The city has great vibes and is a captivating tourist attraction. While each place here is worth a visit, a number of them will undoubtedly leave you spellbound.
21 Places To Visit In Trivandrum
There are numerous places you can plan a visit to in the city of Trivandrum. However, the ones that will definitely steal your heart have been listed below! Have a look at these best places to see in Trivandrum that are going to enchant you and make you want to visit Kerala more often.
Sree Padmanabhaswamy Temple – A Shimmering Architecture
Napier Museum – Learn The History & Culture
Shangumugham Beach – Relax & Unwind
Attukal Temple – Get Enchanted!
Sree Chitra Art Gallery – Relish The Art
Kanakakunnu Palace – For Old World Charm
Vellayani Lake – For Fishing Enthusiasts!
Sagarika Marine Research Aquarium – Witness The Aquatic Creatures!
Karikkakom Devi Temple – A Stunning Piece Of Architecture
Veli Tourist Village – An Incredible Picnic Spot
Aazhimala Siva Temple – For Stunning Carvings
Neyyar Dam – For A Perfect Day-Outing
Poovar Island – Tropical Paradise
Agasthyakoodam – Trekker's Paradise
Zoological Park – Witness The Wildlife
Chalai Bazaar – Go On A Shopping Spree
Magic Planet – Magic Themed Park
CSI Christ Church – Marvel At The Architecture
Mall Of Travancore – One-Stop-Shop
Kuthiramalika Palace – The Palace Of Horses
Puthenthope Beach – For Surreal Sunset Views
1. Sree Padmanabhaswamy Temple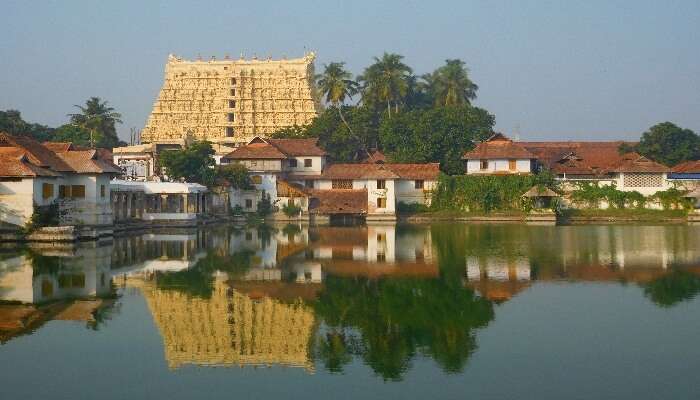 This is a wondrous temple with a shimmering architectural design and an awe inspiring ambience and one of the best places to see in Trivandrum. This monumental temple also happens to be the richest temple in the world. Temple is dedicated to the lord Shri Padmanabhswamy which is said to be the lord of the city of Trivandrum.
This is also among the most visited religious sites in the world. The imposing temple is simply an architectural marvel and each part of the temple is crafted with a lot of care and thought. The temple has an incredible rich history and heritage. There is a strict dress code – and only traditional dresses are allowed.
Skirts or shorts aren't allowed to go inside the temple. The idol of lord situated in the temple is quite unique and enchanting. This exhilarating temple is the biggest of Kerala and one of the biggest in the country.
Timings : 3:30am–12pm, 5–8:30pm
Address: West Nada, Fort, East Fort, Pazhavangadi, Thiruvananthapuram, Kerala 695023
Must Read: 15 Amazing Things To Do In Trivandrum For A Thrilling Vacation In 2020!
2. Napier Museum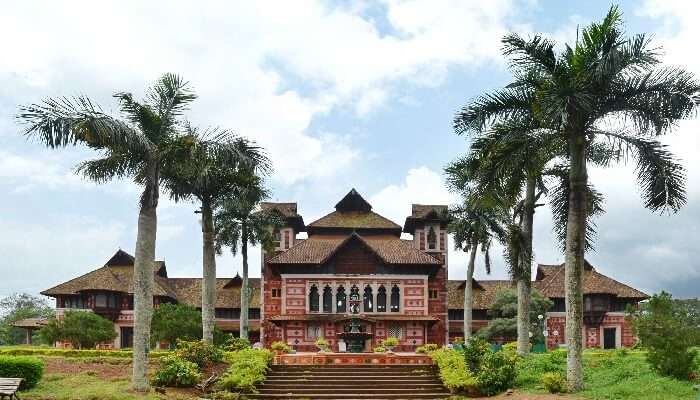 Amongst the best tourist places in Trivandrum, it's a sparkling museum which was built by a British officer named Napier in the mid of 19th century. The museum is an important art and cultural center in Trivandrum. An enthralling museum – it is the best place to learn about the extremely rich culture and historic heritage of state of Kerala.
The museum houses some incredible sculptures and coins from different eras of Kerala. One of the best parts of the museum is alluring musical instruments from different parts and era of Kerala. The museum is situated in the city's zoo. There is an entrance fee of INR 20 per individual. The surroundings around the zoo are ambrosial and very green.
Timings : 10 am – 4:30 pm
Address: LMS Vellayambalam Road, Near, Museum Junction, Kanaka Nagar, Nanthancode, Trivandrum, Kerala 695033
Suggested Read: 10 Luxury Resorts In Trivandrum That Beautifully Bring Out The Nature Of Kerala
3. Shangumugham Beach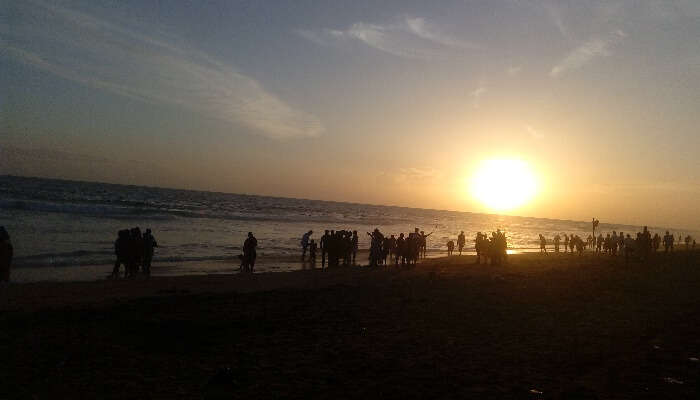 Shangumugham Beach is an incredible beach situated very near to the city airport. This beach of clear blue waters and white sand is a ravishing place to relax and spend your time in an ethereal surroundings. The beach is extremely clean and has maintained its raw beauty. The beach front is quite large.
The beach also houses a little Devi temple. Sunset views are just matchless and very adorable from the beach. The tranquil beach is quite long and very charismatic. Best part of this beach is it isn't as crowded as other popular beaches in the city – except perhaps during the sunset time when a number of people visit to view the enchanting sunset scenes here.
Timings : 24 hours
Address : Shangumugham Beach, Trivandrum
Suggested Read: 8 Parks In Trivandrum That Are A Must Visit On Your Next Vacay!
4. Attukal Temple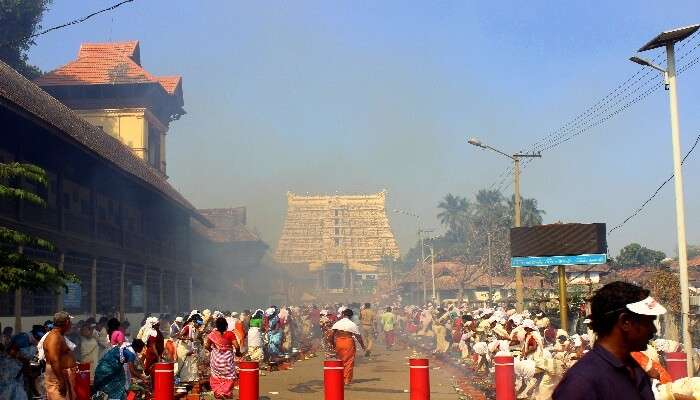 Amongst the best Trivandrum tourist places, this is an entrancing temple dedicated to goddess Bhadrakali – one of the forms of goddess Mahakali. This temple has a bewildering architectural design and the whole ambience is quite serene. Attukal temple holds multiple Guinness World Records – including hosting the greatest number of people for any festival. The Pongal festival is celebrated with great zeal in the temple compound. The temple has a large enough parking space. There is also a famous Indian Coffee House near the temple which you can which for an incredible cup of coffee and snacks after your temple visit.
Timings : 5:00am–12:30pm, 5:00pm–8:30pm
Address: Manacaud P.O, Attukal – Chiramukku Rd, Thiruvananthapuram, Kerala 695009
Suggested Read: 35 Amazing Things To Do In Kerala For An Incredible Holiday In 2020!
5. Sree Chitra Art Gallery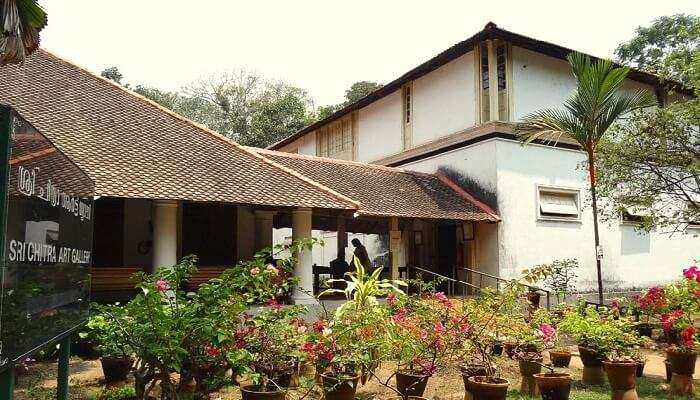 The art gallery is quite old and was opened by the Maharaja of Travancore Sri Chitra Thirunal in the year 19345 and certainly one of the best Trivandrum tourist places to visit. This is a delightful place to visit and houses some very exquisite artworks related to Travancore kingdom and Kerala. You will find some incredible collections of paintings, many of which have been painted by the family members of the royal Travancore family. The museum also showcases the contemporary art exhibits from Japan, China, Tibet, Indonesian etc art centers.
Timings : 10 am – 5 pm (Monday closed)
Address : Museum Bains compound Rd, Kanaka Nagar, Nanthancode, Trivandrum
Suggested Read: Winter In Kerala: 6 Best Places To Visit For A Blissful Vacation In 2020!
6. Kanakakunnu Palace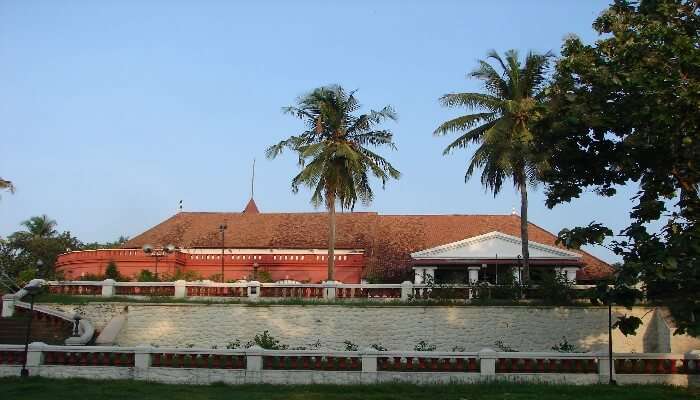 This is an incredible and dazzling place built in tradiational Kerala acrhicturecural design, one of the best Trivandrum destinations to visit. Situated very near to Napier museum and the zoo – this ravishing palace is very well maintained and clean. The surroundings to the palace are quite adorable with lush green nature. The area is quite serene and calm.
A great place to just walk around. There is an eatery as well in the palace compound and you can get an incredible cup of tea or coffee there. People come with their own musical instruments and they jam here during the weekend. There are shopping stalls in the palace from where you can buy local souvenirs and handicraft work.
Timings : 10 am – 5 pm
Address: Sooryakanthi Rd, Kanaka Nagar, Nanthancode, Thiruvananthapuram, Kerala 695033
Suggested Read: Kerala In November 2020: Places And Events Not To Be Missed Out
7. Vellayani Lake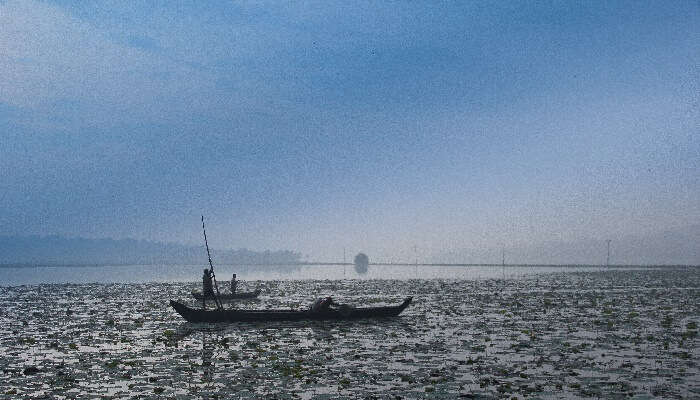 Vellayani lake is the largest lake in the city of Trivandrum and amongst the best Trivandrum destinations to visit. A great place to hangout – the lake offers some alluring views of the village and the backwaters. Fishing enthusiasts can also try their hands on fishing here in this lake. The water is quite fresh and clean in the lake. An enthralling place with breathtaking beauty and quiet serene surroundings.
This is a perfect place for a family picnic. Situated in the rural area of the city the lake os full of white ducks and lotus flowers. The great atmosphere around the lake will awe inspire you and will make you spend a good amount of time here around this charming lake.
Timings : 24 hours
Address: Vellayani Lake, Trivandrum
Suggested Read: Kovalam In December 2020: Explore This Touristy Seaside Town In Kerala
8. Sagarika Marine Research Aquarium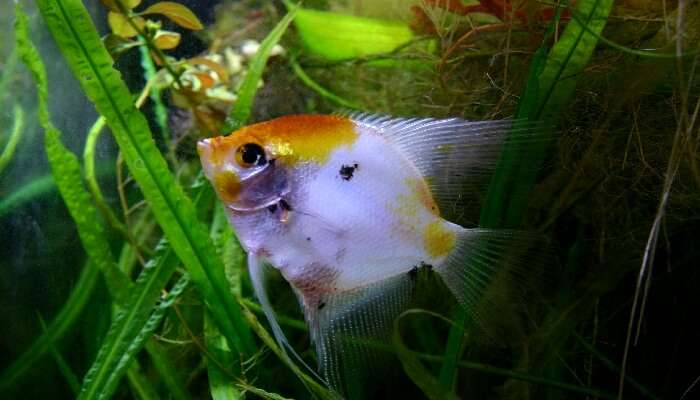 This little aquarium is quite popular among the visitors for being a home to some wondrous exotic fishes. Some of the rarest fishes from all over India are being kept here and the views of these underwater denizens will awe inspire you.
The fishes include a variety of lobsters, sharks, starfish, colourful corals and more. The museum is very well maintained, nicely lit and clean. There is a ticket to enter the museum which is INR 20 per individual. You must visit this place if you have an inclination towards underwater life and fishes excite you.
Timings : 9:30 am – 5 pm (all the days of the week)
Address: Near Light House Road, Vizhinjam Harbour Road, Kovalam, Kerala 695521
Suggested Read: 5 Amazing Zoos In Kerala To Witness The Captivating Wildlife In God's Own Country!
9. Karikkakom Devi Temple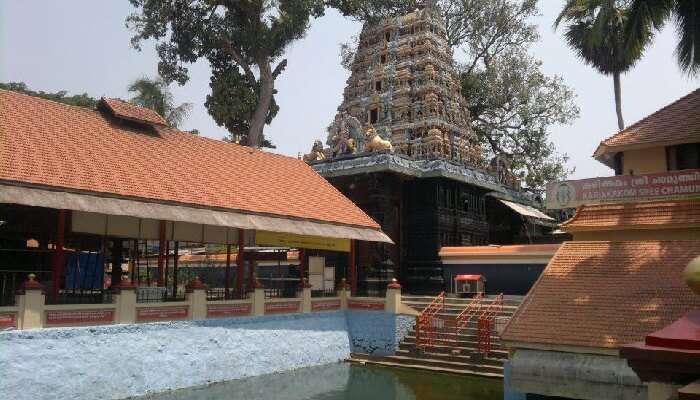 This is an ancient temple and is an incredible piece of architecture. The temple was built over 600 years ago. The surroundings to this temple are quiet tranquil and serene. The temple is very clean and is extremely well maintained.
The temple is dedicated to goddess Karikkakom which is believed to be a reincarnation of goddess Chamunda Devi. Situated near the national highway bypass the whole temple and its surroundings are quite enchanting. There is a large parking space in the temple compound.
Timings : 5 am – 12 pm, 4:30 pm – 8 pm
Address: Karikkakom, Karikkakom, Thiruvananthapuram, Kerala 695007
Suggested Read: Munnar In December: A Pocket Guide For A Tour Down This Charming Kerala Town
10. Veli Tourist Village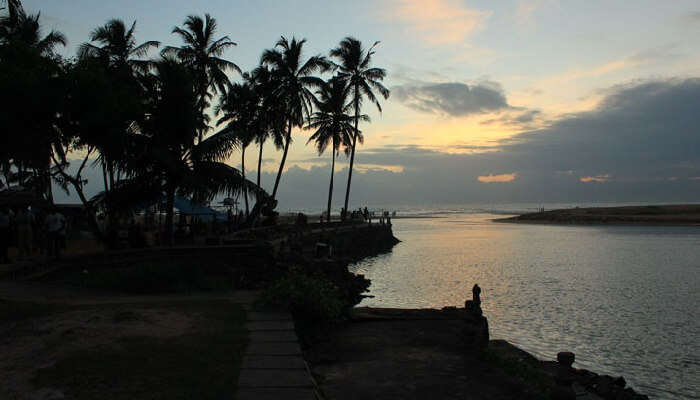 One of the best places to visit in Trivandrum, Veli Tourist Village is an incredible picnic spot situated near the lake in an ethereal surroundings. The place consists of a gripping garden which is full of colourful flowers and is extremely well maintained.
There are few tools and play area for kids. One can also take a boat ride in the lake. One can also take a captivating horse ride in the village area and play games here. There is an entry fee of only INR 20/- per individual. A wonderful serene place to spend some good time relaxing amidst the natural green beautiful surroundings.
Timings : 9 am – 6 pm
Address: Veli – Perumathura Rd, Madhavapuram Colony, Veli, Thiruvananthapuram, Kerala 695021
Suggested Read: 27 Best Places To Visit In August In India To Welcome Monsoons In 2020
11. Aazhimala Siva Temple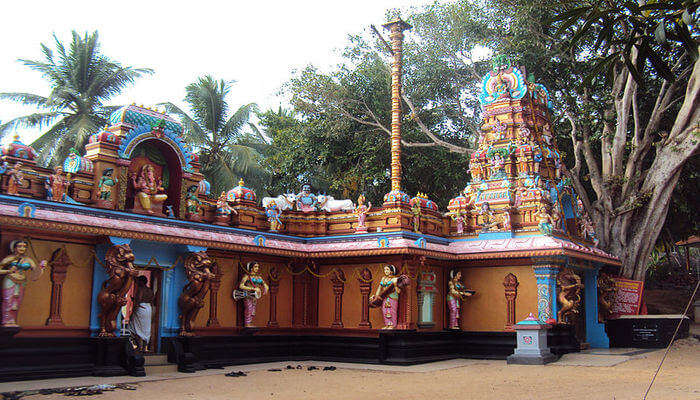 This is an incredibly colourful temple dedicated to Lord Shiva. The temple is popular for its intricate and awe inspiring architectural design. The surroundings to the temple are quite beautiful.
There is a sea shore with a lot of rock formations near the temple. The temple is home to a beautiful and a huge Lord Shiva sculpture. This is one of the best Shiva temples in Trivandrum. Situated on the cliff the views from here are extraneous. Sun rise and sun set view from here are incredibly awe inspiring.
Timings : 5:30 – 9:30 am, 4:30pm – 8 pm
Address: Poovar to vizhinjam road before Pulinkudi jn then, Azhimala Temple Road, Kerala 695501
Suggested Read: 5 Scintillating Islands Near Trivandrum That One Must See Before Dying!
12. Neyyar Dam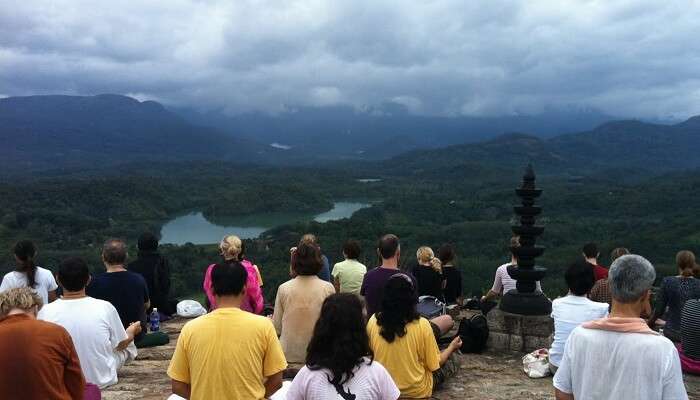 Truly a heaven's abode in Kerala, this dam is an ideal tourist spot to spend a relaxing day out in the sun and surrounded by nature's best wonders. Soak in the good vibes and revive all your senses amidst beautiful surroundings. The dam is home to several unique species of flora and fauna, you can spot wild animals and a range of medicinal herbs to evoke a sense of good spirit. Make sure you visit this dam for a perfect day outing and enjoy your time away.
Timings: 9 am – 5 pm
Address: Kallikkad, Kerala 695572
Suggested Read: 10 Places Near Trivandrum Every Traveler Should Add To Their Itinerary
13. Poovar Island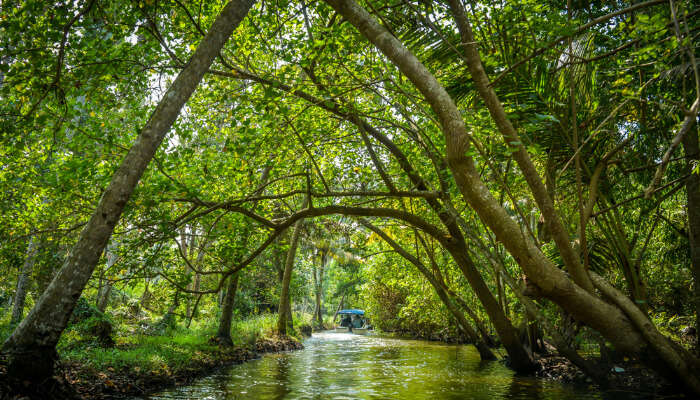 Encapsulated by the serene backwaters of Kerala, the Poovar Island is a famous island resort that is a tropical paradise in the South. Imagine swaying coconut palm trees, pristine beaches with golden sand, the surreal blue waters and sublime views of the sunset amidst the sound of waves crashing on the stunning shoreline. If you're looking for a quaint getaway whilst floating cottages built on stilts, amongst the best cottages in Trivandrum this is the perfect choice for you.
Timings: Open 24 hours
Address: K.P. VII/911, Pozhiyoor, Kerala 695513
Suggested Read: 10 Hill Stations Near Trivandrum That Will Excite You To No Limits
14. Agasthyakoodam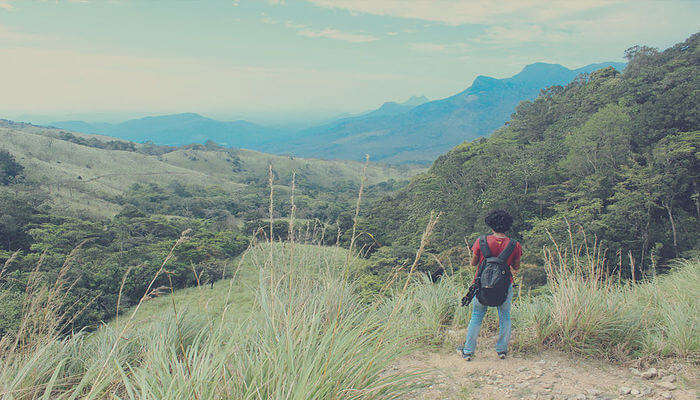 The trekker's destination, Agasthyakoodam is known to be one of the toughest trekking trails in India that is home to more than 2000 species including lichens, orchids, and ferns. It is one of the highest peaks in Kerala that is also a bird watcher's paradise. Explore the exotic wildlife, and the temple dedicated Agasthya that is a popular pilgrimage site.
Timings: 7 am – 5 pm
Address: Wester Ghats, Trivandrum
Suggested Read: 12 Homestays In Trivandrum To Experience The True Traditions Of Kerala!
15. Zoological Park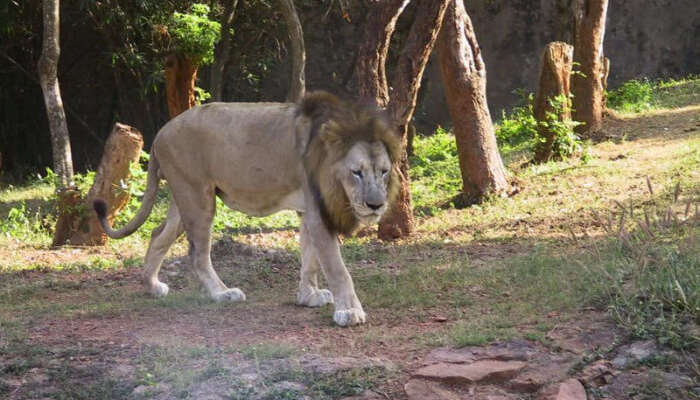 Known to be the oldest zoo in India, the Zoological park of Trivandrum is home to some exotic species of the wild that are being brought from Ethiopia and Australia. You can also experience a thrilling boat ride in the emerald waters of the lake whilst exploring the wildlife of the park. The park incorporates several wild species like tigers, deers, cheetahs, bears and lions. There are plenty of resorts near Trivandrum where you can stay without burning a hole in your pocket.
Timings: 10 am – 5 pm
Address: Kanaka Nagar, Nanthancode, Thiruvananthapuram, Kerala, 695001, India
Suggested Read: 10 Best Hotels In Trivandrum For A Serene & Peaceful Getaway In 2020
16. Chalai Bazaar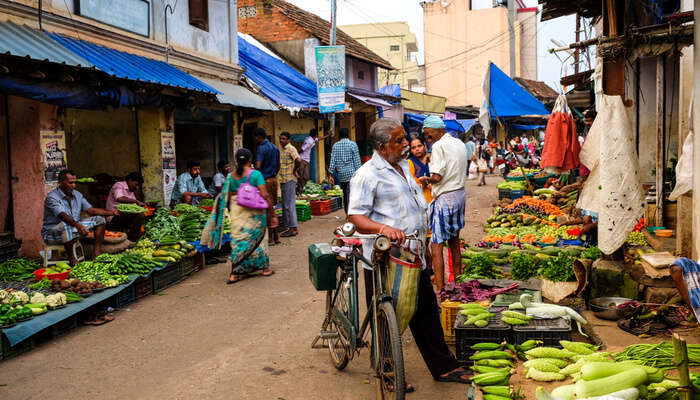 An ancient Indian market that is spread on a small stretch of 2 km that connects Killippalam and East Fort. The market is famous for exotic fruits and vegetables, gold and silver jewellery, electronics and furniture. Chalai's bazaar is known to be the busiest markets of Kerala that comes with a stunning variety of items in the vibrant shops. A prime destination for shopping, you can go splurge on and explore the winding alleys of this intriguing bazaar in Trivandrum.
Timings: 9 am – 8 pm
Address: East Fort Area, Trivandrum, Kerala, 695501, India
Suggested Read: 12 Beaches Near Trivandrum That Will Make Anyone Say Beach Please In 2020
17. Magic Planet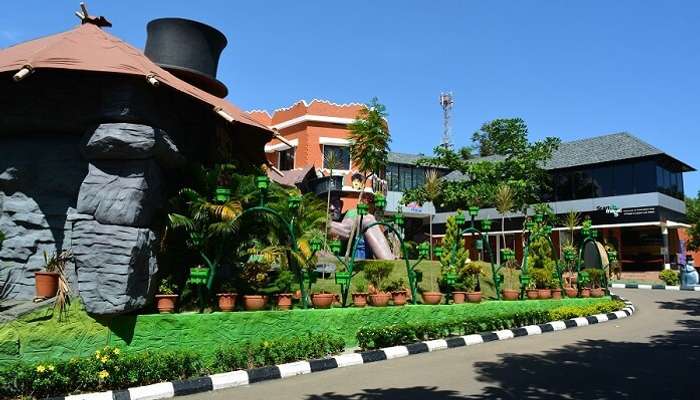 A museum with a very unique concept, it's centred around magic and an absolute for kids in Trivandrum. It claims to be the world's first magic themed park that is emerging as a prime tourist spot in Kerala. The museum is a fascinating display of many segments of street magic, performances and tricks such as The Indian Mango Mystery and The Indian Basket Trick. Tracing back the origin of magicians and the take of magic, the Magic Planet will surely cast a magic spell on you.
Timings: 10 am – 5 pm
Address: Magic Planet Kinfra film and Video Park Sainik School, PO, Thiruvananthapuram, Kerala 695585
Suggested Read: 19 Enchanting Places To Visit Near Kochi In 2020 To Cover Every Nook Of God's Own Country!
18. CSI Christ Church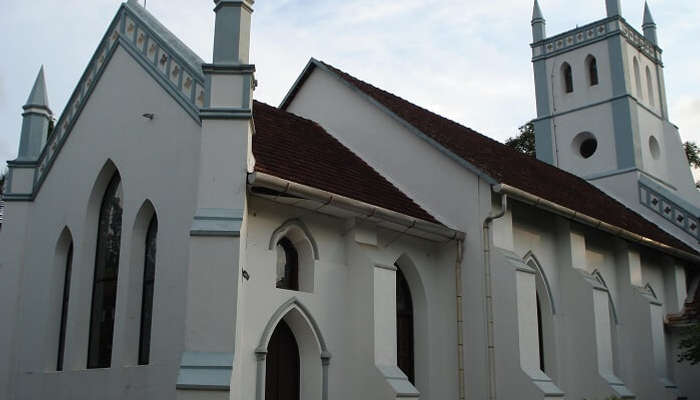 One of the oldest churches you'll find in Trivandrum, it was constructed back in 1859 surrounded by a serene atmosphere, it is centrally located in the Palayam area. Marvel at the elegant architecture of the church, built in Gothic style with intricate glass windows depicting the Good Shepherd. The interiors of the church are equally good and maintained.
Timings: 6 am – 6 pm
Address: Mahatma Gandhi Rd, opp. Legislative Assembly, University of Kerala Senate House Campus, Palayam, Thiruvananthapuram, Kerala 695033
Suggested Read: 19 Amazing Places To Visit Near Kollam In 2020 That Offer The Perfect Getaway
19. Mall Of Travancore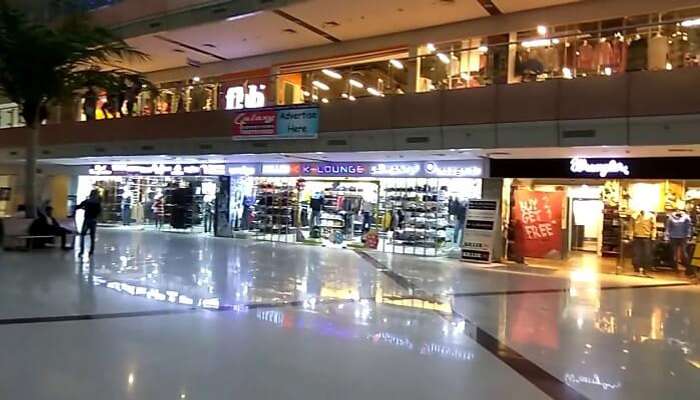 For the best shopping in Trivandrum, this mall is an ultimate one-stop-shop for all the necessities, luxury items, fun activities shopping spree and everything else under one roof. You can also come to the mall for an early morning jog and walking with a 1.5 km track around the mall. The mall features over 300 brands in over 150 stores, it built across 7 acres of land and located right next to the international airport.
Timings: 10 am – 11 pm
Address: Kazhakuttom – Kovalam Bypass Rd, near International Airport, Chacka, Thiruvananthapuram, Kerala 695024
Suggested Read: 9 Temples In Wayanad To Experience Divine & Tranquility!
20. Kuthiramalika Palace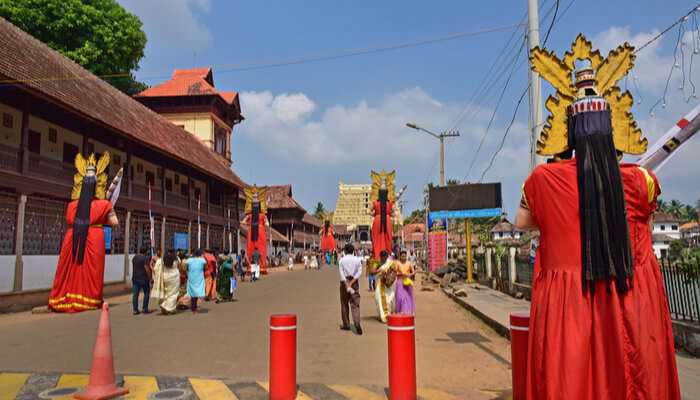 Known as the palace of horses, this palace houses 122 smiling wooden horses that was built by Swathi Thirunal Balarama Varma, the Maharaja of the Kingdom of Travancore in British India. It dates back to the 17th century, built in 1840s, it stands as a great symbol of the Kerala school of architecture made from teakwood, rosewood, marble and granite. The museum features sculptures and idols made from white marble.
Timings: 8:30 am – 1:00 pm; 3:00 pm – 5:30 pm
Address: Bhajanpura Palace Road, Trivandrum, Kerala
Suggested Read: Planning A Cruise To Maldives In 2020 And Don't Know Where To Start? Look No Further!
21. Puthenthope Beach
A pristine beach that lies in Thiruvananthapuram, district of Kerala, it is a popular beach spot for tourists and locals alike. You can witness a marvellous sunset or sunrise on this beach. Enjoy a morning walk or a leisurely stroll in the evening with your loved ones. It is less crowded compared to other beaches and ideal for people looking for some peace and solitude. Find the best guest houses in Trivandrum and enjoy a tranquil stay in this paradise.
Timings: Open all day
Address: Puthenthope Beach, Trivandrum, Kerala
Further Read: Kerala Cuisine: What Makes The State The King Of Culinary Art
The incredible city of Trivandrum is full of natural beauty, including the enticing beaches, intriguing lakes, mountains, and lush greenery. The above-listed places to visit in Trivandrum will simply make your travel experience memorable. Home to some incredible temples and scintillating architectural marvels, Trivandrum is a city you should definitely explore during your Kerala vacation.
Frequently Asked Questions About Places To Visit In Trivandrum
Q. Is Trivandrum and Thiruvananthapuram?
A. Thiruvananthapuram is the official name of the city. Popularly the city is also known as Trivandrum.
Q. What is Thiruvananthapuram famous for?
A. Thiruvananthapuram or Trivandrum is the capital city of Kerala. The city is famous for its incredible architectural buildings and structures which are distinguished by traditional Travancore inspired designs and British architecture. City is also popular for its enchanting temples.
Q. How far is Trivandrum from Coimbatore?
A. Coimbatore is approximately 385 km far from Trivandrum. One can take a bus or train ride to reach Trivandrum from Coimbatore.
Q. How far is the nearest airport to Trivandrum?
A. Trivandrum has its own international airport – Trivandrum International Airport situated on the outskirts of the city. It also happens to be the first airport of Kerala and one of the oldest airports in the whole country.
Q. What is the best time of the year to visit Thiruvananthapuram?
A. The temperature in the city does not vary too much throughout the year and stays in a range of 35 degrees Celsius to 20 degrees celsius. Winters is the best season to visit the city as the weather is quite pleasing. October – February is the best time to visit here. The city also gets very beautiful during the monsoon period and one can visit it during this period as well.
Comments
comments