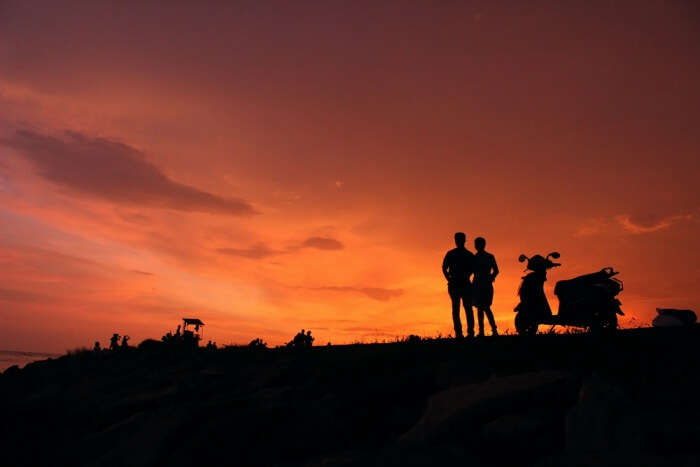 The dreamy beaches, calm backwaters, lush greenery, misty hills, honeymoon in Kovalam. Although Kovalam is generally covered in your complete Kerala honeymoon package, nature and beach lovers prefer spending more days amidst the peace and astonishing beauty of this beach town.
A place of endless natural and manmade wonders, Kovalam has a perfect mix of everything, from lakes and beaches to luxury honeymoon resorts. When on your honeymoon in Kovalam, relish every moment and every bit of the sun, the salty winds, the blue waters, the authentic cuisine, and luxurious stays. And to plan it all flawlessly, keep this nifty guide with you!
The Climate Of Kovalam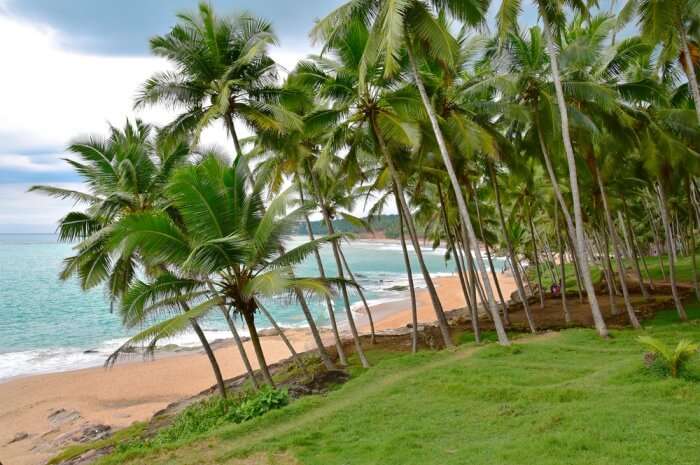 A small coastal town in the Arabian Sea, Kovalam in Thiruvanathapuram is an important tourist stop. The weather remains pleasant throughout the year, with extreme Kovalam temperature (as high as 36) seen in the summer months. During monsoon, the town becomes absolutely pretty.
Summer: The months of summer in Kovalam are March, April, and May. The summer season is hot and sultry with the temperature rising between 20°C to 36°C. This is not the best season to explore this wonderful town.
Monsoon: Kovalam enjoys its monsoon season from June to August followed by thunderstorms and heavy rains. This is the best time for Ayurvedic treatments.
Winter: Now comes the season which turns the whole town into a realm of romance, thus making it absolutely suitable for honeymoon couples. Winter is the best time to visit Kovalam with the temperature between 16°C to 34°C.
Romantic Places To Visit On Honeymoon In Kovalam
Check out the best romantic places to be explored in Kovalam with your significant other:
1. Lighthouse Beach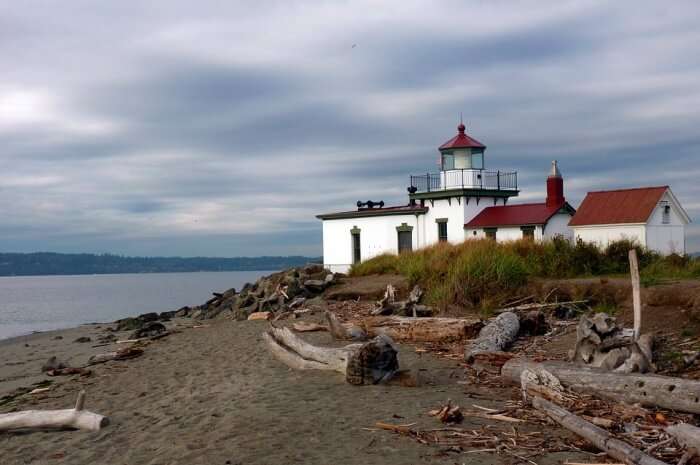 As soon as you see a lighthouse painted with white and red colors standing by waters, the first thing that crosses your mind is Kovalam. The lighthouse has become the identity of this beach town and is one of the most romantic Kovalam attractions. The blue water, waves crashing on the rocks, warm sun, and swaying palm fringes make this place perfect for your romantic walks.
If you enjoy watersports, you can go for sunbathing, surfing, swimming, and beach volleyball. Beachside spas and Ayurvedic massages, one of the most relaxing experiences of your honeymoon in Kovalam, are also popular on Lighthouse Beach.
Location: Light House Beach Rd, Kerala
Must Read: Kovalam Beach Resorts: 8 Most Romantic Sojourns For A Blissful Vacation
2. Kovalam Beach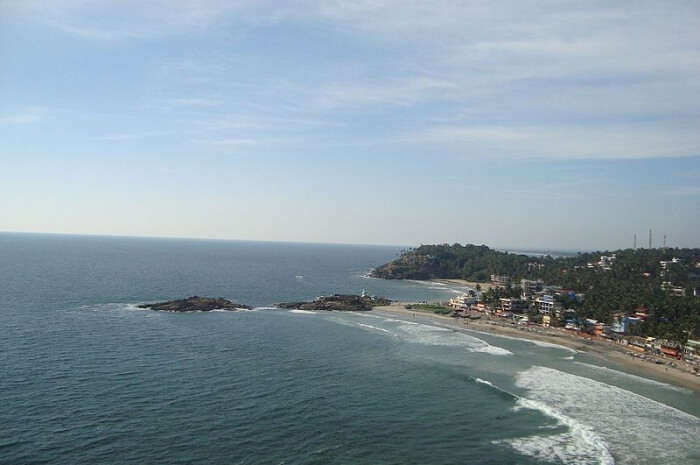 Known as the 'Paradise of South India', Kovalam beach is one of the best beaches in India. You can enjoy the mesmerizing views of the sunset while listening to the soothing music of the dancing waves. If you visit the beach early morning, you can see local fishermen gathering on the beach for their fishing expedition, which is a wonderful sight. Home to Kovalam Beach Resort, this destination speaks of comfort and luxury simultaneously, making the whole experience more romantic.
Other than water sports, you can also explore the different sacks serving delicious sea-food.
Note: Nearby beaches, Samudra Beach and Hawah Beach are also lovely. Do cover them on your Kovalam honeymoon.
Location: Thiruvananthapuram district
Suggested Read: 21 Captivating Places To Visit In Kovalam To Explore the Southern Heaven In 2022

3. Vellayani Lake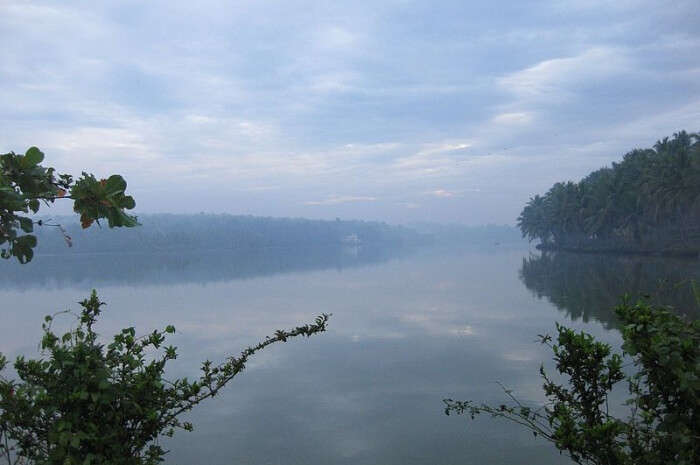 Vellayani is the largest freshwater lake in Thiruvananthapuram and a popular picnic spot. You can find abundant flora and fauna by exploring the lake by a boat ride or a walk along the avenue. The loveliest thing is to feel the cool and fresh air of Western Ghats on your face while sailing through the clean water of Vellayani. Vellayani is one of the most romantic places to see in Kovalam,without any shadows of a doubt. 
Location: Thiruvananthapuram district, Kerala
Suggested Read: 10 Beaches In Kerala You Should Visit For A Romantic Vacation
4. Chowara Village & Beach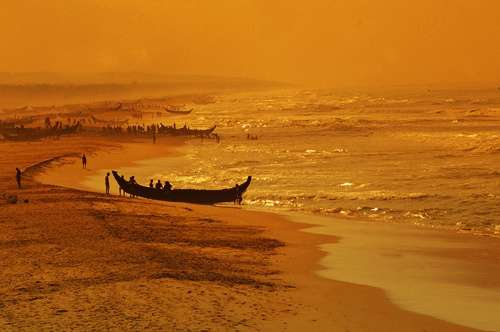 Chowara village and beach is located about 10 km away from Kovalam. Home to ancient churches that fascinate tourists, the village is a picturesque spot and a must-visit place for honeymooners being one of the romantic Kovalam attractions. Also, do take a romantic stroll on the hypnotizing Chowara Beach, which is close to the Chowara Ayyappa Temple located on top of a small hill.
Location: Chowara Village
Suggested Read: 15 Amazing Things To Do In Trivandrum For A Thrilling Vacation In 2022!

5. The Tides By Leela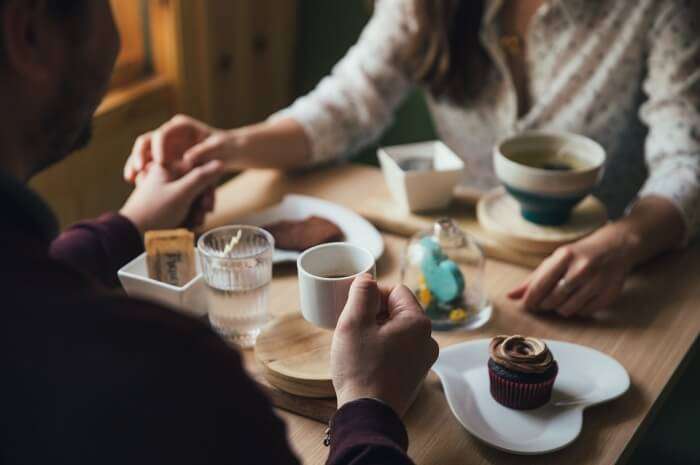 One of the most romantic places to see in Kovalam where you can take your better-half is The Tides by The Leela Palace Kovalam. Dine by the infinity pool merging into the blue waters of the Arabian Sea. Enjoy a wide variety of Asian, Indian, and European cuisines, and undoubtedly the authentic Kerala cuisine. Also, there are live music bands singing the most melodious songs to make your evening perfect.
Location: Kovalam
Must try at the Tides: Chicken Biryani, Tandoor Prawns, and Meen Pollichathe (fish marinated in spices and cooked wrapped in a banana leaf)
Location: The Leela Palace, Kovalam Beach Road, Thiruvananthapuram, Kerala 695527
Suggested Read: 37 Amazing Things To Do In Kerala For An Incredible Holiday
6. Villa Maya Restaurant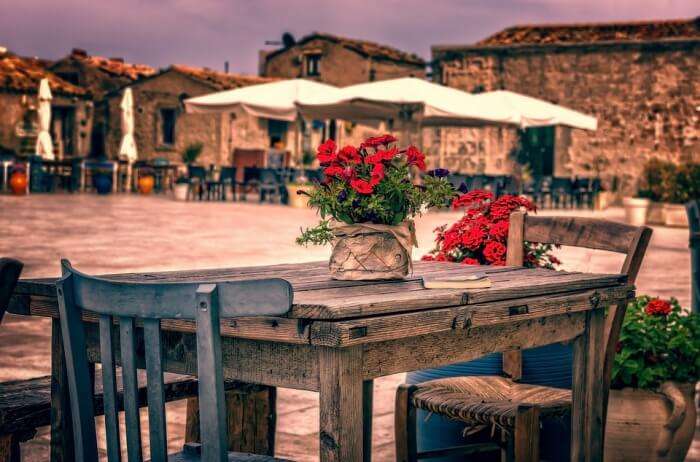 Experience a different dining experience with your sweetheart in this beautifully restored 18th century Dutch manor, which was one the royal house of Travancore. The restaurant's timeless elegance, contemporary design, and fine cuisine make this place popular not only in Kerala but all over India.
Must try at Villa Maya Restaurant: Stuffed crab with lobster butter, pizzas, and calzones
Location: Muthoot Sky Chef, No-120 Palayam Airport Road Near, Vallakkadavu, Thiruvananthapuram, Kerala 695008
Suggested Read: Kovalam In December 2022: Explore This Touristy Seaside Town In Kerala

Things To Do In Kovalam With Your Partner
From adventurous water sports activities to sailing down the peaceful Karaman River along with its mouth-watering delicious local food, Kovalam has numerous things to be explored while holidaying on a romantic excursion. Check out the best things to do in Kovalam with your partner:
1. Water Sports Activities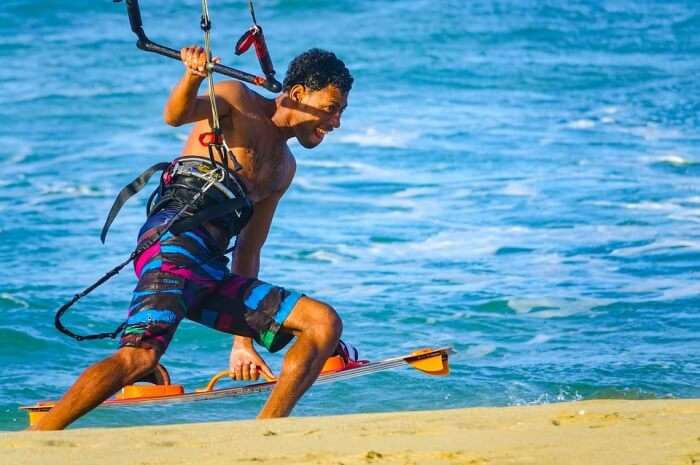 If your are the adventurous types, then must all the adventurous and adrenaline-pumping sports with your partner. Parasailing, windsurfing, waterskiing, and boat sailing are the famous adventure water sports for those who love some thrill with romance. You don't have to worry about the safety, the crew takes care of that, all you have to do is live the moment.
Location: Bond Safari Scuba Diving, and Samudra Beach Park
2. Scrumptious German Bakery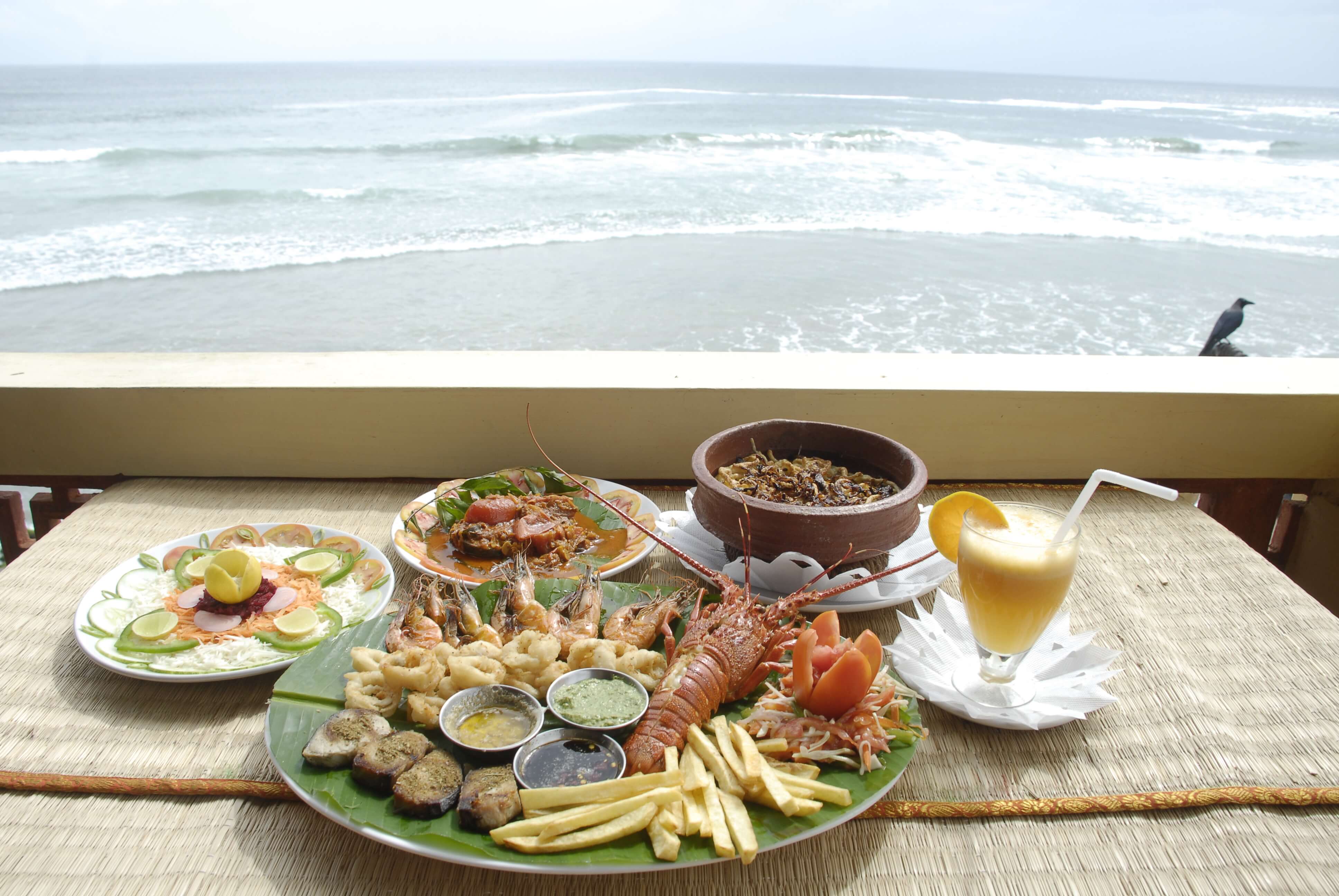 Exploring the German Bakery is amongst the most interesting things to do in Kovalam with your partner. Located on the Lighthouse Beach, German Bakery is known for its unbelievably delicious breakfast serving fresh bread, pastries, and croissants, pizzas, while the dinner has Thai curries, seafood, sausages etc. There's also a small bookshop attached for the bookworms.
Must try at German Bakery: Pancakes, Malabar fruit flambe, prawns, and shakes
Suggested Read: Kerala In November 2022: Places And Events Not To Be Missed Out

3. Sailing In Karamana River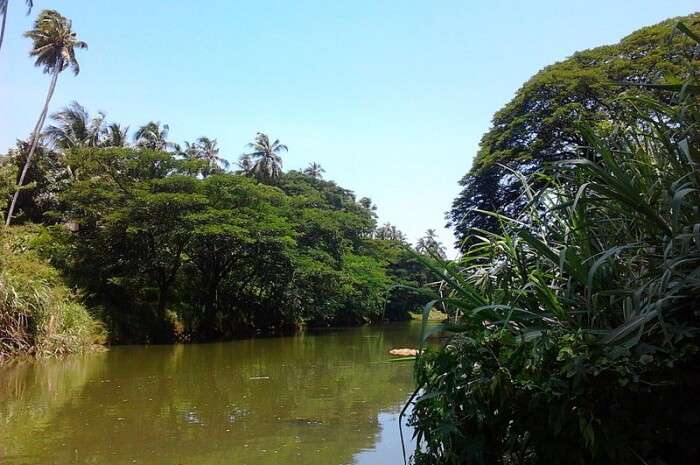 For the hopeless romantics, a serene and romantic boat ride along the waters of Karamana River is going to a beautiful experience. The river's flora consist of mangroves, wild cane, water lilies, bamboo, and coconut trees. You can also spot some rare species of pine along the river bank. You can also see colourful and pretty fishes, including Karimeen, Paruminali, Cherumeen, and Kariyida.
Location: Karamana River
Suggested Read: The Ultimate Kerala Honeymoon Bucket List
4. Panoramic Skies Of Kovalam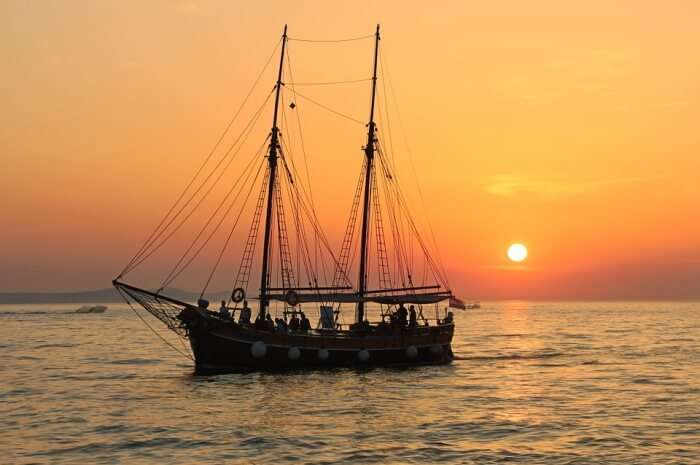 If you are a sucker for sunsets, then a Sunset Cruise ride is a must-do for you. It's amongst the most romantic things to do in Kovalam with your sweetheart. You will be sailing on the boat seeing the crimson skies, fishes dancing in the waters of Arabian Sea, and listening to the sound of waves crashing against your boat.
---
Planning your honeymoon in Kerala but confused about what to do? These Kerala honeymoon stories help you find your best honeymoon trip ever!
Real honeymooners. Real stays. Real opinions to help you make the right choice.
---
Top 5 Stays In Kovalam For Honeymoon Couples
This serene place in Kerala houses numerous romantic resorts and hotels luring couples from across Asia. Check out the best romantic accommodations for honeymoon couples in Kovalam assuring the most comfortable and luxuriating stay along with some unique experiences and gratifying staff.
1. Niraamaya Retreats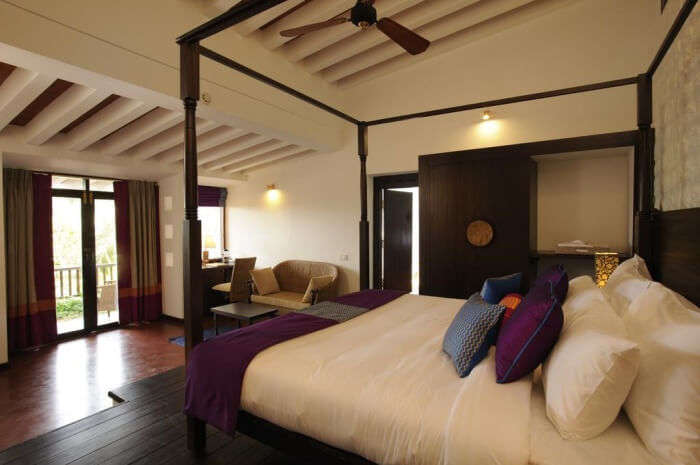 Amongst the best honeymoon places in Kovalam, Niraamaya Retreats is known for its absolutely enchanting location and peace. The expansive beach and sea views right from your balcony or hotel room will instantly make you fall in love with the place when on a honeymoon in Kovalam. The serene location of Niraamaya Retreat is quite exclusive and enhances the mystic beauty of the surroundings. One must surely plan a stay here on a romantic escape.
Suggested Read: 15 Things To Do In Kovalam That Offer The Best Of Backwaters, Beaches, & Ayurveda
2. The Leela Kovalam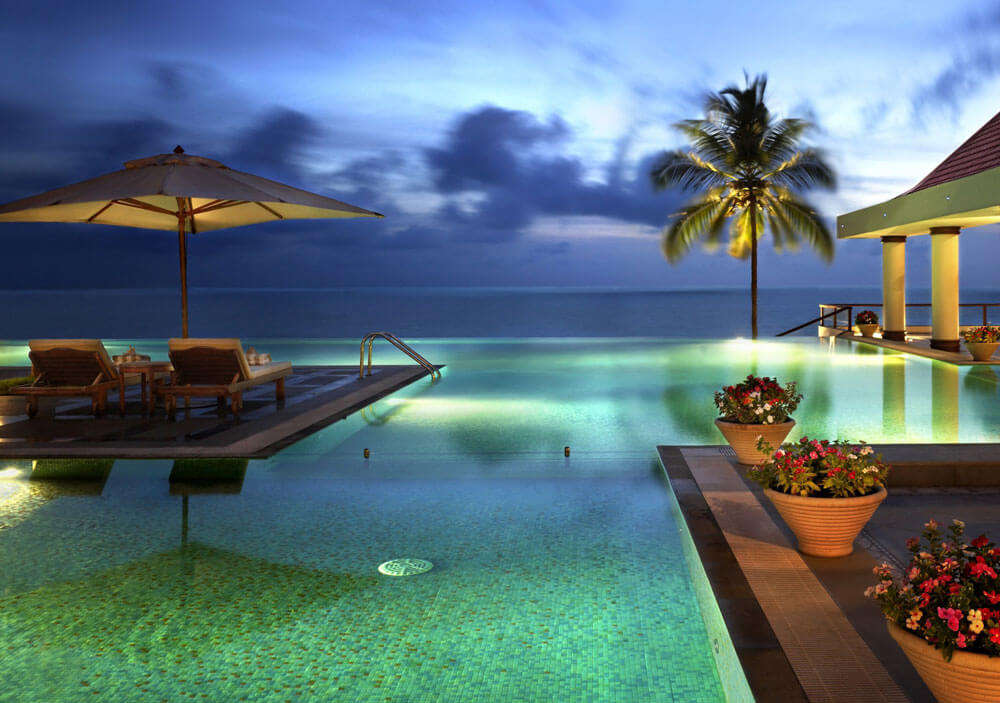 The Leela Raviz Kovalam beach resort is not only popular in Kerala, but all over India for its luxurious stay and mesmerizing views of the sea. Right from your room, you can hear the sound of the sea and howling winds. This is one of the most luxurious and wonderfully designed hotels in Kovalam Beach and lures love partners. Staying in this beautiful property while honeymooning in Kovalam will surely assure you some unforgettable moments.
3. Manaltheeram Ayurveda Beach Village
Manaltheeram Ayurveda Beach Village is one of the best places to get a therapeutic ayurvedic massage. When on a honeymoon in Kovalam, you and your partner will love the green jungle in the background and a blue sea in the front. You can also avail the amazing ayurvedic treatment facility along with exclusive couple spas. This is the best beach to stay in Kovalam for the newlywed couple.
Suggested Read: 10 Finest Resorts In Kovalam For A Revitalizing Vacation
4. Abad Harmonia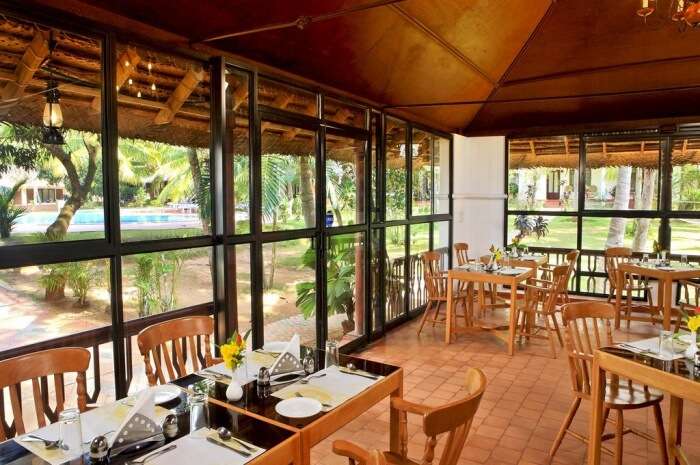 Situated about 6 km from Vizhinjam—Abad Harmonia Ayurveda Beach Resort offers tastefully designed rooms and cottages. Abad is amongst the most peaceful beach resorts in Kovalam for honeymoon couples. You can witness gorgeous sunsets right from your window. The mornings of Abad Harmonia are one of its kind, making it one among the best places to stay in Kovalam.
Suggested Read: Kerala In March: 8 Places Which Are Perfect For Your Trip To South India

5. Maharaju Palace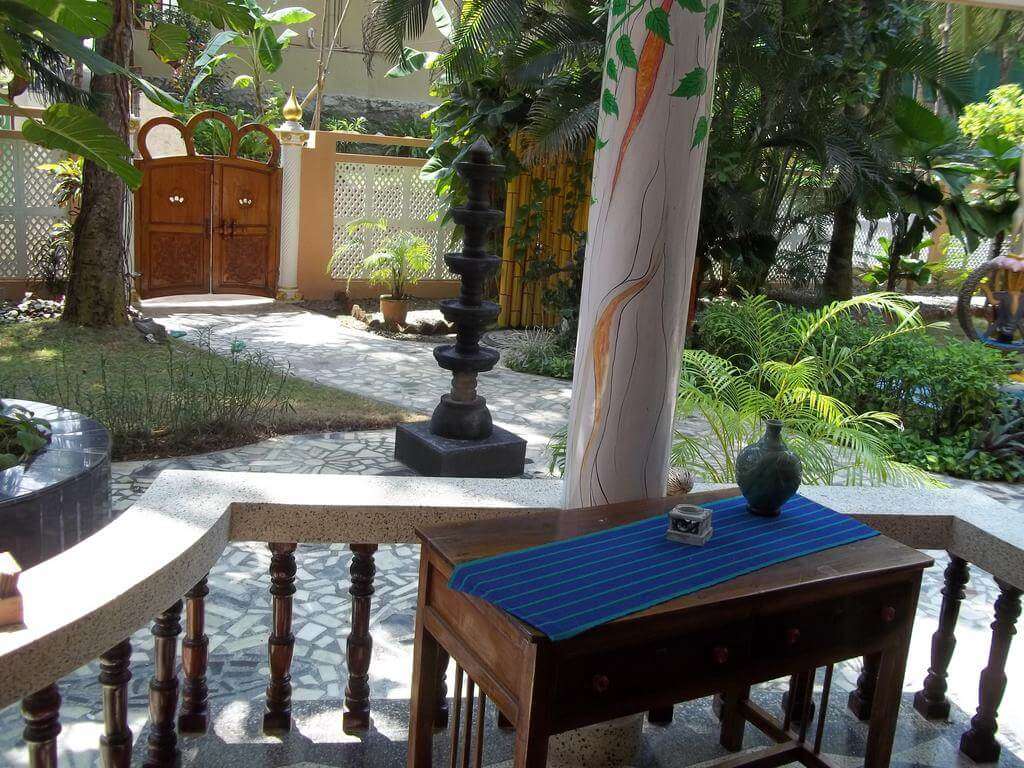 Maharaju Palace was built by a Dutch guy in 1999. As soon as you enter the hotel premises, you will be welcomed by a huge, tropical garden. The garden is the USP of the hotel with a picture-perfect pond, colorful fishes, varieties of flowers, and lovebirds in it. This beautiful property in Kovalam is a perfect place for the selfie-lovers as the enticing garden gives you enough opportunity to get clicked with your life partner.
Further Read: 38 Romantic Honeymoon Places In South India
Soak yourself in the dancing waves of the sea and feel the free-flowing air of the beach rub against your cheeks. We hope the points above are reason enough to make you celebrate your honeymoon in Kovalam. Couples who want to explore Kerala beyond Kovalam can book a complete romantic holiday to Kerala.
For our editorial codes of conduct and copyright disclaimer, please click here.
Frequently Asked Questions About Honeymoon In Kovalam
Why is Kovalam famous?
One of the most pristine places in India, Kovalam is truly blessed by mother nature. This destination is famous for its beaches, clear shallow waters, and low tidal waves. In addition, Kovalam is also known for its casual fishing activities that attract tourists to this destination.
Is Kovalam beach safe?
Kovalam is beach is one of the most popular destinations to visit among tourists. This beach has been tagged as the most beautiful and one of the cleanest beaches. Yes, the beach is safe and easily accessible by tourists.
What is there to do in Kovalam on a honeymoon?
Here are a few of the things to do in Kovalam on a romantic honeymoon:
1. Spend a romantic night floating in a houseboat
2. Surfing the tide
3. Glide through the blue sky on a parasailing ride
4. Get an adrenaline rush while Jet skiing
5. Enjoy a relaxing Ayurvedic massage
Which are the most beautiful beaches to explore in Kovalam?
Kovalam is studded with three pristine beaches that are separated by rocky cliffs and adds to the charm of this beautiful coastal town. The three beaches are:
1. Lighthouse Beach
2. Hawah Beach
3. Samudra Beach
How many days are enough for Kovalam?
Ideally, 2 days and 1 night are good to easily explore Kovalam as it is a small town. But one can plan to stay longer if they enjoy surfing.
How many beaches are there in Kovalam?
There are at least a total number of ten popular beaches that are situated in Kovalam.
How do I get to Kovalam beach?
Reaching Kovalam beach is not much of a hassle. It is easy to travel to Kovalam beach once the traveler is in the city. The nearest railway station is the Trivandrum Railway Station which is located around 10 kilometers from the beach. One can take a private cab or public buses to reach the beach by road.
How do I get to Kovalam?
The nearest airport to Kovalam is the Trivandrum International Airport which is connected to all the major parts of the country as well as the world while the nearest railway station is also located in Trivandrum. One can hire a taxi or take the local buses in order to cover the distance between the airport or railway station and the city.
---
People Also Read