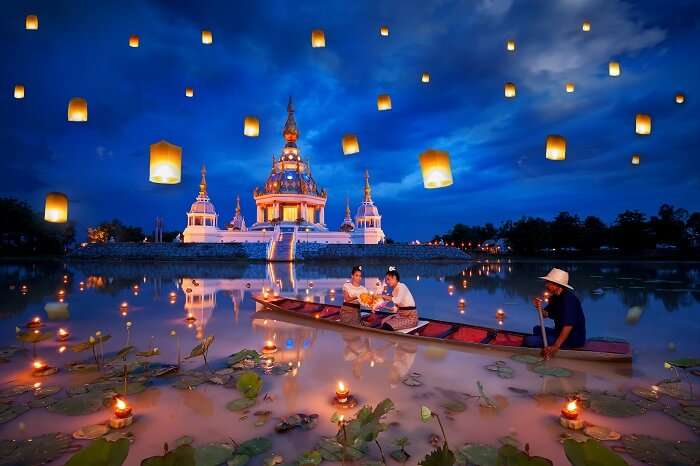 Thailand never fails to amaze its thousands of visitors with the most vibrant festivals that are sure to delight them by offering glimpses into the heritage and traditions of the country. From kids to adults and old-aged people, locals have the time of their lives during these festivities. Considered to be one of the best ways to relish a memorable time in what is already known as an incredible country, these festivals in Thailand are the most popular ones to be a part of.
12 Best Festivals In Thailand
Thailand is one of the most popular tourist destination and the reason is not just its scenic beauty, beaches, water-sports, food and temples. There are several festivals celebrated in Thailand that you must attend if you are a culture-traveller. Take a look at some of the best festivals in Thailand that you can be a part of on your next trip to this beach paradise.
1. Phi Ta Khon (Ghost Festival)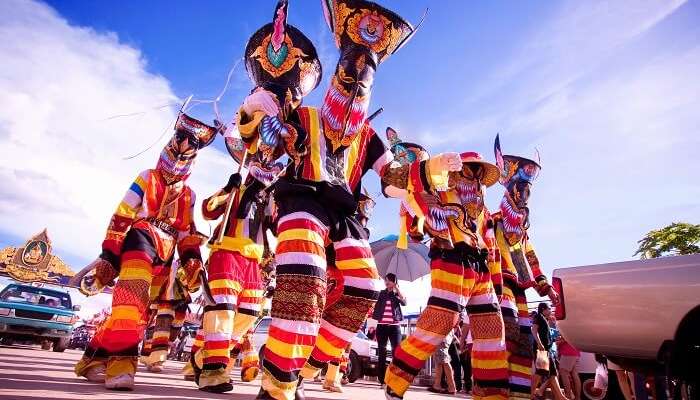 Also known as the Ghost Festival, this is one of the most interesting Thailand traditional festivals. Phi Ta Khon is a festival that combines religious traditions, a fun-loving party atmosphere, and local handicrafts. It is celebrated for three days with thousands of locals wearing colorful, ghastly masks with stretched faces and phallic noses, painted in bright, and gaudy colors. The Ghost Festival's origin is a mixture of Buddhist and animist beliefs. Friday is usually when the main parade takes place, Saturday has music shows and pageants while Sunday is reserved for Buddhist ceremonies. Consider attending this one if you want to experience the vibe of religious festivals in Thailand.
Location: Dan Sai Town
How To Reach: The easiest way to get there is from Chiang Mai (a 5-hour bus journey) or Udon Thani (a 3-hour bus journey)
Held On: The weekend of the lunar calendar's 6th full moon
Tip: If you are planning to visit the town for the Ghost Festival, make sure that you book your hotel or guesthouse early
Suggested Read: Water Festival Thailand 2019: Your Personal Guide To Soak In All The Cool Thai Vibes
---
Thailand Holiday Packages On TravelTriangle
Experience thrilling adventure sports, enjoy Thai cuisines, or pamper yourself with a relaxing spa. Book Thailand holiday packages on TravelTriangle and enjoy the beauty of the beaches of Krabi, Phuket, and Ko Samui.
---
2. Songkran Festival (Water Festival)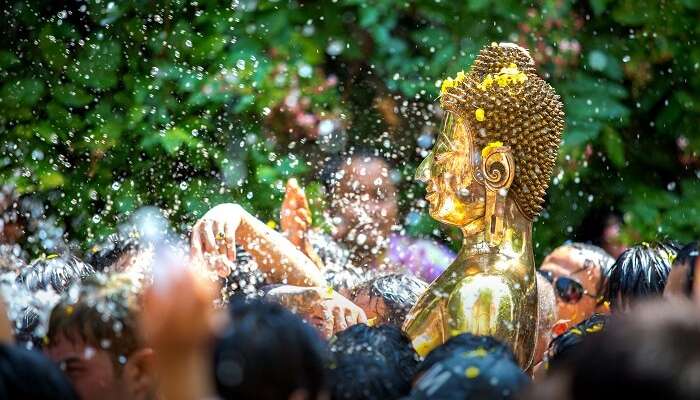 Also known as Songkran Festival, the Water Festival Thailand is perhaps one of the most fun festivals in the country, and possibly in the world! This long and large festival involves a 3-day water fight in which people participate across the country. With drinking, music, dancing, and people drenched from head to toe, people use buckets, hose pipes, water guns, and anything else that they can get their hands on to use to splash water on others. Sounds fun?
Held On: April 13th to 15th
3. Chinese New Year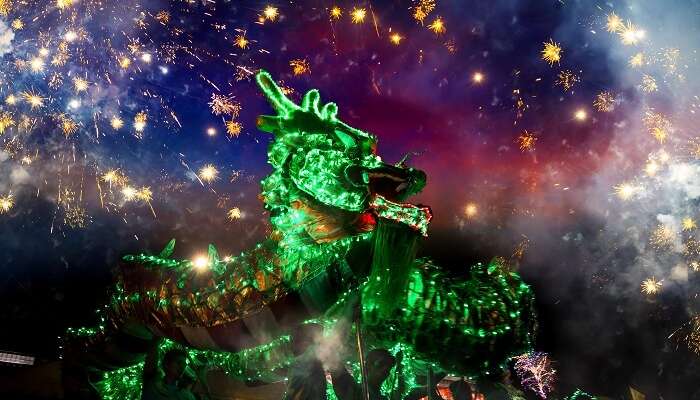 With Chinese New Year, one of the most exhilarating Thailand celebrations can be witnessed in Yaowaraj – the official Chinatown of Bangkok. This area's narrow, bustling alleys are always a fun and exciting place to explore. Every nook and cranny of the street as well as surrounding alleys, comes to life with dragon and lion dancers, exploding firecrackers, iconic red Chinese lanterns, crowds of worshippers as well as locals who gather to participate in the fanfare and enjoy mouth-watering Chinese banquets. So if at all you happen to be in Bangkok around the Chinese New Year, head straight to the northern edge of Chinatown, i.e., Wat Mangkon Kamalawat on Charoen Krung Street.
Held On: Usually in January or February every year
Suggested Read: 15 Holiday Homes In Thailand You'll Never Want To Leave
4. Lopburi Monkey Banquet (Food Festival)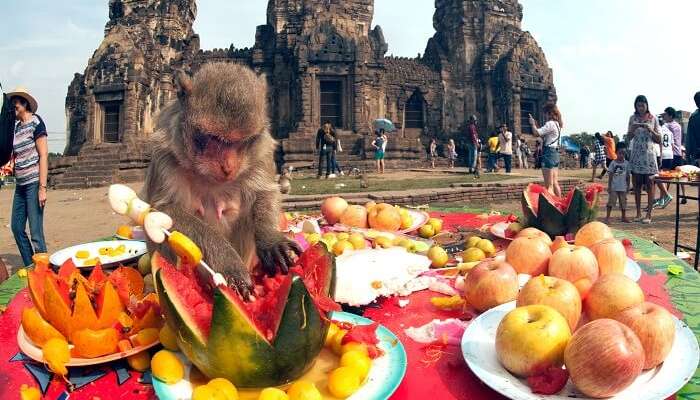 This is a Thailand food festival with a difference. Located at a distance of 150 kms in the north of Bangkok, this festival takes place in Lopburi. It is famous for the many monkeys that reside there, and one of the most popular activities for tourists when they visit Lopburi is feeding the simians. However, come November and the simple treats that they get from visitors are replaced by something a lot more grand. A huge banquet is laid out for about 3,000 monkeys that live in this part of Thailand, giving them a day to feast on 4 tons of fruits, vegetables and an array of other treats. This is one of the most interesting Thailand festivals.
Held In: November
5. Yi Peng (The Lantern Festival)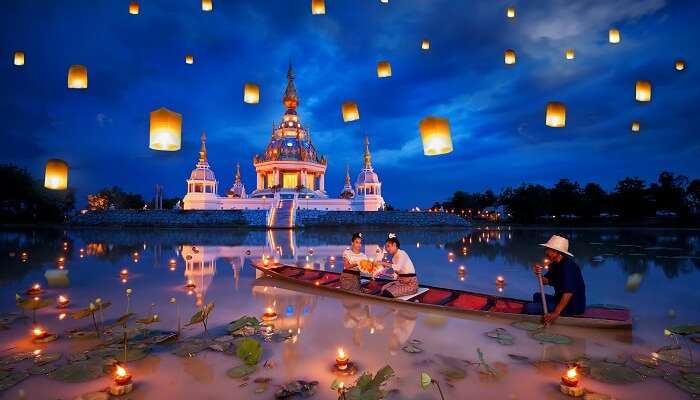 If you want to see even more spectacular Thailand festivals and celebrations, you should plan your trip around the festival of Yi Peng or the Lantern Festival. Like in countries like China and Vietnam, Chiang Mai's Lantern Festival is one of the most amazing sights you will ever see. People gather down by the banks of the Peng River and release thousands of paper lanterns into the sky and watch them float away in the gentle evening breeze. Although it is a more of a tradition than a festival, it is definitely a fantastic photo op for capturing some beautiful memories. You can also witness religious ceremonies, firework displays, parades, and the releasing of paper boats in the river. Be a part of the Lantern Festival Thailand 2019 if you want to know the culture of this country better.
Held On: The full moon of the 12th Lunar Month, i.e., November
Suggested Read: 10 Best Places For Shopping In Phuket That Prove Thailand Is The Ultimate Paradise!
6. Boon Bang Fai (Rocket Festival)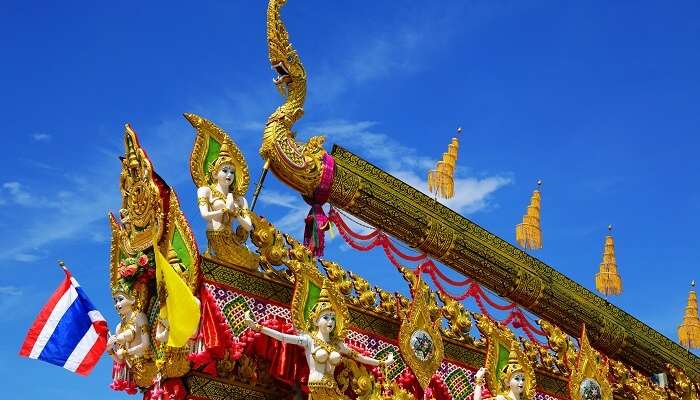 Also known as the Rocket Festival, this is a famous festival in Thailand that is significant to the farming communities of Issan, which is located in the north-eastern part of the country. Entire villages attend the festival because they are considered the last big 'knees up' before the start of the planting season. The rockets are shot up to encourage the Gods to send down plenty of rainfall. Elaborate rockets are built and paraded around on the first day of Boon Bang Fai, and then launched high into the air throughout the weekend. One of the best festivals in Thailand 2019, every Rocket Festival is accompanied by live folk music, beauty pageants, drinking of local rice wine, and a party full of fun and frolic.
Held In: June or July
7. Wing Kwai (Buffalo Racing Festival)
One of the best festivals in Thailand 2019, Wing Kwai is the festival wherein buffalo racing is held. The tradition of buffalo racing has been followed since 100 years in Thailand. The race course is 100 meters long which is located in the front of Chonburi City Hall. Apart from buffalo racing, the festivals also hosts buffalo beauty competition, buffalo decorations and more. After attending to these, you can enjoy other fete games available in the festival.
8. Surin Elephant Festival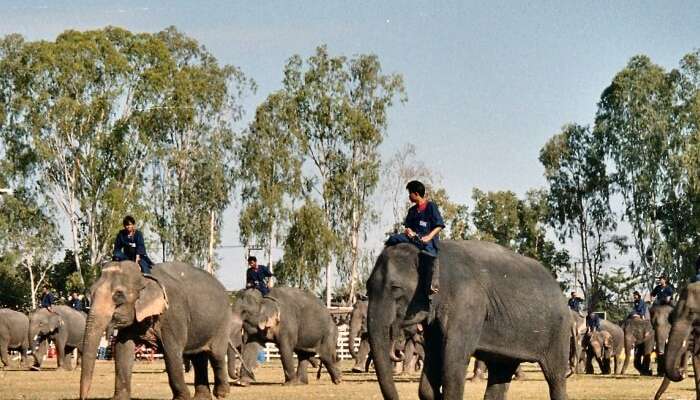 As the name suggests, this festival is celebrated for these giant animals of Thailand. Historically, elephants were considered a very pivotal part of Thailand during the battle, agricultural procedures, as well as for traveling. Moreover, the lord Ganesha too is worshipped in the country for apparently the same reason. Celebrated in the northeastern region of Thailand, this festival will let you witness the majestic parade of elephants that are fed heartily with vegetables and fruits. This is one of those Thailand festivals that tourists must attend, for it reflects the cultural as well as historical significance of the country.
Location: Surin Province, Isan, Thailand
Held On: 3rd week of November, 2019
9. Phuket Vegetarian Festival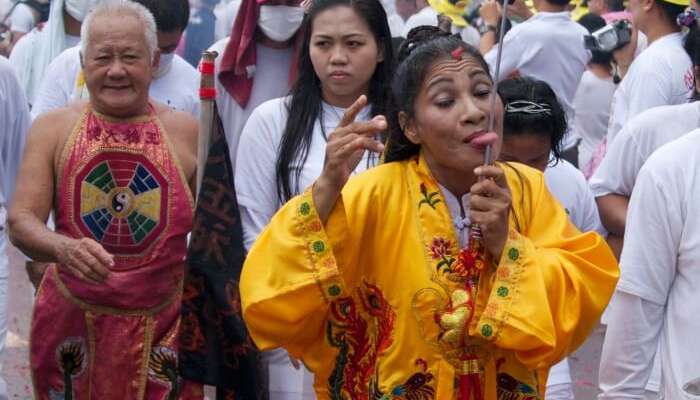 This is one of the major festivals in Thailand and during a month before it, people abstain themselves from consuming meat, garlic, onions, etc. This month is then followed by a grand celebration in the month of October when people involve themselves in gruesome activities like laying on knives and piercing face. You'll also witness awe-striking fireworks as well as dance in this festival!
Location: Phuket, Thailand
Held On: 28th September – 7th October, 2019
10. Mekong Naga Fireballs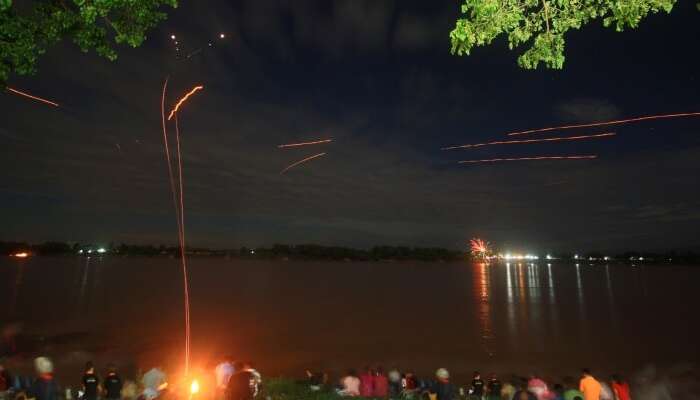 This festival welcomes and attracts people from all around the world. The festival is organized at the bank of Mekong River and one can witness reddish light balls rising into the sky during night that have no sound. Reaching the height of 600 feet, these fireballs rise naturally without any humanly involvement. This is a mystical sight to behold. It is still not discovered as to if this is a scientific phenomenon or some magic.
Location: Mekong River
Held On: October – November, 2019
Suggested Read: Make The Best Of Your Southeast Asian Holiday By Planning A Snorkeling In Thailand
11. Mother's Day and Father's Day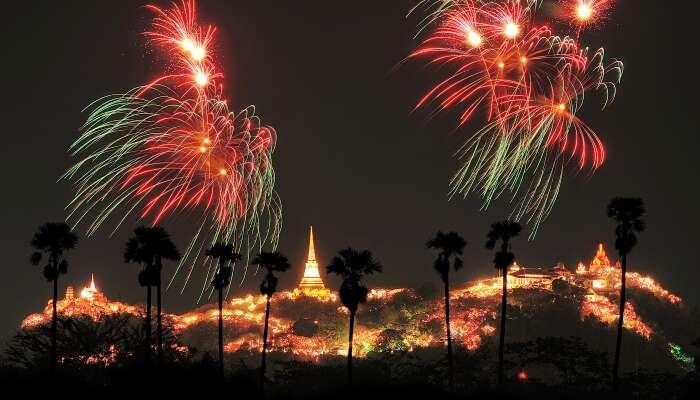 As the people of this country never leave a chance to show their devotion to the monarchs, they celebrate their birthdays with full enthusiasm. The Queen and King's birthdays are considered as Mother's Day and Father's Day, respectively. The queen's birthday is celebrated on 12th August and the king's birthday is celebrated on 5th December. Both the days are considered to be national holidays and are quite prominent Thailand festivals.
Held On: 5th December and 12th August
12. Candle Festival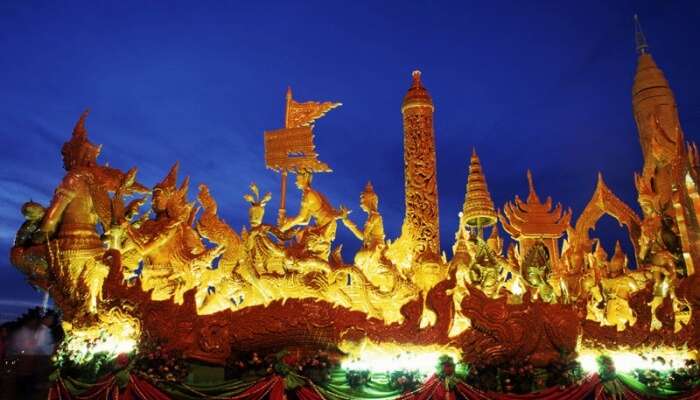 Famous in the southeastern region of Thailand, this festival is celebrated during the Asanha Puja and Khao Pansa days, commemorating the first sermon by Buddha and celebrating the start of Buddhist Lent, respectively. In this festival, people behold the magnificently and elaborately created large sculptures of wax that are displayed during a parade. The parade is accompanied by dance and music. If you want to be a part of the best Buddhist festivals in Thailand.
Held On: July, 2019
Further Read: Erawan National Park: A Handy Guide For Exploring The Most Breathtaking Attraction In Thailand
So which one do you want to be part of? Whichever your pick may be, make sure you plan your holiday in Thailand around some of these best festivals that'll make your journey fascinating beyond your expectations.
Frequently Asked Questions About Festivals In Thailand
Q. What is Thai New Year called?
A. Thai New Year is called Maha Songkran day in Thailand.
Q. What year is 2559 in Thailand?
A. Thai Calendar is 543 years ahead of Christian calendar. So, the year 2016 is 2559 in Thailand.
Q. What are the festivals in Thailand?
A. Here are some festivals in Thailand that you must experience.
1. Yi Peng (Lantern Festival)
2. Songkran (The Water Festival)
3. Phi Ta Khon (Ghost Festival)
4. Boon Bang Fai (The Rocket Festival) .
5. Surin Elephant Festival
6. Wing Kwai (Water Buffalo Racing Festival)
7. Phuket Vegetarian Festival
8. Lopburi Monkey Banquet (Food Festival)
Q. What is the most popular festival in Thailand?
A. One of the most popular festivals among Thais has to be Songkran or, as it is sometimes known, the Water Festival.
Q. Where is the Lantern Festival in Thailand?
A. Chiang Mai is the place to be for Loi Krathong (loy kra-tong).
Q. What is the water festival in Thailand?
A. Songkran: Thailand's Water Festival.
Q. What is Thailand's national flower?
A. Known locally as the ratchaphruek, the official botanical name of the tree bearing Thailand's national flower is the Cassia Fistula Linn.
Q. What animal has its own festival in Thailand?
A. Thailand has its own way of celebrating Holi and they call it 'Songkran Festival'.
---
Looking To Book An International Holiday?
Book memorable holidays on TravelTriangle with 650+ verified travel agents for 65+ domestic and international destinations.
---
Comments
comments