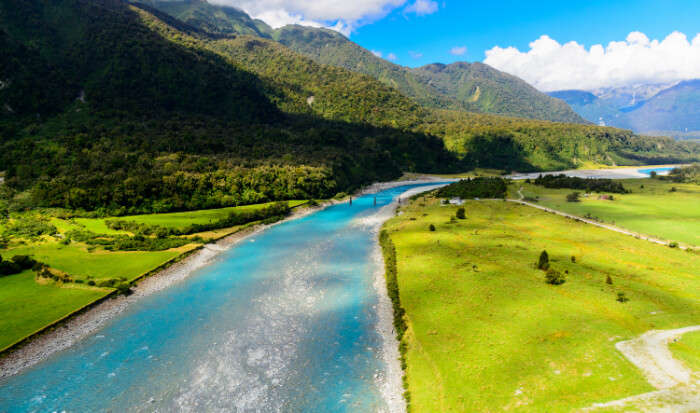 Franz Josef Glacier is one of the most important tourism destinations in the southern hemisphere and also one of the few accessible glaciers on the earth. Hosting a whopping 250,000 visitors a year, it is a significant tourism center in New Zealand. Surrounded by the Te Wahiponamou World Heritage Park, the glacier is one of the most important natural wonders of the world.
About The Franz Josef Glacier
Franz Josef Glacier is a part of the system of three temperate maritime glaciers running down the length of Southern Island. It stretches out for 12 km and is located in the Westland Tai Poutini National Park. Starting high up in the Southern Alps, this glacier system descends to 300 meters above the sea level.
The glacier has two names, one based on Emperor Franz Josef I of Austria, and the other given by the Maori people, Ka Roimata o Hine Hukatere. It means the tears of Hine Hukatere, who, according to the local legends, lost her lover to an avalanche. Her tears of grief froze and resulted in the formation of the glacier.
One of the amazing yet dangerous things about this glacier is that its terrain and topography change daily. With a shifting speed of about 50 cm per day, this glacier moves faster than average glaciers on earth. This fast movement often results in the formation of new caves and tunnels everyday so no two days are the same on the glacier. However, this rate of movement can cause serious trouble during a rescue operation.
Must Read: 10 Best Temples In New Zealand For Witnessing The Country's Vibrant Culture
How To Reach The Franz Josef Glacier?
You can easily reach this attraction by air, rail, and road.
By Air: The nearest Airport to the Franz Josef airport is the Mount Cook Airport which is good for small flights from nearby major airports like Wellington, Christchurch.
By Train: You can reach the station situated in Franz Josef village by train and then reach the glacier by public transport or taxi.
By Road: The glacier can be reached by car from all of the major cities near it.
30 minutes from Fox Glacier
3-hour drive from Greymouth
4.5-hour drive from Wanaka
6-hour drive from Christchurch
Best Time To Visit Franz Josef Glacier
Best time to visit this glacier in New Zealand which is also the peak tourist season is in the summer months that start from November and go up to February. In case you want to avoid the crowds, either come in October or in the winter months. You'll get a chance to see the tunnels and caves in the off-season months which won't be possible in the peak months.
The best time of the is either before 10 AM before the tourists start coming in, or just 1-2 hour before the glacier closes to visitors. Also, the timings change according to the season.
Suggested Read: Paragliding In New Zealand: 5 Best Places That Let You Soar High!
Places To Stay Near Franz Josef Glacier
It is always advised that you stay near the main attraction whenever you visit such a place. It gives you the full experience of the place and is always beneficial because this way you can explore the place all you like.
Some of the best accommodations available near the Franz Josef Glacier include YHA Franz Josef with its luxurious dorm rooms that are easy on the pocket. Also, Grenfern Villas, which are uber-luxurious villas for those who can afford five-star accommodation, is a good option.
Punga Grove Motel & Suites is a 4-star accommodation for those who want to spend a night in a proper accommodation in privacy with stunning views outside the window, Westwood lodge which is really just beside the glacier and the Top 10 Holiday Park which is budget accommodation offering everything from private accommodation to common dorm rooms.
Things To Do Near Franz Josef Glacier
There are numerous amazing things that can be done in and nearby the Franz Josef Glacier. Some of the adventurous activities are listed below:
1. Trek to the Franz Josef
This is one activity that attracts most people here. You can either trek or hike. If you are not an experienced mountaineer, it is advised that you hike to the terminal of the Frank Josef Glacier and experience the most amazing view from the glacier. If you want some more adventure, then trek to the summit of the glacier, which is a sight for sore eyes.
Suggested Read: 10 Trails Where You Can Go Hiking In New Zealand
2. Sky Dive over Franz Josef
If you want an adrenaline rush of a completely different level then Sky Dive from the Franz Josef Glacier and experience some of the most divine scenery with your own eyes. This is one opportunity which only a few dare to miss as the view and the thrill compel everyone to do it, at least once. So, make sure it is in your 'things to do in New Zealand' list.
Suggested Read: 10 New Zealand Restaurants To Taste The Country's Culinary Masterpieces
3. Relax in Hot pools of the Glacier
A vacation means that you have the time to calm down and relax; you deserve to unwind yourself and enjoy a hot bath in the hot pools by the glacier. So relax all those sore muscles from your adventures and busy city life together at one place. What's more, with all the people who come here, you can even make new friends and chill out together on your vacay.
Suggested Read: 15 Waterfalls In New Zealand That'll Leave You Speechless
4. Heli Hike
If you're in New Zealand and you don't heli-hike in Franz Josef, you're missing out on a grand experience. The ride on the helicopter is like experiencing a landscape overdose with an expanse of land just made for admiring. As the hike won't take as long as an actual walk, it will give you each and every view that you would get otherwise. However, it is a bit on the expensive side.
Further Read: 10 Churches in New Zealand That Are Absolutely Captivating Pieces Of Architecture
Widely regarded as the gem of the western coast of Southern Island, Franz Josef Glacier is a must to experience the divinity of nature and to be enthralled by the heavenly sites of this natural wonder. Thus, make sure it is included in your holiday package before flying off to New Zealand .
---
Looking To Book An International Honeymoon?
Book memorable honeymoon on TravelTriangle with 650+ verified travel agents for 65+ domestic and international destinations.
---