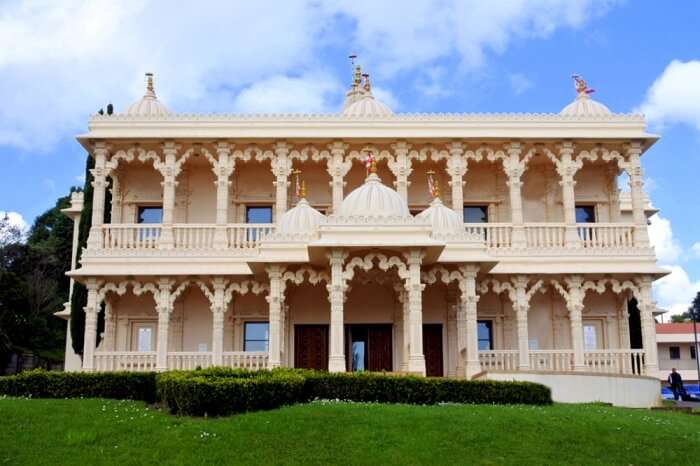 The smell of the incense sticks, the dhoop, and Ashtagandha, "Holy Paste", the sound of the temple bells, and the chanting of prayers are only some of the nostalgic things that would take any Hindu right back home. It is in these pillars and domes of the temples in New Zealand that many have grown up, many have prayed, some have lost and many have found, and it is here where they feel at home.
Like everywhere, Hinduism in New Zealand is growing too. Communities all over the country have taken it upon them to share this culture, and this has resulted in a number of temples being built over the last few years. Worshipping Lord Ganesha, Lord Murugan, Lord Vishnu, Lord Hanuman, Lord Shiva, and many more deities, these beautiful temples are worth visiting, if you are a tourist, or even a local!
Best Temples In Auckland
Auckland is one of the cities where maximum Hindu temples are located. All kinds of traditional centres, including South Indian temples, too, are located here. It is not only an incredible city to visit for tourists, but also a major attraction for all those wanting to know more about this culture.
1. Thirumurugan Temple
One of the few temples in Auckland, or maybe the only one in which is dedicated to the nine planets, also called as the Navagraha, Thirumurugan Temple is also one of the most visited temples. Along with the planets, some other deities that are worshipped here are Lord
Suggested Read: 15 Lakes In New Zealand That'll Make You Believe In Heaven
2. Thiru Subramaniyar Aalayam
One of the most famous South Indian temples in Auckland, this temple has a number of beautiful granite idols of many Hindu deities. Some of them include Lord Murugan, Lord Shiva, Lord Ganapati, and also Goddess Parvati.
Suggested Read: 10 Cool Festivals In New Zealand To Make Your Tour A Celebration
3. The Bharatiya Mandir
Offering prayers to several Hindu Gods like Lord Vishnu, Goddess Lakshmi, and Lord Hanuman, the Bharatiya Mandir is a quiet place, a perfect Hindu reflection of an Auckland, New Zealand temple.
Suggested Read: 15 Waterfalls In New Zealand That'll Leave Your Speechless
4. Swaminarayan Temple
With deities like Lord Narayan, Ghanashyam Maharaj, and Lord Ram worshipped here, the Swaminarayan Temple also serves as a holy temple for all the local priests.
Some other Hindu temples in Auckland include the BAPS Shri Swaminarayan Mandir, the Radha-Krishna Temple, and the Ram Krishna Temple.
Suggested Read: Honeymoon In New Zealand: 12 Exotic Destinations For A Fairy-Tale Honeymoon
Best Temples In Wellington
There are two main Hindu temples in Wellington, which are worth visiting too. Take a look!
5. Kurinchi Kumaran Temple
The most famous one is the Kurinchi Kumaran Temple. It is famous for being the first South Indian temple to be built in New Zealand. The main deities of this temple are Lord Shiva, Lord Murugan, and Lord Ganesha, and there are many more idols that are worshipped here too.
Suggested Read: 6 Mosques In New Zealand That Display Islamic Architectural Wonders
6. The Wellington Indian Association Temple
There is a North Indian Temple built in Wellington by the Wellington Indian Association. Idols of Lord Krishna, Goddess Durga, and Goddess Sita are amongst the many idols that are worshipped here.
Suggested Read: New Zealand In October: Fall In Love With The Colours Of Spring
Best Temples In Other Regions Of New Zealand
Tauranga, Rotorua, Christchurch, and Hamilton are some of the other cities where many Hindu temples are located. Take a look!
7. Sanatan Dharam Mandir
Spread over an expanse of 2150 square meters, the Sanatan Dharma Mandir is one of the modern Hindu temples in New Zealand.
Suggested Read: 14 New Zealand Cuisines One Must Try On Their Trip
8. BAPS Shri Swaminarayan Mandir Christchurch
Famous for being the only Hindu Temple in South Island, the BAPS Shri Swaminarayan Mandir Christchurch came into being in the year 2011, and has been a favourite amongst the community ever since.
9. BAPS Sri Swaminarayan Temple
BAPS Sri Swaminarayan Temple is the first Hindu temple to be built in Rotorua. Since it is the only one located in central north island, it is quite loved by the Hindu community here. So, make sure you don't skip this one off your list either.
Suggested Read: 10 New Zealand Beach Resorts: All About Sunbathing & Water Sports
10. ISKCON
The International Society for Krishna Consciousness, more commonly known as ISKCON is an international community that aims to spread the message of love. They have a number of temples in India, and across the world, including New Zealand. Some of the cities where they have their temples include Wellington and Auckland.
The Hindu temples in New Zealand are many. With wonderful idols of almost all the major Hindu Gods, the architecture, the atmosphere, and the design are all worth a visit. So, if you're planning a New Zealand trip with TravelTriangle, and want to explore the culture, head to any of the above!
Further Read: 10 Luxury Villas In New Zealand That Showcase Its Beauty
---
Looking To Book An International Honeymoon?
Book memorable honeymoon on TravelTriangle with 650+ verified travel agents for 65+ domestic and international destinations.
---