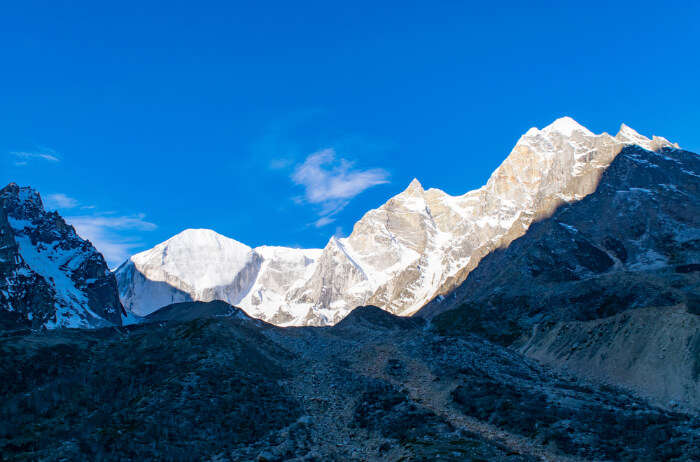 Men die but travelers live, forever! They live in the beaten trails, crushed snow, whistling woods and ruffled leaves that just got swept off by the autumn wind. Gangotri Glacier Trek is one such exciting trail in the Garhwal Himalayas that makes for a memorable trip to the source feeding river Ganga river. Walking in the shadow of guardian mountains at an altitude ranging from 4000 meters to 6500 meters is the ultimate thrill for the adventure seekers.
Gangotri is a challenging trek in the heart of the Himalayas spanning from Gangotri to Gaumukh. You can pick from a range of trails in the Himalayan land. The 17 km trek to the holy land of Hindus is located by the banks of Bhagirathi and endowed with exceptional escapades making for truly an unforgettable experience.
Table Of Content
1. Gangotri Glacier – A Mountaineer's Muse
2. Gangotri Glacier Trek – Popular Routes
3. The Gangotri Gaumukh Tapovan Trek
4. Best Time To Plan A Trek To Gangotri Glacier
5. How To Reach Gangotri Glacier
6. Things To Pack For Gangotri Glacier Trek
7. Popular Attractions Near Gangotri Glacier
8. How Are The Treks For Gangotri Glacier And Yamunotri?
9. What Are The Top 10 Places To Trek In India?
Gangotri Glacier – A Mountaineer's Muse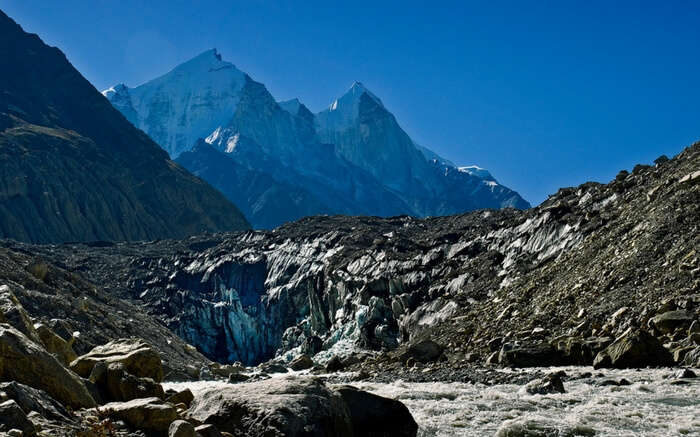 Located in the extreme terrain of Uttarkashi region, Gangotri Glacier is a 28 km long and almost 4 km wide. Originating from right below the Chaukhamba Peak the glacier flows northwest and the course of water takes a turn creating the shape of a cow's mouth thus the name Gaumukh. The Gangotri Glacier borders China and is the primary source of water for Ganga and Bhagirathi – one of the major tributaries of Ganga.
Gangotri being the largest Himalayan Glacier is enveloped by Bhagirathi III, Meru, Shivling and Thalay Sagar Peaks. The lush meadows and majestic nature around make for an exciting prospect for adventurers and trekkers. Gangotri Glacier is a group of 18 tributary glaciers among which 7 Rakt Varn Glacier, 8 Chaturangi Glacier and 3 Kirti Glacier. Swachand, Miandi, Sumeru, and Ghanohim are a few other tributary glaciers that form the Gangotri. Maitri, Meru, Bhrigupanth, and Manda Glaciers feed the river Bhagirathi.
Gangotri Glacier Trek – Popular Routes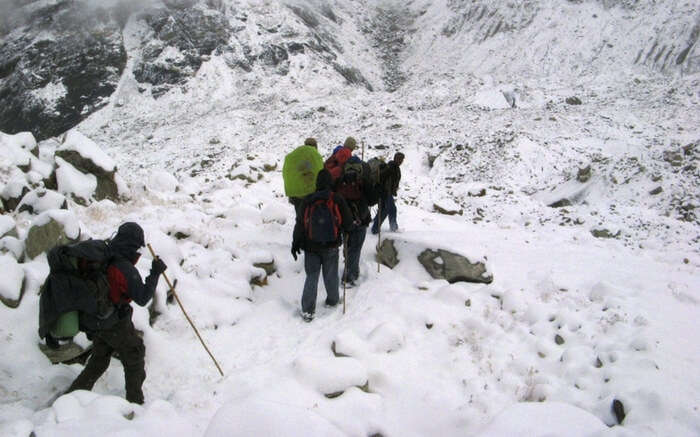 There are a few popular routes around Gangotri Glacier, which itself is a culmination of multiple glaciers. Pick from the range of trek circuits that include Gangotri Gaumukh Trek, Gangotri Gomukh Tapovan Trek, Gangotri Tapovan Trek and Gangotri trek difficulty varies with routes. From a couple of days to 4-5 days, these treks are absolutely thrilling and a trail to watch out in the Himalayan land.
Given the popularity based on the difficulty of treks, and awe-inspiring views around, I propose the Gangotri Gaumukh Tapovan Trek.
Must Read: 19 Most Beautiful Places To Visit In Uttarakhand In Winter
The Gangotri Gaumukh Tapovan Trek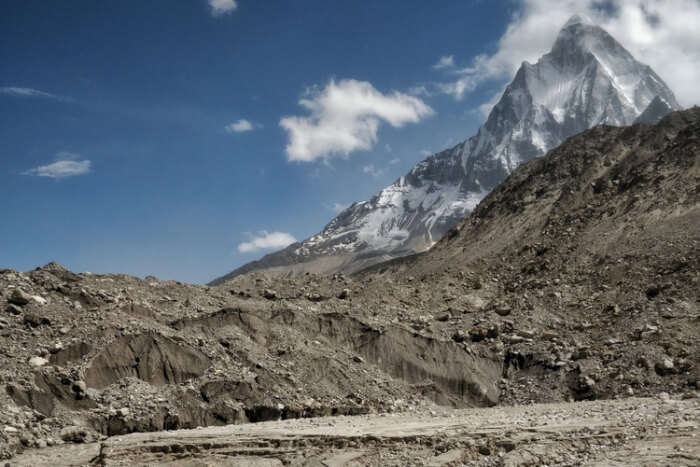 The popular trek cuts through the lush meadows and absolute greenery, encircles glacier and rivulets before making a complete turn.
Ideal duration: 5 days
Difficulty level: Medium
Route: Gangotri – Chirbasa – Bhojbasa – Gaumukh – Tapovan – Chirbasa – Gangotri
Arrival in Gangotri, rest, and acclimatise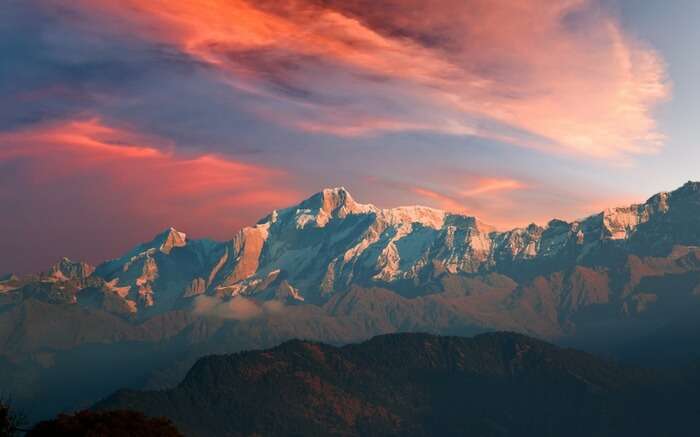 Altitude: 10,055 feet
A 12-hour drive from Rishikesh leads you to Gangotri. Lofty mountain peaks, glaciers, deodars, and stunning vistas decorate your temporary habitat in the heart of the Garhwal Himalayas. Thin air and holy river flowing around cleanse your soul as you prepare to head for the glorious trek in days to come. Gangotri is a religious sojourn thronged by spiritual seekers. Bhagirathi, a tributary of Ganga, originates from here.
Day 1 – Gangotri to Chirbasa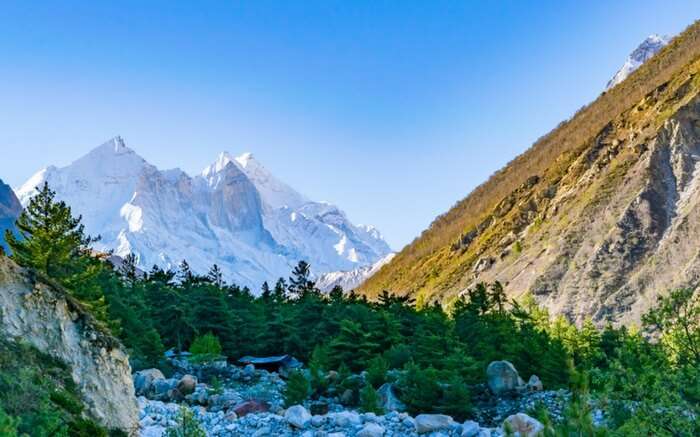 Altitude: 11,761 feet
Distance: 9 km, Time taken: 6 hours
Sudarshan Parbat at 21, 345 feet looms large over the forest checkpoint making for an exceptional spectacle on the first day of the trek. Boulders, deserted glaciers, and cluster of peaks are the prominent sight enroute that you would find here. After a long day of trek, arrive in Chirbasa. GMVN huts and campsites are the only option of stay here. Bhagirathi river flowing in the close proximity makes the campsite a scenic hideout.
Day 2 – Chirbasa to Bhojbasa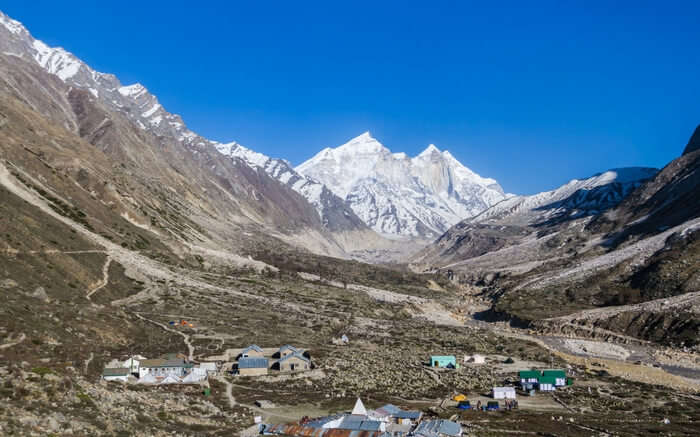 Altitude: 12,450 feet
Distance: 5 km, Time taken: 3 hours
A comparatively short but certainly a challenging day of the trek. Some steep climb in the beginning followed by gradual upslope makes this climb easier for trekkers. Carry sufficient water with you because you won't find too many options. Upon reaching Bhojbasa, take an acclimatisation walk to Gaumukh and head back to the campsite. Stay cautious, there are 8-9 landslide prone bends during the stretch.
Move quickly, resting is not recommended here. Bhojbasa happens to be the widest point in the valley and you are absolutely going to love the beauty of the campsite here. There are a few igloo-like structures here. Staying in these places require the permission of forest officials. A few trek operators allow you an extra day to explore and get acclimatised to conditions in Tapovan.
Suggested Read: Nanda Devi National Park: A Sanctuary In The Garhwal Himalayas
Day 3 – Bhojbasa to Tapovan via Gaumukh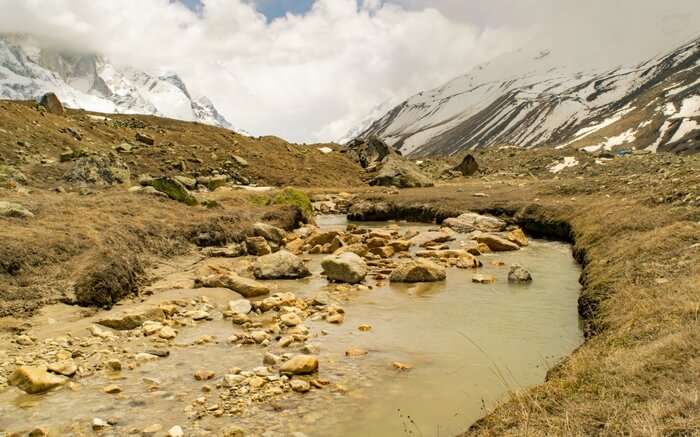 Altitude: 14,200 feet
Distance: 9 km, Time taken: 7 hours
Long day, gradual ascents, flat descents and jagged pathways, this trail here will test you on many levels. Campsite lies tucked in the meadows below Mount Shivling. With imposing vistas all around, this place will fascinate the shutterbug in you.
Suggested Read: 30 Places To Visit In India In April 2022: Beat The Heat This Summer Like A Pro!
Day 4 – Tapovan to Chirbasa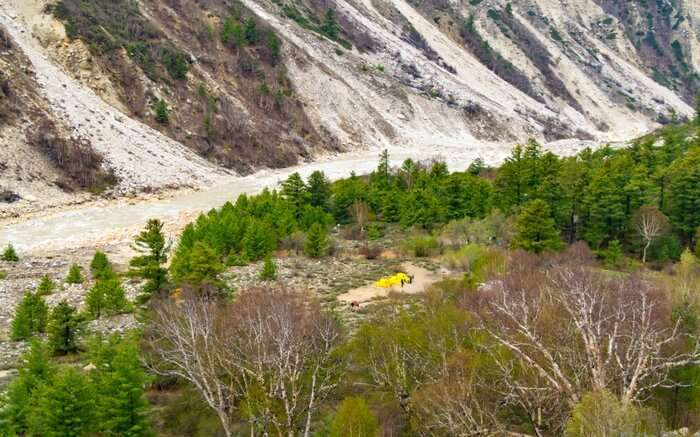 Altitude: 11,750 feet
Distance: 14 km, Time taken: 8.5 hours
Another day of daunting trek when you negotiate turns, bends, and climbs to walk almost 14 km spanning the entire day. Difficult descent followed by a few ascents make this patch an exciting one. If you have time in the evening, you can explore Tapovan, actually there's a lot to explore there.
Tapovan is 2 km in length and makes for a beautiful campsite. However, not the entire area is suitable for camping. Neelatal is the place to watch out for the place from where Mt. Meru looks the closest and most stunning.
Suggested Read: Hampi Ranked Second In New York Times 'Places To See In 2019, Making India Proud
Day 5 – Chirbasa to Gangotri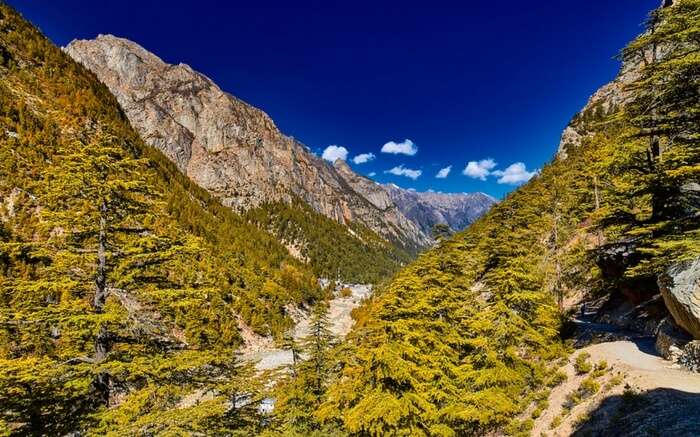 Altitude: 10,050 feet
Distance: 9 km, Time taken: 5 hours
You have already walked this trail. The continuous descent can take a toll on your toes. Take it slow, enjoy the vistas, the moderate descent is steady and gradual. There are a few streams en route, so you have options to splash your face with some glacial water sourced from the Himalayas. The wonderful trek spanning over the 5 days would turn out to be the most memorable journey you ever took.
Suggested Read: Chandrashila Trek With Chopta And Tungnath Is An Epic 5-Day Quest
Best Time To Plan A Trek To Gangotri Glacier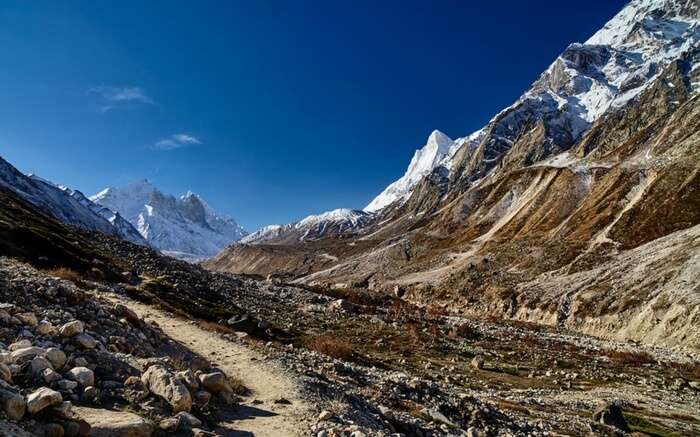 Mid-April to June and September to November is the best time to go for the Gangotri Glacier Trek. The weather is neither too cold nor too much of rainfall. Hence, not dangerous to trek. Summer months are the most suitable for the Gangotri Glacier Trek. Skies are clear, and sun shines the brightest. Spring is the another most preferred time to visit Gangotri apart from summer. Greenery everywhere and pleasant climate makes trekking so much of fun during spring.
Monsoon and Winter are not at all appropriate seasons to take the Gangotri Glacier Trek. While monsoon makes the conditions difficult with sloppy trails, the road to Chardham is closed during winter because of excessive snowfall. From November – March the road remain closed.
Suggested Read: Trekking In Darjeeling: Top 9 Trekking Routes For An Thrilling Holiday In The Tea Hills
How To Reach Gangotri Glacier
Gangotri Glacier is easily accessible by road. The trek commences from Gangotri Temple and continues up to Gaumukh.
By air: Jolly Grant Airport in Dehradun is the nearest arirstrip to Gangotri Temple, which is 257Km from Gangotri temple. The airport is well connected with most of the airports across India. Travel the rest of the distance from Airport to Gangotri by a bus or in a private vehicle.
By rail: Rishikesh railway station is the nearest railhead 243 km from Gangotri glacier. Cabs and buses ply from Rishikesh to Gangotri frequently.
By road: Gangotri Glacier can be easily accessed from Rishikesh or Dehradun by road. Both of these destinations are overnight journey from Delhi.
Things To Pack For Gangotri Glacier Trek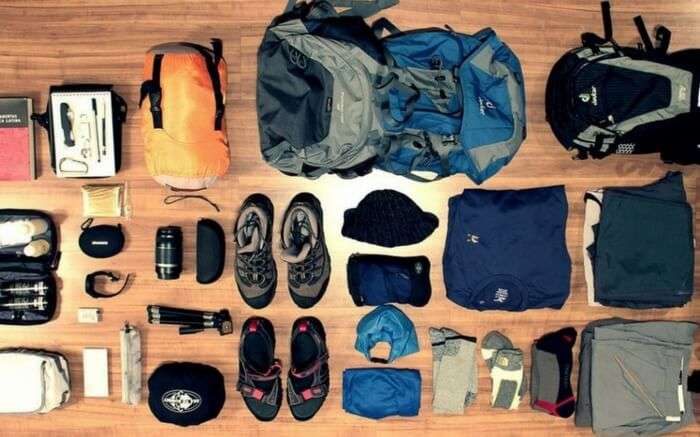 i) Clothes
Two pairs of synthetic track pants
Full sleeves tees with collar
Fleece jacket
Full sleeves thick jacket
Enough undergarments
Thermal innerwear
Woolen monkey cap/balaclava
Woolen hand gloves/ Synthetic glove/ Surgical Glove
Woolen head-scarf/ muffler
Light towel
ii) Shoes & socks
Proper trekking shoes
Sports socks
Woollen socks
Gumboots
iii) Skin care essentials
Sunglasses with 100% UV protection
Lip balm
Cold cream
Sunscreen lotion
iv) Medicines
Crocin, Avomine, Avil, Combiflam, Disprin, Norflox, Crepe bandage, Band aid, Digene, Gauze cloth, Leukoplast, Cotton, ORS, Betadine or any antiseptic cream, Volini or Moov spray
v) Other accessories
Hot water bottle/bag
Backpack (55 – 65 L), sturdy & rugged
Daypack
Trekking pole is mandatory
LED Torch/ headlamps are preferable
Popular Attractions Near Gangotri Glacier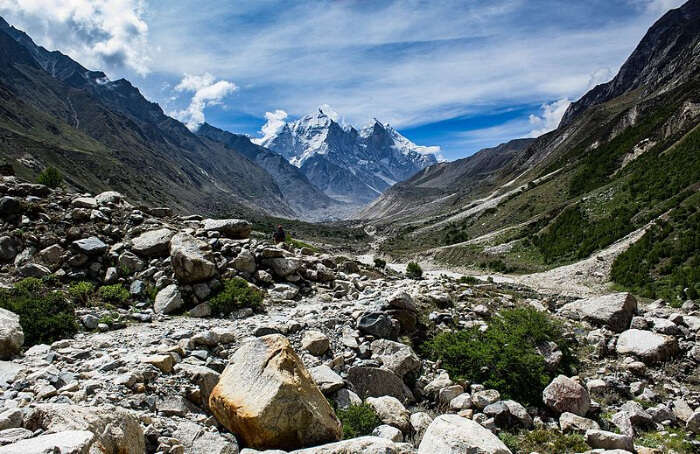 Gangotri Glacier is an adventurer's paradise as well as a pilgrim's destination for obvious reason. But the fact that this place is one of the extreme locations in the Himalayas makes it not too friendly of a tourist destination. Of all the popular places in Uttarkashi, there are a few places that everyone must visit when planning a trip to Gangotri Glacier. Here are a few places!
Gangotri
Yamunotri
Kedarnath
Badrinath
Bandarpunch Glacier
How Are The Treks For Gangotri Glacier And Yamunotri?
Gangotri and Yamunotri Glaciers are considered as one of the toughest treks in the Himalayan region. These treks are mostly taken during summer and range from moderate to tough in difficulty rating.
What Are The Top 10 Places To Trek In India?
The most popular treks in India are Chadar Trek, Hampa Pass Trek, Roopkund Trek, Chandrashila Trek, Valley of Flowers Trek, Kheerganga Trek, The Markha Valley Trek, Kuwari Pass Trek, Kedarnath Trek, and Kedar Kanth Trek
Further Read: Top 44 Places To Visit In Uttarakhand
Every log and stone lying along the beautiful pathways treasure with them numerous timelapses and as many stories of bravery and grit. After walking the Gangotri Glacier Trek you would know that you have tasted the holy grail. plan a trip without wasting a moment and make the best memories of your life.
Frequently Asked Questions About Gangotri Glacier Trek
How do I get to the Gangotri Glacier trekking route?
Gomukh and Tapovan near Gangotri Glacier are not only popular pilgrim spots but also attracts trekkers from all across the world. The trek commences at Gangotri town itself but the verification of permit is done at the forest check post which is nearly 2 kilometers from the town.
What are the best treks in India?
If you are looking for the best Himalayan trek then Chanderkhani Pass Trek, Bagini Glacier Trek, Kuari Pass Trek, Har ki Dun Trek, Kedarkantha trek, Prashar Lake trek, and Brahmatal trek are the most popular ones!
What is the height of Gangotri?
The height of Gangotri is 3,415 meters.
What is the approximate length of Gangotri Glacier?
Currently, the approximate length of the Gangotri Glacier is 30.2 kilometers. It is between 0.5 to 2.5 kilometers broad. If you are planning a trip to Gangotri Glacier then you must know that it is amongst the largest glacier in the Himalayas.
How do I get to Tapovan?
Tapovan is located at a trekking distance of 20 kilometers from Gangotri. You can catch any local or private bus or even hire a taxi from the major cities of Uttarakhand such as Dehradun, Haridwar, and Rishikesh.
What is the best time to visit Gangotri?
The best time to visit Gangotri is from April to June and from September to October. Though cold, the weather is awesome during this time making it perfect for sightseeing and adventurous expeditions.
Can we go to Gangotri by car?
Yes, you can surely go to Gangotri by car. If you are heading from Rishikesh then it will take nearly 12 hours to reach Gangotri. If you are planning to go here by car then you also visit other interesting places on your visit to Gangotri such as Uttarkashi, Gaumukh, etc.
Which God is Gangotri?
Gangotri temple is dedicated to Goddess Ganga which is located on the bank of River Bhagirathi.