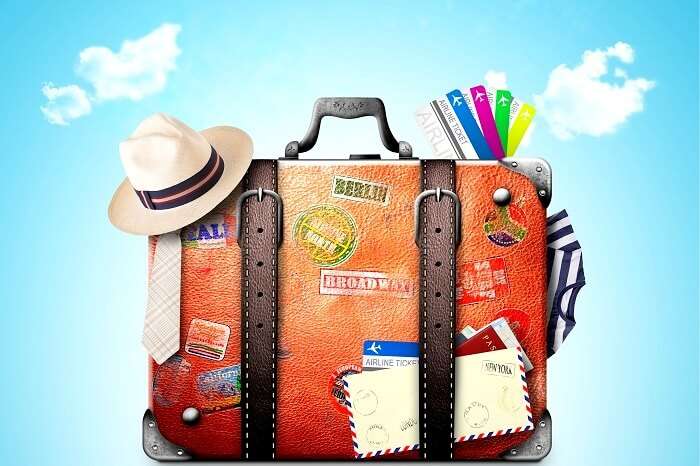 Have you been wondering too whether you're caught in a travel hype or you are actually an avid traveler? Fret not, the signs of being a frequent traveler are inescapable and can't go unnoticed for long. Scroll through the list below that helps you realize signs that say you indeed are an avid traveler.
The travel bug has caught on to the millennials like a mouse to cheese. Therefore, there are bound to be people that have just caught on to the fad, and the others, that actually take travel not merely as a source of getting a break or a reason to party. Some people form a deeper connection with travel than other.
Inescapable signs that tell that you are an avid traveler
Got wanderlust? Go through the pointers below to find out whether travel is no more a hobby for you or not.
1. You can't stop daydreaming about your favorite destination
Ever found yourself daydreaming in the middle of a busy workday about you enjoying your dream travel destination? Chances are that the avid traveler inside of you wants you to take the plunge and finally plan the vacation you are meant to have.
                                   Suggested Read: 10 Packing & Luggage Hacks For The Smart Traveler
2. You're always on the lookout for extended weekends
Image Source
Extend weekends are a blessing from God to travelers who want a way out to travel far and wide. Many tempting weekends throughout the year come with a public holiday attached on either side that urges you to go on that trip you've been wanting to go.
If you're always waiting and saving for that bunch of holidays to come your way, you are most likely a frequent traveler.
3. People regularly ask you for advice on where they should go on a vacation
Ever got a call from a friend at 11 in the night asking for best beach places to visit in February? Well, you have certainly established yourself as a reliable source of travel information amongst your peers.
The people close to you consider you as an avid traveler and are ready to rely on your advice to enjoy a vacation. Speak wisely!
Suggested Read: Travel Etiquettes Around The World That Everyone Needs To Follow – With Examples!
4. You always have a story to tell
Image Source
Do you end up reciting anecdotes in the middle of a college friends reunion of that 'one time in Thailand' or that 'crazy night in Prague'? The more you travel, the more fascinating stories you have to tell.
Travel opens you up to new cultures, experiences, and people with whom first interactions can often be eventful (to say the least)!
5. As you come back from your vacation, you start planning for the next one!
The dust has barely settled from your trip to Sikkim when all of a sudden a post on your Facebook feed gives you an idea of where your next vacation could be. Then, within a blink of an eye, you find yourself researching about a destination on Google.
An avid traveler would often find it prudent to plan in advance to make sure of where he is headed next.
Suggested Read: Zodiac Signs And Their Travel Traits: Let The Stars Guide You To Your Next Holiday Destination
6. Your mailbox is filled with emails from airlines running special offers
Image Source
As soon as you see an airline newsletter membership, you subscribe to it immediately. Frequent travelers are often on the lookout for cool discounts on flights that sometimes even trigger them to plan an impromptu trip to their next destination.
An avid traveler is very keen on spending wisely on his/her vacations, as they always look to minimize the variable costs which in turn helps them to travel more.
7. You prefer not to party every weekend!
When you know travel is what you crave for the most, you start to prioritize things in life. If you ever find yourself ditching on your friends for a weekend party plan in favor of saving money for an upcoming trip, signs are ripe that you indeed are an avid traveler who has formed a deep connection with travel.
                       Suggested Read: 16 Airports In India That Make A Dreamy Halt For Every Traveler In 2022
8. Your office desk is filled with souvenirs from places you've been to
Image Source
Ever find your office desk cluttered with souvenirs from far-off dream destinations like London, Paris, Bali, or Sydney? Chances are that you are very attached to the places you travel and like to carry the good travel vibes with you wherever you go.
9. You don't seem to mind the long-distance commutes within your city
Traffic jam on a busy Friday evening and two friends moaning and groaning looking at the ETA on Google Maps. But all your attention is centered towards that upbeat song playing on your phone routed to your soul via your ever-so-reliable earphones.
Signs are that you've become used to long journeys and have successfully devised a method to zone out all the negativity while on a slow commute back home.
                               Suggested Read: Volunteer Travel In India: Exploring Scope And Opportunities
10. You start comparing the cuisine you had on your vacation with the same food sold in your home-town
Not as good as the pasta you ate in Italy? Not as good as the Medu Vada you had in Chennai? Close, but still not as good as the dumplings you had in Sikkim? This indeed an unavoidable sign that indicates your love for travel.
Often avid travelers come back home and rush to restaurants in search of 'that delicious local cuisine' they tried on their vacation only to be disappointed by the drop in quality. Well, of course, your travels lead you to places where the local cuisine was undoubtedly the best in the world. To try and find a match of that in your hometown would just take away the charm of visiting that place, wouldn't it?
As the signs of being an avid traveler are all around you, we hope that this list goes a long way in fortifying your love for travel. Go for an attractive holiday package with TravelTriangle to embrace the journey, acknowledge the wanderlust and be on the receiving end of wonderful new experiences that will change your life forever.
---
Looking To Book An International Holiday?
Book memorable holidays on TravelTriangle with 650+ verified travel agents for 65+ domestic and international destinations.
---