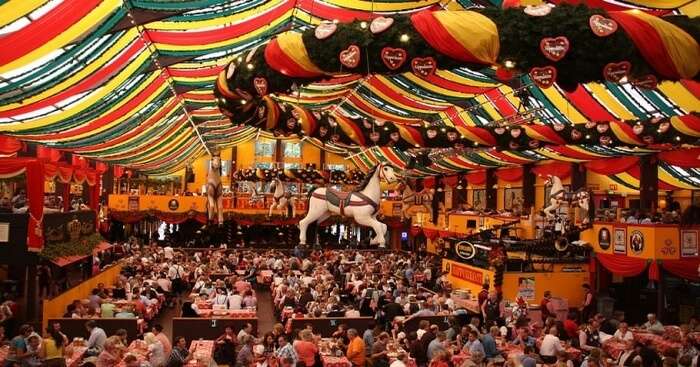 Germany offers a well-rounded experience for all kinds of intrepid travellers. From tangible history, big cities with cutting-edge architecture, spirit-lifting culture, breathtaking countryside and fun-filled German festivals, this land promises a holiday full of surprises. While Berlin, the capital city of Germany is known for its International Film Festival and intense parties, Munich's beer halls and lip-smacking cuisines are legendary. Festivals in Germany are world-renowned and the country celebrates over 10,000 different fests every year. The beautiful smiles, colourful costumes, medieval foods, live music and the spirit of people make these festivals more intriguing.
10 Most Spectacular German Festivals
There is something undeniably artistic in the way Germany's festivals are celebrated with a lot of pomp and splendour. Be it Spring, Summer, Autumn, or Winter, this Western European country is bound to make your holiday memorable, enjoyable and definitely worth it. So here is the German festival's list to add to your list.
1. Oktoberfest, Munich

Germany's Oktoberfest in Munich is perhaps the most legendary beer-swill on Earth. Wondering why? This annual beer festival draws a record-breaking crowd of more than 6 million including the locals and international tourists. Almost 7 million litres of beer are being consumed and over a hundred wild oxen are grilled during the fest. People munch through thousands of roasted chickens, grilled pork sausages and giant pretzels. The fresh and savoury aroma of the grilled meat drifts all over the festival ground, which is simply hard to resist.
Oktoberfest is a celebration of Bavarian beer and lasts for 16 to 18 days and takes place around mid-September to the first Sunday of October. The fest was celebrated in 1810 for the very first time in the honor of the marriage of Bavarian Crown Prince Ludwig to Princess Therese von Sachsen-Hildburghausen.
Where: Munich, Germany
When: 17th September to 3rd October 2022
Highlights: Parades in traditional costumes, Breakdancer ride, Bavarian beer, half roasted chicken, Gingerbread hearts, pasta dumplings with creamy mushrooms and much more
9 Stunning Places To Visit Near Germany For A Dreamy Europe Vacation In 2022
2. Reeperbahn Festival, Hamburg

This eponymous festival bursting with 360+ concerts, movie screenings, cracking bands playing music from Indie to hip-hop and jazz is an ideal place to be for every music lover. This is Europe's biggest club festival and one of the most visited German music festivals. Apart from offering an unimaginable level of entertainment, the Reeperbahn Festival focuses on promoting the emerging talents of every musical genre.
In 2019, the Reeperbahn Festival was attended by 53,000 visitors and over 5000+ professional guests from around the globe. Around 425 international new bands and artists participated in this fest. This 4-day music fest also aims at encouraging gender equality in the music industry.
Where: Reeperbahn, Hamburg, Germany
When: 21st to 24th September 2022
Highlights: International bands, Live concerts, Art & Literature events and swanky restaurants serving mouth-watering kebabs, grilled bratwurst, Nutella crepe, etc.
3. Berlinale Film Festival, Berlin

Berlinale, popularly known as The Berlin International Film Festival, is the world's second-biggest and largest publicly attended film festival after the remarkable Cannes Film Festival. With over half a million patrons comprising international film stars and filmmakers of all disciplines, Berlinale is a whirlwind of glamour, talent and entertainment.
Besides screening some of the best films, The Berlin International Film Festival has now become an ultimate stage that promotes and encourages the initiation of new film projects, especially by promising young film directors. This extravaganza show is a must for any film buff. The most prestigious award at the event is the Golden and Silver Bear awards.
Where: Berlin, Germany
When: 10th February – 20th February 2022
Highlights: International film stars, World-famous filmmakers, Movie screenings, Electrifying ambience, Irresistible glamour, High dose of entertainment and much more.
German Language Guide: Essential German Phrases To Know Before Heading To Germany
4. Karneval, Cologne

Situated on the mighty Rhine River, Cologne is one of Germany's oldest cities. It houses the UNESCO-listed Cathedral (Kölner Dom) of Cologne, an incredible example of Gothic architecture. Karneval in Cologne is one of the biggest street German festivals, with over a million people out on the streets to watch the colorful parade and marching bands.
Crazy costumes, amazing events and over 70+ floating boats are surely the major highlights of this Karneval. There are parties in every corner of the city, right from pubs to public squares and restaurants. So, if you are searching for a fun-filled vacation, then do visit the Karneval.
Where: Cologne, Germany
When: To be announced
Highlights: Fancy costumes, parades, marching bands, fancy evening balls, floating boats and much more
5. Munich Opera Festival

Image Source
Internationally acclaimed, this breathtaking musical event draws the attention of the world's best fraternities. Munich Opera Festival is one of the top-rated German music festivals, known for its extremely rich tradition, splendid settings and jaw-dropping performances. More than 30 opera performances are held every year. The festival also hosts Broadway musicals, concerts and ballet productions.
Munich Opera Festival is an overwhelming celebration of the culture through music and arts. The world-class concierge service by the management makes this festival extraordinary. This cultural delight will truly add unforgettable memories to your holiday story.
Where: Bavarian State Opera, Munich, Germany
When: July
Highlights: Opera performances, reticles, concerts, Broadway musicals, world-class concierge service and much more.
10 Best Berlin Churches To Get Closer To Your Inner Self In The Enchanting Capital Of Germany
6. Cannstatter Volksfest, Stuttgart

This wonderful funfair and beer festival is held yearly and lasts for three weeks. People from every corner of the world come to celebrate Cannstatter Volksfest, the world's second-largest beer festival. Replete with colourful festival tents, joyful rides, vibrant flea markets and much more, this wonderful attraction is a hub of complete entertainment.
Where: Stuttgart, Germany
When: 23rd September to 9th October 2022
Highlights: Colorful festival tents, Fun-filled rides, flea markets Festival parades and much more.
7. Beethovenfest, Bonn

This is a breathtaking festival that introduces people to Germany's classical music, dedicated to the legendary music of Ludwig van Beethoven. The year 2022 is going to mark the 250th birth anniversary of this legendary artist. This annual event features more than 70 concert performances by some of the world's best orchestras, ensembles, soloists, etc. This is a paradise for music lovers.
Where: Bonn, Germany
When: 25th August to 17th September 2022
Highlights: Live concerts with breathtaking classical music
Website
Winter In Germany: Witness The Beauty & Grandeur Of The Country Like Never Before!
8. Rock Am Ring And Rock Im Park

German music festivals list is never-ending. Topping the charts is the massive twin festival of Rock am Ring and Rock Im Park. This hurricane of music is the largest of all and is the perfect amalgam of the music of different genres like rock, pop, metal and some rap. We guarantee you cannot stop yourself from trying out some dance moves. The energy is incredible and the performances by each of the artists will surely make your heart ponder.
Where: Zeppelinfeld in Nuremberg, Germany
When: 3rd June – 5th June 2022
Highlights: Celebration of the music of different genres like rock, pop, metal and rap.
9. Wurstmarkt, Bad Dürkheim

Dating back to 1417, Wurstmarkt is the world's largest wine festival attracting over 600,000 people every year. The festival hosts 36 historic wineries, that cultivate mainly Riesling, Pinot, and Gewurztraminer. For anyone who loves wine, this is one of the best festivals in Germany, as there is a lot of wine tasting throughout. This traditional German festival is a great time to interact with the locals and indulge in lots of wine tasting.
Where: Sankt-Michaels-Allee 10-22, 67098 Bad Dürkheim, Germany
When: 27th July -14th August 2022
Highlights: the historic wineries and wine tasting
9 Wonderful Places To Visit In Frankfurt: See The Best Of Germany In 2022
10. Berlin International Film Festival, Berlin

Also called Berlinale, Berlin International Film Festival is one of the largest film festivals held in Berlin every year since 1978. It is definitely one of the most famous festivals of Germany with over 300,000 tickets sold and 500,000 admissions every year. Famous for its showcase of experimental cinema, many movie screenings take place here followed up with a Q&A session. 
Where: Berlin, Germany
When: 10th February – 21st February 2022
Highlights: 
German festivals are famous worldwide and the country is an amazing holiday destination for having a jolly good time amidst countless festivities. The country's rich history with food, drinks, parades, costumes, arts, and literature is indisputable. So, we hope you have already started booking your trip to Germany to experience its famous festivals.
For our editorial codes of conduct and copyright disclaimer, please click here
Frequently Asked Questions About German Festivals
Which is the most famous festival in Germany?
The legendary Oktoberfest drawing a record-breaking crowd of more than 6 million people is undeniably the most famous and biggest festival in Germany.
What is Carnival in Germany?
Karneval in Cologne is one of the biggest street German festivals hosting parades, marching bands, ball sessions and much more. This week-long street festival is sure to bring smiles on your face.
Can you wear normal clothes for Oktoberfest?
You can dress in a pair of T-shirts and jeans. But, to enjoy the festive vibe with complete enthusiasm, we recommend you to buy yourself the traditional Oktoberfest attire – lederhosen or dirndls.
What is Germany's favorite food?
Every German city has its own distinct flavor. However, Bratwurst (fried pork sausage) remains the common and the most popular food throughout.
Is November 11 a holiday in Germany?
Yes, November 11 is a holiday in Germany. Its Martin's Day on 11th November, religious observance in the honor of Saint Martin of Tours, a Roman Soldier who later became a monk.
What is the national festival of Germany?
The German Unity Day observed on 3 October is the national festival of Germany.
What is Germany famous for?
Germany is a renowned European country, popularly known for its festivals, football, Beer, food, history, architecture, eye-popping cutting-edge buildings and much more.
People Also Read:
Spanish Festivals Festivals in Malaysia Festivals in Nagaland