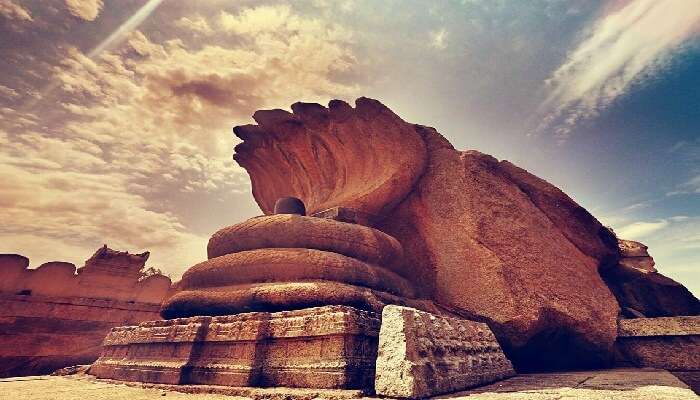 The versatile state of Andhra is the melting pot of both culture and historicity. It is the first state of India that was formed post linguistic independence of the country in the year 1953. And since its inception, it has been ahead in all forms of development. From the Tirumala temple to the Ahobilam forest, the hills in the ghats to the coast of Vizag, there are umpteen places to visit in Andhra Pradesh that are worth adding in your itinerary. This state has more to offer with every passing border and you get to witness the cultural aspects beautifully unfolding before you!
30 Places To Visit In Andhra Pradesh
When planning for the vacation in Andhra, one tends to get confused owing to the numerous places the state is home to. To sort this dilemma for you, given below are some of the best locations you must consider visiting to make your vacation in Andhra unforgettable!
1. Visakhapatnam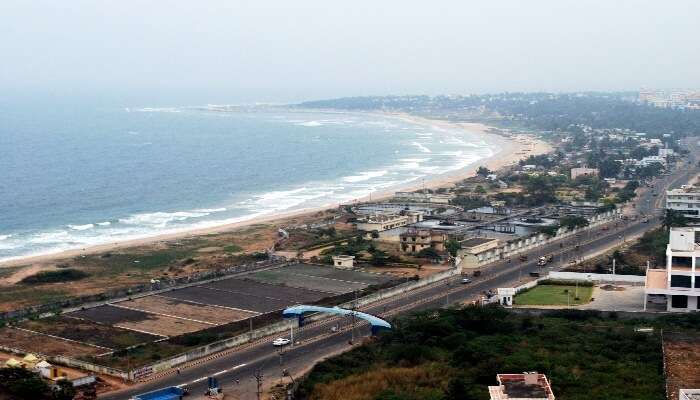 Image Source
Also called by the name, 'Vizag', this is a coastal town also the industrial center of the state. It has been acclaimed to be one of the best places in Andhra Pradesh for it's striking infrastructure and clean coast. Ramakrishna Beach is one of the most renowned sights in the city. It is also the spot where the preserved submarine, INS Kursura is located. The submarine now functions as a museum that highlights the life of the navy. One can also visit the Varaha Lakshi temple, indulge in some fantastic coastal food, and take a stroll on the beach.
Ideal for: history buffs, nature lovers
Type: City/ Coastal
Stay options: Beach View Holiday Home, Dolphin Hotel, The Park Hotel
25 Best Places To Visit In Visakhapatnam In 2022 To Relish The True Charm Of This Coastal Gem
2. Gandikota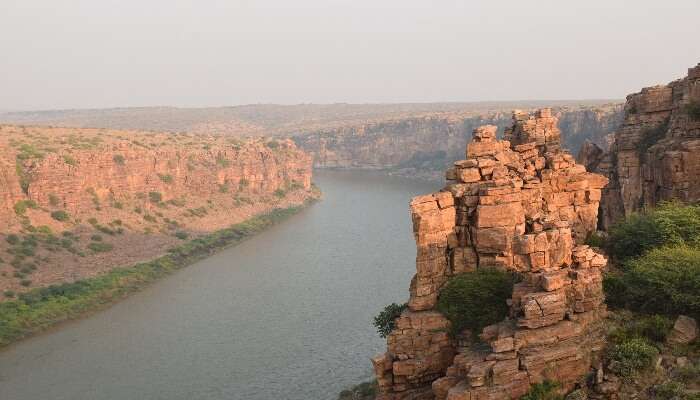 Image Source
One of the lesser-known tourist spots in Andhra Pradesh, Gandikota has one major attraction that one should definitely witness. Home to the historic fort along the Penna river, this site has a view of the canyon, which is like none other. The vast canyon is also referred to as the "Grand Canyon of India." The fort is a hub for campers who bring along tents and spend their night under a sky full of stars.
Ideal for: nature lovers, history buffs, archaeology lovers, campers
Type: Nature/Adventure
Stay options: Camping in tents, Haritha Resort
3. Tirupati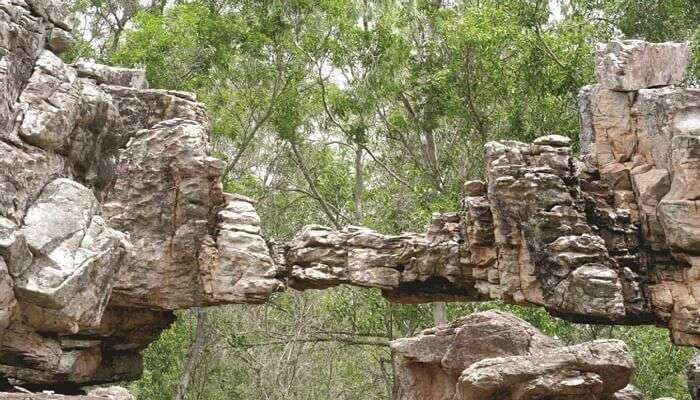 Image Source
The city of Tirupati is famous for its legendary Venkateshwara temple located on the Tirumala hills. This temple in Tirupati is one of the most important shrines of the Hindus, making it a renowned place in Andhra Pradesh. The temple and the city get millions of devotees and travelers each year to seek blessings and withness this awe-inducing spirituality. The city also has a national park where one can spot a lion and other wild animals. For the history buffs, there is also the Chandragiri Fort, built by the Vijayanagar emperors in the 11th century. Also, there are some cottages in Tirupati which are spectacular and attracts a lot of tourists who visit here.
Ideal for: pilgrims, history buffs, adventurers, nature lovers
Type: Pilgrimage
Stay options: Fortune Grand Ridge, Hotel Pai Viceroy
Mahabalipuram Temples: Visit These 10 Breathtakingly Beautiful South Indian Souls In 2022
4. Ahobilam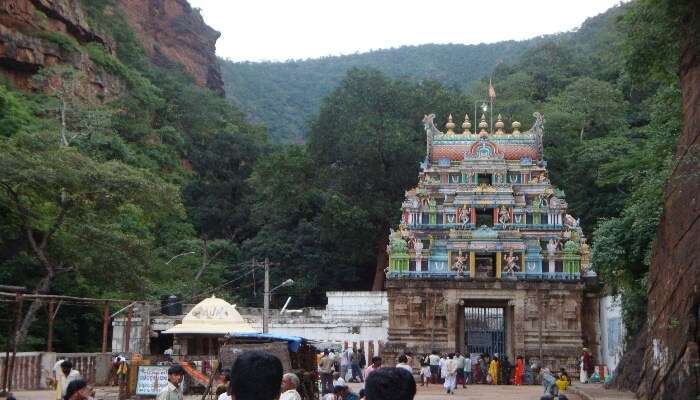 Image Source
Located at a distance of 340 kilometers from the city of Hyderabad, this is a lush-green spot, popular for hiking and a famous pilgrimage center. The town has nine different temples where each form of Lord Narasimha is worshiped. This is the reason why the city is also called Nava Narasimha Kshetra. Most of these temples are easy to walk up to but some of them are challenging hikes, which make it a place of interest for young travelers.
Ideal for: adventurers, pilgrims, nature lovers, history buffs
Type: Nature/Pilgrimage
Stay options: Mahalakshmi Residency, Malolan Guest House
5. Rajahmundry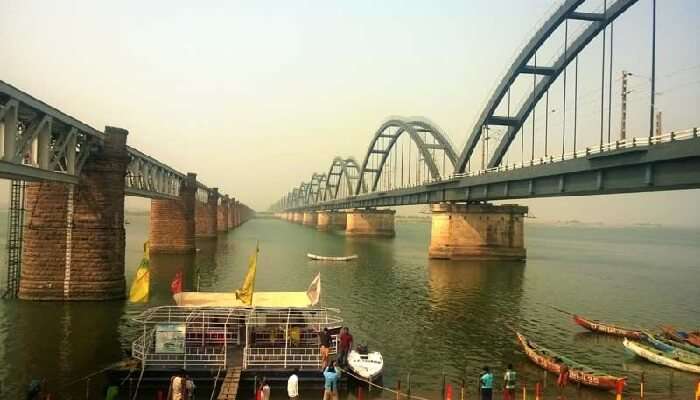 Image Source
Counted among the best places in Andhra Pradesh, this city is also called the "cultural capital" of the state. Rajahmundry was established on the banks of the river Godavari and believed to be the birthplace of Telugu language. The city is the home to many scholars and writers renowned all over the state. Rajahmundry is an amalgamation of everything right, from beautiful backwaters, significant temples, and museums. The iconic Pulasa Fish is a unique delicacy of the town; it's found here from August to December.
Ideal for: nature lovers, history buffs
Type: Lake/ Backwater
Stay options: Shelton Hotel, River Bay Resort, Hotel Anand Regency
10 Amazing Things To Do In Pachmarhi For A Fun-Filled 2022 Getaway In The Heart Of India
6. Amaravati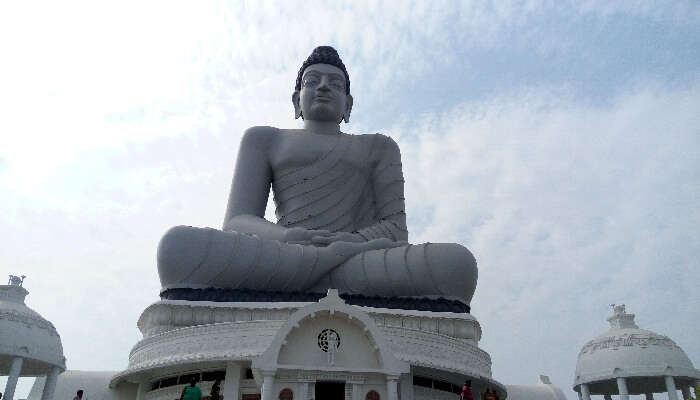 The capital city of the state is known across the country for its uniqueness. This great city has many temples and cultural hotspots – makes the city a favorite for both the elders and the youth of the country. Apart from the iconic Amaravati temple, the city is home to some of the historical scriptures and inscriptions of the Vijayanagar kings. The Amaravati Archeological Museum and Kondaveedu Fort will fascinate those who have an inclination towards history.
Ideal for: history buffs
Type: Historic City
Stay options: Haailand Resort
7. Lepakshi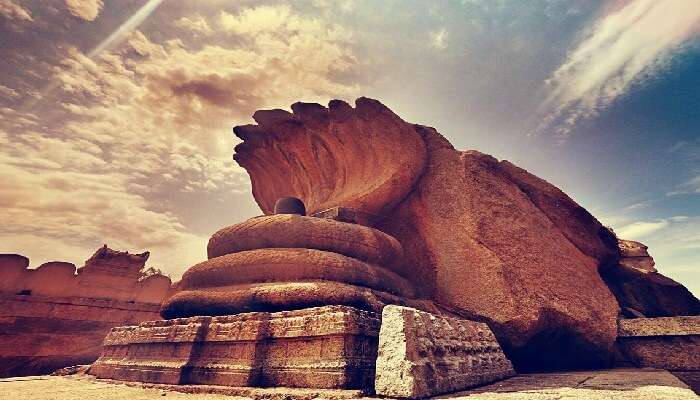 Image Source
One of the well-known tourist places in Andhra Pradesh, this site, however, gets more tourists from Karnataka than any other part of India because of its proximity to the state. This is a 15th Century town that was created by the Vijayanagar Kings. The temple of Veerabhadra at Lepakshi is known for its peculiar designs. The ceilings and walls have eccentric paintings and stunning pilers, which are sure to mesmerize you.
Ideal for: pilgrims, history buffs
Type: Historic site
Stay options: Haritha Hotel, Palla Residency
43 Famous Historical Places In India To Visit In 2022
8. Araku Valley
Image Source
Located in the abundant greenery of the Eastern Ghats, Araku Valley is a paradise for travelers who love nature. The forest is home to some of the unique tribes seen in India and the government has taken extraordinary measures to preserve their indigenous ways of life. There is a Padmapuram Garden atop the hill with a toy train, making this destination ideal for families with kids. This place is also home to a coffee museum, which is one of the highlights here.
Ideal for: nature lovers
Type: Nature
Stay options: Infinity Campsite, Laahiri Bamboo Resorts
9. Kurnool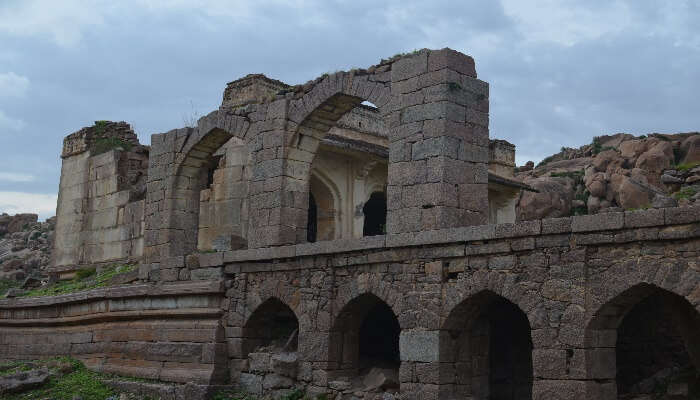 Image Source
Kurnool, also called the "Gateway to Rayalaseema", has many spots with historical importance. The biggest attraction is the Konda Reddy Fort, which is located at the heart of the city. The fort is only two kilometers away from the railway station and is a massive stone structure. The town is famous for its unique spicy food that one can enjoy at any small-sized eatery across the city. The Sri Lakshmi Narasimha temple and the Dakshin Sai Baba temple are considered to be the most prominent pilgrimage sights here.
Ideal for: history buffs, pilgrims
Type: City
Stay options: Hotel MBL Regency, Mourya Inn
25 Amazing Wildlife Sanctuaries In India For Adventurous Safaris And Encounters With The Wild
10. Vijayawada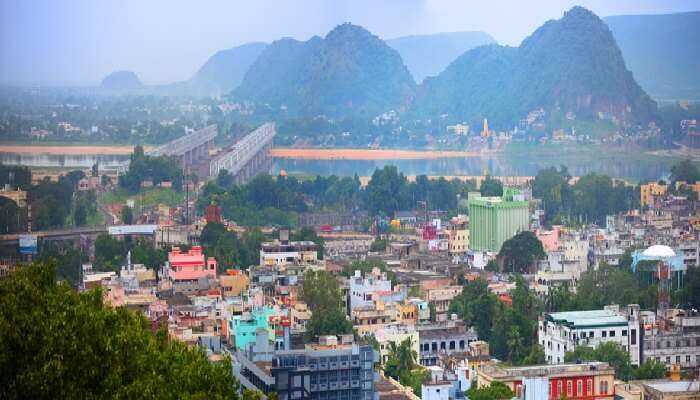 Image Source
The city of Vijayawada is one of the famous places in Andhra Pradesh. The city is a perfect blend of modernity and historicity, as reflected by the fast-paced city life and iconic monuments, respectively. The Undavalli Caves are one of the most visited spots for travelers. The rock-cut cave temple is part of a sandstone hill with fascinating statues and carvings. The Prakasam Barrage is synonymous with the city, a long bridge that stretches over the Krishna River.
Ideal for: archaeology lovers, history buffs
Type: City
Stay options: Novotel Vijayawada, Red Fox Hotel, La Hotera
11. Nallamala Hills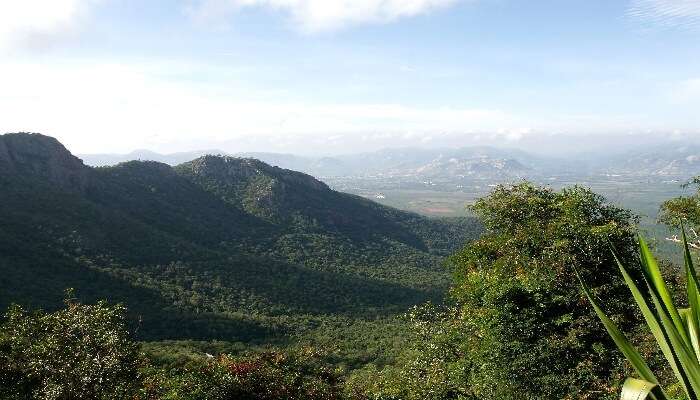 Image Source
Characterized as one of the most peaceful natural tourist spots in Andhra Pradesh, this hill station is an excellent place for a single-day trip or a weekend away from the bustling city. It is home to the Nallamala Forest, which is located on the beautiful Eastern Ghats. The weather here is very unpredictable but a visit to these hills will always be worthwhile.
Ideal for: nature lovers
Type: Hill Station
Stay options: Seven Hills Hotel, Cumbum
20 Best Places To Visit In India During Christmas Holidays For A Grand Celebration In 2022
12. Coringa Wildlife Sanctuary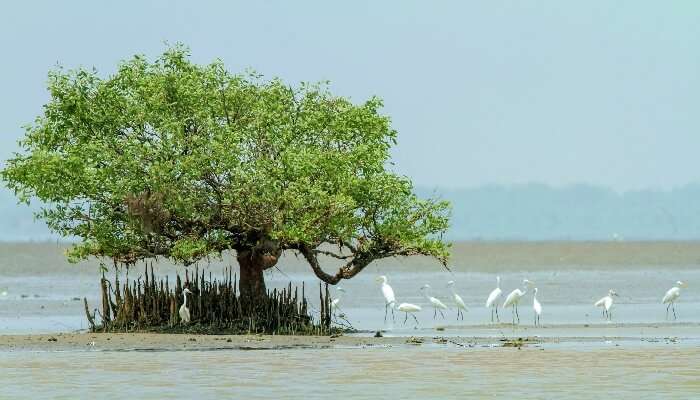 Image Source
This state-run national park is home to more than 120 indigenous species of birds. The rare white-backed vulture and the long-billed vulture can also be spotted here. The never-ending stretch of mangroves makes for a unique scenery. Coringa Wildlife Sanctuary has also been recorded as the second largest mangrove forest in the world.
Ideal for: nature lovers, adventurers
Type: Forest/Wildlife
Stay options: The Regency Hotel, Hotel Jaya Residency
13. Ananthagiri Hills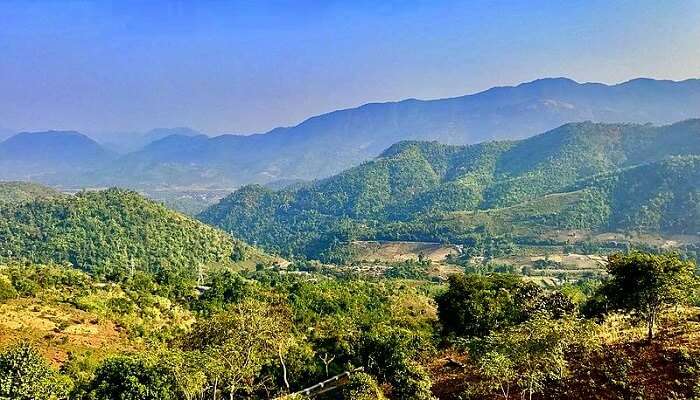 Image Source
If you are an adventurous person and look for new places to discover then you must opt for trekking in Ananthagiri Hills which is surrounded by the Eastern Ghats. In case you are planning for a trip to hill stations in Andhra Pradesh then this place should be there in your checklist. This hill town is home to ancient caves, beautiful temples, and majestic fort palaces that will take your heart away. While exploring these places and while trekking, you will come across some of the most scintillating sceneries that will leave you awestruck. If all of this sounds interesting to you, then you must head to Ananthagiri Hills which is counted among the best places to see in Andhra Pradesh. 
Ideal for: Adventure seekers
Type: Adventure
Stay options: Hills & Valley Adventure Resort, Haritha Resort, and The Grasswalk
Make Sure You Visit These Temples In Visakhapatnam On Your Next Trip To Andhra Pradesh
14. Anantapur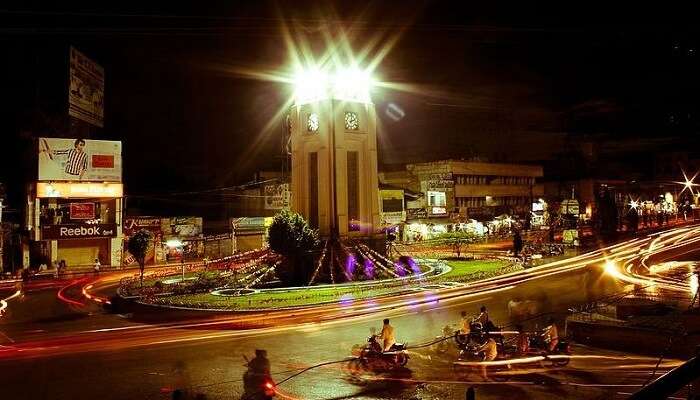 Image Source
If you are looking for a quaint place to resort then there cannot be a better option than Anantapura that is neither a city or a village. It is a town in transition which is why it is the perfect place to witness both the past and the future. Although the town is growing at a rapid pace, Anantapur holds to its traditions and glorious history.
Ideal for: Explorers
Type: Historical place
Stay options: Hotel Rajahamsa, Hotel Masineni Grand, and SRS Regency Hotel
15. Guntur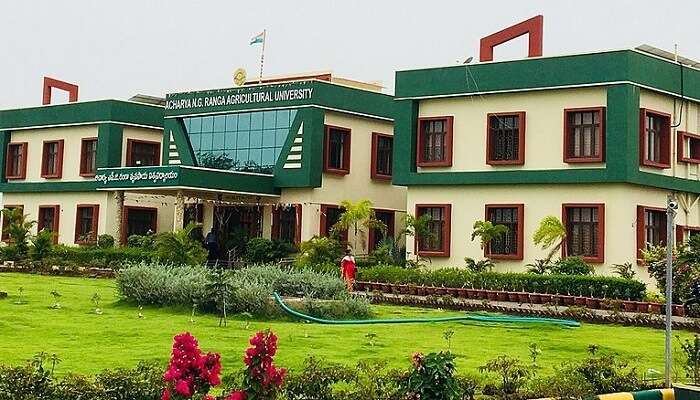 Image Source
Are you a fan of chilies? You might be wondering why we are talking about food rather than the place. The reason behind this is that Guntur is known as the land of chilies. Along with this, it is also a hub of transport as well as textiles in the whole of India. Moreover, you will also find the only Buddhist site in South India which goes by the name Nagarjunakonda. Wait! There is more to the list. One cannot miss exploring the relics of Amravati Caves.
Ideal for: History buffs
Type: Historical place
Stay options: V Royal Park, Hotel Viceroy, and Hotel Sitara Inn
9 Cool Places To Visit In Summer In Andhra Pradesh To Beat The Heat In Style In 2022
16. Srisailam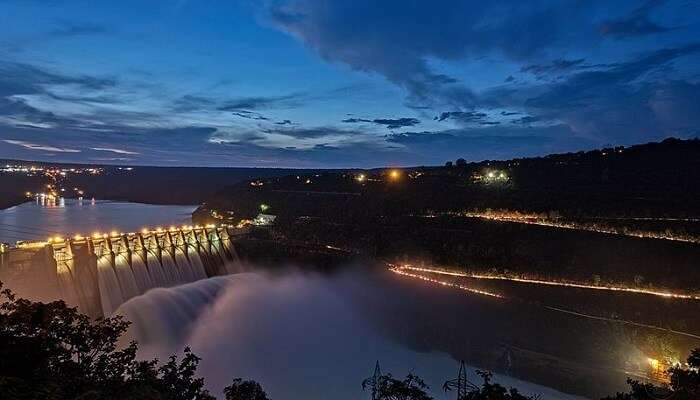 Image Source
This town located in the Kurnool district is home to one of the Shakti Peethas of Goddess Parvati. Moreover, it is an abode of one of the famous 12 Jyotirlingas that goes by the name Malikarjuna Jyotirlinga. The perfect setting of Srisailam has attracted several tourists as it is nestled on the shore of River Krishna. In addition, this hill town is identified with a famous dam and a wildlife sanctuary. If you are the kind of person who looks for a quaint place to resort to then you must visit Srisailam which is one of the best tourist places in Andhra Pradesh.
Ideal for: Peace seekers and religious people
Type: Religious & nature place
Stay options: Pathaleswara Sadanam
17. Chittoor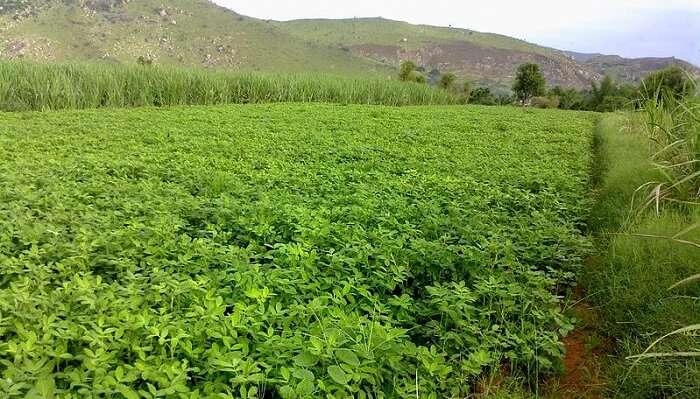 Image Source
Heading to the next tourist attraction in Andhra Pradesh which is a package destination which not only offers some of the most religious places in India but also beautiful sceneries to relish. Chittoor is a place that is dipped fully in religion but is also blessed with panoramic views and cascading waterfalls. You might not be aware of the fact that this place is also known as the Mango City due to a variety of mangoes available here.
Ideal for: Nature lovers and religious people
Type: nature and religious place
Stay options: Prabhaa Grand Inn, Bans The Hotel, and Hotel Bhaskara
8 Exotic Islands In Andhra Pradesh Which One Must Visit For An Ideal Tropical Vacation
18. Kakinada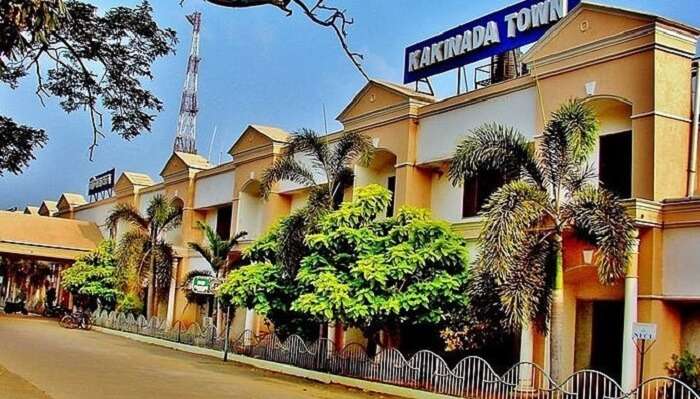 Image Source
Another one on the list of places to see in Andhra Pradesh is Kakinada which is a perfect amalgamation of the traditional world and modern lifestyle. You will be surprised to see how the place is growing with architectural gardens but is deeply rooted in its cultures. The city is packed with entertainment options like nightclubs and shopping malls. Moreover, adventure fanatics can also indulge in some water activities and explore the hidden treasures in the sea.
Ideal for: Adventure seekers
Type: adventure place
Stay options: Venky Residency, SVN Grand, and Royal Park
19. Nellore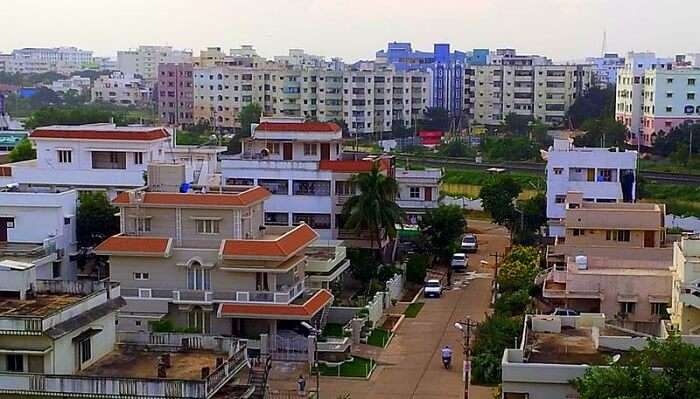 Image Source
Nestled on the banks of River Penna, Nellore derived its name from Nelluru. In Tamil, Nel means paddy and Ooru translates into place. Nellore always had an upper hand in the agriculture sector as it is an exporter of rice, shrimp, prawns, and sugar cane. Once you visit Nellore, you will realize that it is not a place that would disappoint anyone as there are several tourist places in Nellore like Ranganatha Temple, Mypadu Beach, Pulicat Lake, and Nelapattu Bird Sanctuary.
Ideal for: Family and nature fanatics
Type: nature place
Stay options: Minerva Grand, Hotel President's Inn, and Sapthagiri Lodge
9 Exotic Hotels In Andhra Pradesh Where You Can Plan A Lavish Stay In 2022
20. Machilipatnam
Image Source
Counted among the top tourist places in South India, Machilipatnam is a port town nestled on the shores of River Krishna. The town is deeply rooted into its historical past along with which you can also witness the reminiscence of the time when britishers invaded the country. The town also offers some beautiful beaches to relax.
Ideal for: Beach bums and history buffs
Type: nature and historical place
Stay options: SS Grand Inn, VVS Grand Fusion, and Sri Karthikeya Residence
21. Konaseema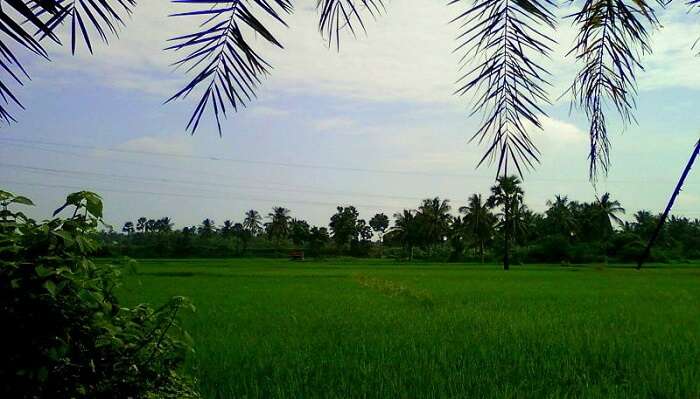 Image Source
Wrapped by the tributaries of River Godavari, Konaseema is one of the best places to visit in Andhra Pradesh. While exploring this region, you might recall the backwaters of Kerala that are shadowed with palm trees which is why it is named 'God's Own Creation'. The villages here catch quite an attention from tourists due to the serene environment and lush greenery. After visiting this place once, you might want to come back here again and again for its tranquility.
Ideal for: Nature lovers
Type: nature place
Stay options: Hotel Shelton Rajamahendri, and Hotel Anand Regency
6 Adventure Sports In Kochi That Will Let You Challenge Your Fears In 2022
22. Srikalahasti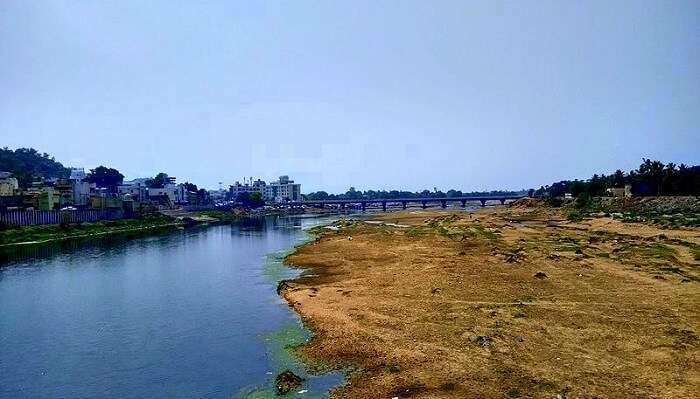 Image Source
You might have heard of the famous temple which goes by the name Srikalahasti Temple. This place is known for that temple which is why it receives a heavy footfall every year and has been listed in the best tourist places in Andhra Pradesh. You will get to witness architectural marvels here and intricate carvings that add to the beauty of the extravagant shrines here. Apart from this, you will find several other places to visit like temples and waterfalls.
Ideal for: Everyone
Type: nature & historical place
Stay options: K P R Residency, Hotel MGM Grand, and Sri Saravana Bhavan Hotel
23. Mantralayam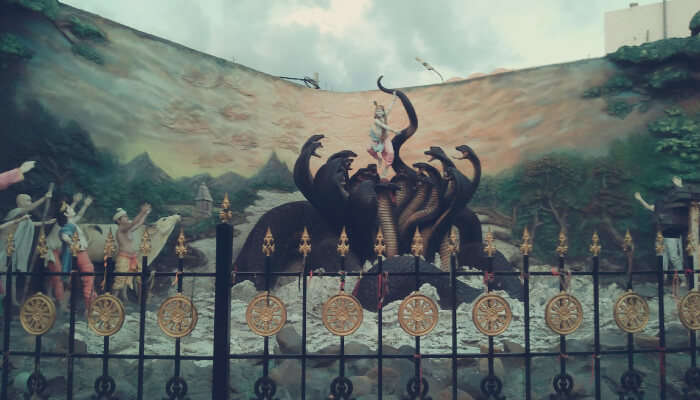 If you want to visit a holy place for a weekend getaway then Mantralayam is one of the places to visit in Andhra Pradesh for you which is 250 km away from Hyderabad. Mantralayam city is known for Sri Guru Raghavendra Swami, a saint acknowledged as the reincarnation of Prahlada. The primary fascinations for the people here are the temples, Mutt, temple elephants and the chariots which are responsible for carrying the deity across the temple.
Ideal for: Religious Pilgrims
Type: Religious place
Stay options: Sri Residency, Sri Raghavendra Tourist place, Hotel Pannaga
26 Free Things To Do In Dubai And Experience Over The Top Luxury Without Spending A Penny In 2022
24. Annavaram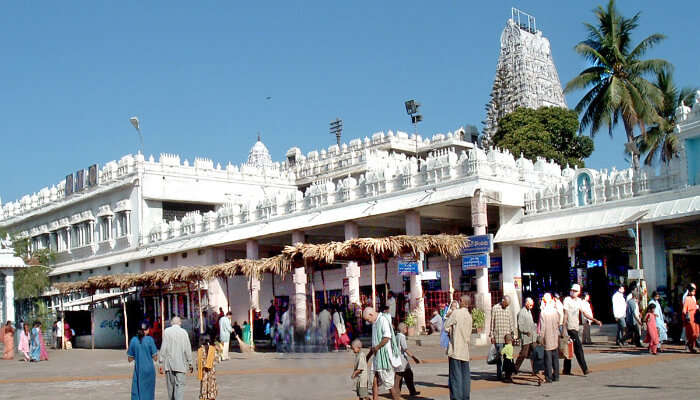 Interested in visiting Andhra tourist places? Annavaram is a small town situated on banks of river Pampa which is 142 km away from Hyderabad. Tourist visit Annavaram as it is popular for Sri Veera Venkata Satyanarayana Swamy, who is a Hindu God. Thousands of devotees visit Annavaram for worshipping and performing special prayers.
Ideal for: Spiritual devotees
Type: Sacred place
Stay options: Gurudatta Residency, Sree Ganesh Residency, Abhay Hotels & Resorts, Devi Lodge
25. Puttaparthi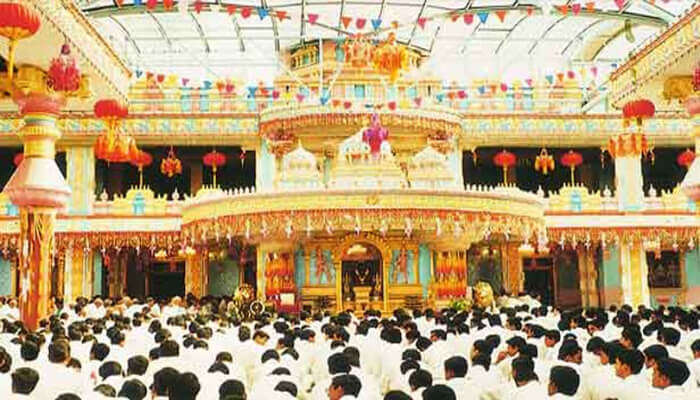 One of the famous tourist places in Andhra Pradesh is Puttaparthi, considered as the domicile of Sathya Sai Baba. The place highlights the way of living in ashrams more prone to religious intelligence. Although the town is also trending due to its urban facilities, settlements and religion. Popular tourist places to visit in Puttaparthi are Sathya Sai Ashram, Anjaneya Swamy Temple and Sri Sathya Sai Space.
Ideal for: Sai Baba Followers
Type: Holy place
Stay options: Sai Ranga Hotel & Residency, Hotel Haritha, Sai Towers, Sai Maa Hotel & Residency
10 Guest Houses In Nainital: Perfect Vacationing Avenues For A Wonderful Stay In 2022
26. Vizianagaram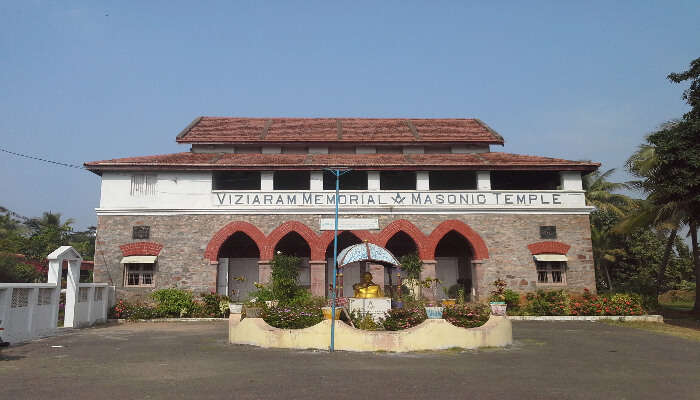 If you want to visit tourist places in Andhra Pradesh then visit Vizianagaram located on the coastline of Bay of Bengal. Vizianagaram is famously known as the "City of Victory" and is popular for the textile market. The city is also known for its majestic history of Kalinga and war among English & French. Vizianagaram is prevalent for royal forts, temples and beautiful nature. Vegavathi, Chempavathi and Gomukhi are some of the rivers flowing through the city.
Ideal for: Art & Craft Lovers
Type: Historical place
Stay options: Hotel Vytla Residency, SVN Lake Palace, Hotel Sri Sri Sri Balaji International
27. Samalkot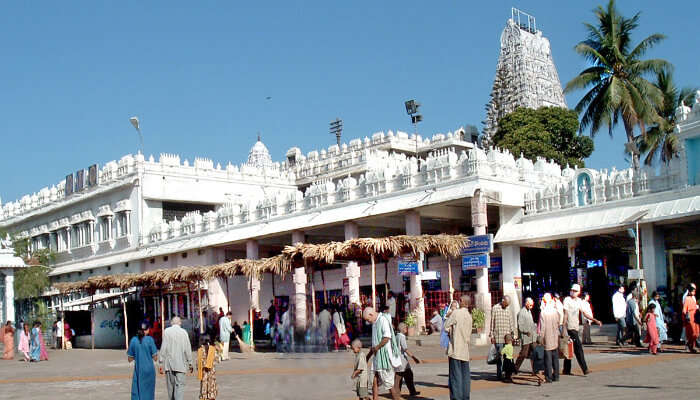 Experience the charm of the city by visiting Samalkot, one of the most popular places to visit in Andhra Pradesh. Samalkot is a holy place visited by the Lord Shiva disciples famous for Pancharama temples, Pancharama is regarded as one of the several forms of Lord Shiva. The most favourable time for all the tourists and devotees to visit Samalkot is from October to March. You will also get to view the greenery and clean environment.
Ideal for: Pious enthusiastic
Type: Pious city
Stay options: SR Grand Park Regency, Hotel Sai Residency, Hotel Kiran Villas International
9 Best Hotels In Nashik: Assuring Unmatched Comfort Under Budget
28. Nagarjunakonda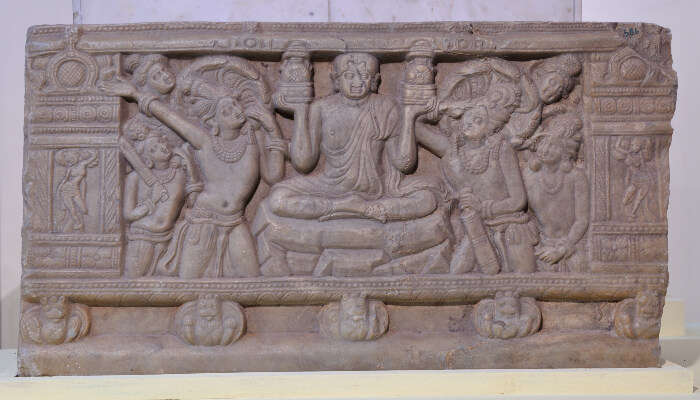 Nagarjunakonda is one of the famous places to visit in Andhra Pradesh that has stupas, statues, scriptures and monasteries of Buddhists. The city is situated 150 km away from Hyderabad and is as old as 1800 years with excavations of ancient artefacts. Travellers can visit the city from October to March which is considered as the best time to visit Nagarjunakonda. Andhra tourist places consider this as best for weekend getaways.
Ideal for: People who are interested in gaining knowledge about Buddhists
Type: Buddhists place
Stay options: TSTDC Resort Vijay Vihar, Haritha Hotel & Accommodation, Vijay Vihar Hotel
29. Rajamahendravaram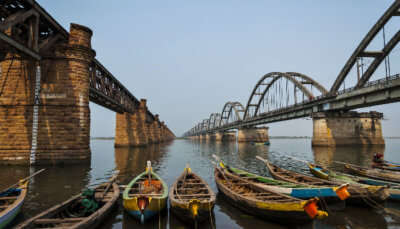 Rajahmundry is located on the banks of River Godavari and called Rajamahendravaram by locals. It's amongst the largest cities of the Godavari District and famous to be one of the oldest cities in India. This serene city was established by the Chalukya King – Raja Raja Narendra, and is an ideal place for history lovers.
Ideal for: Ideal for history enthusiasts and peace seekers
Type: Amongst the oldest cities in India
Stay options: Hotel Sheltom Rajamahendri, Manjeera Sarovar, Premiere Hotel, Aditya Palace, River Bay Resort
Visit These 26 Tourist Places In South India During Summer Of 2022
30. Horsley Hills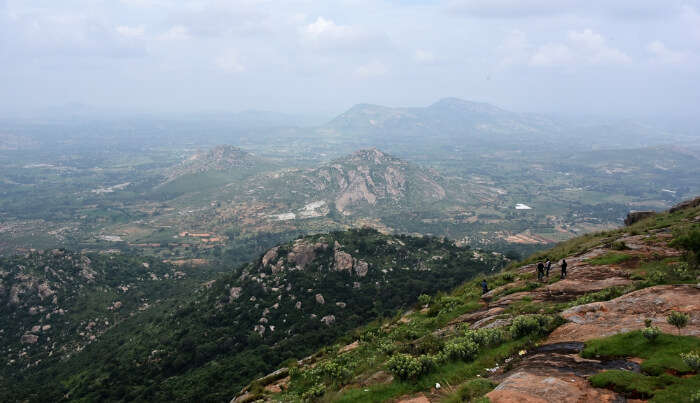 Horsley Hills is nestled beside the southwestern border amid Andhra Pradesh and Karnataka. This gorgeous hill station features exquisite amalgamation of the charms and lush greenery of the region. Locals call it by the name of Ooty of Andhra. The hill station is located at a height of 4312 metres and is famous for its breathtaking vistas.
Ideal for: Ideal for nature lovers
Type: Hill Station
Stay options: Horsley Hills Haritha Hill Resort, Horsley Hills Holiday Homes Resort, VSR Grand, Varun Vihar
The state of Andhra Pradesh is one of the most versatile destinations to add to your travel list. No matter what the interest of a traveler, there are all kinds of places to visit in Andhra Pradesh. For a great travel experience during your Andhra Pradesh vacation, don't forget to visit most of the above-listed locations of this amazing state of India.
For our editorial codes of conduct and copyright disclaimer, please click here.
Frequently Asked Questions About Places To Visit In Andhra Pradesh
What are the top places to visit in Andhra Pradesh?
Visakhapatnam, Gandikota, Tirupati, Ahobilam, Rajahmundry, Amaravati, Lepakshi, Araku Valley, Kurnool, Vijayawada, Nallamala Hills, etc. are the famous places to explore in Andhra Pradesh.
What is famous in Andhra Pradesh?
The state of Andhra Pradesh is famous for its splendid tourism and ever-growing infrastructure. The state has always paid special attention to developing all sectors. They have many attractions for travelers, be it religious, nature, or cities.
Is it safe to visit Andhra Pradesh during Covid times?
You need to follow all the mandatory guidelines mentioned by the government such as maintaining social distance, wearing masks in public places, washing or sanitizing hands after entry & exit, etc. Avoid visiting crowded places or being part of religious or social gatherings. In case of positive symptoms, quarantine yourself and get yourself tested as soon as possible.
When is the best time to visit Andhra Pradesh?
The best time to plan a holiday to Andhra Pradesh is during the winter months. You can plan a visit between November and February as this is the time when the weather is at its best in this region.
Which is the coolest place in Andhra Pradesh?
Lambasingi is one of the coolest places in Andhra Pradesh. Nestled at an altitude of 1000 m above sea level, Lambasingi is a serene hamlet that serves to be the coolest escape in summer in Andhra Pradesh. Lambasingi is located in the outskirts of Visakhapatnam and experiences minus temperatures during the winter season.
Which is the most beautiful city in Andhra Pradesh?
The city of Vizag is considered one of the most beautiful cities in the state of AP. They have the perfect balance of stunning coastline and modern city amenities. The original name of the town is Vishakapatnam but locally called Vizag.
Which is the largest city in Andhra Pradesh?
The city of Visakhapatnam is the largest in Andhra Pradesh. It is also the 14th largest city in the country. The town spans as large as 682 square kilometers and holds a population of twenty lakh people.
Which is the biggest forest in Andhra Pradesh?
The Nallamala Hills has the largest forest in the state of Andhra Pradesh. The state itself has a large forest density covering over twenty-three percent of its area.
What is the famous sweet in Andhra Pradesh?
All the cities of Andhra Pradesh have a liking for sweets. The Ashok halwa is an iconic creation of the state. The famous Tirupati temple distributes a laddu that is the most popular sweet from the state, hands-down!
What is the traditional food of Andhra Pradesh?
The people of Andhra are big one rice and daal. The many combinations and in the many levels of species can be seen across the city. All their food is famous for its excessive use of species and a hot flavor.
---
People Also Read:
Places To Visit In Jammu Places To Visit In Srinagar Places To Visit In Konkan
Comments
comments