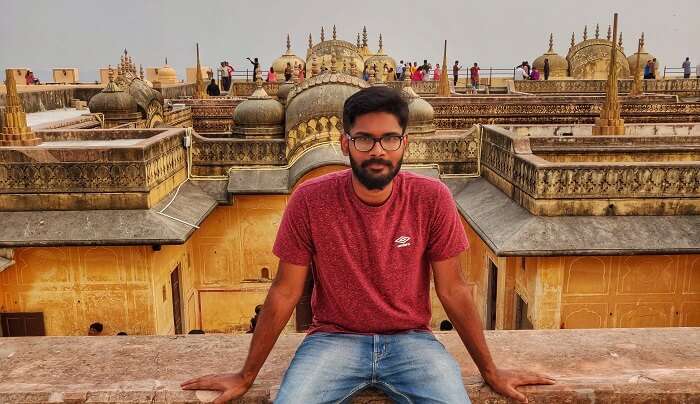 Rajasthan, the cities of pink, blue and gold. The city that never grows old! Colorful, vibrant, gorgeous, stupendous or any other synonyms of these words would ever do justice to what Rajasthan is. It's a regal Indian state famous for its forts and palaces which just add to the magnificence and grandeur of this destination and that is all that we were looking for in our ideal friends' trip destination. When we decided to take a group trip to Rajasthan it was so natural for us that we didn't even consider any other destination. Be it the beautiful sunsets we witnessed or Rajasthan's rich cultural past that we got to know about, it was every inch exotic and worth it all.
We are a group of four friends who work in Bangalore and amidst the madness of it all, the late hours, being overworked and the chaos and everything else we managed to sneak out and plan for a trip and when it came to the destination it was almost as if on cue we all at once decided for the 'Land of Maharajas', Rajasthan and without a doubt it was one of the most amazing decisions we have taken. We already had a fair idea about Rajasthan food and how the weather of Rajasthan in November would be perfect and we were right. Now we will brief you about our experience and why and how we had the time of our life in Rajasthan.
Details Of Our Group Trip To Rajasthan
Trip Type: Group Trip
Cost: INR 25,000
Duration: 8 Days,7 Nights
No. Of People: 4 Adults
Inclusions: Transfers, Sightseeing
Exclusions: Accomodation, Flight/Train tickets
Travel Agent From TravelTriangle: Trip Sailercom
Our Customised Itinerary For Our Group Trip To Rajasthan
Day 1: Arrival Udaipur Sightseeing
Day 2: Udaipur Sightseeing
Day 3: Transfer To Mount Abu; Sightseeing
Day 4: Transfer To Jodhpur
Day 5: Jodhpur Sightseeing; Transfer to Jaisalmer
Day 6: Jaisalmer Sightseeing
Day 7: Transfer to Ajmer; Sightseeing
Day 8: Ajmer & Pushkar Sightseeing; Transfer to Jaipur
Day 9: Jaipur Sightseeing
Day 10: Departure
5 Popular Hill Stations In Rajasthan For A Refreshing Escape From The Desert In 2022
Weather In Rajasthan In November
It's common knowledge that Rajasthan is a desert city and will naturally be boiling during the summer months and considering the same we planned for a trip in November as we knew that the weather in Jodhpur, Ajmer, Jaisalmer, and Jaipur in November will be amazing and we were more than right! The weather conditions were favourable. It wasn't boiling hot in the day and not chilly at night.
Experiences From Our Group Trip To Rajasthan
We had some of the most memorable experiences on our group trip to Rajasthan and we have listed out some of the best ones here.
1. Udaipur: The City Of Lakes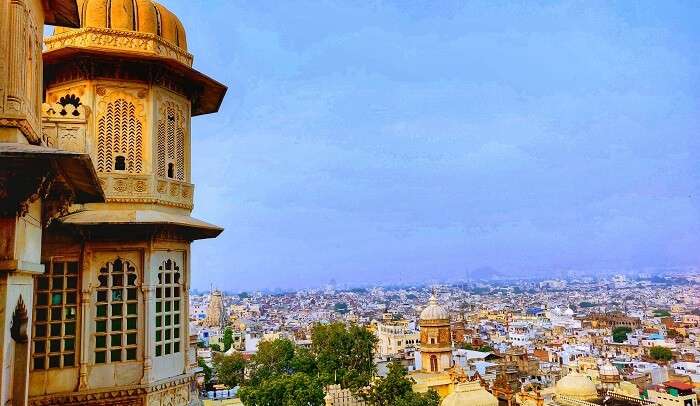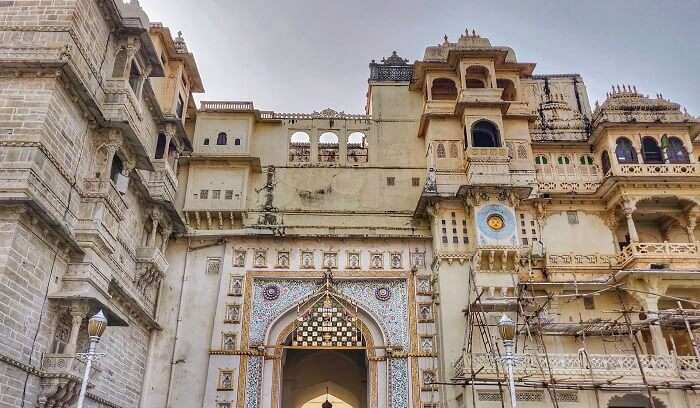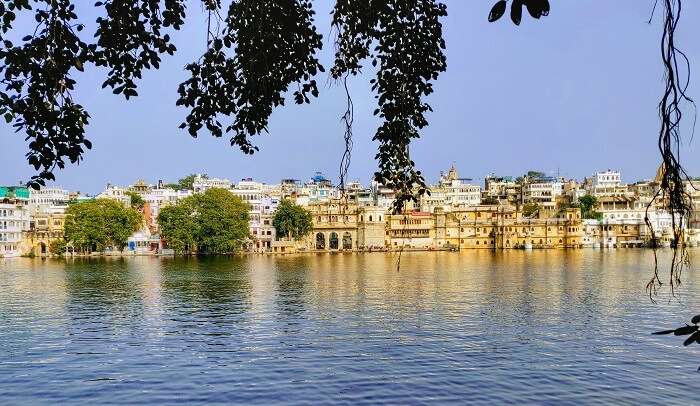 The first city that we visited on our group trip to Rajasthan was what is commonly referred to as the 'Venice Of The East', Udaipur. We visited the Karni Mata Temple and took the ropeway to go up the hill which offered us a beautiful panoramic view of the city and Lake Pichola. We wanted an offbeat experience so we then headed to Fateh Sagar Lake. We also visited the gorgeous Badi Lake which is also known as 'Tiger Lake' and the very famous Sajjangarh Monsoon Palace and Jagdish Temple.
Find Out The Best Places To Visit In Sikar: Rajasthan's Hidden Gem!
2. Mount Abu: The Only Hill Station In Rajasthan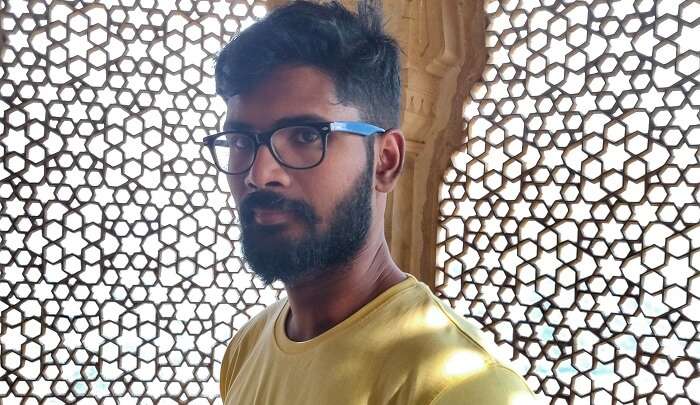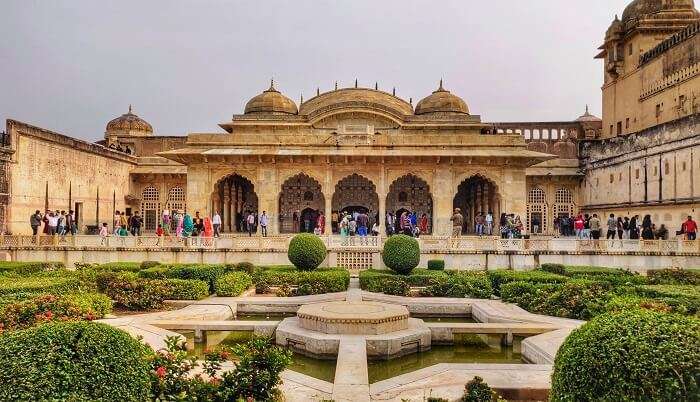 The next stop on our trip to Rajasthan was Mount Abu which is the only hill station in Rajasthan and therefore has acquired fame. We took a hike to Guru Shikhar, which is the highest peak in the Aravali range and were in awe of the setting magic of the coloured sky in hues of red and orange, contrary to the greens Ranges. The amazing weather in Mount Abu made it so much better. We then went to Nakki Lake and visited the local market and bought souvenirs.
3. Jodhpur: The Blue City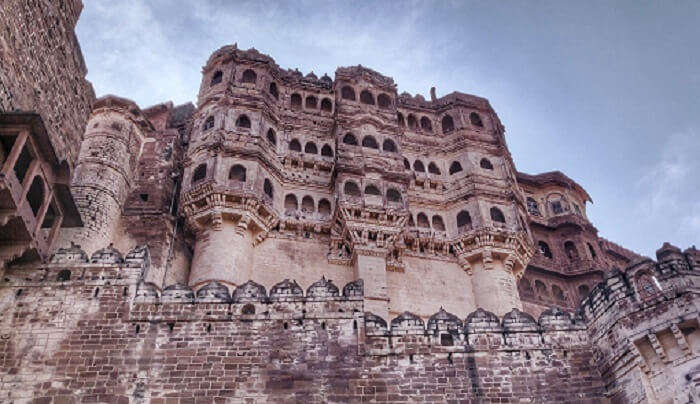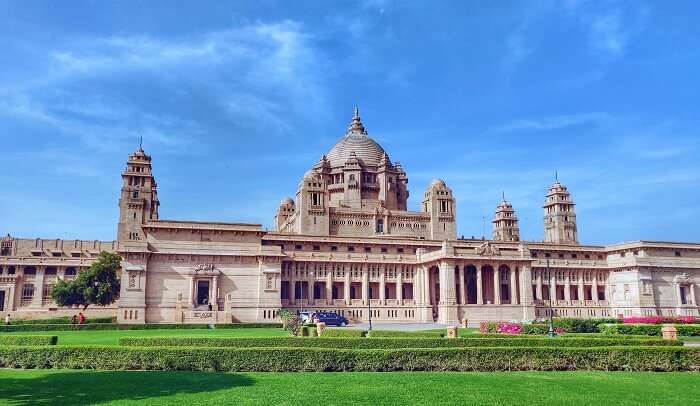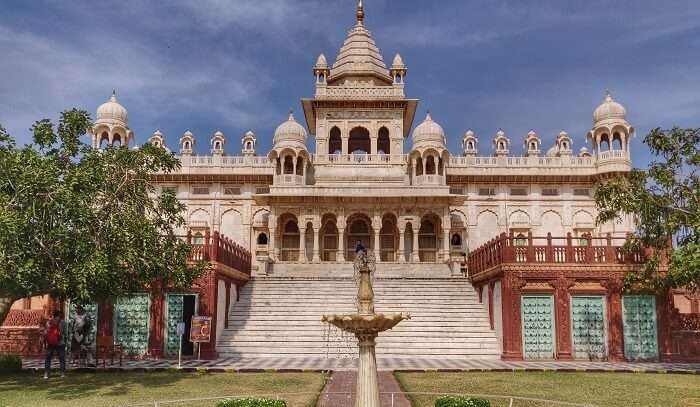 The next exciting on our friends group trip to Rajasthan was a visit to 'The Blue City', Jodhpur. Some of the places that we checked out on our trip was Ghanta Ghar (Clock Tower), the local market and the very famous Umaid Bhawan Palace, a magnificent honey sandstone and white marble palace. Walking into it made us feel like a royal! Next, we went to check out the most preserved fort of Rajasthan, Mehrangarh Fort and it really is an architectural masterpiece. Later went to see the marble cenotaph at Jaswant Thada, known as the Taj Mahal of Rajasthan.
14 Places To Visit Near Alwar That'll Help You Make Your Rajasthan Trip More Productive
4. Jaisalmer: The Golden City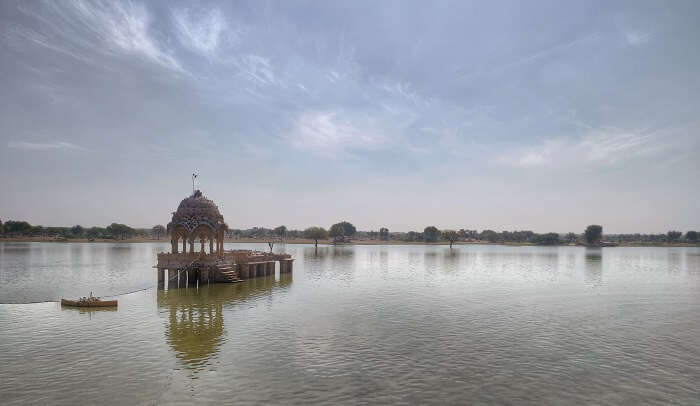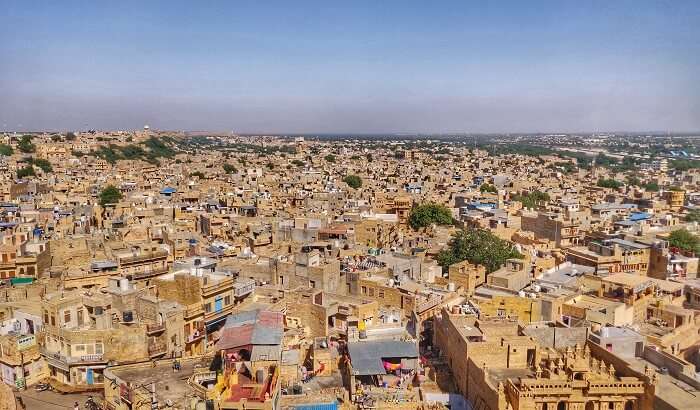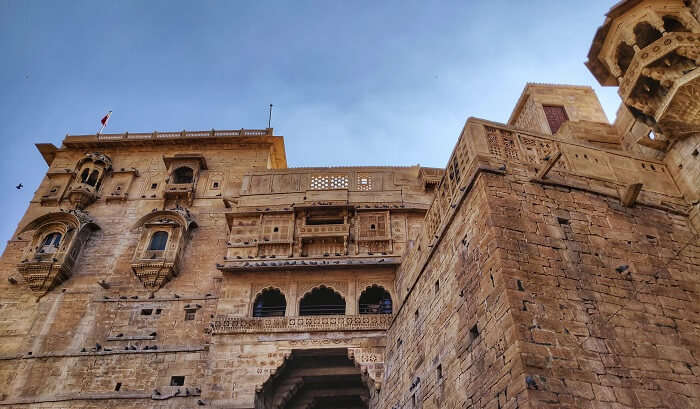 Our next stop on our group trip to Rajasthan was 'The Golden City'- Jaisalmer. We were equally excited and intrigued as to why this acronym but when we actually saw it we agreed, hands down. In Jaisalmer we visited a man made lake, the Gadsisar Lake. Next we visited the famous Jaisalmer Fort which is one of the very few living forts. We also checked out desert sand dunes which were beyond beautiful. We stayed at a camp in Jaisalmer where we even indulged in folk dance and music.
5. Ajmer: The Sacred City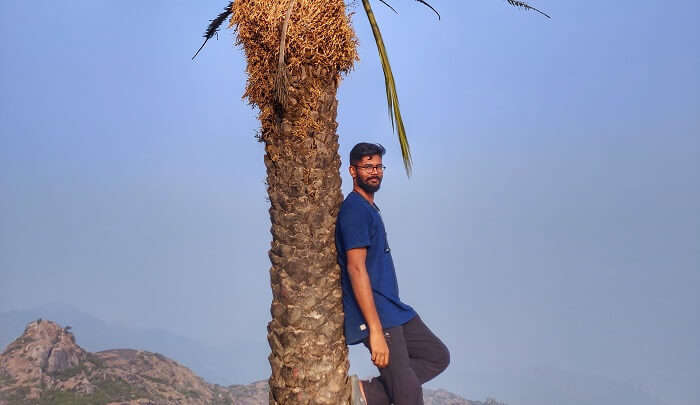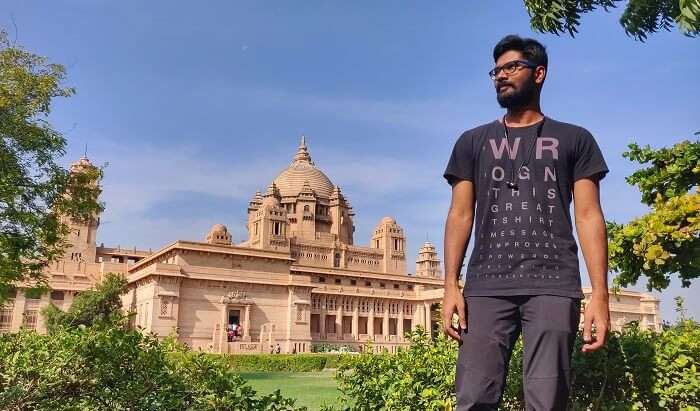 The holy city of Ajmer was the next stop on our group trip to Rajasthan. We went to the eternal and very famous Dargah popular by the name of Ajmer Sharif Dargah. Sharif Tomb of Khwaja Moinuddin Chishti, a well-known Sufi saint. The dargah is considered to be holy by the Muslims and people from many other religions and visiting the place was a very different and soul soothing kind of an experience.
15 Places To Visit In Rajasthan In January 2022 Which Has Something More Than Just The Palaces!
6. Pushkar: Another Holy City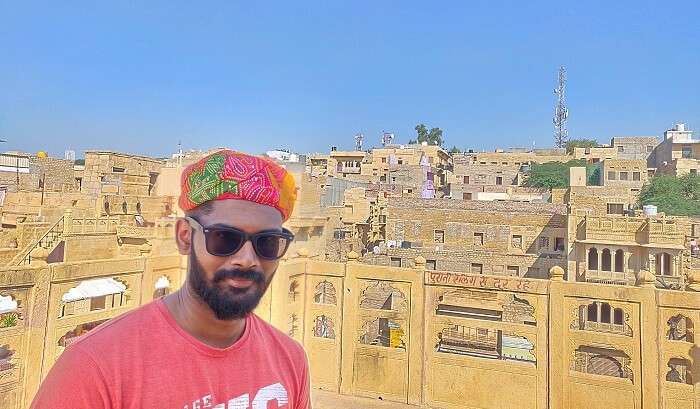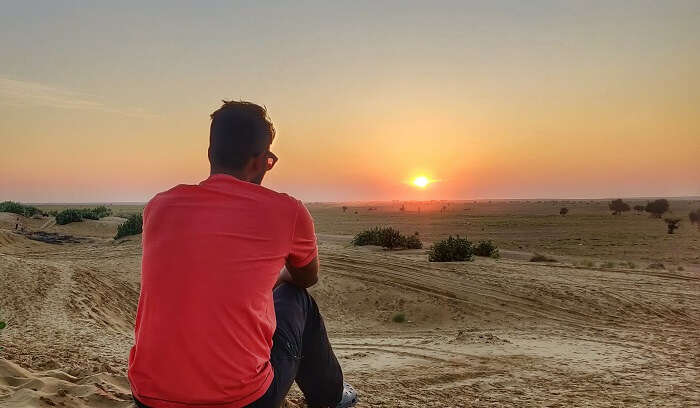 We also visited the holy city of Pushkar on our group trip to Rajasthan but considering the fact that it's only 11 kilometers from Ajmer we covered both the destinations in just one day. Saving time and exploring more is one of the hacks to do a vacation right. At Pushkar we visited the famous Brahma Temple, and Savitri Temple. Then we took a ropeway and enjoyed a panoramic view of the gorgeous city.
7. Jaipur: The Pink City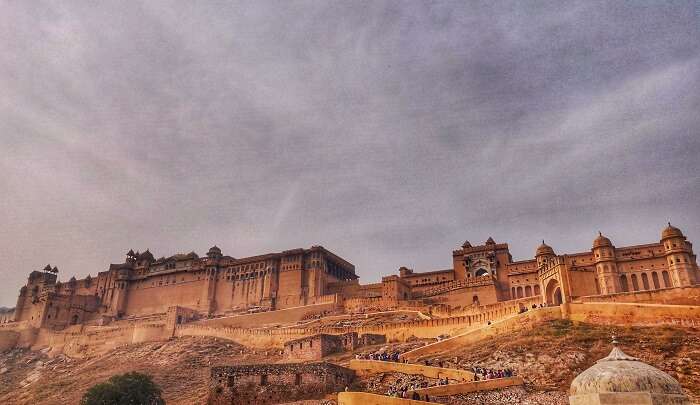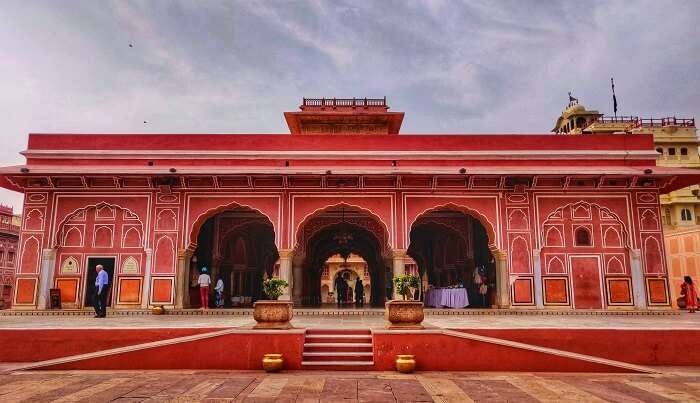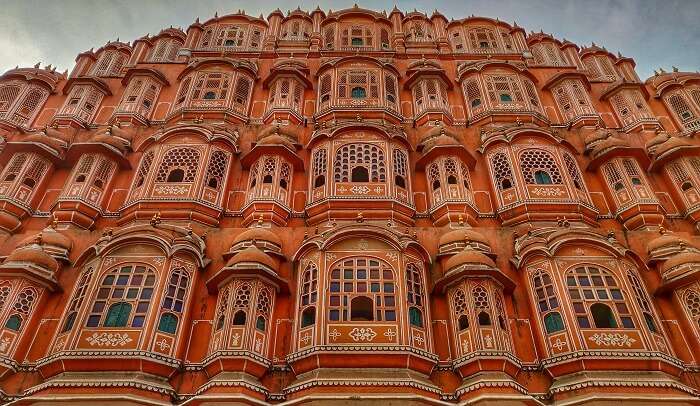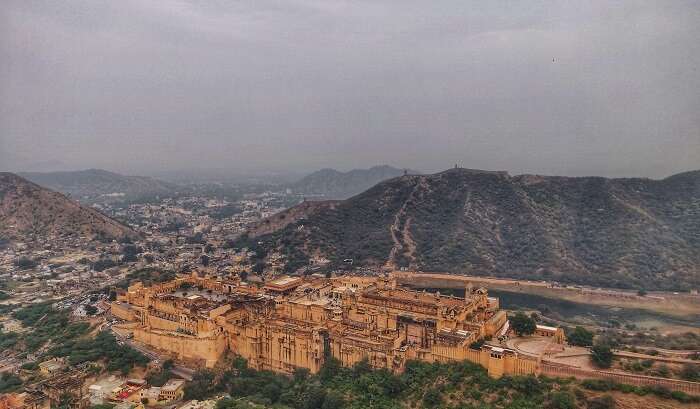 The last destination we headed to on our group trip to Rajasthan was 'The Pink City', Jaipur. You can say we saved the best for the last. We roamed around in the lanes of Jaipur, shopped at the local markets. Next we explored the Amber Palace or Amer Fort and then headed to Jal Mahal. It is one of the most spectacular sites we have witnessed in our lives. We next visited the Albert Hall Museum and checked out the famous light show in the evening.
Our Hotels In Rajasthan
Naturally when we covered seven different destinations on our group trip to Rajasthan our hotels at every destination were bound to be different but rest assured all the hotels were great. We stayed at Musafir Hostels in Udaipur which is a newly opened hostel on the banks of Lake Pichola. In Mount Abu we stayed at Hotel Ashoka which was a decent hotel. Next, in Jodhpur we stayed at Raahi Hostel and in Jaisalmer it was Romany Hostel which is known to be one of the best ones in town. It was Sunrise Desert Resort in Jaisalmer, Elephant Hostel in Pushkar and Bunkstop Hostel in Jaipur. Overall, all our hotels in Rajasthan were great.
Shopping In Rajasthan
Our shopping experience on our group trip to Rajasthan was superb. Even though I am not a shopping person yet it was enjoyable. We bought some souvenirs from our group trip to Rajasthan. We saw how skilled Rajasthani people really are and their potential of making eye catching stuff. Carpets, blankets, paintings, art works, toys, jewelry and even sarees, they had it all. Belts, bags and designer boots called 'Mojaris' also caught our attention. Bada Bazar in Udaipur, Sadar Bazar in Jaisalmer, Clock Tower Road in Jodhpur and Johari Bazar in Jaipur are some of the places we went for shopping in Rajasthan.
Our 6 days In Rajasthan In 2022 Gave Us Majestic Experiences To Be Cherished Forever
Food In Rajasthan
This is our favourite thing to talk about. We already had a fair idea about how delicious Rajasthan food is and we were so happy when our guesses turned out to be right. We visited many different restaurants in Rajasthan and some of the ones worth mentioning here are the Harigarh Restaurant, Sai Sagar Coffee House, and Jheel Ginger Coffee Bar in Udaipur, Atithi Restaurant in Mount Abu, Janta Sweet Home in Jodhpur, La Pizzaria Restaurant in Pushkar, Muhammadi Palace, Sodhani Sweets and MM Khan Hotel in Jaipur. Some of the local delicacies that we relished were Ghewar, Laal Maas, sabzies like Gatte ki sabzi, Kar Sangria, Sev Tomato, and different kinds of rotis like Missi roti, Tandoori roti, Moti roti and more.
What To Pack For A Group To Rajasthan
Some of the things that you must not forget while packing for a group trip to Rajasthan in November are listed here. Keep some extras for your forgetful friends and they will love you forever! Thank us later.
Sunglasses
A Cap or Hat
A light jacket or windcheater for night
Sweatshirts or full sleeved t-shirts
Jeans
Comfortable shoes and boots
Sunscreen
Rajasthan Travel Tips
Some Rajasthan travel tips that you must bear in mind are listed here. We hope taking a glance would make your Rajasthan trip a better experience.
Most of the tourist attractions are closed by 5 PM, so make your plans accordingly.
Try staying at the Jaisalmer Fort for a night. It is one of the few forts around the world where you can have this experience.
It is better to commute between the different cities of Rajasthan by road. The roads are in good condition and the views along the drive are more than beautiful.
Combo tickets are available for various sightseeing places in Jaipur, Jodhpur and other cities. Those will save you both time and money.
Do not forget to carry a camera and capture all the happy memories.
Our Experience With TravelTriangle
The places we visited and the fun we had! Our group trip to Rajasthan was an awesome experience and honestly we couldn't have had it any other way. We are so happy that we planned our trip with TravelTriangle because the services offered and everything else was great. Our trip planner assisted us throughout and helped us with everything we needed and cleared all our doubts. Will definitely come back to them for more.
Get The Rajasthani Bohemia On! 17 Amazing Shopping Places In Jaipur To Explore In 2022!
Muralikanth's group trip to Rajasthan and coming back to share his great experiences is as amazing as it gets. Be it Pushkar, Ajmer, Jaisalmer or Udaipur every city has its own charm and if his experiences alone were convincing enough for you to plan a trip to Rajasthan then there is nothing better!
Common Queries For A Group Trip To Rajasthan
What is the best time to visit Jaipur?
The best time to visit Jaipur is from November to February. The weather is quite pleasant at this time making it comfortable for visitors to explore the place.
What is the temperature in Rajasthan in November?
As Rajasthan covers a large geographical area the temperatures vary from one place to another but the average temperature ranges between 16 degrees Celsius to 20 degrees Celsius.
What should I wear in Jaipur?
You can wear anything that you feel comfortable in Jaipur but as the weather is slightly cold during winters it's better to carry a light jacket or shawl.
What can I buy in Jaipur?
There are many things that you can buy in Jaipur. Jewelry, Bandhani Dupatta, Meenakari work items, Mojris and Jaipur handcrafted bags are some of those.