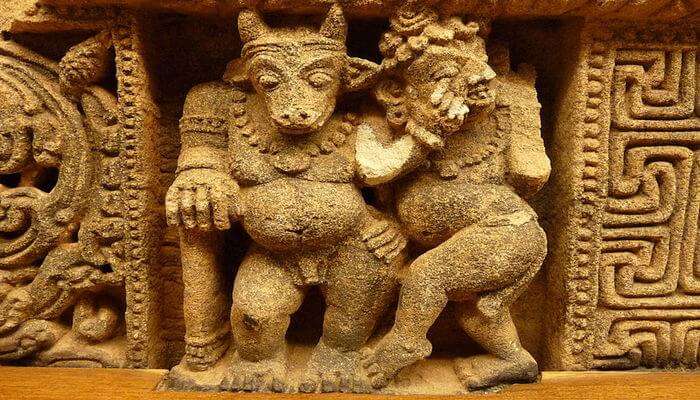 Cover Image Credit: Wikipedia

Bhubaneswar's history goes back in time to the 3rd century B.C, when the Kalinga war was fought. Bhubaneswar, the capital of Odisha, is fondly known as the 'City of Temples', with a blend of diverse cultures, rich heritage and vast history along with grandeur architecture, this city is full of hidden gems that hold a lot of religious importance. Bhubaneswar houses several temples, historical landmarks and museums that beautifully portray the culture of Bhubaneswar are an integral part of this city. Make sure you add these museums in Bhubaneswar to your itinerary while you're vacationing in the city of temples. Bhubaneswar has a vibrant culture that is spanning across various sources like art, dance, museums, crafts, workshops, archaeological relics, historical landmarks and movies.
Museums In Bhubaneswar
If you're eager to explore the culture of Bhubaneswar and learn more facts about the destination you're visiting then check out this list of museums in Bhubaneswar that will enhance your holiday experience in the city of temples.
1. Odisha State Museum

Built across four floors, this museum houses a rich collection of unique manuscripts written on palm leaves, copper places, traditional musical instruments, terracotta, contemporary art, bronze, stone and copper materials. All these artifacts are as old as the 3rd century B.C and the latest being the 20th century. Established in the year 1932 and shifted to a new building in Bhubaneswar in 1960. The main purpose behind the foundation of this museum is that it aims to preserve the archaeological treasures for display for history buffs and book worms. The museum also houses a library with a vast collection of books on art, history and culture.
Must Read: 30 Tourist Places In Odisha To Visit In 2022 For A Fun Vacation
2. Regional Museum Of Natural History

Founded in the year 2004, this museum aims to promote the ecosystem of our planet and to create awareness about the environment of our planet. The museum preserves several plants, animals and the flora fauna, their impact on mankind and the pivotal role it plays in saving the future of our planet. This museum exhibits the vibrant geology of the North Eastern region, Andamans and of course, Odisha. One of the main attractions of this museum is the huge skeleton of Baleen Whale that captivates the visitors and grabs their attention.
Suggested Read: 30 Best Places To Visit In August In India To Welcome Monsoons In 2022
3. Museum Of Tribal Arts & Artifacts

This museum has gained recognition in the eyes of the UNESCO who have declared it as one of the best and well maintained tribal museums in India. As the name suggests, this museum is culturally driven and sheds some light on the tribal heritage of Odisha. The museum houses some fascinating display items like clothing, wooden, metal, stone objects and other jewelry items of several tribes that have originated from Odisha like Bonda, Lanjia Saora and Santhal Tribes.
Suggested Read: 7 Places With Highest Rainfall In India To Be Explored In This Lifetime
4. Buddha Art Gallery

Buddha Art Gallery comprises of paintings that are created by renowned artists in the industry like Siba Panigrahi, D.N Rao and more. You can visit the gallery and stroll through the alleys to marvel at the artwork and the masterpieces that are some of the most innovative and marvelous contemporary artwork of traditional art forms, influenced by the tribes of Odisha. This museum is an initiative taken up by the Government of Odisha and is considered to be one of the biggest art galleries in Odisha.
Suggested Read: 7 Budget Airbnbs In India You Can Rent Out Without Breaking Your Bank
---
Planning your holiday but confused about where to go? These travel stories help you find your best trip ever!
---
5. Gallery OIC

Odisha India Craft Gallery, aka Gallery OIC is an Orissa Overseas initiative that houses paintings of various artists belonging to Odisha, you can take a stroll through the gallery and find treasures of artwork ranging from traditional paintings known as pattachitra, saura tribal and palm leaf paintings to modern ones like the canvas painting.
Suggested Read: 6 Holy Places In India That Defy Reasoning And Opens New Realms Of Mystery
6. Suvadra Art Gallery

Considered to be one of the most spacious art galleries of Odisha, it houses several paintings in both traditional and contemporary art forms. Founded with an aim to promote art in India, this gallery also holds workshops, exhibitions, art camps throughout the year. You can witness a diverse portfolio of traditional paintings, contemporary art form and fascinating sculptures.
7. Odisha Modern Art Gallery

This gallery is a non-profit making platform that curates brilliant pieces of artwork created by several local and national artists. The gallery showcases a display of contemporary art and craft with an aim to preserve Odisha's rich culture and heritage.
Further Read: Embark On These 8 Exciting Family Road Trips In India For A Memorable Adventure
Visit these museums in Bhubaneswar to take a trip down memory lane and relish the rich culture, history and heritage of Odisha. Make your trip to Odisha more fascinating by enriching yourself with the knowledge and history of the destination you're visiting. Stroll through the art galleries and marvel at the masterpieces created by some of the most eminent artists in the industry.
---
Looking To Book An International Holiday?
---
People Also Read