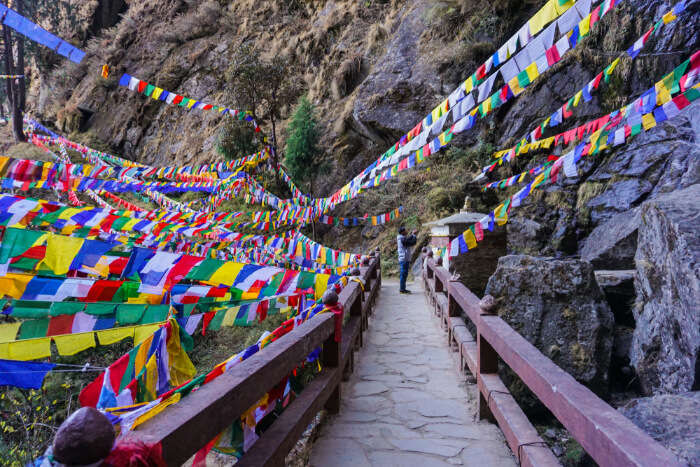 Known for its mystical monasteries, artistic fortresses, and enormous mountains, Bhutan is a small country that is also famous for its vibrant culture with Buddhism as the most practiced religion. Owing to its scenic landscapes, fascinating architecture, and diverse culture, Bhutan has become a popular tourist destination for all types of tourists ranging from honeymooners to families, and from friends to solo travelers.
Due to the subtropical climatic conditions, the best time to go to Bhutan is during October to December as the weather is apt for sightseeing, and indulging in outdoor activities. Also, planning your trip to Bhutan in December provides you an opportunity to peep into the Bhutanese culture by witnessing various festivals hosted by the locals. Here is an extensive Bhutan Travel Guide to help you plan your trip in December.
Bhutan is located on the north eastern most part of the Asian map and since it's located quite further from the metropolitan cities and has a comparatively lesser population, it can be considered safer than most cities during this time. If you're interested in visiting Bhutan in December during Covid, then the below destinations will surely come in handy.
Weather In Bhutan In December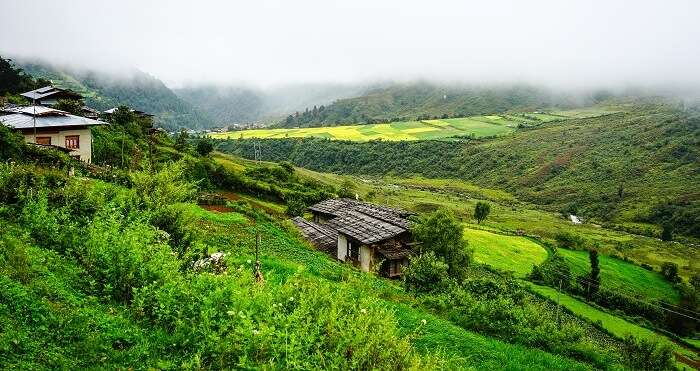 Bhutan witnesses four major seasons, namely- Spring (March to May), Summer (June to August), Autumn (September to mid-November), and Winter (mid-November to February). Winter prevails in the country of Bhutan in December. Climate in Bhutan in December is cool and pleasant. The skies are clear, making it a great time to visit this happy country.
12 Charming Monasteries In Bhutan Every Traveler Must Explore
Is It A Good Time To Visit Bhutan In December?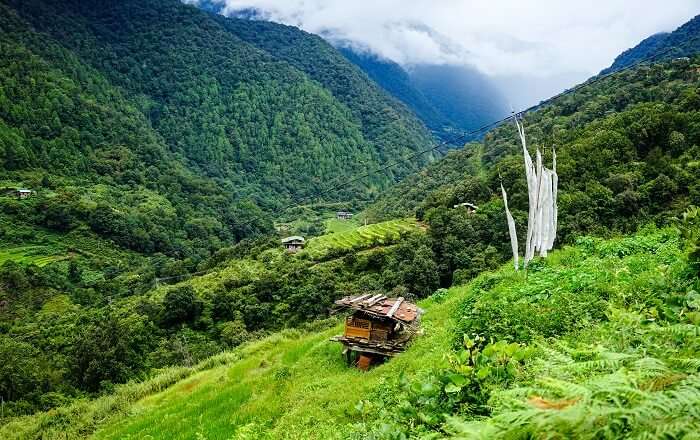 The best time to explore Bhutan is during the months of October to December. Bhutan weather in December marks the beginning of winters and, hence, the temperature of Bhutan in December is moderately cool, skies are clear, and the place is not much crowded which creates an ideal environment for a trouble-free, and cost-effective Bhutan tour in December.
Another fringe benefit of visiting Bhutan in December is that one gets to witness a rare sight of black-necked cranes which migrate to this country during the winter season.
Our 5 Days In Bhutan Were All About Bliss, Adventure And Tranquility!
Average Budget To Explore Bhutan In Winter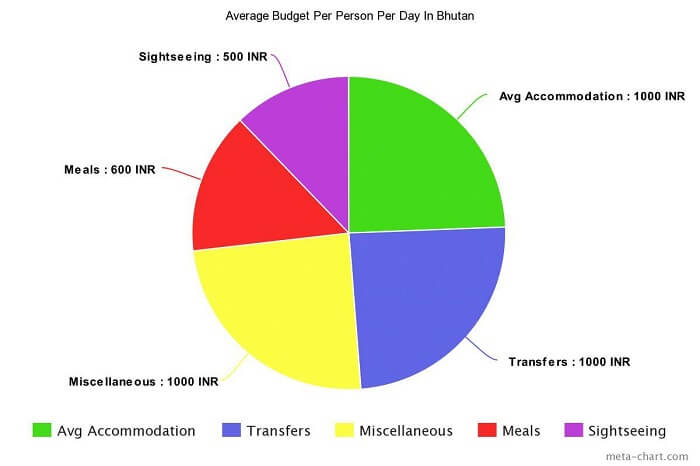 aking the basics into consideration like that of flights, accommodation, meals, and transfers, an average budget per person per day in Bhutan would be:
Flights (cheapest from Kolkata): INR 10,000 for a round trip (based on bookings done 30 days prior to departure)
Average Accommodation: Starts from INR 1000 (double sharing basis & tax excluded)
Meals: INR 600 (Lunch & Dinner)
Sightseeing: INR 500
Transfers: INR 1000 for cabs, and INR 500 for buses (to and fro)
Miscellaneous: INR 1000
Please Note:
Flights are not included in the average budget per day per person as it may differ for various destinations.
Breakfast is not included in the budget as most of the hotels include it in the accommodation itself.
Lower limit has been considered to arrive at an average budget.
This is just a rough estimate as to how much a person can spend per day in Bhutan.
Prices may change based on time of traveling, season, time of booking, inclusions, and exclusions.
18 Places To Visit In Paro In 2022 That Will Leave You Enchanted
Best Places To Visit In Bhutan In December
Here is the perfect list of places that you must explore on your trip to Bhutan in December 2022. Keep scrolling down to know more!
1. Gangtey Monastery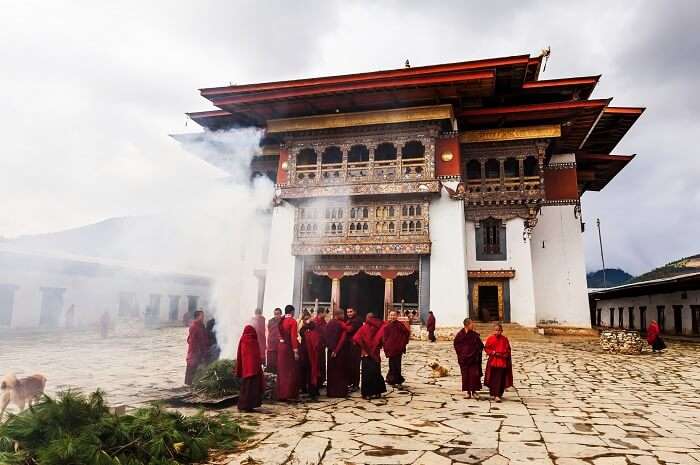 One of the best places to visit in Bhutan in December is Gangtey Monastery. Situated at an altitude of 3,000 meters, in Gangtey village, the Gangtey Monastery is regarded as one of the principal spiritual institutions in Bhutan. A drive to this monastery provides enthralling views of the gigantic Black Mountains and the U-shaped gelid Phobjikha valley. Hence, it is a must-visit place during your trip to Bhutan in December.
Why visit: Phobjikha Valley is also known for black-necked cranes which migrate to this place in the winter months are worth capturing in your DSLR. However, winters can be harsh in this region for a tourist.
Entry Fee: None
Timings: 9 AM – 5 PM
How to reach: You can take a short 90-minute hike to reach the monastery and enjoy the enthralling views of nature surrounding the trail.
Top 10 Indian Restaurants In Bhutan You Need To Visit In 2022!
2. Punakha Dzong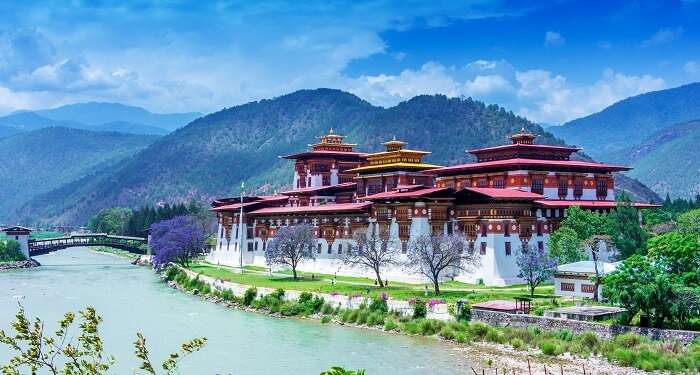 Punakha Dzong, another one of the places to visit in Bhutan in December, is a major seat of administrative and monastic institutions, built 400 years ago. Situated at the confluence of Mo Chhu, and Po Chhu rivers, this place boasts of artistic architecture such as the 100 Pillar Hall, and mesmerizing murals depicting the life of Buddha. Also, Punakha Dzong is winter residence for monks who migrate to warmer places in Bhutan in winter.
Why visit: It is the second oldest Dzong in the nation and is renowned for its rich Buddhist culture and history.
Entry Fee: None
Timings: 9 AM – 5 PM
How to reach: Dzonga can be reached by taking a short hike after crossing the Suspension Bridge. Punakha is 86 km from Thimphu and can be reached by taking a tourist taxi which will cost you INR 1200.
Reasons Why You Lose A Lot If You Miss Out On Bhutan Travel Experience!
3. Royal Manas National Park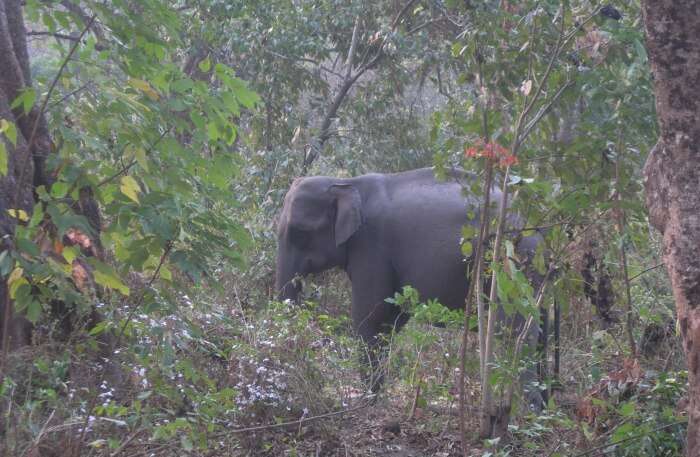 Another remarkable place to visit during your trip to Bhutan in December is the Royal Manas National Park. Titled as the "Crowned Jewel", it is the oldest national park of Bhutan and is considered as the "conservation showpiece of the Kingdom" that shares its border with Manas Tiger Reserve.
Why visit: If you are visiting in November, you have an excellent opportunity to experience the Tsechu festivals in the region apart from the year-round wildlife safari.
How to reach: There is no fixed entry to the park. You will have to tie up with a local travel agent to help you organize a trip to the park. It takes at least 2-day drive from Thimphu to reach the park. So, it is recommended that you spend at least 2 days here.
Visit These 53 Tourist Places In Bhutan In 2022 To Change Your Worldview
4. Buddha Dordenma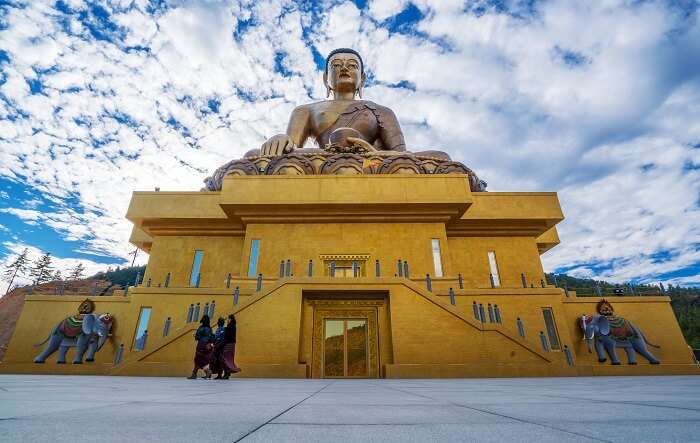 Buddha Dordenma is a 51-meter colossal statue of Gautam Buddha situated on a hilltop overlooking the country's capital, Thimphu. The most astonishing part of the statue is that there are more than 100,000 miniature Buddhas cocooned inside the mammoth statue which makes it a must-visit attraction during your trip to Bhutan in December.
Why visit: The glimmering statue was built to fulfill the two prophecies. It also blesses visitors with everlasting happiness and enlightenment.
How to reach: The towering statue is located in the heart of the Thimphu city and can easily be reached by a car.
9 Best Things To Do In Punakha For The Most Blissful Holiday Experience
5. Phuentsholing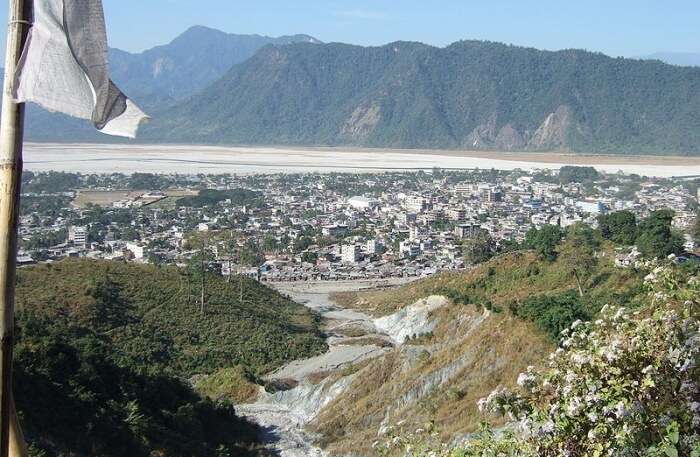 Phuentsholing is a huge town situated in the Chukha district and shares its border with the Indian town of Jaigaon. The unique feature of this town is that it has a diversified culture where Indian, Bhutanese, and Nepalese groups live together in harmony. Festivals in Bhutan are a must-attend in this town. This town houses fascinating tourists places like Zangtho Pelri Lhakhang, Kharbandi Goemba, Bhutan Gate, and many more. Do add it to your list of places to visit in Bhutan in December.
12 Bhutan Facts: This Traveler's Story Will Leave You With A Longing To Visit This Happy Place!
Best Things To Do In Bhutan In December
Your trip to Bhutan in December offers great opportunity to quench your thirst for adventure by indulging in thrilling outdoor activities. Take a look!
1. Trekking In Jigme Dorji National Park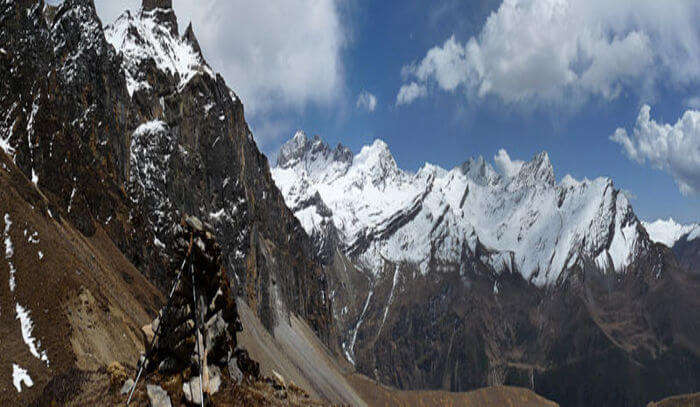 Jigme Dorji National Park is the largest protected area of Bhutan. It is a trekkers paradise as it houses most popular trekking routes, and allows travelers to witness the rich flora and fauna which includes the Cypress trees, flowers like blue poppy, edelweiss, orchids, rhododendrons, and animal species like snow leopard, takin, tiger, black bears, and red panda.
2. Hiking In Thrumshingla National Park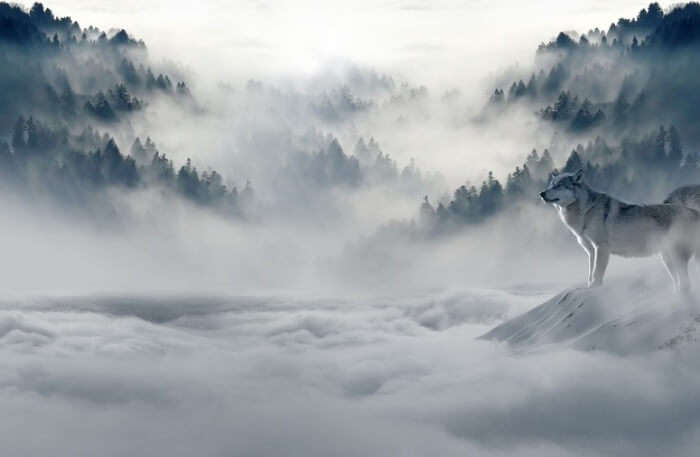 Located in central Bhutan, Thrumshingla National Park offers breathtaking hiking, and trekking opportunities to places like Rhodungla, Bribdungla, Lingmithang, and Gezamchu. The most astounding part of this park is that one can witness tigers surviving in this area at an elevation of 3,000 meters.
3. Explore The Cheli La Pass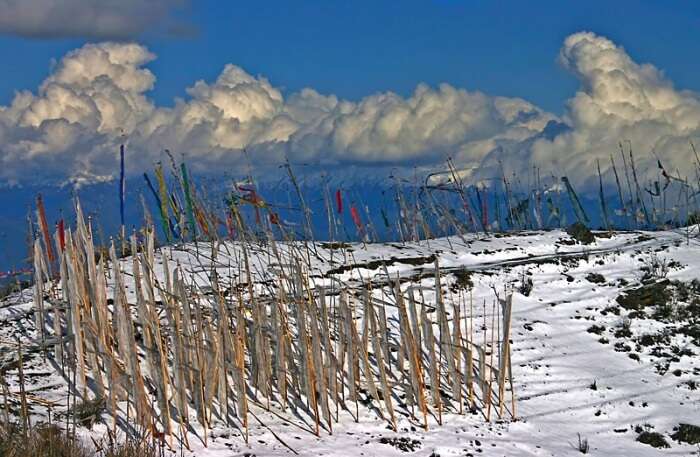 Cheli La Pass is a 35-kilometer drive from Paro with mesmerizing views of the mountains, and lush green forests. It is one of the highest motorable points in Bhutan which separates Paro, and Haa valley. Famous for its treks, and day walks, this place is also perfect for couples who are planning a honeymoon in Bhutan in December.
---
Planning your holiday but confused about where to go? These travel stories help you find your best trip ever!
Real travel stories. Real stays. Handy tips to help you make the right choice.
---
4. Discover Peace In Limbukha Village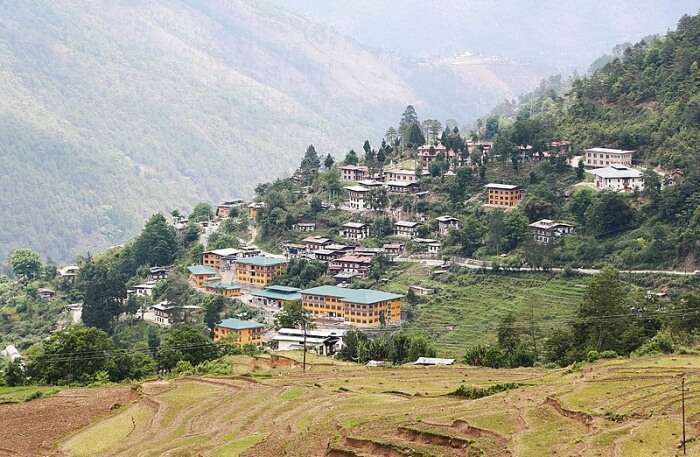 Limbukha Village is famous for its peace-loving people, and legends tell that these people always acted as peace negotiators during medieval wars. The village also provides charming views of the Punakha Dzong, Mo Chhu, and Po Chhu rivers. Include this place in your itinerary for Bhutan in December to spend a day in the tranquilizing environs far from the hustle and bustle of the cities.
Reasons Why You Lose A Lot If You Miss Out On Bhutan Travel Experience!
5. Visit The Torsa Strict Nature Reserve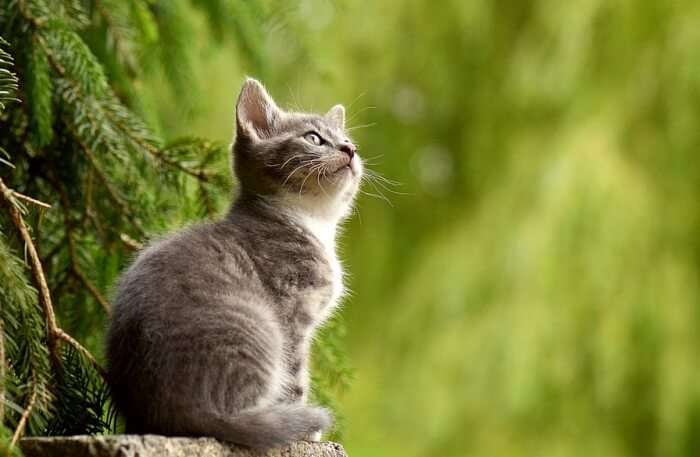 Torsa Strict Nature Reserve is the only protected area in Bhutan which is uninhabited by humans. Include this place for your trip to Bhutan in winter to witness the broadleaf forests, and rare bird species like chestnut-breasted partridge, wood snipe, and rufous-necked hornbill.
Paragliding In Bhutan: Get All The Information You Need
Must Experiences In Bhutan In Winter
Bhutan in winters look mesmerizingly beautiful. Make your trip extra special by indulging in experiences that you should definitely give a try to. Take a look!
1. Trek To The Tiger Nest & Paro Taktsang Monastery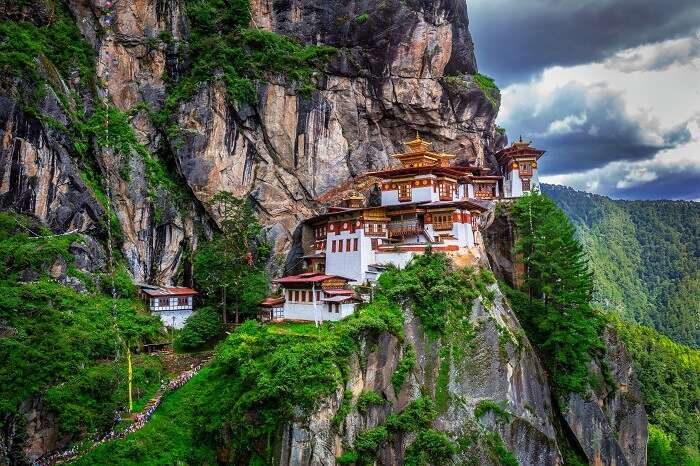 If you are looking forward to trekking in Bhutan in December, then Tiger Nest should be your first pick. The trek is short as well as arduous because of the extremely steep slope. Also, Paro Taktsang Monastery is the most popular monastery in Bhutan situated at an altitude of 10,240 feet that does not only offer spiritual vibes but also some of the most awe-inspiring views of the Paro valley.
2. Be Mesmerized By The Views Of Dochula Pass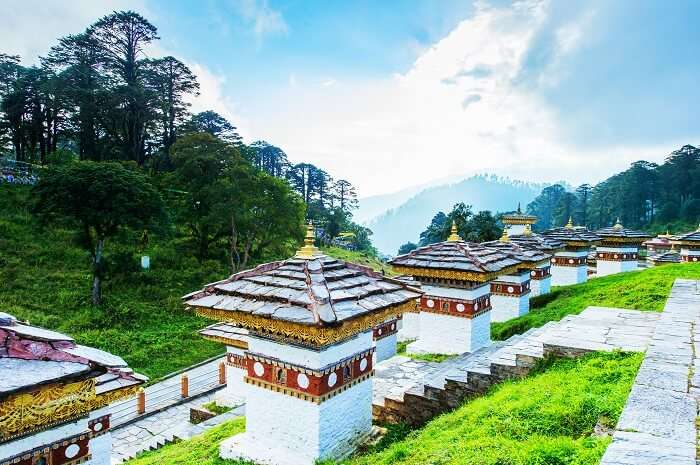 Located at an altitude of 10,200 feet, the stimulating Dochula Pass is heaven on earth, and your trip to Bhutan in December would be incomplete without visiting this place. This pass is a connection between Punakha, and Thimphu. It provides a panoramic view of the snow-capped Himalayan ranges, and is also a popular spiritual destination as it houses the historic Druk Wangyal Lhakhang temple.
3. Rafting In Mo Chhu River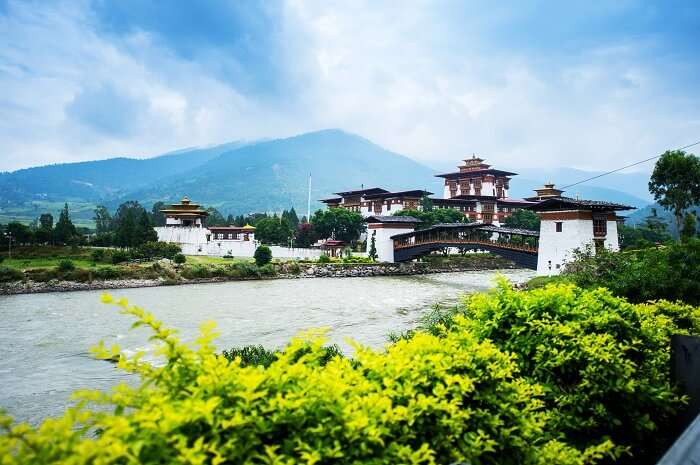 Electrify your trip to Bhutan in December by including this galvanising rafting activity in your itinerary. Embark onto a venturesome experience of whitewater rafting that includes 10 rapids which allows the travelers to cherish this lifetime memory.
Places To Stay In Bhutan In December
A perfect itinerary must contain suitable options for having a comfortable stay. Here is the list of best places where you can stay and enjoy your trip at. Take a look!
1. Le Méridien Paro, Riverfront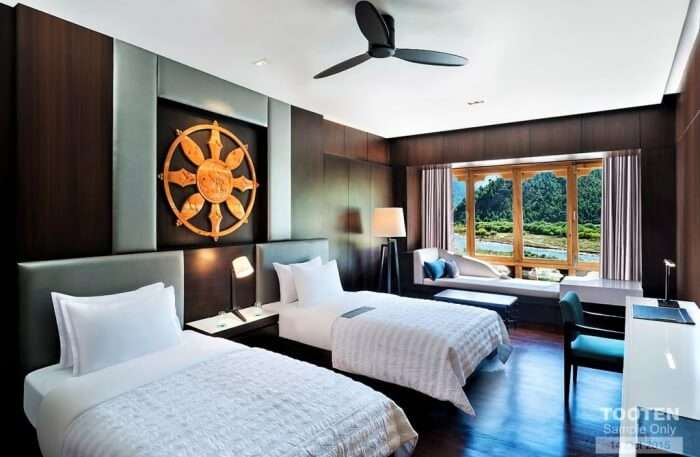 Located on the Paro-Thimphu highway, this 5-star property offers all modern amenities, top-notch dining, and a restful environment to its customers for the most comfortable experience during their Bhutan tour in December.
Address: Paro-Thimphu Highway, Shaba, Paro
Average Price/Night: Starting from INR 24,678 (double-sharing basis & tax excluded)
Ratings: 4.7/5 | Reviews | Website
Solo Bike Trip To Bhutan: A Journey Of A Lifetime That Helped Me Overcome Depression!
2. Hotel Druk Thimphu Bhutan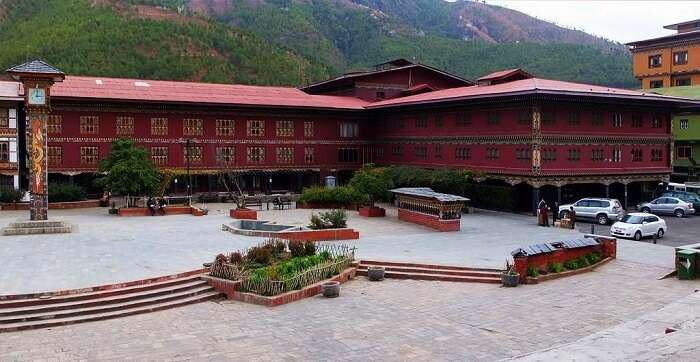 Located in the city centre, surrounded by lush green forests, valleys, and alluring streams, Hotel Druk is one of the best hotels in Bhutan for your trip to Bhutan is December. It provides comfortable accommodations, world class amenities, and dining and bar facilities at budget prices.
Address: Wogzin Lam, Clock Tower Square, Thimphu
Average Price/Night: Starting from INR 6,274 (double-sharing basis & tax excluded)
Ratings: 4.4 | Reviews | Website
3. Hotel Norbuling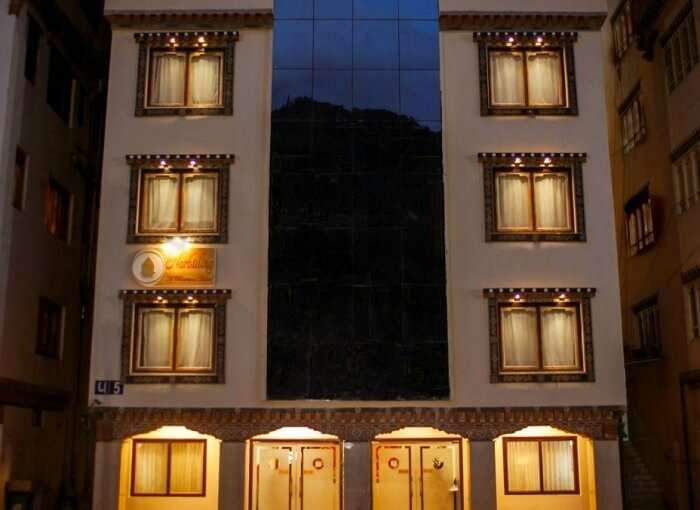 Located in the capital city of Bhutan, Hotel Norbuling is the most suitable accommodation for travelers who are planning a budget-friendly trip to Bhutan in December. Designed on the lines of traditional as well as modern Bhutanese architecture, this hotel is popular for its hospitality and homely rooms at lowest prices.
Address: Building No. 5, Chang lam street, Thimphu
Average Price/Night: Starting from INR 5,460 (double-sharing basis & tax excluded)
Ratings: 4.2/5 | Reviews | Website
Best Restaurants In Bhutan
Savour the authentic taste of Bhutanese cuisine at these prominent restaurants during your trip to Bhutan in December. Take a look!
1. Bukhari Restaurant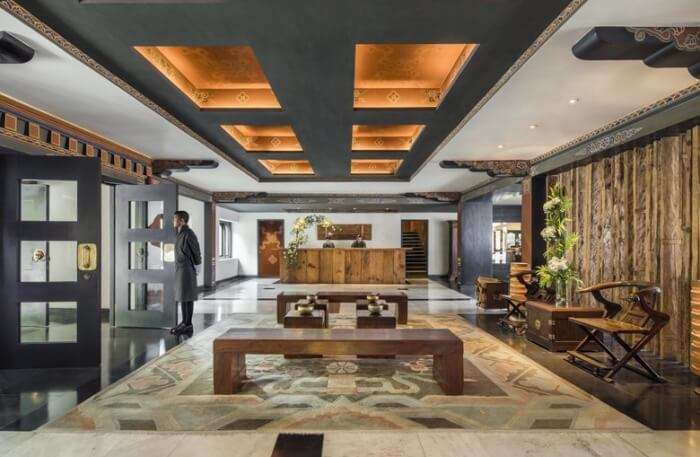 Bukhari restaurant, a venture of Como Hotels is an award-winning restaurant which is famous for its organic dishes. It has an elegant ambiance and an elaborate menu that keeps changing every 3 days. This restaurant also serves international cuisines like Indian, Chinese, and many more.
Must Try: Uma Cheese Burger, and Shambhala Cuisine
Location: The Como Uma Hotel, Uma Paro, Paro
Timings: 11:30 am to 4:00 pm and 6:30 pm to 10:00 pm
Cuisine: Bhutanese, and International Cuisines
Average Meal For Two (With Wine): Starts from INR 4000 (tax excluded)
TripAdvisor Ratings: 4/5 | Reviews | Website
2. Asian Kitchen Hotel And Bar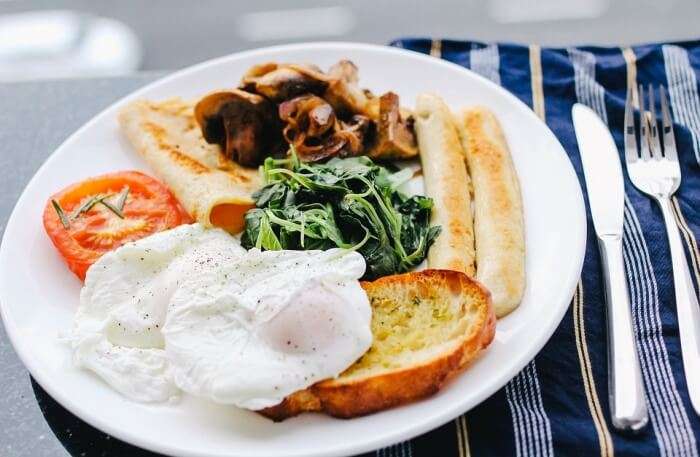 Situated in Phuentsholing town, this restaurant serves a variety of cuisines ranging from Bhutanese to Chinese, Thai, Japanese, and Indian. It has an in house bar and also serves special food for vegans as well.
Must Try: Ema Datshi, and Chicken Tikka Masala
Location: Tharpai Lam, Phuentsholing
Timings: 7 am to 10:30 pm
Cuisine: Bhutanese, Thai, Continental, Chinese, and Indian
Average Meal For Two (With Wine): Starts from INR 1300 (tax excluded)
TripAdvisor Ratings: 4/5 | Reviews | Website
3. The Thongsel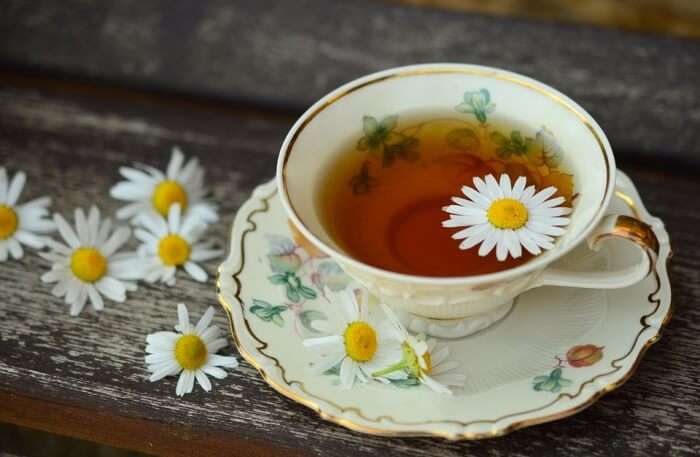 The Thongsel, a chain restaurant of Taj Tashi, is an exquisite fine dining restaurant set amidst picturesque mountains lush green forests. It offers lip-smacking food with a variety of cuisines incorporated in their menu such as Indian, Thai, Bhutanese, South American, and Italian.
Location: Samten Lam, Thimphu
Timings: 7 am to 11:30 pm
Cuisine: Bhutanese, and European
Average Meal For Two (With Wine): Starts from INR 2,800 (tax excluded)
Google Ratings: 4.6/5 | Reviews | Website
Must Try: Chicken Yakitori, and Shahi Malai Kofta Curry
How To Reach Bhutan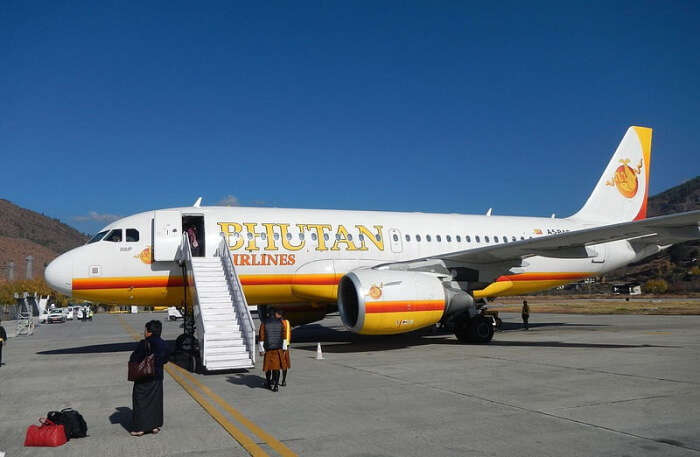 One can take direct flights to Bhutan via major international airports in India like Delhi, Mumbai Kolkata, and Cochin airports. Bhutan has no railway stations, therefore, in order to reach Bhutan by train, one can travel to Hasimara (West Bengal) which is a small town situated 17 kilometers away from Indo-Bhutan border. From here, one can travel by road by completing all the relevant paperworks.
Getting Around Bhutan In December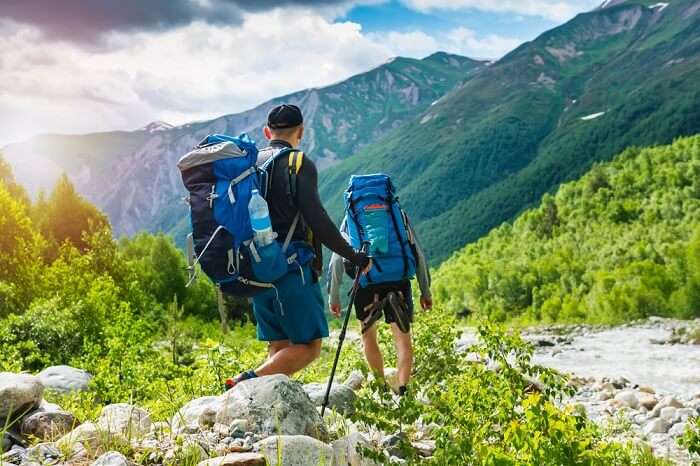 Private cabs are the best means of getting around Bhutan in December as they are readily available, and the most reliable sources of commuting within the country. One can also use public transport but its services are extremely infrequent, and unreliable.
Tips For Bhutan In December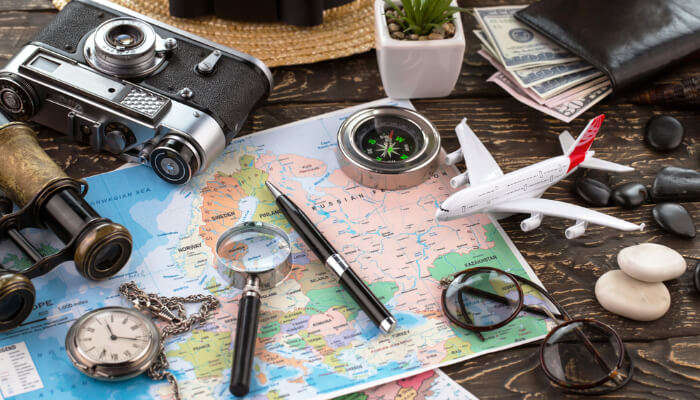 Always try to bargain with cab drivers as they ask for exorbitant fares from foreigners.
Carry all necessary medicines if you suffer from motion sickness.
Self-driving is only recommended to those who have an experience of driving in hilly terrain.
9 Compelling Reasons To Plan A Trip To Bhutan While Autumn Lasts
Hankering to go on a trip to Bhutan in December? Then customize your own favorite Bhutan trip with TravelTriangle to explore the best of the country as according to your convenience and budget.
Disclaimer: TravelTriangle claims no credit for images featured on our blog site unless otherwise noted. All visual content is copyrighted to its respectful owners. We try to link back to original sources whenever possible. If you own the rights to any of the images, and do not wish them to appear on TravelTriangle, please contact us and they will be promptly removed. We believe in providing proper attribution to the original author, artist or photographer.
Please Note: Any information published by TravelTriangle in any form of content is not intended to be a substitute for any kind of medical advice, and one must not take any action before consulting a professional medical expert of their own choice.
Frequently Asked Questions About Bhutan In December
Is it safe to visit the monasteries during Covid-19?
The monasteries have been operating from time immemorial and they have the cleanest of clothing, utensils, food, etc. Even though a number of monks live together in the same settlement, it is definitely safe for visiting the monasteries during Covid-19.
Do Indians require a visa to visit Bhutan?
Indian nationals do not require a visa for Bhutan. They only need one of the two valid 'Travel Documents' stated below:
1. Valid Indian Passport having a validity of minimum 6 months
2. Voter Identity Card, issued by the Election Commission of India. No Visa is required to visit Bhutan.
Which international airlines fly to Bhutan?
Drukair and Bhutan Airlines are the major Bhutanese airlines that fly to Bhutan and can be easily booked from India. Direct flights to Bhutan are available from major international places like India, Bangkok, Kathmandu, Dhaka, and more.
Are railway services available in Bhutan?
There are no railways in Bhutan. The nearest railway stations (both in India) are:
1. New Jalpaiguri, in West Bengal
2. Hasimara on the main Kolkata/Siliguri line to Assam
Which Indian mobile networks work in Bhutan?
Airtel is the only Indian service provider that works in Bhutan on international roaming. One can also buy sim cards of local mobile networks such as B-Mobile or Tashi SIM card from any telecom shop in Thimphu which cost around INR 100 and can be procured against a copy of valid passport or voter ID.
What to wear in Bhutan in December?
Bhutan experiences winter season during the month of December. Therefore, it is advised to pack warm woolen clothes for your trip to Bhutan in December.
Which is the best month to visit Bhutan?
The spring months from March to May are the best months to visit Bhutan. This is the time when the valley is covered with blooming flowers and lush greenery.
Does it snow in Bhutan in December?
Yes, Bhutan does witness snowfall in December. December and January are the two coldest months in Bhutan. The temperatures during this time falls below 0 degree celsius, resulting in snowfall at the higher altitudes of the country.
Is Indian currency accepted in Bhutan?
Yes, Indian currency can also be used in Bhutan. The currency in Bhutan is called Ngultrum (BTN) which has the same value as Indian currency.
Do Indian debit cards work in Bhutan?
Yes, you can use your Indian debit cards in Bhutan if your bank has activated international usage on your card.
How many days should I spend in Bhutan?
You would need at least 5 days to explore Bhutan, visit the popular places and enjoy its scenic beauty.
---
Looking To Book An International Holiday?
Book memorable holidays on TravelTriangle with 650+ verified travel agents for 65+ domestic and international destinations.
---
People Also Read
Greece In December Manila In December New Zealand In December