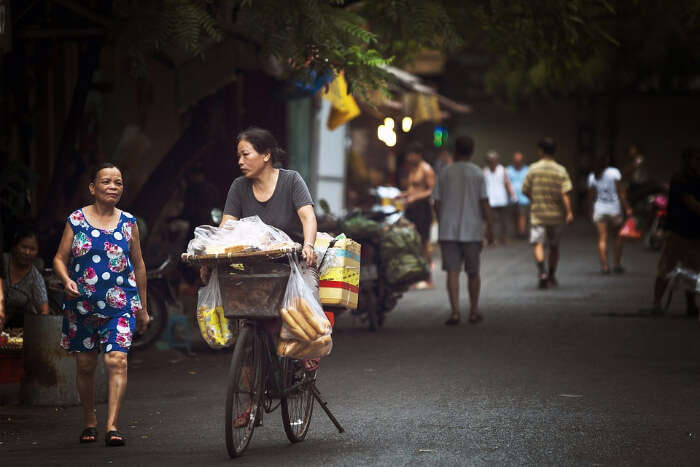 No matter in what corner of the World we are, we always look for the finest food options. Many people travel around the World only in exploring the types of food. Hanoi is one such food-centric destination that is well-known for its favourable, tasty and diverse food options. It is the capital of present Vietnam. The city has a profound history, and there is no preferred method to know this than to try street food. The variety of Hanoi street food demonstrates the real nature of Vietnamese culture with a mix of all flavours from hot and spicy to sweet and sour.
About Hanoi Street Food Culture
It has an enthusiastic street food culture that offers cheap and best food option in appealing settings. It's difficult to evade street food in Hanoi, where walkway merchants in various parts of the city work on a settled pivot. In every corner of the Hanoi market, you will find many road peddlers offering a fantastic assortment of products from live fish to extraordinary street food options.
In Hanoi, you will truly find the meaning of the word "street food". Street food vendors are almost everywhere in this place. Each square has many bistros, with burger joints having colourful small plastic seats and tables. Regarding price, Hanoi Street food is the appropriate response if pricing is the issue.
Take after any path in this distinctive, motorbike-stopped up city, and you will discover a plethora of street food vendors with bright signs yelling the names of secretive Vietnamese dishes. Behind them, a large number of people gulps, chomp, drink and chatter, clustering on the city's notable smaller than usual plastic stools. You will not only learn out the about Hanoi's street foods, but you will also get a chance to find out how to eat it; in some cases, you may get the opportunity to observe how it's made.
You don't need to stress over hunger issue on your visit. There are heaps of excellent street food vendors to eat in Hanoi with or without a guide. Day or night, a simple walk can effectively turn into a street food treat. It's evening time when these roads genuinely wake up with the kinds of food options that Hanoi occupants love most such as meat on a stick. Hanoi's crowded places and the best food options are what the city particularly magnificent.
Must Read: Vietnam Nightlife Guide: 15 Places For Experiencing The Best Of Nightclubs, Bars, Shopping & More
4 Best Hanoi Street Food Experiences
It has its own particular incredible dishes, and the city is stuffed with spots to eat. Here you will find Hanoi street food in the open streets and corners of the supermarkets that allow you to enjoy food without being confined in the closed restaurants. People travelling to Hanoi may face difficulties in finding the perfect locations for the street food, but the availability of guides can help you to find out places with the best food options.
1. Common Street Foods In Hanoi
You can tempt your taste buds with the fantastic cuisine of Hanoi. The most common dishes of Hanoi includes Pho, Bun Cha, Bun Bo Nam Bo, Bun Ca, Com Binh Dan, Cha Ca, Xoi, Banh Cuon, Bit Tet, Mien Luon Xao, Bun Dau Mam Tom, Lau, Sot Vang and many more. The important spots to eat these delicacies are Pho Gia Truyen, Pho Lam Nam Ngu, 34 Hang Than, Nha Hang Thanh Hop, 67 Hang Dieu, 5 Ngo Trung Yen, Tiem Com Vinh Thu, Hang Buom and Qua Tang Thien Su.
Suggested Read: 14 Festivals In Vietnam That Are All About Glitz, Glam, And Grandeur This 2021-2022!
2. Coffee and Ice-Cream
The weather of Hanoi in summer is especially damp. An extraordinary method to beat the warmth is with Vietnamese frozen yogurt and ice-creams, a light, shabby treat that will chill you off on a muggy August day. It is also a noteworthy espresso delivering nation, and a most loved interest of Hanoians is sitting at a StreetSide bistro, getting a large mug of espresso while people roam out in the busy streets. The most renowned kind of espresso is the Ca Phe Sua Da, or frosted drain espresso, yet there are numerous other extraordinary options, and Hanoi is home to one particularly exciting form.
Suggested Read: 10 Hotels In Hanoi That Offer True Vietnamese Hospitality
3. Bakery Delights
The presence of French culture in Vietnam should not surprise anyone that their impact affects pastry shops in Hanoi. While Hanoi's Banh Mi is not on a par with those found down south, there are as yet a few restaurants where you can appreciate quality bakery products. So, head to the bakery and relish the scrumptious brownies.
Suggested Read: 20 Best Beaches In Vietnam For Some Sun, Sand & Surf!
4. Hanoi Street Food Tours
You can enjoy the Hanoi cuisine with the help of Hanoi Street Food Tours under the guides. You may hire an individual guide, or if you need a more budget-friendly plan, then you can join a group of travelers. These food tours can either be done on foot or with the help of scooters and motorbikes. The Food tour helps you to manage to achieve a balance between an introduction to street food as well as the history of Vietnam. You can merge a walking tour and eating.
Further Read: Vietnam Shopping: 21 Places For Shopaholics Fancying An Astounding Experience!
With its bewildering blend of tastes and flavours, Hanoi's street food is one of the most beneficial on the planet. You can spend through about fourteen days in this flourishing city and never eat a similar supper twice. The decisions of visiting Hanoi can be overpowering. Travel through the nation, and you will love the street food. Attempt new sorts of flavours, new kinds of tastes, new sorts of textures, and your trip will become amazing. So what are you waiting for? Plan a trip to Vietnam now now to taste some of the best street foods ever.
---
Looking To Book An International Honeymoon?
Book memorable honeymoon on TravelTriangle with 650+ verified travel agents for 65+ domestic and international destinations.
---