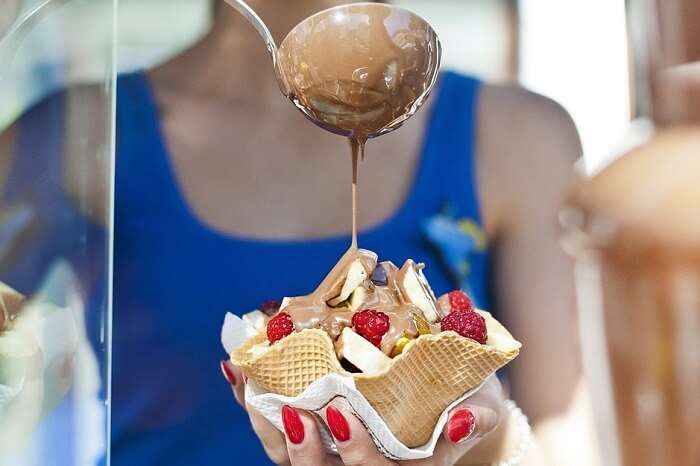 Sri Lanka is blessed with rainforests, arid plains, highlands and sandy beaches. The diverse culture, unique and highly appealing beautiful traditions of the island country seek the attention of each and every tourist from worldwide. While exploring various places here, you can't ignore Hatton from your itinerary. The city welcomes the guests with an array of fine eateries and restaurants. Situated amidst lush green forests, the city of Hatton provides you with cool relief from the heat of the plains. You can gaze at the scenic views while eating in the famous Hatton restaurants.
10 Best Hatton Restaurants
In order to serve the visitors with delicious and fresh meals, the Hatton restaurants welcome guests throughout the year with the best of fine dining options. The friendly staff and peaceful ambiance further enhance your overall dining experience:
1. Tea Hills Restaurant

Tea Hills Restaurant is one of the most popular restaurants in this area. It is located at just 15 km away from the Mount Vernon Waterfall while its distance from Devon Falls is mere 16 km. This restaurant is also well equipped with free Wi-Fi and air-conditioning facilities. Visitors always enjoy eating the best quality food here while they enjoy nature's beauty around them. The professional chefs of this restaurant take their time to prepare and cook each meal with perfection, love, and passion to ensure that their guests are served delightful food to enjoy with pleasure.
Must Try: Kotthu with Chicken Curry, Vegetables, Fruits and Herbs
Location: Tea Hills Bungalow, Lynd Haven, Fruit Hill, Hatton Sri Lanka
Cuisine: Asian, Sri Lankan
Cost for Two: INR 694/-
Zomato Rating: 5/5
Must Read: 15 Things To Do In Ella That Will Take Your Sri Lanka Trip To The Next Level
2. Railway Lodge Restaurant

Railway Lodge Restaurant in Hatton ensures that the recipes with a twist of the colonial touch to them are served to each and every guest. Indeed, Railway Lodge Restaurant has become sought after destination among the people who want to stay near the railway station. Being very close to the railway station, to and fro is easy. Authentic food, refined decor, and attractive prices make this restaurant a must visit in Hatton, Sri Lanka.
Must Try: Chicken Biryani, Mutton Korma, Egg Curry
Location: 88 Dimbula Road, Hatton 22000 Sri Lanka
Cuisine: Asian, Sri Lankan, American, Indian, Vegetarian-Friendly Vegan
Cost for Two: INR 139/-
Zomato Rating: 4.5/5
3. The Kiwis Family Restaurant

Located near to the Hatton attractions, the Kiwis Family Restaurant serves you with its variety of delicious vegetarian and non-vegetarian recipes. Professional cooks prepare variety of dishes through the use of locally grown ingredients and spices. They do so to ensure that real taste and flavor of the recipes are kept intact. This restaurant has been serving freshest and mouth-watering dishes to its guests. Raw meats and vegetables are stored in a fresh environment prior to their use.
Must Try: Delicious Kottu, Deviled Chicken
Location: 261 Dimbulla Road First floor upstairs, Hatton 22000 Sri Lanka
Cuisine: Asian, Sri Lankan
Cost for Two: INR 930/-
Zomato Rating: 5/5
Suggested Read: Viharamahadevi Park: A Handy Guide To Explore This Nature's Paradise In Sri Lanka!
4. Hill Cool Restaurant

One of the best restaurants in Hatton area, the Hill Cool Restaurant is considered the finest amongst Sri Lankan eateries. This restaurant guarantees delicious, home-made dishes with an uncompromising emphasis on the quality, taste, and freshness. Being famous for a variety of seafood dishes, this restaurant always remains filled with diners who love to hog on great seafood recipes. It serves high quality and delicious foods which are fully inspired by the Sri Lankan roots. You will have a great time with your family and friends dining at this restaurant.
Must Try: Seafood Soup, Seafood Fried Rice
Location: Nuwara-Eliya Road, Hatton 22000, Sri Lanka
Cuisine: Asian, Sri Lankan
Cost for Two: INR 450/-
Zomato Rating: 3/5
5. Zesta Tea Cup

Are you looking to eat tasty food in the cozy and peaceful ambiance of Sri Lanka's Hatton? Zesta Tea Cup is a perfect solution and for you and your family to enjoy great food in seething atmosphere. Apart from quality food and a variety of teas to taste here, this restaurant is also famous for its reasonable pricing. Located amidst scenic beauty, you definitely enjoy great food and time here with family and friends during a tour. With a wide selection of mouth-watering dishes, the diners feel satisfied with every bite.
Must Try: Ceylon Tea, Hot Steaming Rice, and Curries
Location: Avissawella-Hatton-Nuwara Eliya Highway, Nuwara Eliya, Sri Lanka
Cuisine: Asian, Sri Lankan
Cost for Two: INR 397/-
Zomato Rating: 3.5/5
Suggested Read: Sri Lanka In January: Places To Visit And Things To Do On Your Vacay
6. Adams Peak Inn Restaurant

Located at 1.4 km from the Adam's Peak, Adams Peak Inn is a one-stop solution among the couples wanting to escape from the rush of the town to spend good times together. Apart from the beautiful view of the valley, this restaurant offers you fresh and tasty food being prepared from locally grown seasonal ingredients. Being well connected through road network, getting here is not a problem
Must Try: Chicken Curry, Desserts, Paneer Curry
Location: Adams Peak, Nallathanni, Nallathanniya 22070, Sri Lanka
Cuisine: Chinese, Indian, Asian
Cost for Two: INR 1100/-
Zomato Rating: 4/5
7. Edinburgh Tea Train

If you are looking for a quality restaurant in and around Hatton in Sri Lanka, then Edinburgh Tea Train could be a great place for you. This restaurant has been serving to its guests with the world's finest handpicked teas sourced from the calm mountain peaks in Nuwara Eliya. Over the period of time, this restaurant has become popular among the tourists as well as locals for tea, short eats, and tea wholesale et al.
Must Try: Tea and Short Eats
Location: Nanu Oya, Avissawella-Hatton-Nuwara Eliya Hwy, Nuwara Eliya 22200 Sri Lanka
Cuisine: Cafe, Intercontinental, Sri Lankan
Cost for Two: INR 900/-
Zomato Rating: 4/5
Suggested Read: The Ultimate Guide To Sri Lanka's Dambulla Cave Temple
8. Hotel Olevia

The popular restaurant Hotel Olevia is famous for offering variety of recipes from the continental, vegetarian, vegan, Halal, Asian and Buffet cuisines to all. Located amid the scenic beauty, this restaurant always believes in creating a warm, friendly and welcoming environment. The food items offered here are of high quality and fresh. Thus, visiting this restaurant at least once makes a sense.
Must Try: Chicken Korma, Dal, Mutton
Location: 174 Nawalapitiya Road, Ginigathhena 20680 Sri Lanka
Cuisine: Asian, Sri Lankan
Cost for Two: INR 208/ -- INR 694/-
Zomato Rating: 4/5
9. Lake View Pub

The scenic location of Lake View Pub sets it apart from the rest. Situated in the cool and greenest part of Sri Lanka, this restaurant offers you a wide selection of enticing dishes. With fresh and delicious dishes, it aims to provide you with a great culinary experience for breakfast or lunch.
Must Try: Chicken and Mutton Curry, Rice and Dal
Location: Alpine Hotel, Haddon Hill Road, Nuwara Eliya 22200, Sri Lanka
Cuisine: International, Asian, Pub, Sri Lankan
Cost for Two: INR 800/-
Zomato Rating: 3.5/5
Suggested Read: 7 Most Haunted Places In Sri Lanka To Make You Face Your Darkest Fears
10. The Sizzle

The Sizzle Restaurant in Sri Lanka guarantees for a mouth-watering dining experience to its guests with best of the delicacies. As your platter arrives, sit back and take in the aroma until the sizzle settles. It is a must-visit restaurant for both the tourists and the locals.
Must Try: Sizzler, Sweet Fondue, Smelting Pot
Location: 33 Glenfall Road, Nuwara Eliya 22200, Sri Lanka
Cuisine: American, Indian, Asian, Mongolian
Cost for Two: INR 416/-
Zomato Rating: 3.5/5
Further Read: The Definitive Guide To National Museum Of Colombo In Sri Lanka
Being a land of myths, legend, and history, Sri Lanka has indeed become a most sought after travel destination which always invites tourists and adventurers. It goes without saying that Sri Lanka is also a perfect destination for adventure sports lovers. Whether you love the solitude of the nature or a steady walk through the trails, this destination won't disappoint you. Top Hatton restaurants are perfect places for you if you are willing to enjoy Indian or Asian food in a subdued peaceful atmosphere. Popular restaurants in Hatton always tantalize the taste buds with great dishes. Make sure to stop by at these food joints on your trip to Sri Lanka.
---
Looking To Book An International Holiday?
Book memorable holidays on TravelTriangle with 650+ verified travel agents for 65+ domestic and international destinations.
---