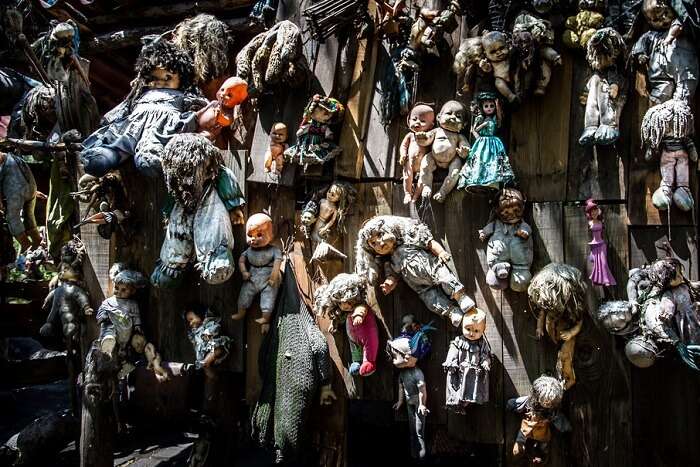 Cover Image Credit: Flickr
Some haunting tales and places can have chills running down the spines of even the most fearless people! Mexico is one such city that boasts of odd places which are often frequented by ghosts. Hustling and bustling with people, the city is always pulsating with action. There seems to be a lot to do for the people living in Mexico. Innumerable buildings, within the limits of this amazing city, are known to be haunted by some or the other tormented soul who met a tragic end in their life. However, there are a few haunted places in Mexico that stand out because even their mention makes people shudder with fright! If you feel brave enough to explore them in person, do it at your own risk!
11 Most haunted Places in Mexico
Well, the place is not just filled with active and zestful people living in Mexico, but some dead people and restful souls too who continue to add some bizarre freakiness around the city. Read on to get a sneak peek into 11 haunted places in Mexico:
1. Posada del Sol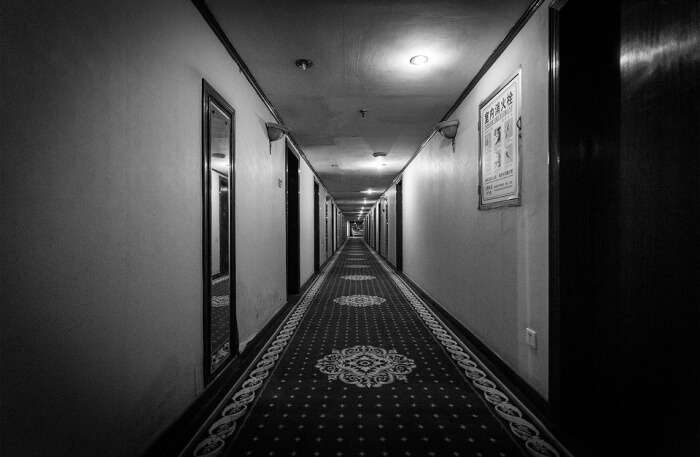 Image Credit: pedroserapio by Pixabay
This once-upon-a-time magnificent structure was the project of businessman Fernando Saldaña Galván. What makes this project tragic, and spooky at the same time, is the fact that Fernando Saldaña Galván ended his life in this very same hotel's courtyard after being buried under a heap of insurmountable debts. Thus, lies abandoned a hotel that is adorned not with mortals or liveliness but just with lifeless graffiti and tales of mystery. Adding to the eerie feels is the tale about the spirit of a dead young girl who is believed to be wandering in the underground chambers of this jinxed hotel. The girl was found dead tragically in this hotel itself. Though no common man can enter or tour the hotel, those who have had the courage to venture into the site often offer some candies at the altar as a mark of respect and love. Also, they obviously dread her curse! Would you want to visit this one?
Must Read: 10 Hand Picked Affordable Homestays In Mexico You Should Stay At
2. The Tasqueña Station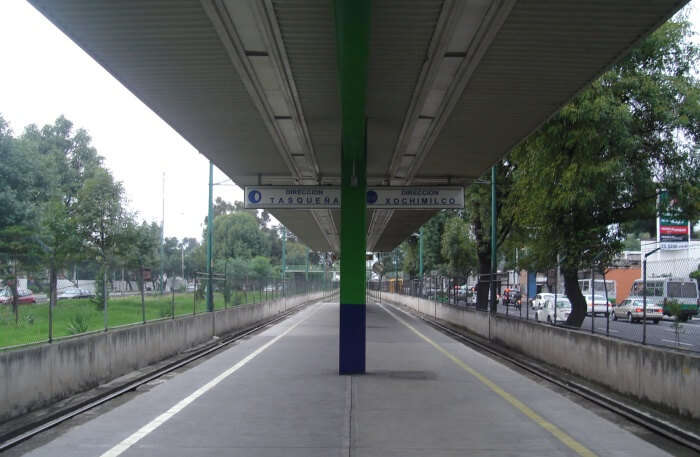 This one is a haunted spot in the wide network of public transport in Mexico. The Tasqueña Station holds the reputation of being the spookiest station on the metro route. What sets it apart from the other ghostly destinations is that the spirit possessing this station is a helpful and friendly soul. If you travel solo and happen to halt at this station then you may just bump into an old friendly soul here who had lost his life as a result of a severe assault. After his death, it is believed by the locals that his soul had taken upon itself the responsibility to protect other solo passengers from such evil assaults. Well, it is for you to decide if you would appreciate meeting a dead, yet kind man!
3. Hospicio Cabañas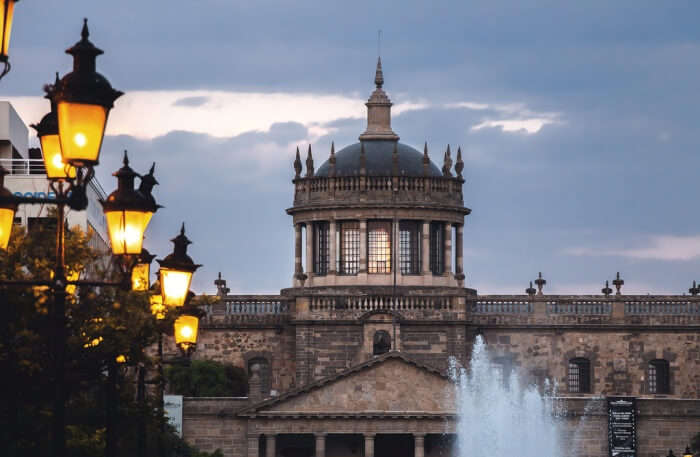 Image Credit: arturo.e.delarosa by Flickr
The marvelous building of Hospicio Cabañas stands abandoned in the Mexico City telling a tale of not just the splendid Guadalajara architecture but also tales of horror, pain and tragedy. The establishment is known to be one of the spookiest haunted places in Mexico. Known for its unearthly happenings, this structure has been put to use several times – in the capacity of an asylum, military barracks and even an orphanage. Innumerable ghost tales are popular about this property. The eeriest of them all is the legend of the large wall clock which would stop ticking every time a child lost his or her life in the orphanage. This one is a saga of sadness and scare!
Suggested Read: Top 10 National Parks In Mexico That Offer The Most Incredible Wildlife Experience
4. Colegio Salvatierra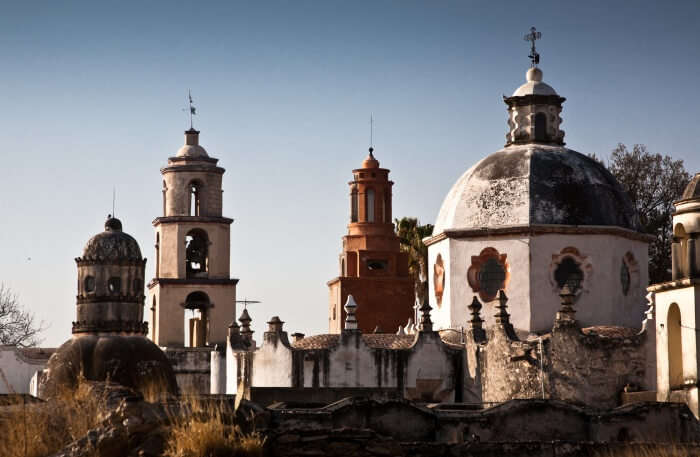 Image Source
A primary school located on the coastal city of Santa Rosalía not just echoes with sounds of children reciting their lessons or running in the corridors. It also echoes with haunting sounds of laughter and glass marbles clinking in a bathroom. Why? If stories are to be believed, long ago a young boy was merrily playing with some marbles in the girls' bathroom when he mistakenly swallowed one and choked on it. Sadly, his life couldn't be saved. To this day, the school girls have reportedly been hearing the jangling of marbles and innocent peals of a kid's laughter from their bathroom. Did this one give you goosebumps?
5. Casa de los Tubos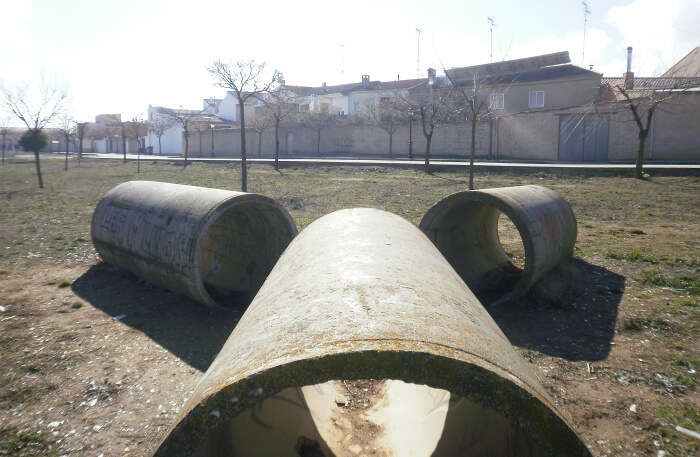 Image Source
Casa de los Tubos or House of the Tubes is one of the popular haunted places in Mexico because of its exemplary spiral make and cylindrical hallways. The construction of this distinctive structure claimed the lives of some builders and visitors too. The mansion was hence considered jinxed from the time its foundation was laid and the construction was never completed. Apart from its unique architecture, this abandoned mansion is also known for being possessed by the ghost of an eleven year old girl who had either killed herself by jumping off or had died accidentally by falling off from the highest window of this building. Some passersby have also claimed to have seen the spirit of the young girl standing at the window waving at them.
Suggested Read: Celebrate New Year In Mexico For A Totally Worthwhile And Delightful Experience
---
Planning your holiday but confused about where to go? These travel stories help you find your best trip ever!
Real travel stories. Real stays. Handy tips to help you make the right choice.
---
6. Panteón de Belén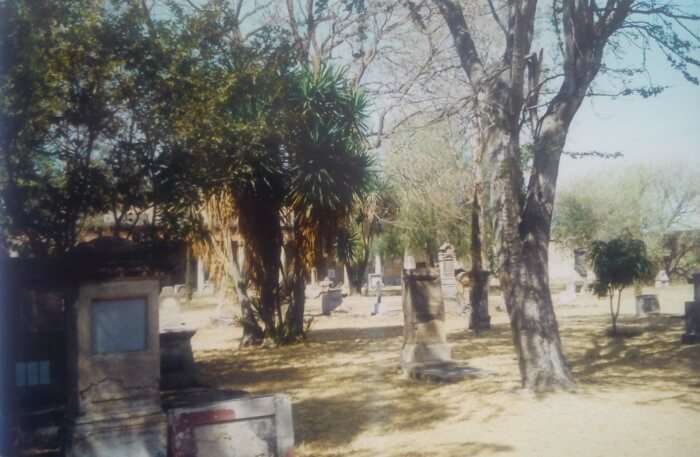 Image Source
At the center of the Guadalajara lies The Belén Cemetery. The spooky tale that surrounds it is an interesting one! As per urban legends, a vampire was killed by some local vigilantes by driving a stake-gun through its heart. The vampire was buried in this cemetery but a few months later the burial slabs began to crack and the stake had reportedly taken the form of a huge tree! It is believed if this Vampire tree perishes the city would once again be terrorised by the monster. Hence, the tree is now gated and protected all around by sturdy metal gate. This famous cemetery grounds can be visited by tourists during the day and the night as well upon purchasing tickets from the cemetery office.
7. Mapimi Silent Zone Durango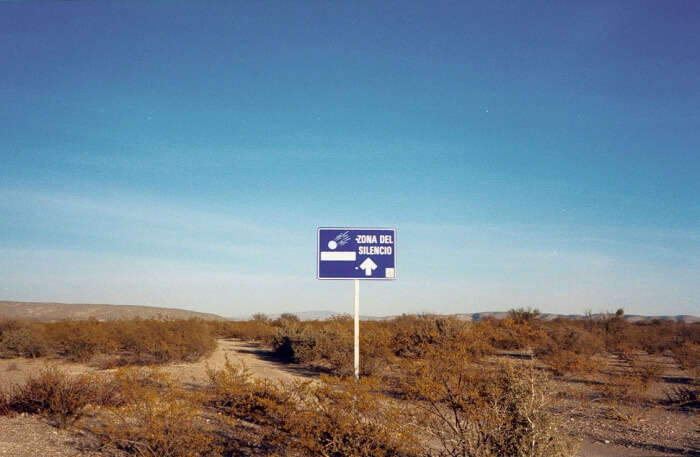 Image Source
This stretch of desert has the same repute as Bermuda Triangle. The myths and legends relating to this area claim that its a place where radio signals and any type of communications cannot be received. Similarly some claims have been made that compasses were unusable in this area. Other claims are that the area is studded with meteorite attacks and also causes various mental problems. There are reports of mutated wildlife and extraterrestrial activities here. Some visitors report a blonde women asking for water and then disappearing into thin air. The people have seen burning fire balls and UFOs in Mampi Silent Zone. Due to the absence of usage of any electronic devices this area has also been termed as silent zone. The silent zone has overlaps the Mapimí Biosphere Reserve.
Suggested Read: 10 Hostels In Mexico For A Cosy, Comfortable, And Economical Stay
8. House of Laments Guanajuato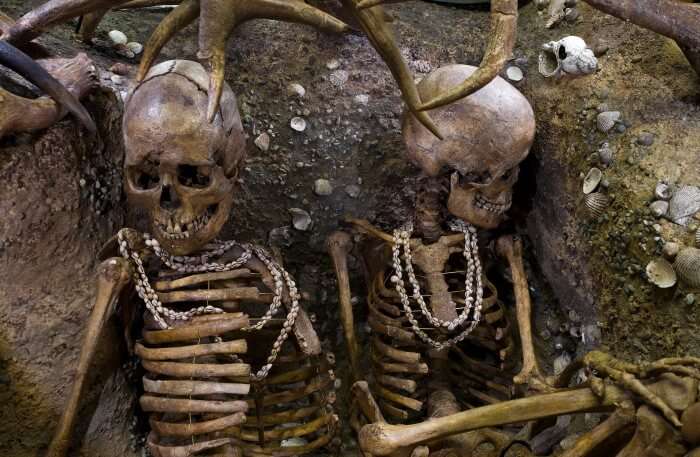 Image Source
Mexico is chock full of haunted stories and this one is no less tragic, full of real serial killing stories. It was the house of Tadeo Mejía, a serial killer who committed various murders to contact his deceased wife through paranormal ways. In 1800 Mejia's wife was murdered during a home invasion. Mejia consulted a witch who advised him to perform human sacrifices in order to talk to his dead wife. After murdering an unknown number of people Mejia died while performing a devilish surgery on himself. Many skeletons were found in his basement. Today his house operates as a museum and visitors often hear mysterious sounds and also report apparition sightings.
9. Templo Mayor Ruins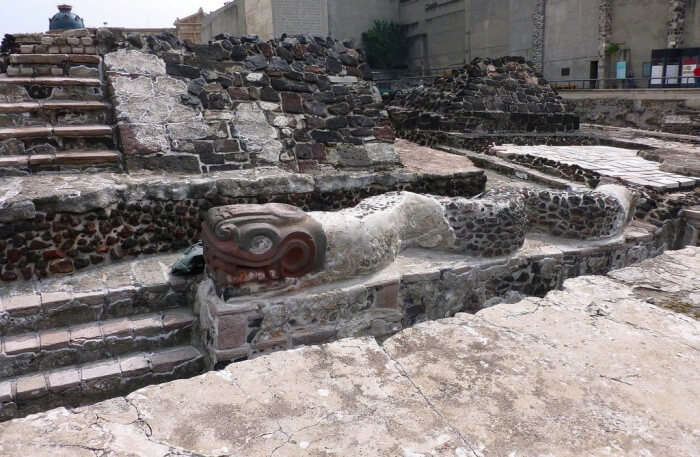 Image Source
This archeological site in Mexico, USA has a bloodsoaked past. It is a haunted Aztec civilization site that has made its presence felt through the time. Around 4000 people were brutally killed to please Aztec Gods. The priests would cut out the beating hearts from the victim's chest and then throw their life less bodies on the stairs of the Aztec temple. Aztec' s last emperor Cuauhtémoc made his last stand against invading Spanish armies before he was tortured and killed. This Aztec is now a museum and tourists report strange sensational feelings and sightings of shadow figures.
Suggested Read: Mexico Travel Guide: Know Where To Go And What To Do On Your Next Visit To The Country!
10. Claudia Mijangos House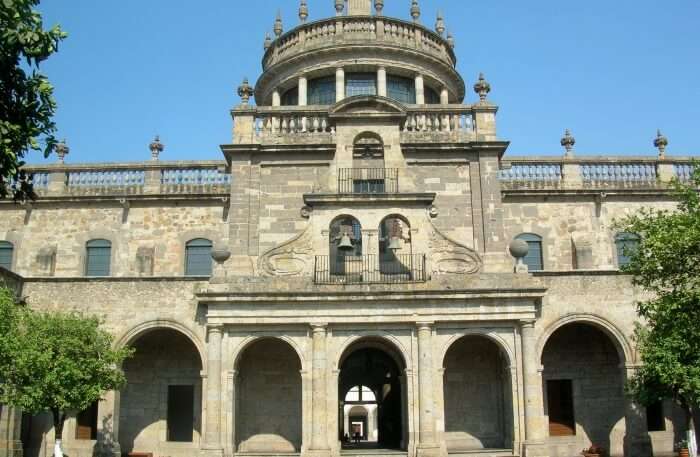 Image Source
Also known as the Hyena of Queretaro, Mexico, this house is home to an extremely tragic and a strange past. The story belongs to a Mexican murder convict who was condemned in 1990 for the deliberate act of killing her own children. Claudia who was was elected Queen of Beauty in Mazatlan, lived with her husband and three children in this house. She taught children in a Catholic school and had a fashion store in downtown. When Claudia was 33-years-old she started suffering from severe psychotic attacks which reportedly involved hallucinations of demons and angels. A few months later, the tragic murder episodes began. In April 1989 Claudia woke up in middle of night hearing whispers and voices and murdered her own children in cold blood and tried killing herself soon afterwards. She fainted and woke up in hospital 3 days later. Claudia had menial mental troubles but no one could have anticipated the outcome. Local residents claim hearing screams and sons coming from house. Locals also report seeing a child popping up from window.
11. Island of Dolls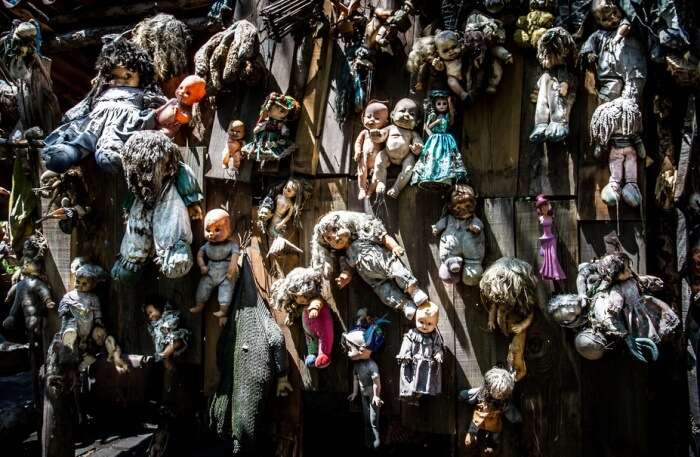 Nothing can beat the ghost story associated with this place! This isolated island near the canals of Xochimilco, Mexico City has numerous dolls hung from trees. The tale behind it dictates that Santana Barrera, a resident of the island had found a corpse of a little girl washed up on the beach. He then hung a doll from a tree to serve as a memorial for the poor girl. He soon started hearing whispers which are believed to be the girl's voice. In order to appease the spirit of the girl he started putting more dolls on the trees. Sadly and surprisingly, Santana met the same fate as the girl's and drowned in the same place where the girl had drowned. Till his death in 2001 there were numerous dolls on many trees. Visitors and tourists claim to have seen eyes of the dolls moving and dolls talking.
Further Read: 10 Water Sports In Mexico For A Thrilling Vacay
The vibrant and lively city of Mexico is a treat for people who enjoy history, natural beauty and great food. However, it is also a fabulous place to visit if paranormal happenings interest you! Apart from the amazing culture of Mexico, one finds himself or herself often immersed in the mystical aura of paranormal activities that adorn this beautiful place. Book a ticket to USA to visit the aforementioned haunted places in Mexico. Don't forget to take your younger sibling along!
Disclaimer: TravelTriangle claims no credit for images featured on our blog site unless otherwise noted. All visual content is copyrighted to its respectful owners. We try to link back to original sources whenever possible. If you own rights to any of the images, and do not wish them to appear on TravelTriangle, please contact us and they will be promptly removed. We believe in providing proper attribution to the original author, artist or photographer.
Frequently Asked Questions About Haunted Places In Mexico
Which is the most haunted place in Mexico?
There are many haunted places in Mexico that are known for their unique and interesting stories and experiences. The most popular haunted places in Mexico are the following: 1. Posada del Sol 2. The Tasqueña Station 3. Hospicio Cabañas 4. Colegio Salvatierra 5. Casa de los Tubos 6. Panteón de Belén 7. Mapimi Silent Zone Durango
Is Mexico a haunted city?
No, Mexico is not a haunted city, however, there are numerous haunted places to visit in Mexico that are known for offering the most thrilling encounters.
Why do Mexicans have skulls?
The indegenous Mexicans celebrates the skeleton art and use it regularly. This art originated before the Conquest when the Aztecs created stunning carvings of their spiritual Gods.
Why do they celebrate 'Day of the Dead' in Mexico?
As Mexican believes that death is a natural part of the human cycle and instead of sadness, they celebrate the death of their loved ones on this day.
Is Island of Dolls haunted?
According to numerous reports and researches, Island of Dolls is one of the most haunted places in Mexico. The travelers say that they feel dolls whispering in their ears, and the locals believe that these dolls are possessed by a spirit. However, some say that the place is 'charmed' instead of being haunted.
Why House of Laments Guanajuato in Mexico is believed to be haunted?
The House of Laments is an enormous mansion that was constructed in the 18th century. Later between 1890s to 1900s, there were reports of Tadeo Fulgencio Mejia serial murders here at the mansion. It is believed that he was a Mexican who was murdering people ruthlessly to contact his deceased wife. Currently, the mansion has been converted into a museum and experiences numerous reports of paranormal activities within the premises.
How much does a stay in Posada del Sol costs?
A stay in Posada del Sol in Mexico will cost you a minimum of INR 3,000 per night during the off season. However, if you are planning a stay in Posada del Sol during peak season then a single day stay might cost a minimum of INR 6,000.
---