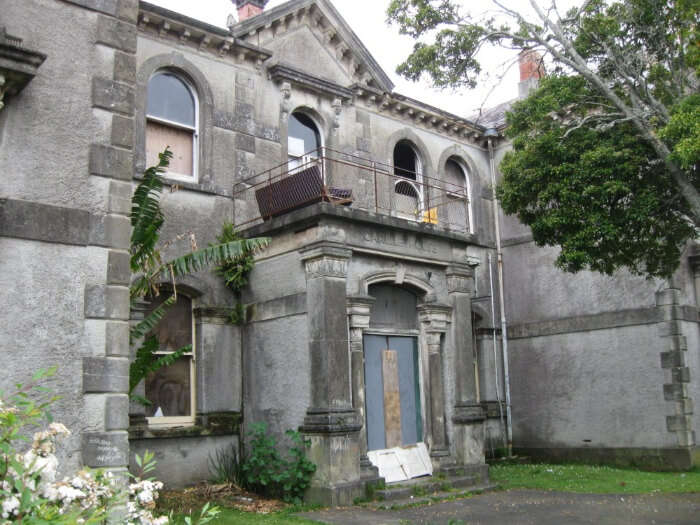 New Zealand may be famous for the blue lapping waves, the lush green foliage, and the delicious cuisine, but another exciting thing about this country is its collection of spooky places. From hospitals to schools, and hotels to castles, all kinds of eerie sites are strewn across the country. Take a look at the top haunted places in New Zealand before you plan your trip here!
New Zealand is known for its jaw-dropping vistas, hidden waterfalls, and hiking trails through thick forests, but there's no dearth of haunted places in New Zealand. Here's a list for you.
1. Larnach Castle
One of the spookiest places in New Zealand, the Larnach Castle is famous for being one of the few castles in the country. The story goes as follows, the castle's ballroom was gifted by Larnach to his daughter, Katie on her 21st birthday. Unfortunately, she died young due to typhoid cancer. His first two wives also died while in this castle, and he himself committed suicide after learning of his son's and his third wife's affair. Later, the castle was also a mental hospital during the World Wars. While Katie is seen swirling in the ballroom, he too has been spotted roaming around the corridors. Instances of people being pushed, touched on the back, and other have also been reported.
2. The Vulcan Hotel
Once the most popular pub hotel in town, The Vulcan Hotel has a room 101 that is avoided by all today. It is said that a prostitute by the name The Rose was a regular here. One night she entered the hotel with a male client, and was found strangled to death the next day. Unnatural experiences like water boiling in the kettle when it is switched off, noises in the corridor, and male guests being held down or strangled have occurred here.
Must Read: 15 Waterfalls In New Zealand That'll Leave Your Speechless
3. The Carlile House
The year 1912 saw a raging fire accident which took the lives of more than 40 boys. The Carlile House was an orphanage for boys, and ever since the fire, paranormal incidents have been observed. Children's laughter is one of the common ones.
4. Kingseat Hospital
With a history of being one of the largest psychiatric hospital in the country, Kingseat Hospital saw a lot of deaths in its time. It is said that the death of staff member exceeded the number of patients, probably due to increased mental and emotional trauma. A lot of suicides were committed on these grounds. Sightings of a nurse, popularly called as the "Grey Lady" are seen in the corridors here.
Suggested Read: 6 Water Parks In New Zealand For An Exhilarating Summer Retreat
5. Spirits Bay
One of the lesser spooky sites, but one that is definitely frequented by spirits is the Spirits Bay. People claim to have seen people walk along the beach and disappear at one particular spot. Legend says that this is the place for people to pass on to the afterlife.
6. Napier Prison
Not only was the Napier Prison a prison, but also an orphanage, and at one point of time, even a psychiatric hospital. With a history so weird, it is no surprise that this place has an eerie aura to it. It's most famous and controversial convict was the mass murderer Roland Edwards, who is said to haunt this place.
Suggested Read: 10 New Zealand Beach Resorts: All About Sunbathing & Water Sports
7. Waitomo Caves Hotel
Built on the ancient land of the Maori, it is believed that the Maori Princess haunts this hotel. With a reputation of being the spookiest hotel in New Zealand, incidents of noises and screams, children's laughter, and even bathtubs dripping blood have been reported.
A former staff member's spirit is said to have been here from time to time too, arranging the guests' shoes neatly.
8. Chateau Tongariro
Chateau Tongariro was a women's asylum in the 1940s. It has been a site of murder, suicide and accidents, which makes it one of the eerie places in New Zealand. Curtains moving on their own, doors opening and closing, are some incidents common here. It has also happened that "unwelcome" guests find their bags packed and ready to go in the morning.
Suggested Read: 6 New Zealand Resorts That Are Beyond Luxurious, Yet Light On Pocket!
9. Otira Tunnel
If you find a friendly man helping people in this tunnel, it may not actually be a man. While there is nothing too spooky about it, the story says that a Scottish man was killed during the construction of the tunnel. He apparently helps people as he himself struggles to find his way home.
10. Riccarton Racecourse Hotel
The licensee of this hotel, Mr. Donald Fraser was found murdered in this hotel in 1933. Unfortunately, the killer was not found, and it is said that Mr. Fraser still roams these corridors to find the actual killer.
Suggested Read: Nevis Catapult In New Zealand Turns You Into A Slingshot & Hurls You For The Craziest Jump Ever
11. Camp Adair
Camp Adair is located near Auckland. It was a popular spot for school picnics. The story says that a group of children was killed by the teacher here, and that the teacher can still be spotted roaming around these grounds.
12. Jubilee Pavilion
If you are in the country for too long, try catching a couple of games here. Believed to be a homeless man who enjoyed the weekly games here, his spirit is still seen occupying the same seat during the games. Not eerie, but enough to give you chills, he is said to actually be a very soft and friendly spirit!
Suggested Read: 10 Churches in New Zealand That Are Absolutely Captivating Pieces Of Architecture
13. Lake Alice Hospital
Lake Alice Hospital has been a mental asylum for quite some time now. With a violent history in these corridors, the staff here today also claims to have been haunted by former patients. Incidents where people have been pushed or touched have been reported here.
14. Erskine College
Apparitions, screams, movements and more, Erskine College is a creepy place to visit. Not much is known about the story, but it would be interesting to visit it and know more!
15. St. James Theatre
Out of all the people who have performed here, some just like to come back every now and then. For instance, the boys' choir can be heard, as well as wailing women. But the interesting story of this site is that of the Russian performer, Yuri. he fell down the stage to his death, and today likes to turn on the lights of the theatre once it's shut down.
While in the country, if you are an adventure lover looking for something unique, weird, and spooky, consider this list and visit some of these haunted places. Explore New Zealand with us.
Further Read: 10 Luxury Villas In New Zealand That Showcase Its Beauty
---
Looking To Book An International Honeymoon?
Book memorable honeymoon on TravelTriangle with 650+ verified travel agents for 65+ domestic and international destinations.
---