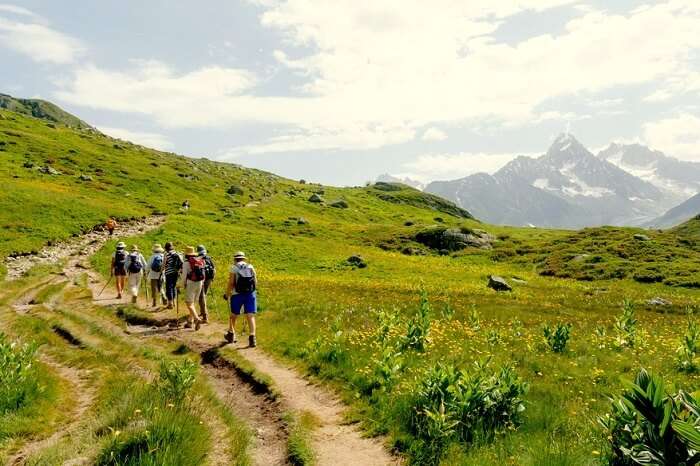 Trekking amongst the beautiful valleys and up the mountains to reach the peaks is a novel idea which thousands engage in every year. Walking up the mountain paths as you slowly see a vista of beautiful scenery unseen by many human eyes, unfurl before your eyes is an unforgettable experience. From the calm white clouds to the peaks penetrating them to reach new heights, which are accompanied by the snow and a beautiful mixture of flora; everything contributes to it being a profoundly ethereal experience. There is one such trekking route which offers just this and allows you to bask in nature's aura and the name of that is the Haute Route Trek.
About Haute Route treks
Haute Route trek starts from Chamonix to Zermatt and from Mont Blanc to the famous Matterhorn, in two weeks you will witness great bundle valleys and 4000-meter peaks which are spread all over the Alps. You will find little villages, stay in haute route huts and the delightfully remote little alp hamlets, wander all over the blooming flower meadows, get lost inside the fragrant forests, cross cold icy streams and climb glaciers before being suspended from boulders.
Must Read: 7 Best Switzerland Road Trips That You Must Take This Year
Routes In Haute Route Trek
While you plan your trekking vacation in Australia, make sure to explore these routes in Haute Route trek to experience the best of these trails.
1. The Walkers Haute Route
\

The Walkers Haute Route is a fully walking trail which goes from the French to the Swiss Alps for a full 125 miles or 200 km from Charmonix located in the West to Zermatt in the East. Walkers Haute Route camping is also an option which many take for the journey apart from staying in the commercial accommodations.
Walker's start off in Chamonix at a height of around 3,281 feet or 1,000m. The main route will take one to the hillside located across from the Mont Blanc with a cable car that allows one to reach the mountain lake of Lac Blanc at a height of 7,717 feet or 2,352 m.
From the Argentiere, the route crosses over to the Col de Balme which is situated at a height of 6,991 feet or 2,131 meters. This is a gentle and grassy path. Dropping to the other side, the path gets steeper. The main route takes one over the Fenetre d'Arpette which is located at 2,665m or 8,743 feet.
It is followed by an arrival over in Champex then proceeding to the village of Le Chable in the Val de Bagnes. From there is an ascent to Cabane du Mont Fort at 8,061 feet or 2,457 meters.
The next stop is Col de la Louvie and then the Col de Prafleuri at 9,800 feet or 2,987 meters. Then comes the walk to Arolla and then the climb over Col des Roux to enter into the basis of the grand Dix Reservoir.
The path continues to the Cabanes des Dix. Then comes the Pas de Chevres and the Colonial de Riedmatten, any of which can be chosen. The next stop is from the Les Hauderes to the La Sage.
Up the mountains, the walkers go again and the normal route takes them to Col du Tsate which sits at 9,404 feet or 2,688 meters before descending over to the Lac de Moiry basin before climbing the Cabane de Moiry. From there it's up to Col de Sorebois.
Then comes climbing the Forcletta at 2,874m (9,429ft), the Augstbordpass at 2,893m (9,492ft). From the Matterhorn, the walkers reach the Europahutte sitting at 7,431 feet or 2,265 meters. The last legs take the trekkers to the Zermatt.
Suggested Read: 7 Best Switzerland Train Journeys That'll Let You Witness The Heart And Soul Of The Country
2. The Deluxe Haute Route

This haute route is for those who prefer something more leisurely and at a slower pace. There are finer accommodations in here along with daily luggage transfers, exclusive spa services along with a first class rail. There is also a rest day at the 4 star Belle epoque. This route doesn't have the most taxing ascents or descents.
Cost & Duration Of Trek
Tour Price for the Deluxe Haute Route
$4,895 USD per person for double occupancy from Zurich or Geneva
$599 for single supplement
You can reserve your place on some tours with a $500 per person deposit.
Duration is for 10 days.
3. Standard Haute Route Trek

$4,595 per person for double occupancy from Geneva
$499 for a single supplement
You can reserve your place on some tours with a $500 per person deposit
Duration is of 11 days
Suggested Read: Switzerland Travel: Playground Of Europe
4. Self-guided (hiking the Haute route without a guide) tour of Haute Route

$2,895 USD for per person, double occupancy
$499 for single supplement
Duration can be of 14 days
Best Time To Trek

The haute route is one of the earth's biggest multi-day hiking tours. If you want to take part in this then you have to make sure that you are well equipped, fit and also choose the best time to go hiking. The hiking season itself runs from just July to October. The best time to trek depends on a lot of factors:
July- There are snow patches and significant ones on the trail during this time so be ready to walk on that. In early July, there are chances of re-routing for a few days because of snowy winters can make the passes unsafe. But the crowds during this time are smaller and the Meadows are blooming with beautiful wildflowers. Risk of afternoon storms.
August- It is the warmest month and there is also less snow. August is busier than July but no so much to mar the experience. Risk of afternoon storms are there, wildflowers are in bloom as well.
September- Definitely cooler than the previous months but the weather is stable with lesser afternoon storms. There are fewer hikers, the flowers aren't there as well too.
October- While it is possible to hike in October as snow doesn't fall till late October or November but the motels and other accommodations close down.
Suggested Read: Top 10 Villas In Switzerland For An Exotic Holiday
Things To See While Trekking

Trekkers will be able to see pristine and remote trails view some of the biggest and highest peaks which the Alps can offer. They will also get to discover very distinct Alpine cultures and enjoy the cuisines of Switzerland and France.
What To Pack

One pair of hiking boots or shoes
A pair trekking pole
One set of raingear
A lightweight fleece sweater or vest
One or two pairs of synthetic hiking pants or shorts.
One long sleeve shirt.
Two to three pairs of hiking socks
One pair of extra shoes for wearing at rest and around towns.
One hat
One liter of water bottle
Sunglasses
Small towels
Headlamp
Take personal toiletries as well like toothbrush and toothpaste, sunscreen, lip balm, razor, soap and shampoo, gloves, maps, compass, smartphone, and toilet paper.
Suggested Read: Switzerland Cuisines: 7 Dishes Every Foodie Must Taste To Savour The Swiss Food Culture!
Tips To Remember
There are luggage transfers so just keep the bare essentials with you or you will slow down and get tired.
You need to be in a good to great physical shape because the climb is grueling.
Carry water with you, no matter how heavy you think it might make the luggage.
Vegetarians will be accommodated as well.
Further Read: 13 Astounding Things To Do In Interlaken, The Adventure Capital Of Switzerland!
Haute Route is a scenic route which any trekker will be glad to carry out and satiate its adrenaline rush. Make sure you are fit and catch that plane to go to a world more beautiful than you can ever imagine while you are touring around Switzerland.
People Also Read:
Tour Du Mont Blanc Winter Treks In Himalayas GR20 Trek
---
Looking To Book An International Holiday?
Book memorable holidays on TravelTriangle with 650+ verified travel agents for 65+ domestic and international destinations.
---