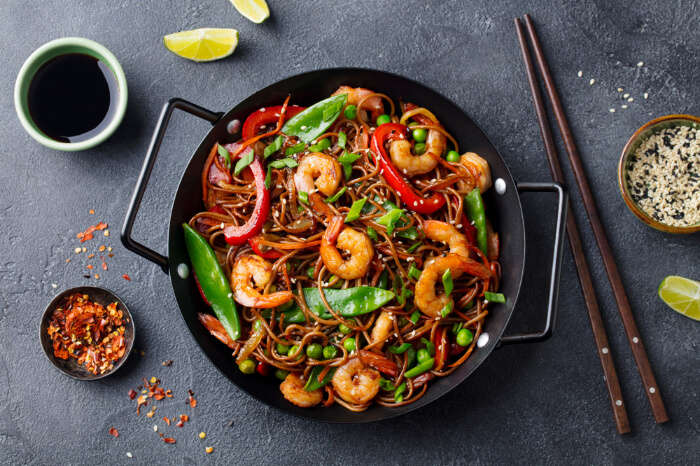 Located in the north-eastern region of Singapore, the residential town planning area of Sengkang has fast emerged into country's tourist spots today. Strategic location of closeness and sharing boundaries with places like Seletar, Punggol, Pasir Ris, Paya Lebar, Hougang, Serangoon, Yishun and Ang Mo Kio et al brings it into limelight. Once upon a time, Sengkang used to be the fishing village. This region witnessed fast growth and development in the last couple of decades.
As this place derived its name from the Chinese tradition where Sengkang is an indication of the "prosperous harbour" it symbolically explains the motive of such naming. This place is noticed by the visitors, especially traders and tourists from the worldwide locations today. It is the main reason that today one witnesses the presence of many best Sengkang restaurants which serve wide range of recipes that represent local as well as intercontinental cuisines.
10 Best Restaurants in Sengkang
Scroll down the below listicle to find out 10 best eateries in Sengkang that also happens to be the perfect ones in Singapore.
1. Savoury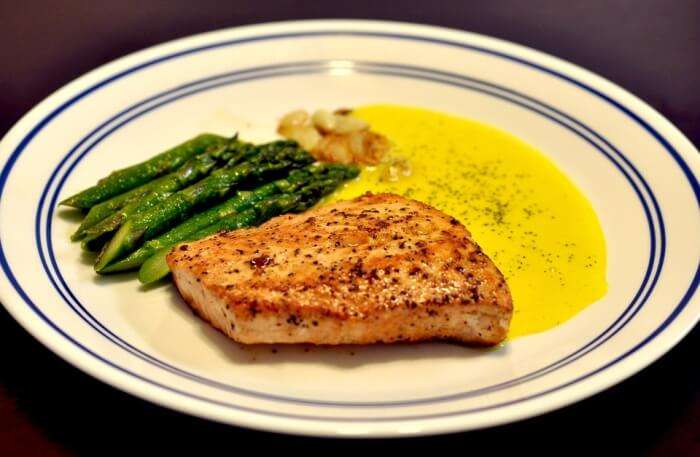 One of the best restaurants in Sengkang to taste the causal food, deserts, coffee and light food varieties, Savoury brings many yummy dishes for you to taste. It also serves the main meals for special parties and ensures arranging occasion based food specialities. Its special recipes such as Hotplate Marble Beef and the popular Seafood Alfredo Linguine amongst others are much in demand. They are aromatic, mushroom flavoured Asian recipes thus they appeal to all visitors. This restaurant is equally sought after amongst the visitors due to its friendly staffs.
Must Try: Salmon Steak, Chocolate Lava Cake with Ferrero Scoop, Hotplate Marble Beef, Seafood Alfredo Linguine, Buffalo Wings
Location: 246 Jalan Kayu, Sengkang, Singapore 799470; Phone: +65 67529288
Cuisine: Cafes & Coffee, Halal Cuisine
Cost for Two: ₹ 950/- – ₹ 1650/-
Zomato Rating: 4.0/5
Must Read: 10 Best National Parks In Singapore For Soaking In Ultimate Bliss Amidst Nature
2. Citrus Bistro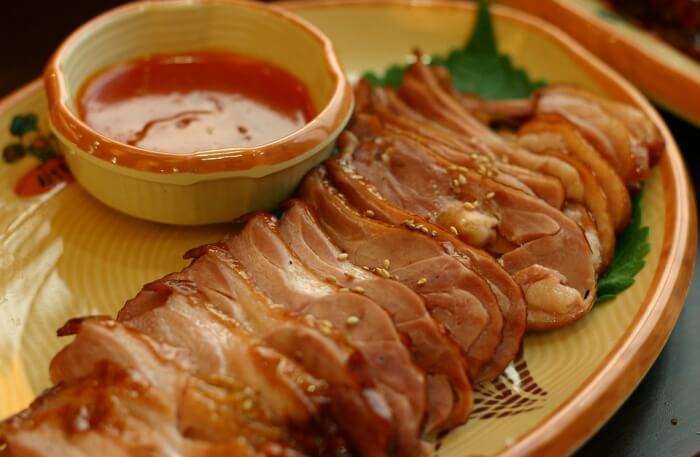 The location of Citrus Bistro in the Sengkang Swimming Complex makes it an easily accessible popular name amongst the visitors to have fine dining. It is one of the select few reputed Halal-certified restaurants in Sengkang, Singapore which remains a popular name for its bistro options especially an alfresco dining choice in a fully comfort zone at the poolside area. Diners enjoy its delicacies nearby the bustling location where unlimited fun is also guaranteed.
Must Try: Dainty Trio, Curry Chicken with Bread, Smoked Duck
Location: 57 Anchorvale Road, #01-01 Sengkang Sports Centre, Singapore 544964; Phone: +65 69044850
Cuisine: Western, Halal Cuisine
Cost for Two: ₹ 575/- – ₹ 1550/-
Zomato Rating: 3.5/5
3. Chef-in-Box Vendcafé

Having been established by the famous JR Group from Singapore in 2001, Chef-in-Box Vendcafe assures for quality meals supply in the carryout options. People seek and find in this eatery a choice to save time and resources while foods are packed in the quickest time. Rest factors that make Chef-in-Box Vendcafe a best and preferred choice is assurance and sticking to use fresh ingredients besides preparing Halal-certified bento meals. Recipes are prepared in multiple flavoured varieties.
This restaurant is also famous for the usage of advanced cooking technologies like cook-chill and cook-freeze solutions. They assure keeping nutrients intact without affecting quality parameters. Such technology uses guarantee for total freshness besides assured great taste.
Must Try: Chicken Lasagna, Roast Beefballs with Pumpkin and Potato, Spaghetti with Chicken Meatballs, Turkey Stew with Chestnuts & Brussel Sprouts, Jia Yen Black Pepper Chicken, Korean Ginseng Chicken, Herbal Chicken, Prawn Paste Fried Rice with Chicken, Kimchi Fried Rice with Chicken, Spicy Seafood with Rice, Thai Fried Rice with Saba Fish, Mutton Rendang with Briyani Rice
Location: 320C Anchorvale Drive, #01-K1, Sengkang, Singapore 543320
Cuisine: Local Delights, Halal Fast Food, Café, Western, Malay, Indian, Japanese
Cost for Two: ₹ 265/- – ₹ 1850/-
Zomato Rating: 3.5/5
Suggested Read: Singapore Zoo: For A Fun Day In The Wild
4. Tang Tea House Hong Kong Café

Famous for the delicious like halal Cze Char and Dim Sum recipes, Tang Tea House Hong Kong is sought after eatery in Singapore. It seeks attention of the food lovers seeking different types of Chinese recipes particularly the yummy dumplings. It is preferred by the travellers and locals alike due to its sufficient space and impressive décor. Taste of alfresco dining becomes once-in-a-lifetime experience for the diners at this restaurant, so do they enjoy authentic freshly cooked halal Dim Sum and other dishes like Chicken Pau, Steamed Chicken, Har Kow and Siew Mai et al. Such varieties augur them for a repeat visit.
Must Try: Crispy Bee Hoon, Chicken Rice, Dim Sum, Chicken Pau, Steamed Chicken, Har Kow, Siew Mai
Location: Opposite Simpang Bedok Post Office, Bedok Market, Jalan Kayu, Sengkang, Singapore
Cuisine: Chinese, Café, Dim Sum
Cost for Two: ₹ 315/- – ₹ 1350/-
Zomato Rating: 4.0/5
5. Canton Paradise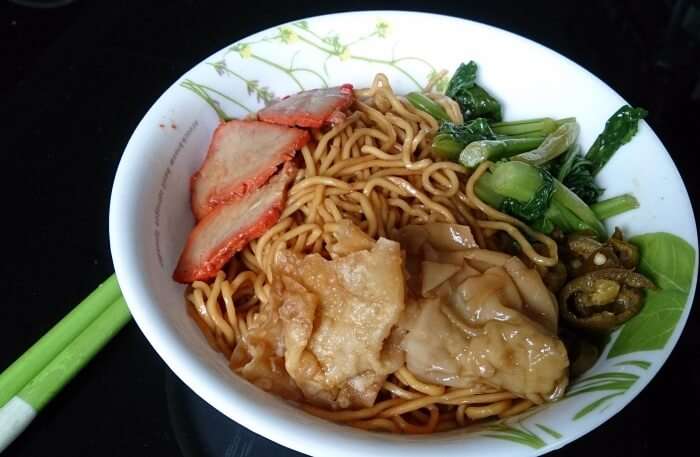 Keeping the value of its name intact, Canton Paradise is truly a paradise for the foodies to enjoy best of the Oriental recipes from the Asian Cuisine. A popular restaurant with exceptional gourmet menu options, it is a must-visit place for locals as well as travellers. What makes it special is that the staffs serving their guests literally make you feel as if you have delved into the Chinese culture and tradition as the restaurant is mainly focused at variety of Chinese recipes. Being a food chain with operations in 9 countries by now, Canton Paradise offers best of culinary delights to visitors to taste its great food options.
Must Try: Roasted Duck Meat Noodle, Liu Sha Bao, Wanton Noodle, Seafood
Location: No. 1 Sengkang Square, #03-14 Compass One 545078, Singapore
Cuisine: Dim Sum, Cantonese, Chinese
Cost for Two: ₹ 1305/- – ₹ 2650/-
Zomato Rating: 3.⅗
Suggested Read: Best Hill Stations Near Singapore To Escape The Metropolitan's Maddening Crowd
6. Legend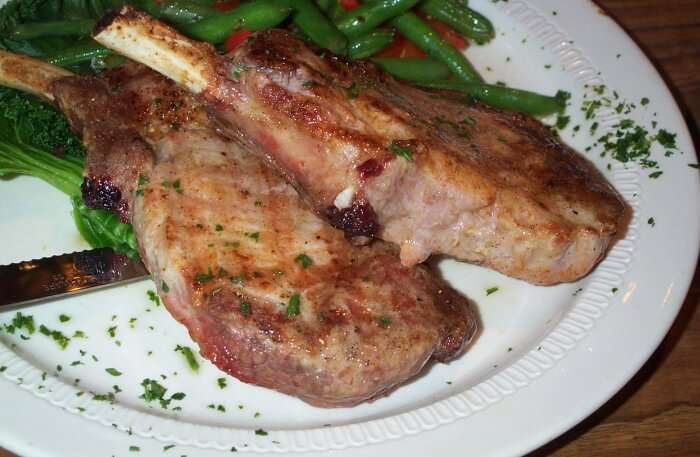 Offering exclusive breakfast and full bar eatery options in Sengkang, Singapore, Legend remains a notable landmark in this region. Its craft beer is sought after amongst the group diners. This restaurant cum bar is also famous for its vibrant nightlife and services until late in the night. Scintillating music is played to make sure that guests are entertained to the most. It equally remains a good choice for family or group dining purpose.
Must Try: Sirloin Steak, Grilled Pork Chop, Mashed Potato, Carbo-nah-ra
Location: 59 Anchorvale Road, #01-06 Anchorvale Community Club, Sengkang- 544965, Singapore
Cuisine: Bar Food, Western, Craft Beer
Cost for Two: ₹ 1460/- – ₹ 2950/-
Zomato Rating: 3.3/5
7. Next Door Deli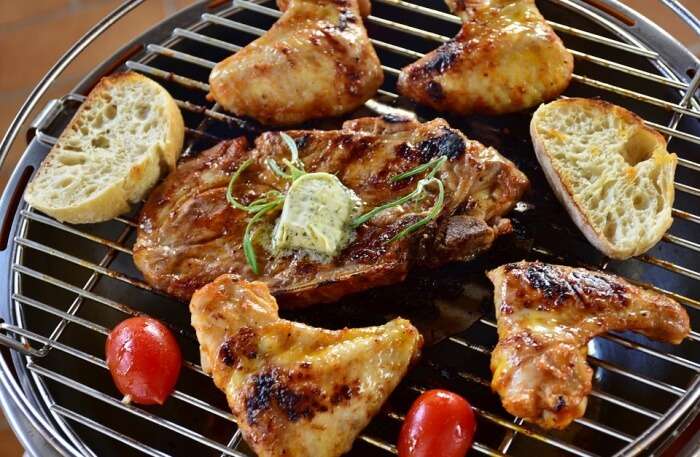 Three notable factors which keep the Next Door Deli into limelight are that this restaurant facilitates the guest with the options for Takeaway; it is a perfect place for the families thus remains an ultimate kid friendly restaurant and last but not the least it offers abundant choice of desserts and bakery stuffs. Such attributes make this restaurant one of the great places to enjoy best delicacies. Furthermore, dishes are of high quality and prepared from fresh ingredients yet they remain affordable and decently priced.
Must Try: Creme Brûlée, Grilled Chicken Steak, Wok Fried Laksa
Location: 1 Sengkang Square, Compass One, #B1-34 560529, Singapore
Cuisine: Café, Bakery, Western
Cost for Two: ₹ 520/- – ₹ 1050/-
Zomato Rating: 3.5/5
Suggested Read: 10 Scenic Singapore Mountains For A Great Adventure In The Lion City
8. Chicken Up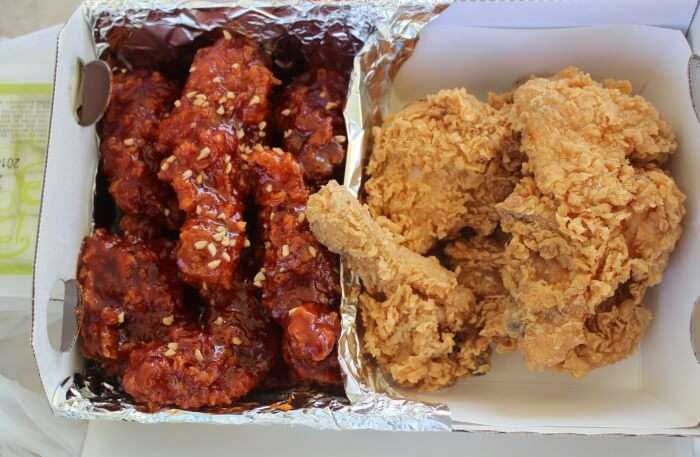 Popular food chain in Singapore now, Chicken Up was founded in the year 2010 to cater to the contemporary Korean cuisine requirements. By now, this brand restaurant has achieved remarkable position of being #1 Korean Fried Chicken options in entire Singapore. The restaurant is famous for its unique strategies to prepare chicken recipes through properly marinating to careful deep-fry and or balanced spices use amongst others. Each of its recipes thus offers great flavour. This restaurant is famous in Singapore for being an ultimate family-friendly restaurant whose menu has great chicken recipe choices.
Must Try: Supper, Korean Fried Chicken, Korean Desserts, Popcorn Chicken, Savory Bornless Chicken, Mama Ginseng Chicken Soup, Kimchi Fried Rice
Location: 277C Compassvale Link, #01-13 Unit Number 2A, Sengkang, Singapore-543277
Cuisine: Café, Korean
Cost for Two: ₹ 1050/- – ₹ 2100/-
Zomato Rating: 3.4/5
9. Boat Noodle Express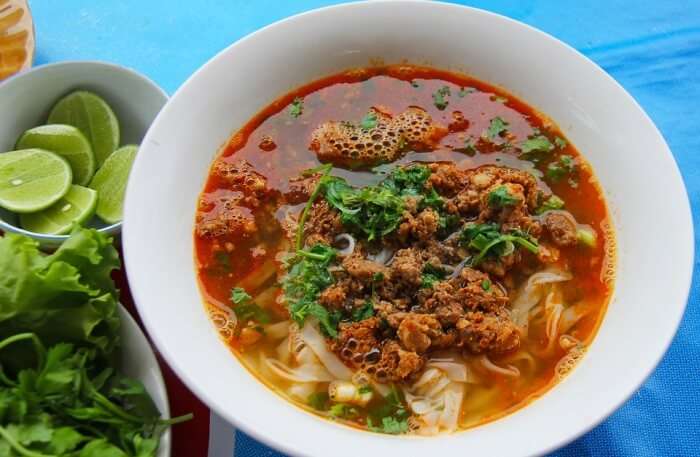 Popular name for intercontinental and especially Thai cuisines, Boat Noodle Express brings ample varieties before the diners. The recipes prepared here are thoroughly monitored by the expert chefs who crosscheck if brewed for hours for a few to adding the best quality fresh ingredients to the other. Most of the Thai recipes prepared here are yummiest ones with the additions of various types of herbs as well as original local spices. Taste buds truly enjoy great food at this restaurant that serves once-in-a-lifetime flavoured hygienic recipes to taste.
Must Try: Pork Tom Yam Noodles, Beef Kway Teow Soup, Spicy Tom Yum Noodles
Location: 118 Rivervale Drive, #K1-26/27 Rivervale Plaza, Sengkang, Singapore 540118
Cuisine: Thai, Chinese, Singaporean
Cost for Two: ₹ 550/- – ₹ 1250/-
Zomato Rating: 3.6/5
Suggested Read: 14 Ethereal Festivals In Singapore That Will Force You To Ditch Yours
10. Soon Huat Bak Kut Teh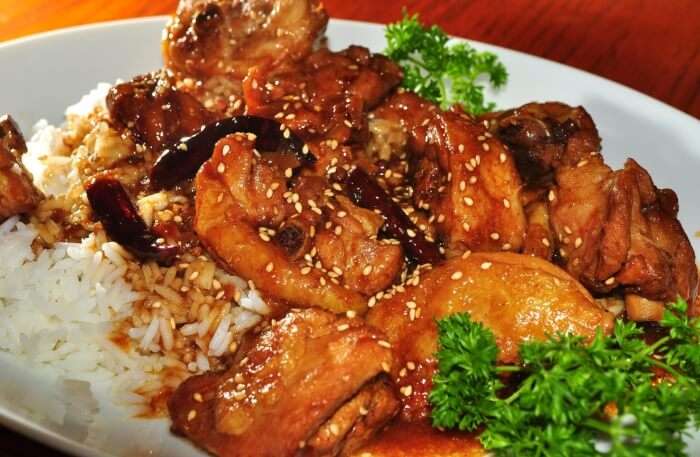 Popular restaurant chain in Singapore that serves ultimate Bak Kut delicacies, Soon Huat Bak Kut Teh is always rushed by the tourists as well as locals. It has several finest of the Chinese cuisine recipes for the guests to enjoy great food. Its great ambiance, friendly staffs and delicious food augurs the diners to taste variety of recipes prepared by the expert chefs.
Must Try: Dried Bak Kut Teh, Sesame Chicken, Tao Kee, Pig Trotter, Braised Pig's Intestines
Location: 257 Jalan Kayu, Sengkang, Singapore 799485
Cuisine: Chinese, Singaporean, Hawker Food
Cost for Two: ₹ 550/- – ₹ 1250/-
Zomato Rating: 3.5/5
Further Read: 11 Best Markets In Singapore That Are A Mecca For All Shopaholics & Foodies
Sengkang based finest intercontinental restaurants are great options to try variety of recipes. Each of them remains popular for diversified yet best quality recipes to taste in Singapore and cherish such fine dine experience in future too. So, keep a visit to these restaurants in your bucket list while planning a trip to Singapore.
---
Looking To Book An International Holiday?
Book memorable holidays on TravelTriangle with 650+ verified travel agents for 65+ domestic and international destinations.
---