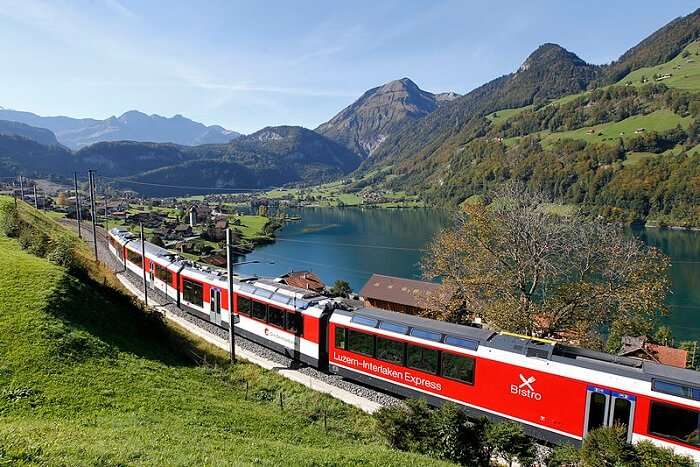 Basically, a journey is not all about the destination to be reached. It is about the traveling experience and the comfort and joy you have while traveling. The destination is the last point of the journey that is ever discussed and the journey is all that needs to be comfortable and full of moments that can be relished. Train journeys are one of the best modes of transportation to reach your destination. Train passing by different cities, small towns, and crowded villages will take you to your final destination. Followed by dense clouds and green and wild forests makes your Switzerland train journeys more interesting and leave you undoubtful about your decision of going through the train.
Traveling to Switzerland means many Switzerland train journeys passing throughout the magnificent high mountains covered with snow that will make your jaw drop, scenic lakes whose beauty will leave you awestruck.
7 Best Switzerland Train Journeys
Clean and comfortable Switzerland train journeys will make your trip more happening and successful. So here are some details about your train journeys for the next trip.
1. The Glacier Express

Talking about the scenic Switzerland train journeys, the first name that comes out of the mouth is the glacier express. This scenic train takes about 8 hours to cover the distance of 2000 meters. All you have to do is just book your tickets and sit comfortably and enjoy the beautiful sceneries passing by the train. Have a look around and do not miss the Matterhorn in Zermatt. It passes by the snow-capped mountains, dense forests, glowing glaciers and many of streams and valleys all over. This overwhelming scenery will make you feel like heaven. Having your previously booked lunch on this scenic train will make your trip most pleasurable. But if you want a pocket-friendly trip then pack your food along and enjoy it on the train route passing by the beautiful sceneries.
Train route: St. Moritz – Chur – Brig – Zermatt
Price: 1st class costs around 112 euro
2nd class costs around 62 euro
You can have full journey from St. Moritz to Zermatt or a small journey from Chur or Brig.
Must Read: 10 Interlaken Restaurants Serving The Most Delicious Food In Switzerland
2. The Gotthard Panorama Express

What is better to enjoy the Switzerland train journeys that pass by the bridge over the ms diamante lake? This train starts from the station of Lucerne passing by Fluelen and Bellinzona and reaches the final station of Lugano. This train will give you the pleasure of cruise. You just have to sit comfortably and enjoy your traveling by this scenic train. You can enjoy the beauty of historic landmarks like Rutli, banging bays and beautiful villages just by sitting on the couch of this train.
Train route: Lucerne – fluelen – bellinzona – lugano
Price: 1st class costs 65 euro from Lucerne.
Suggested Read: Top 18 Places To Visit In Switzerland During Winters In 2022
3. The Bernina Express

This magnificent train departs daily and covers the distance of 2223 meters. It starts from its station chur crossing st. Moritz and Tirano and reaching to final destination point Lugano. It will take around 4 hours and 13 minutes from Chur to Tirano. You can enjoy the beauty of high mountains covered with snow passing by the dense and evergreen forests and the glittery glaciers. It provides the best services through comfortable seatings and large glass windows from where you can look out the panoramic views of Switzerland. You don't have to pay extra reservation charges. Announcements are made that will make you aware about the upcoming stations. You are served the eatables on your seat by the trolley service.
Train route: chur – st. Moritz – Tirano – Lugano
Price: it costs around 91 euro for the 1st class booking from Chur to Tirano and 52 euro for second class booking from Chur to Tirano.
Suggested Read: 7 Best Homestays In Switzerland That Will Leave You Spoilt For Choice In The Alps
4. The Jungfrau Railways

This is one of the best trains to explore the beauty of Jungfrau. It came into existence in 1912. It takes you to the Jungfraujoch that is at an altitude of 1400 meters. It starts from Kleine Scheidegg to Jungfraujoch that is the highest altitude railway station. You will love t watch the high old mountains from windows covered by white snow all over. The train passes by Wengen, Grindelwald, Kleine Scheidagg. Try not to miss the towns you pass by. Have a stop in Wengen and Grindelwald as they are pretty more interesting and beautiful destinations. It ensures you the best comfort while traveling that will make your trip memorable.
Train route: lauterbrunnen – wengen – kleine scheidegg – Jungfrau – zweilutschein – grindelwald – kleine scheidegg – Jungfrau.
Suggested Read: Switzerland Safari: All You Need To Know For A Thrilling Swiss Trip!
5. Golden Pass Line and Luzern Interlaken Express

The route of this train is divided into three sections followed up by starting from Lucerne, Switzerland. It reaches its final destination of Montreux by passing from Interlaken. You can enjoy the marvelous beauty of nature by passing through these three different stations. It takes around two hours to reach Interlaken from Lucerne and further two hours to reach the final destination Montreux. Its estimated duration from Lucerne to Montreux is around 5 hours and eight minutes. It covers a long distance of 191 km. passing through the marvelous Simmen valley and alpine resorts and mountains covered with snow will make your Switzerland train journey the best.
Train route: Lucerne – Interlaken – Montreux
Price: it takes around 62 euro per person for the 1st class booking and 37 euro for second class booking from Lucerne to Monteux.
Suggested Read: Go Paragliding In Switzerland For The Most Amazing Swiss Alps Experience In 2022
6. Voralpen Express

This train connects cities of central and eastern Switzerland. Started its journey in 1992, it runs every hour between the stations of st. Gallen and Lucerne. Its average journey time is 2 hours and 15 minutes. It provides you the catering on your seats. It starts from Luzern and its endpoint is to St. Gallen. You can enjoy the panoramic views of sceneries from your first class booking seats. At lower prices, second class booking option is also available. Comfortable seats and cleanliness all around make your traveling experience more exciting and joyful.
7. The Pre-alpine express

This scenic rail passes between the stations of eastern and central Switzerland. It travels from Lucerne to Lugano passing by Interlaken, Montreux, and Locarno. You will love to travel by this train away from the traffic of the city and towns. Enjoy the beautiful and panoramic sceneries all-around of the snow-capped mountains high glittery glaciers and long bridges. Seat reservations are not needed. You need not to hurry for that.
Route: st. gallen – Interlaken – montreux – Locarno – lugano.
Price: 1st class tickets cost around 36 euro from Gallen to Lucerne. 2nd class tickets cost around 21 euro per person.
Further Read: Behold These 10 Magnificent Switzerland Waterfalls That Will Blow Your Mind For Sure!
While traveling through these scenic railways of Switzerland, you can fully enjoy your trip with your loved ones. The comfort of traveling on these trains will make you experience the best to Switzerland train journey. Always have a timetable but even if you don't have, worry not as trains keep passing by the same station frequently in small intervals of time. So, plan your trip to Switzerland for a soothing journey on these train routes and soak in the calming vibes with your friends and family!
---
Looking To Book An International Holiday?
Book memorable holidays on TravelTriangle with 650+ verified travel agents for 65+ domestic and international destinations.
---